Three new subclasses hint at more extraplanar workings in the future. Druids and Rangers get planar themed subclasses, while Artificers… become Iron Man.
It is a parade of subclasses today as yet another batch of Unearthed Arcana experiments are being released into the wild. Wizards of the Coast put out a new playtest document featuring three more planar-themed subclasses, this time for the Druid, Ranger, and surprisingly the Artificer. The Artificer is a big deal since it only exists in the campaign book Eberron: Rising from the Last War, which means that it'd be the first new class to be officially acknowledged by a supplemental release, assuming that all the UA subclasses make it into whatever book WotC is working on.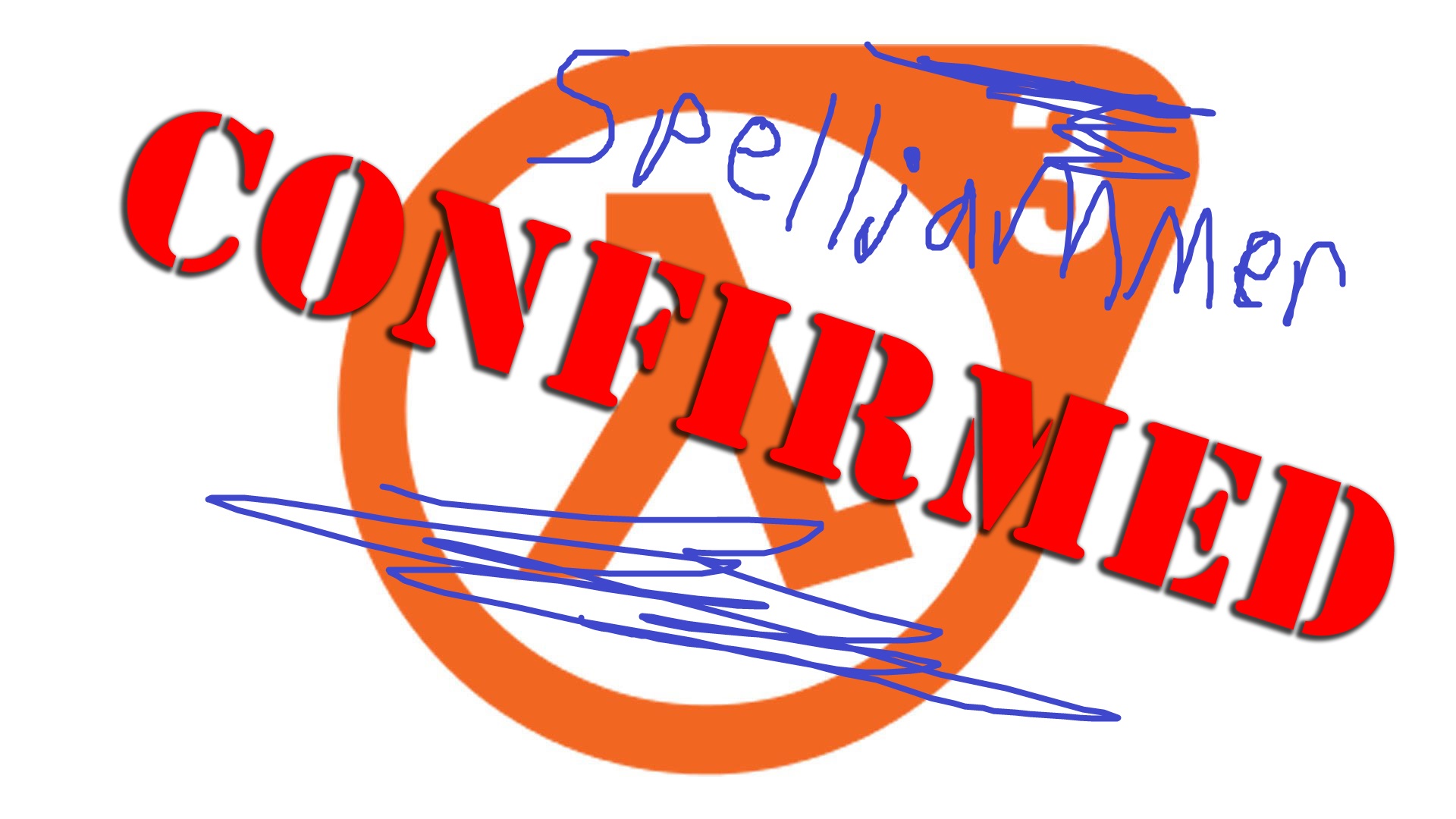 The biggest impression we're getting is, this book is planar-themed. We're definitely seeing more of the subclasses touched by the planes theme that's also featured in the aberrant mind and clockwork soul sorcerers, or the way of the astral form monks–this week it's with the feywild-touched ranger and the star-focused druid whom you could argue is either astrally aligned, or about one of the best ways to represent the far realm without being all gribbly. The artificer stands out though, as they're not only a subclass that exists in a separate book (which could mean a lot of confusion for players looking to keep to the PHB +1 rule of the adventurer's league, unless something's getting reprinted…), but they're leaning hard into a different theme. And that theme is magitek. Let's take a look.
The Armorer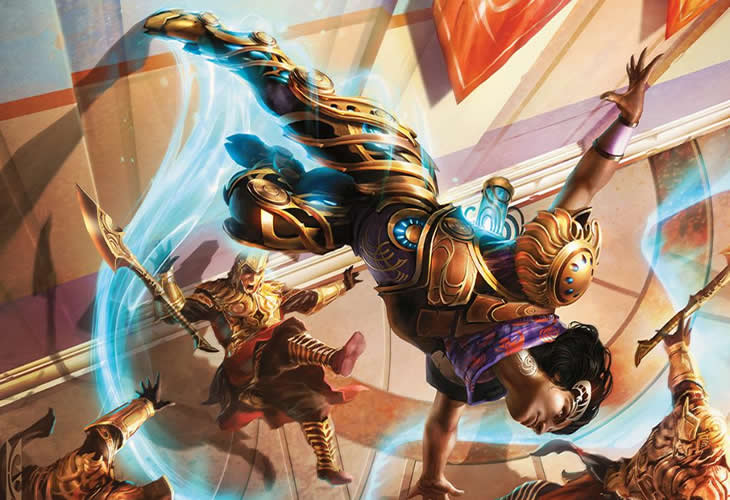 The armorer is a specialist for artificers who want to create a suit of power armor. Do you fancy yourself the Tony Stark of Faerun? This is your chance to live out those dreams–but even if you don't just go with Iron Man as an inspiration, this class is all about creating a suit of armor that uses magic to do incredible things. It all starts with their list of bonus spells, which include workhorse spells that you'll always have prepped and ready freeing up your list of prepared spells for other options.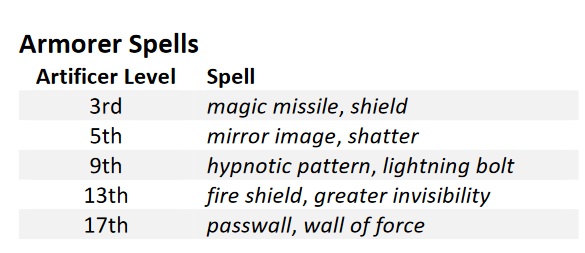 3rd level is the best level for armorers because they also gain their Power Armor feature, which grants them the ability to turn a suit of heavy armor into power armor as an action. While wearing power armor, you don't need to worry about meeting the strength requirement of it, you can use your power armor as a focus for artificer spells, and it can't be removed against your will and automatically replaces any missing limbs with magical replicas. Then you can further customize it by picking one of two Armor Models, first up, there's the Guardian, which gives you a powerful melee attack that marks your foes, giving them disadvantage when attacking someone other than you, as well as a defensive field that gives you temporary hit points as a bonus action. It's perfect for the defensive-minded artificer.
If offense is more your thing, there's the Infiltrator, which comes with a Lightning Launcher that lets you make ranged attacks that deal 1d6 lightning damage (and once per turn an extra d6 to someone you hit just for playing), increases your speed by five feet, and never gives you disadvantage on stealth.
At 5th level you gain Extra Attack, and at 9th level you can separate out your single suit of armor into multiple pieces for the purposes of your infuse items feature, meaning a single suit of power armor counts as armor, boots, bracers, and a weapon. You also get 2 free infusions, so long as you use them for your armor.
Finally at 15th level you gain Perfected Armor which gives guardian suits a gravitic pull that lets you draw a creature to you if they're within 30 feet, and then punch them (my favorite). Infiltrator suits empower their lightning blasts to grant advantage to your allies on a target who also takes an extra d6 damage.
All in all, I love this archetype. It feels like a unique use of the artificer's infuse items ability, and it doesn't rely on pets like the other subclasses. I think it's a cool direction to take it. You also get new artificer infusions, many of which are aimed at 10th level.
Circle of the Stars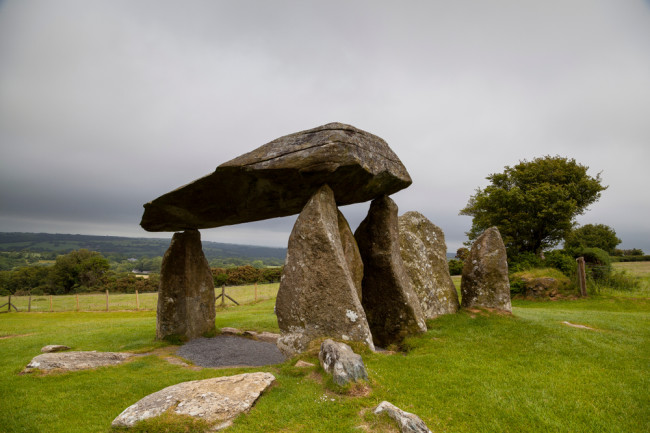 The Circle of Stars is an old druidic order that long ago learned secrets hidden among the constellations, and has made a study of the stars, tracking their paths through the heavens, and their effects on the world around them. These are druids who might build megalithic sites like ancient stone circles and petroglyphs, where cosmic knowledge can be hidden. I love the flavor of this class immensely. It's like a not-terrifying version of the Great Old One Warlock–which just goes to show you don't always have to take a shortcut to power. And this subclass is pretty stellar.
At 2nd level you gain a Star Map which serves as your arcane focus but more importantly gives you access to augury AND guiding bolt, which you can cast without preparing the spell or expending a spell slot up to your Wisdom modifier times per long rest. You also gain the ability to Wild Shape into a Starry Form where you become a starrier version of yourself. Your joints glimmer like stars and you take on the appearance of one of three constellations:
Chalice which restores 1d8 + half your level in hit points to you or anyone you can see within 30 ft any time you cast a spell using a spell slot that restores hit points to a creature.
Archer which lets you use a bonus action to make a ranged spell attack that deals 1d8 + Wisdom modifier radiant damage.
Dragon which lets you treat any Intelligence, Wisdom, or Concentration check as always having rolled at least a 10.
At 6th level you gain the Cosmic Omen feature which lets you roll a d6 at the end of a long rest. If you rolled even you gain Weal which means you can use your reaction to add a d6 to an attack roll, saving throw, or ability check made by a creature you can see within 30 feet of you. If you rolled odd you gain Woe which lets you subtract a d6 instead. You can use this special reaction a number of times equal to your wisdom modifier, and then it's naptime.
At 10th level Full of Stars means you gain resistance to bludgeoning, piercing, and slashing while shifted, and at 14th level you can conjure a Star Flare, which creates a huge burst of light that at first glance feels like a weaker fireball, but then you realize it's better. It creates a 30 foot sphere, you can immediately teleport willing creatures out of the blast, up to 30 feet away, allowing you to reposition your whole party if you want, and then everyone remaining behind has a Constitution save or take 4d10 radiant damage and they're blinded until the end of your next turn. And you get that once for free, and can spend 5th level or higher spell slots to do it again.
Fey Wanderer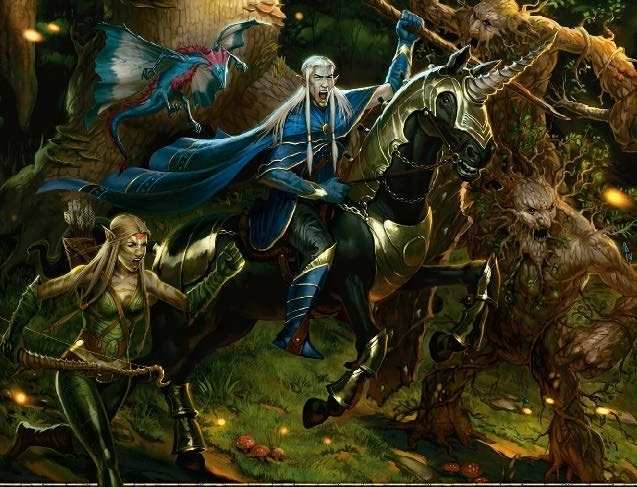 Fey Wanderers are rangers who live on the outskirts of the Feywild and Material planes. You live in the wild places of the world, and have gained some of that otherworldly realm's power which you use to empower your own attacks. Additionally you gain a cool gift that always follows you around: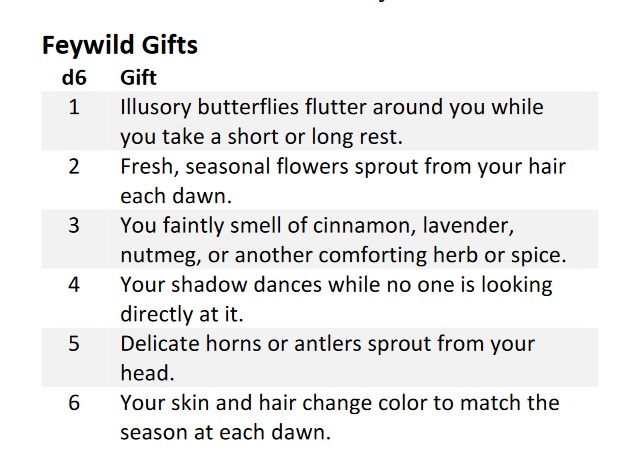 This is another 3rd level heavy class, with one of the best abilities being a list of bonus spells you always have access to that consists of charm person, misty step, dispel magic, banishment, and mislead. You also gain Cunning Will which gives you advantage on saves against being charmed or frightened, and proficiency in deception, performance, or persuasion, and Dreadful Strikes which is arguably one of the better ranger bonus attack damage features. You just take a bonus action to imbue your weapons with magic, then they count as magical and deal 1d6 extra psychic damage on a hit. No conditions, no restrictions, just once per turn 1d6 extra which stacks with your Hunter's Mark.
At 7th level Blessings of the Courts gives you access to a special kind of Feywild smite. Once per turn when you hit someone with a weapon attack, you can spend a spell slot and deal 3d6 points of psychic damage and make a target frightened of you unless they save. At 11th level you learn Beguiling Twist, which lets you use a reaction whenever someone saves against a charm or fear effect to instead redirect that same energy at another creature, either charming or frightening them for a minute, or dealing 3d10 psychic damage.
Finally Misty Presence lets you magically hide yourself from a creature's perception. As a bonus action you can force a creature to make a save or be unable to see or hear you for 24 hours, They get a save any time you hit them with an attack, deal damage to it, or force it to make a saving throw, but it lasts 24 hours no further saves otherwise.
---
Exciting new stuff keeps rolling out. We'll be keeping an eye out for a possible book where they might all be gathered. But for now, let's turn it over to you.
What do you think of these classes? Let us know in the comments!