Just days after the leaked version of the Unearthed Arcana classes were accidentally discovered, WotC has released an official update, with many changes.
The internet moves at a breakneck pace. Last week's dank memes are this week's sh*tposts, and if you don't know what either of those means, you're probably living your best life. Suffice it to say, all those books from the 90s about how fast information would move digitally down the Information Superhighway were true. Just days after an intrepid internet-goer "discovered" an unpublished draft of 3 new subclasses by switching up the URL on a .pdf file from "Subclasses1" to "Subclasses2" the folks at WotC have released the 'finalized' version of the original document. There are still three new subclasses, for bards, clerics, and sorcerers respectively–but each of these subclasses has seen some pretty substantive changes. Let's take a look.
via Wizards of the Coast
College of Creation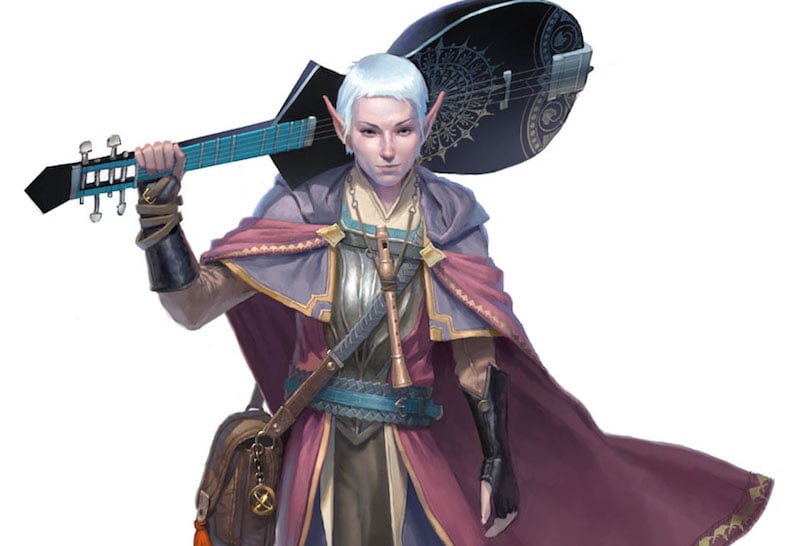 Bards once again may saddle up to the learning annex of their choice to enroll in the College of Creation. This taps into some very Tolkien-esque influences, letting bards access the esoteric harmonies of the words and sounds of creation. Basically this college holds that the opening of the Silmarillion is true, and now you can tap into the Music of the Ainur.
Now that the official results are here, let's go through it a little more in-depth. As before, one of the big features is the new Note of Potential, which is a floating musical note of possibility, which once again modifies your bardic inspiration. You basically give one of your friends an extra boost whenever you give them an inspiration die. A note of destruction explodes, dealing extra thunder damage, a note of protection grants temporary hit points, while a note of ingenuity lets you reroll the inspiration die and choose what result you want. It's a neat feature.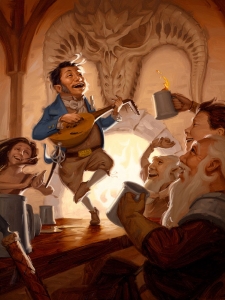 Animating Performance has been moved to a 6th level College of Creation feature in the final version, and that change makes a huge difference. As before, you can use an action to animate a Large or smaller nonmagical item within 30 feet of you, giving it a special stat block
It's another "pet" feature, but I really like this one. You can command it as a bonus action–but–you can alsocommand it as part of the same bonus action that you use when you're using bardic inspiration. Which carries the same benefits from Note of Potential. Here's a look at its stats: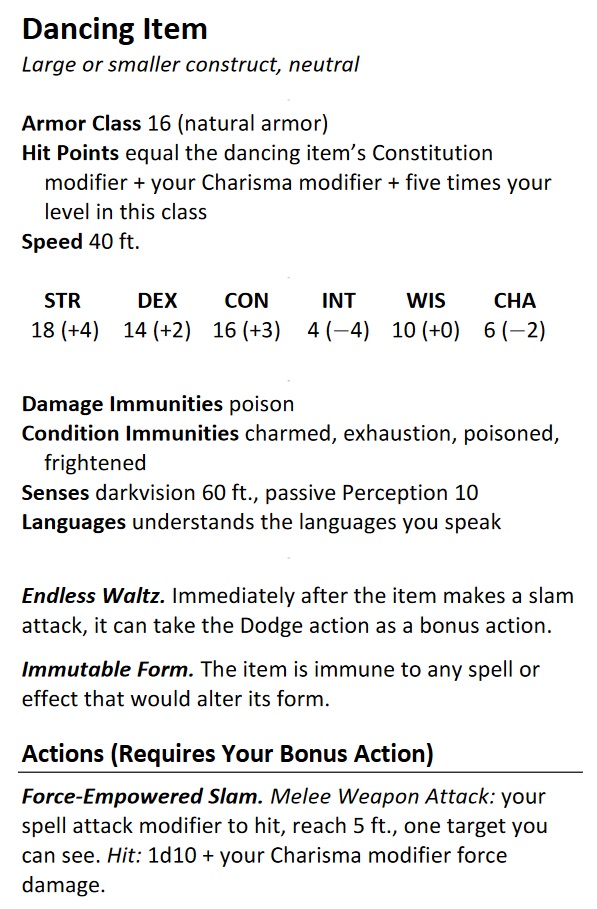 I don't necessarily know that I like it dealing out Force damage. I get why they're implementing that–you don't want to make a given feature feel useless or underpowered when going up against resistances, but Force damage is supposed to be relatively rare. But between this and the Steel Defender subclass, and the Swarmkeeper–it feels like you could simply have made this deal 1d10 + Charisma modifier magical bludgeoning/piercing/slashing whichever is appropriate, and it'd have been fine.
Even so, this is one of the better pets out there right now, and the idea of bringing to life something in the villain's lair to fight against it is incredible. And as a capstone for about where most people stop playing, you'll actually get to use it.
The 14th level feature is now Performance of Creation which allows you to create one nonmagical item of your choice within 10 feet of you as an action. There are limits; you can only create an item worth no more than 20 x your current level in GP, it only lasts a round unless you use your action to maintain it for up to a minute–and if you do, then it lasts a number of hours equal to your bard level. This one feels pretty disappointing for a 14th level feature that is effectively daily. It only gives you 280gp worth of items. That's not even enough to create a suit of plate.
Unity Domain

Perhaps the biggest change, though, has come in the form of the new cleric domain. The Love domain has vanished back into the ether from whence it came. In its place is the new Unity domain, which is honestly a lot better. Instead of focusing on a nebulous idea of "love" it focuses on community:
A sense of oneness shines at the heart of healthy communities, whether bound together by friendship, blood, faith, or some other uniting force. The gods of unity deepen such bonds and delight in their strength.

Clerics of these gods preside over marriages and other familiar bonding customs, but they also nurture the emotional bonds of friendship and camaraderie. Their divine blessings bolster and protect allies in battle through these deep bonds and turn aside malign influences.
It seems WotC heard people's voices and reconsidered the mental and emotional manipulation spells on the "Love" domain. This one is basically the found family domain–and its spell list reflects this.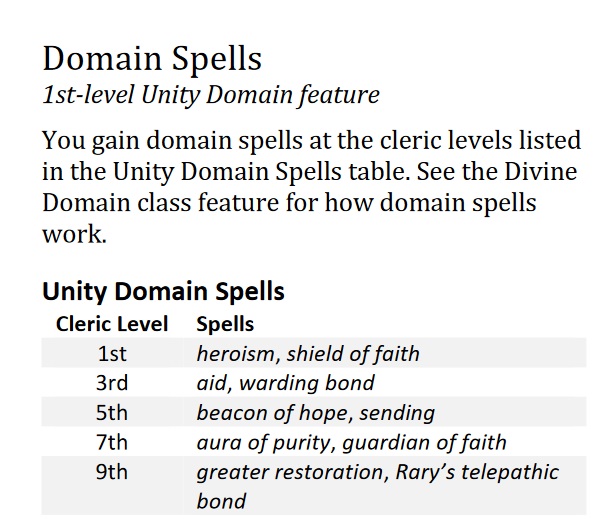 Unity has many of the same domain spells as Love, only all of the 'mind control' spells have been swapped out for party support spells: shield of faith swaps in for charm person, aid for enthrall, sending for hypnotic pattern, guardian of faith for confusion, and Rary's telepathic bond for hold monster.
Many of the features are similar. Emboldening Bond works much the same way it did in the leaked document, functioning as a mini bless between two creatures that you can establish for up to an hour without needing to spend your concentration. The Channel Divinity feature has changed, and now allows you to spread damage taken by one person through your allies instead: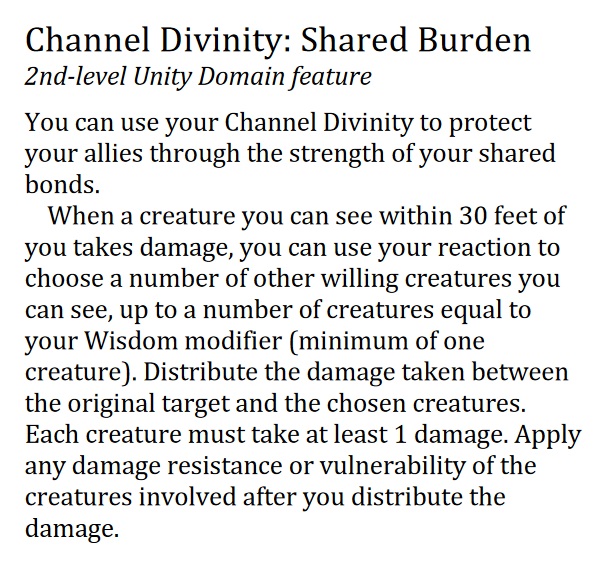 Other than that, the class is basically the same as the former Love domain. At 6th level Protective Bond allows creatures with an Emboldened Bond to use their reaction to grant one another resistance to all damage. Potent Spellcasting means they want this to be a magically focused archetype. And Enduring Unity at 17th level allows you to pull off even more bond tricks whenever your bonded buddy drops to 0 hit points, including:
gaining advantage on attack rolls, ability checks, and saving throws
gaining resistance to all damage
use an action to spend hit dice to heal your bond buddy
Though the last one you might want to hold off on, because you can only experience arete and rage against the death of Briseis while he's actually dead, and if he regains hit points instead you lose that special power.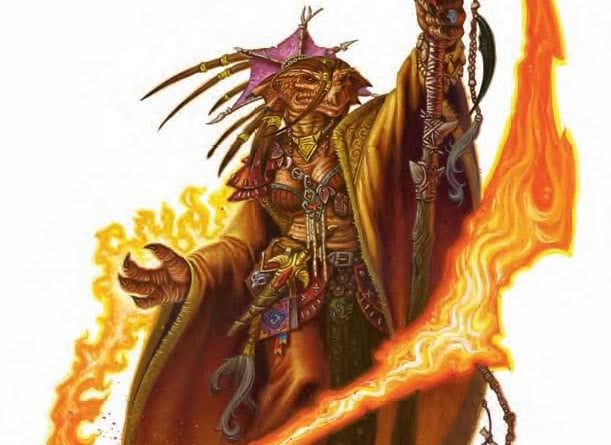 Finally we have Sorcerers, who have a reworked Clockwork Soul. This one's really neat–it's a magical origin that reflects ties to Mechanus, and indeed, the leader of the Modrons, Primus. You might have an ancestor who was part of the Great Modron March, or maybe they were just really into steampunk, but for whatever reasons, gears and cogs and clockwork effects follow you around. You get a list of bonus spells that grant you some interesting utility, like alarm, heat metal, and Otiluke's resilient sphere. A feature that had been missing in the past document, but is a welcome sight here. Sorcerers need bonus spells more than many.
But the meat and potatoes of the subclass comes from Restore Balance which allows you to use your reaction to nullify advantage or disadvantage. Now, because of the way D&D works, it's worded a little weirdly–they want to make sure you don't go negating someone's disadvantage to grant them advantage they might otherwise have. Instead you can simply prevent advantage or disadvantage altogether, to help protect your friends from otherwise advantageous attacks, or negate an enemy's persistent disadvantage for protection.
Bulwark of Law got an upgrade in the final version. Now you can spend 1 to 5 sorcery points to create a protective ward in the form of a pool of d8's (upgrade!) that you can spend as a reaction to roll and reduce incoming damage by the amount on the dice.
At 14th level Trance of Order has been changed to a bonus action–this move now lets you become a beacon of order and clockwork perfection–for one minute no one can benefit from advantage on attack rolls against you, and you can't roll lower than a 10 on most checks, including attack rolls.
Finally Clockwork Cavalcade has been reworked. This lets you summon forth a swarm of spirits that take the form of modrons who have some powerful restorative effects:
Restore up to 100 hit points divided among creatures of your choice in the area
Any damaged objects entirely in a 30 foot cube are completely repaired
Every spell of 6th level or lower ends on creatures and objects of your choice in the cube.
---
All in all, these changes make for some fun subclasses. So get out there and test them! Don't forget to keep an eye out for the survey later as well.
Happy Adventuring!