Cliff Scaling? Train robbing? Over embellishing your summer holiday? Spend your Valentines Day doing all of these things and more as we peruse DM Guild and DriveThru RPG.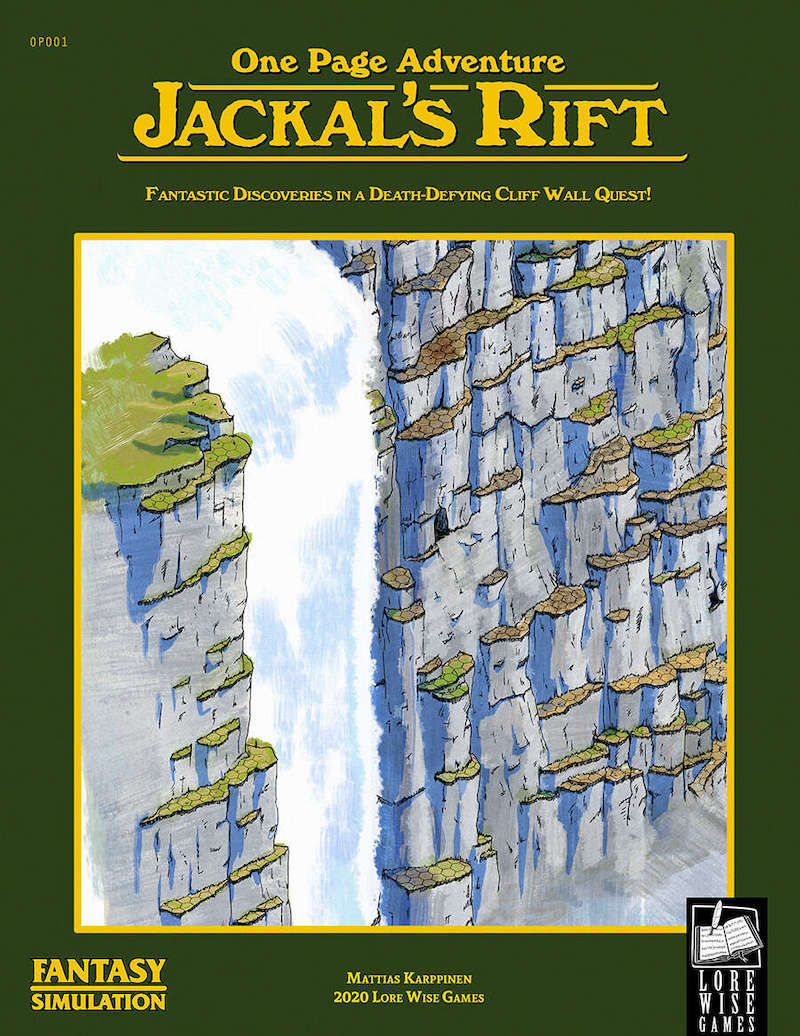 "A unique skill-challenge focused adventure on a perilous cliff wall!

A rift descending adventure where certain doom is mere inches away at any given moment.

2-4 hours of game play content

Easy to prepare and easy to run – one page format

Use as a stand-alone adventure or as a part of an ongoing campaign

Inspired by real world mountaineering

Blank high resolution poster map (3142×4500) included

Perfect for Virtual Table Tops – play directly on the map

Suitable for low-level play, a challenge like no other they've faced!

This content is system-agnostic and references generic terms for the different types of skill and ability checks. Monster stats are not included – refer to your favorite monster index to fill in the gaps."
I love a classic dungeon crawl as much as the next person, but the concept of this game looks so different and fun in a way that I'm almost disappointed I didn't come up with. With gameplay inspired by actual mountaineering and so many opportunities to be creative in a fantasy setting, Jackal's Rift looks like a unique addition to any existing adventure campaign.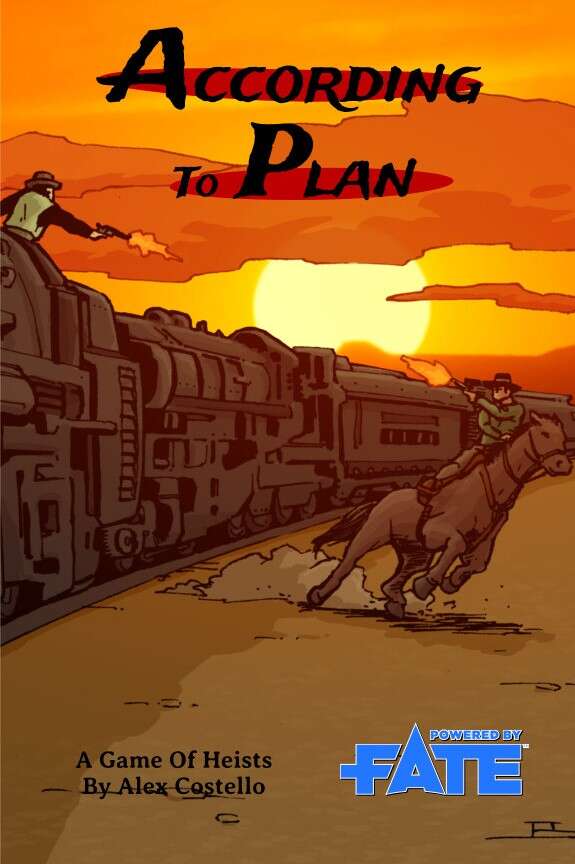 "According To Plan is a game about heists. Players take on the roles of a crew of thieves with big, ambitious plans. But the system doesn't get bogged down in details. You and your friends can jump right into the action.

You can steal anything you want from wherever (or whenever) you want. Rob the vaults of Atlantis. Hijack a train in space. Steal the Eiffel Tower. The sky is the limit!

Create your crew and start playing in minutes. Instead of coming up with complicated plans, players will reveal all of their character's careful planning through Flashbacks, which are used to overcome challenges and keep the action going. Every game is like the big reveal from the end of a heist movie."
A good heist movie is always a winner to my book, the genre is fun and snappy and gives us an opportunity to root for some morally ambitious characters. Use the Fate system to live that heist movie of your dreams and hope that everything goes According to Plan. Or not, it will be more fun if things don't.
"A one-page game of inconsequential magical adventure. You're a vaguely magical kid (or one of their vaguely magical friends) and you're determined to have a good time in the boring old seaside town you're spending your summer holidays in.

Contains full rules for playing a big invisible furry monster, a royal cat, an ingenious goblin or a rookie witch."
Low key, low stakes, and high on concept, this game just seems like silly fun. Even magical kids think their parents and their summer holidays are lame, so come up with a way to make it more exciting for when you come home to tell your friends what you did on your summer holiday.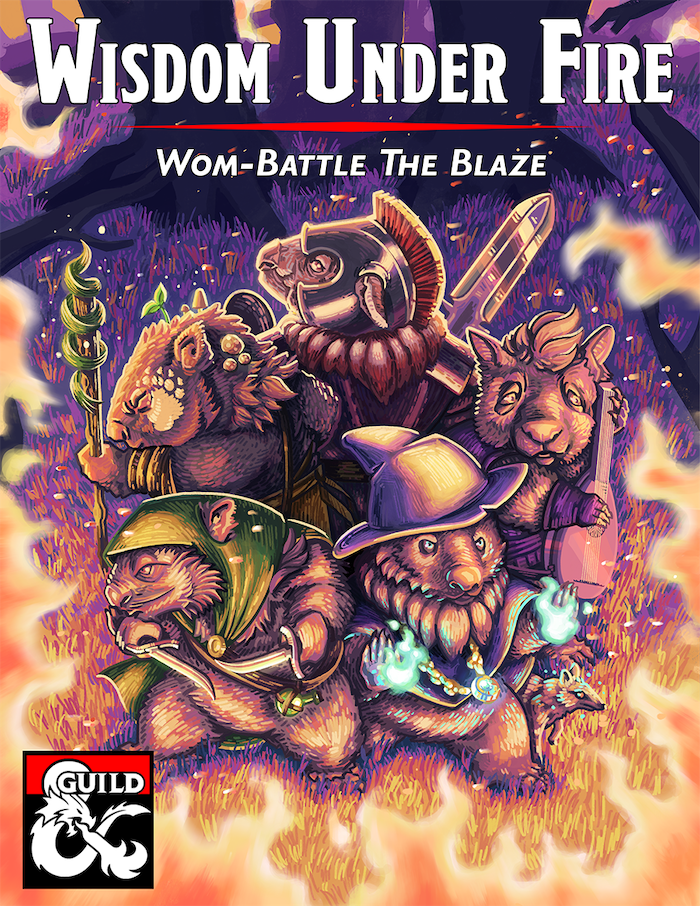 "The small wombat burrow village of Underhearth has lived peacefully with the surface dwellers since anyone can remember. But now a raging bushfire threatens to endanger the delicate ecosystem and life that has been built here for generations. Who is responsible for the fire, no one quite knows. Perhaps it was a misbehaving joey or a malevolent fiend bent on revenge for a long forgotten slight. Whatever the reason, the villagers must now come together, both wombat and surface dwellers, to save their way of life."

A one shot adventure for 5 level 4-7 characters

Recommended 5th Level"
This game is timely and real, making a fantasy adventure of the actual bushfires in Australia. Wisdom Under Fire is heartfelt and encourages you to work together with your community to make things better for your village of animals. And the world at large. Profits go to
Wildlife Victoria
, whose mission is to help and protect wildlife through our rescue, education, and advocacy activities.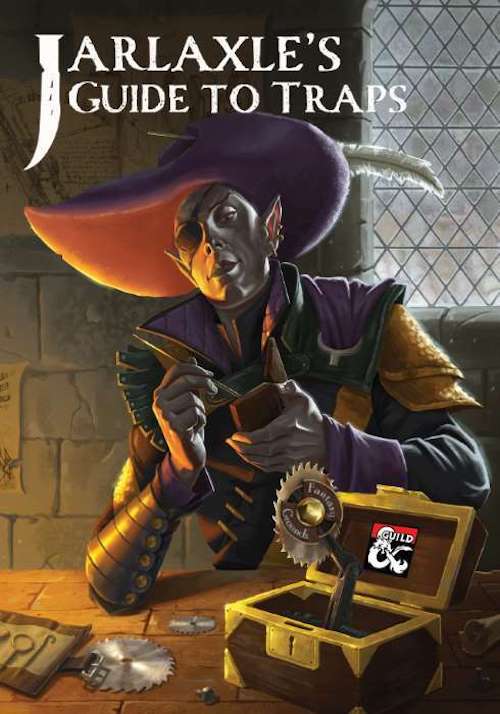 "Fresh from the archives of Bregan d'Aerthe, Jarlaxle's Guide to Traps is a collection of vicious traps, maddening hazards, terrifying hauntings, and general lethal nastiness intended to turn greedy dungeon delvers into puree.

Created by R P Davis, Jeromy Schulz-Arnold, Ken Carcas, D W Dagon, Justin Handlin, Bryan Holmes, Hal Howard, Noel Proulx, you're sure to find something devious and deadly in this module that will make your players despair."
Every DM knows this problem well; your players blow through your traps and monsters much more easily than they should have and now you need something else to throw in their path. Enter Jarlaxle with his collection of awfulness to inflict upon your party. We can't all come up with new riddles or puzzles on the spot, and for those times, Jarlaxle has you covered.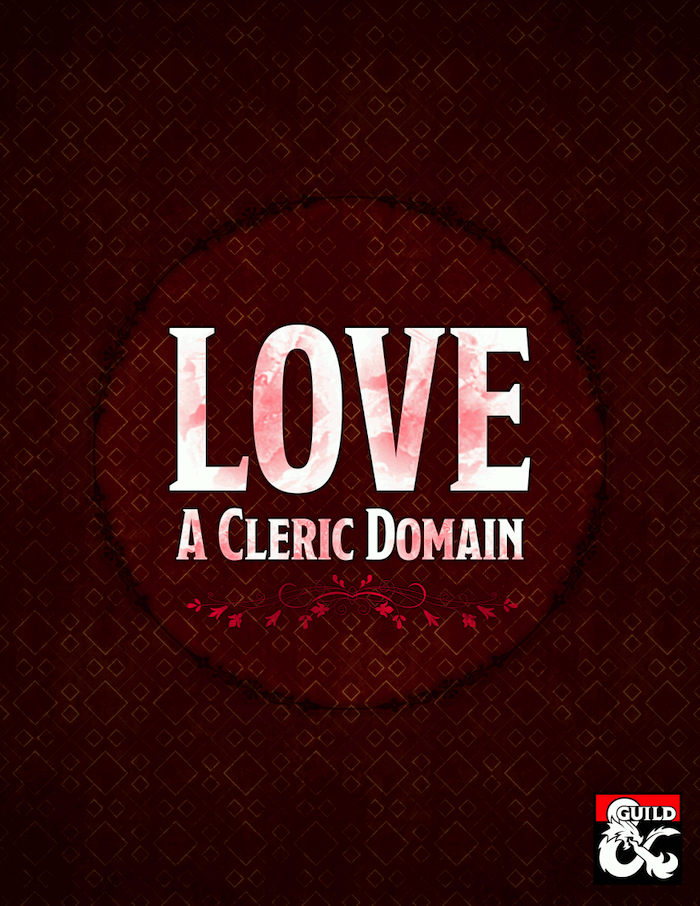 "Most gods who include love in their portfolio focus upon beauty, passion, ot fertility. This, however, is a domain focused upon love itself. It does not include charming effects or mind control enchantments. Instead, it looks to cooperation, strength through relationships, empathy, and selflessness."
Just in time for Valentine's Day, a feel-good take on a love cleric. If you tune in for the Tuesday stream you heard us talk about our dream of a love cleric who would use the power of friendship and love in a selfless and not-gross way, and Love: A Cleric Domain answered in kind. If you want to harness the power of love in a way that's more shoujo anime and less love potions, this love cleric may be up your exact alley.
---

Will you be picking up any of these games? Is there anything else on DM Guild or DriveThru RPG that you would have highlighted but I completely missed? Do your Valentines Day plays involve any D&D? Let us know in the comments.
Happy Adventuring!