Just in time for the upcoming season 2 of the cyberpunk TV show, Altered Carbon the tabletop roleplaying game is Kickstarting (successfully) right now!
We live in the future, and I can say this safely because not only are we getting a new season of a cyberpunk TV show, we're also getting an accompanying cyberpunk RPG system set in the world of that show, which is crowdfunding directly from fans. It's an incredibly 21st century statement, and there's some irony about using tools and technology to help fund and fuel a game in a genre that's based on the fears and pitfalls of a society that becomes reliant on too-integrated technology (and capitalism, because it's always about capitalism). But the fact remains that Altered Carbon is kickstarting now. And since they've already raised 130,000+ of their $20,000 goal, it looks like they're well on their way to success.
Using something called the Hazard System, a roll-under system that works from d12s all the way up to d4s (for masters) it's an odd little system, but the game has a ton of amazing art and an interesting and deep world along with it. There's a lot of neat mechanics built in to playing a game where characters don't necessarily die, and in fact have re-sleeved themselves a few times. Check it out!
via Gamerati
The core edition of Altered Carbon: The Role Playing Game takes place on Sol (Earth) in the year 2384. With the help of a gamemaster (GM), you and your friends can create your own stories and Sleeves in Bay City, the futuristic Californian metropolis that serves as the main setting of the first book and Season 1 of the Netflix series.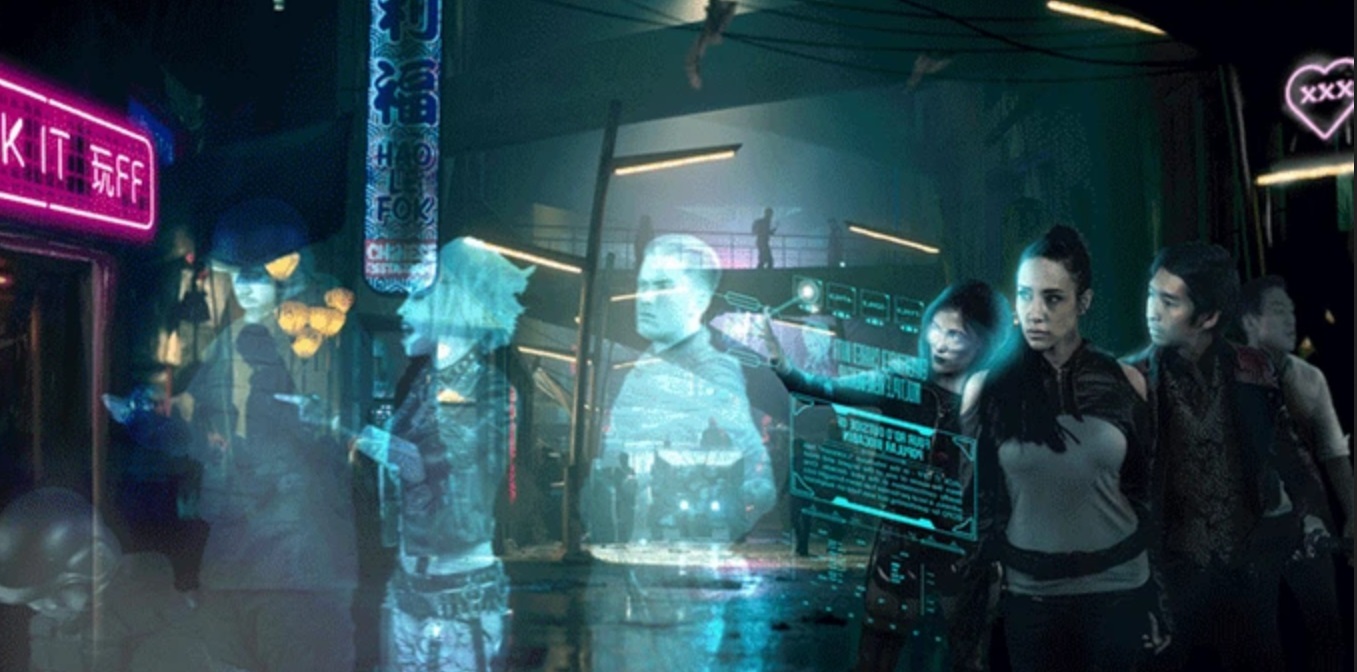 Take control of police, military, technicians, artificial intelligence (A.I.), special operatives (CTAC), and even the influential elite of high society (Meths) as the core neo-noir themes of Altered Carbon promise endless sci-fi adventures:
 

Mystery —

Solve the unfolding mystery. The gamemaster themselves may not even know who the culprit is at the beginning of the story!
 

Intrigue —

Augments and re-sleeving don't come without their own costs. Story-driven mechanics challenge players to balance their personal egos and baggage, influencing how players interact with one another and how their characters develop over time.
 

Action —

An original game engine uniquely designed for the RPG, delivering a strategic yet dynamic zone-based combat system with exotic high-tech weaponry and streamlined options for more action-oriented gameplay!
 

Drama

—

The twisted reality of transhumanity enables players to create challenging stories, complex characters, and century-spanning epics, all which explore the darkest aspects of human nature that the value of life and fear of death once held in check. When murder is little more than extreme property damage, transhumanity is the perfect playground for noir storytelling that delves into the moral depths of our own humanity.
Working in tandem with Skydance Entertainment, we're able to provide a deeper dive into the world of Altered Carbon. As a result, we're expanding on elements of lore, and the colonized worlds that previously we unexplored until now!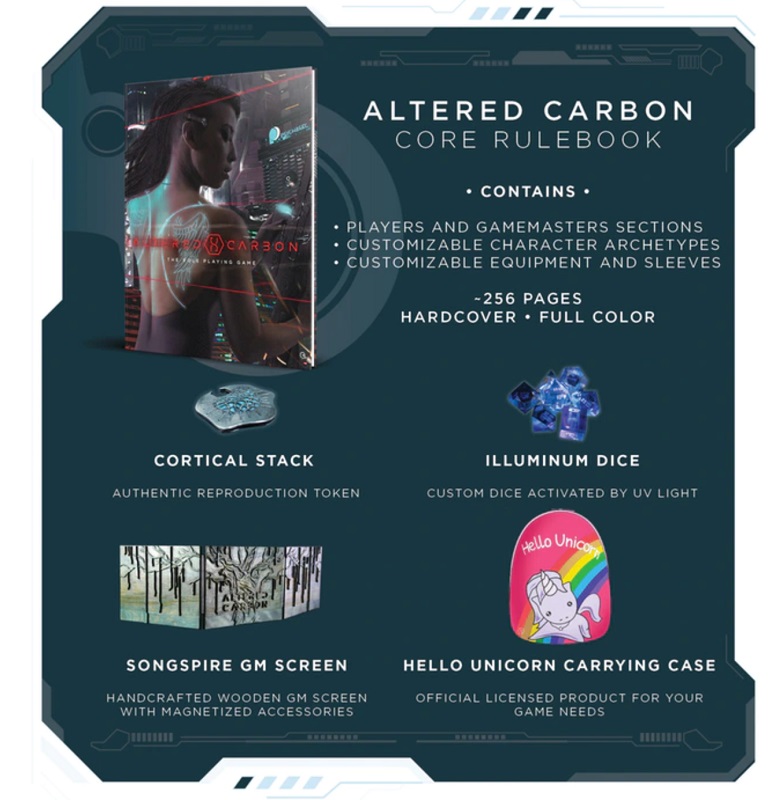 The Core Rulebook contains everything gamemasters and players needs to play the game.
 

Building a Neo-Noir Narrative.

Build an authentic noir experience with a multi-layered mystery that unravels over time. Plot twists, MacGuffins, red herrings, and informants all provide the ever-adjusting structure you need to bring mystery and intrigue to your players without the need to pre-plan every detail at the start.
 

Starting Adventures.

Enjoy two complementary modules designed to teach you everything you need to know to run the game and teach players the Hazard System.
 

Creating a Character.

Ready to jack in? Pick an archetype: Civilian, Socialite, Official, Criminal, Technician, or Soldier. Generate core attributes like Strength, Perception, Empathy, Willpower, Acuity, and Intelligence. Game elements like Stack Points, Health Points, Ego Points, and Influence Points help flesh out your characters and determine how they perform and progress through the story.
 

Baggage.

Your time in

Altered Carbon

takes its toll, as damage to your ego builds up over the years… as do the ghosts of your past deeds from sleeve to sleeve.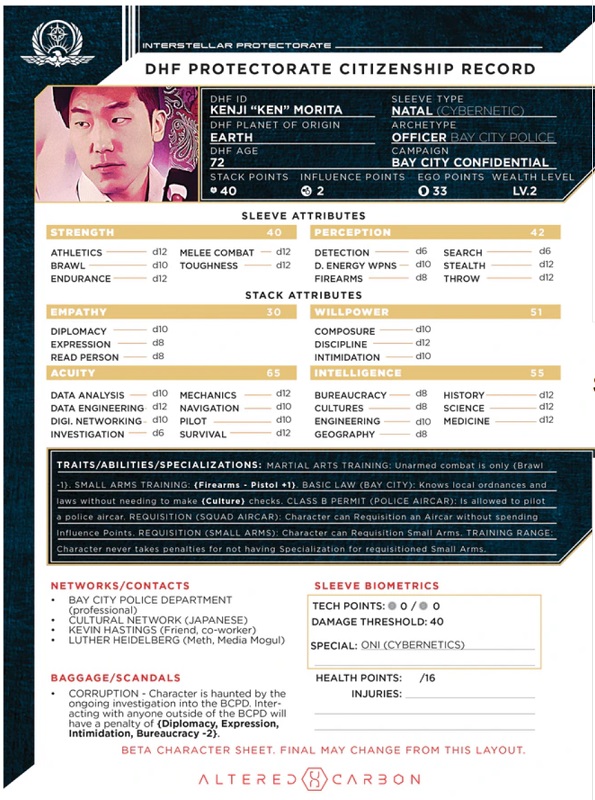 Variant Characters.

Explore a range of unique playable and non-playable characters such as artificial intelligence beings, envoy soldiers, and high-class meths.
 

Re-sleeving.

The body is merely a shell, and death is not the final destination. Each Sleeve comes with its own strengths and shortcomings. An impossible task in one Sleeve may be child's play in another. Meanwhile, your enemy could be wearing your friend's sleeve, so use your intuition and ingenuity to observe the details, break through the obvious, seek out new solutions, and stay alive.
 

Tons of Traits.

Tier-based Trait system allows you to easily build your own Archetypes or assign a set of unique abilities that complement one of our pre-set character builds, with plenty of crossover options so that no two Archetypes are really the same.
 

Wealth Level Based Economy.

Rather than nickel & dime every transaction, players can acquire gear and supplies adjacent (or above — if they're willing to risk greater consequences) to their Wealth Level in order to keep the focus on story momentum.
 

Technology & Equipment.

Nemex, Shard Pistols, Portable AI Emitters, ONI Interfaces, Merge9; the Core Rulebook provides all the mechanics for purchasing, acquiring, and modifying a plethora of futuristic weapons, apparel, and gadgetry with an expansive list of customizations for nearly every item.
 

Expanding the

Altered Carbon

World.

While the Core Rulebook focuses on Bay City and Season 1 of the series, we've got big plans with Skydance who is currently in production for Season 2, and we'll be working alongside them to discover more ways to explore the colonized worlds in future RPG supplements. In the meantime, fans can explore Osaka and other parts of Earth 2384 via our stretch goal modules listed below.
Happy Adventuring!