Games Workshop is showing off the new rules for the T'au coming in Psychic Awakening: Greater Good. Check out what's on the way!
The Greater Good has a ton of new stuff for the T'au and we're getting a look at some of those rules right now. Not only did GW show off some of the direct rules, they also hinted at some of the other rules that were coming, too. Let's dive in!
Custom Sept Tenets
Did you want to create your own Sept? Well now you can thanks to the new Sept system in the game:
Codex: T'au Empire gave your T'au Empire army extra rules if all of the units in a Detachment were from the same sept. But what if you didn't want to use one of the five main septs or the Farsight Enclaves? What if you prefer one of the lesser-known septs or you wanted to make your own?

Well, good news! The Greater Good allows you to choose your own sept and select two rules to create a new Sept Tenet.
That's right, folks – T'au are getting a create-your-own system with the Greater Good. Get ready for a whole new batch of Sept Tenet combos. GW also teased some of the new Sept rules as well: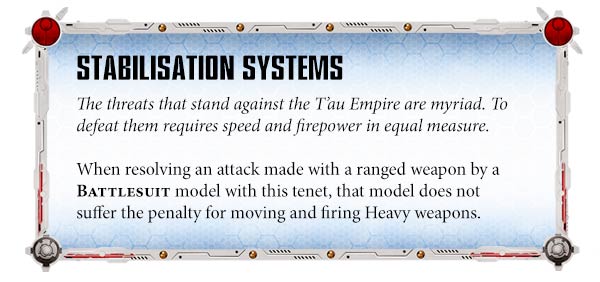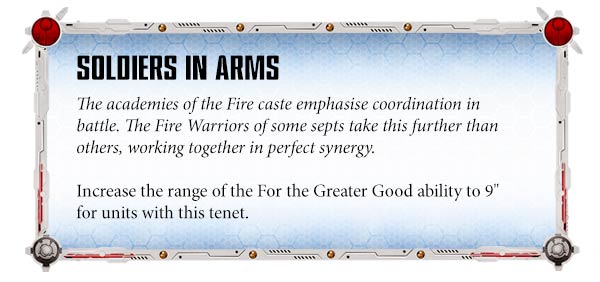 If you want to go battlesuit heavy, infantry focus, big mecha robots – or anything in between, you can bet that GW has planned out lots of options for T'au!
New Weapon Systems
It seems that the T'au scientists of the Earth caste have been busy cooking up some new weapons and weapon systems in the lab – and they are ready for field testing.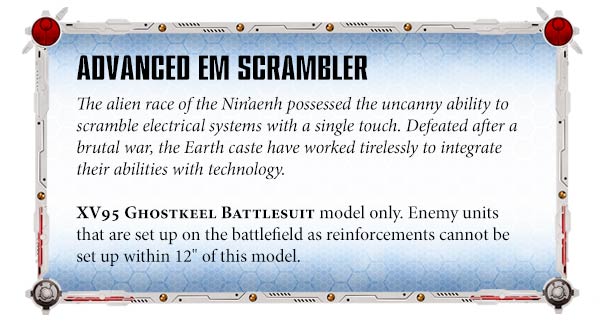 This is just the tip of the iceberg of gadgets the T'au are getting. We also saw from the Shadowsun previews that there will be even more new weapons:

More Stratagems
As with all the other Psychic Awakening books the Greater Good is going to have a brand new batch of them. For example, Coordinated Engagement allows your XV8 Battlesuits treat an enemy unit as if it has 5 markerlights!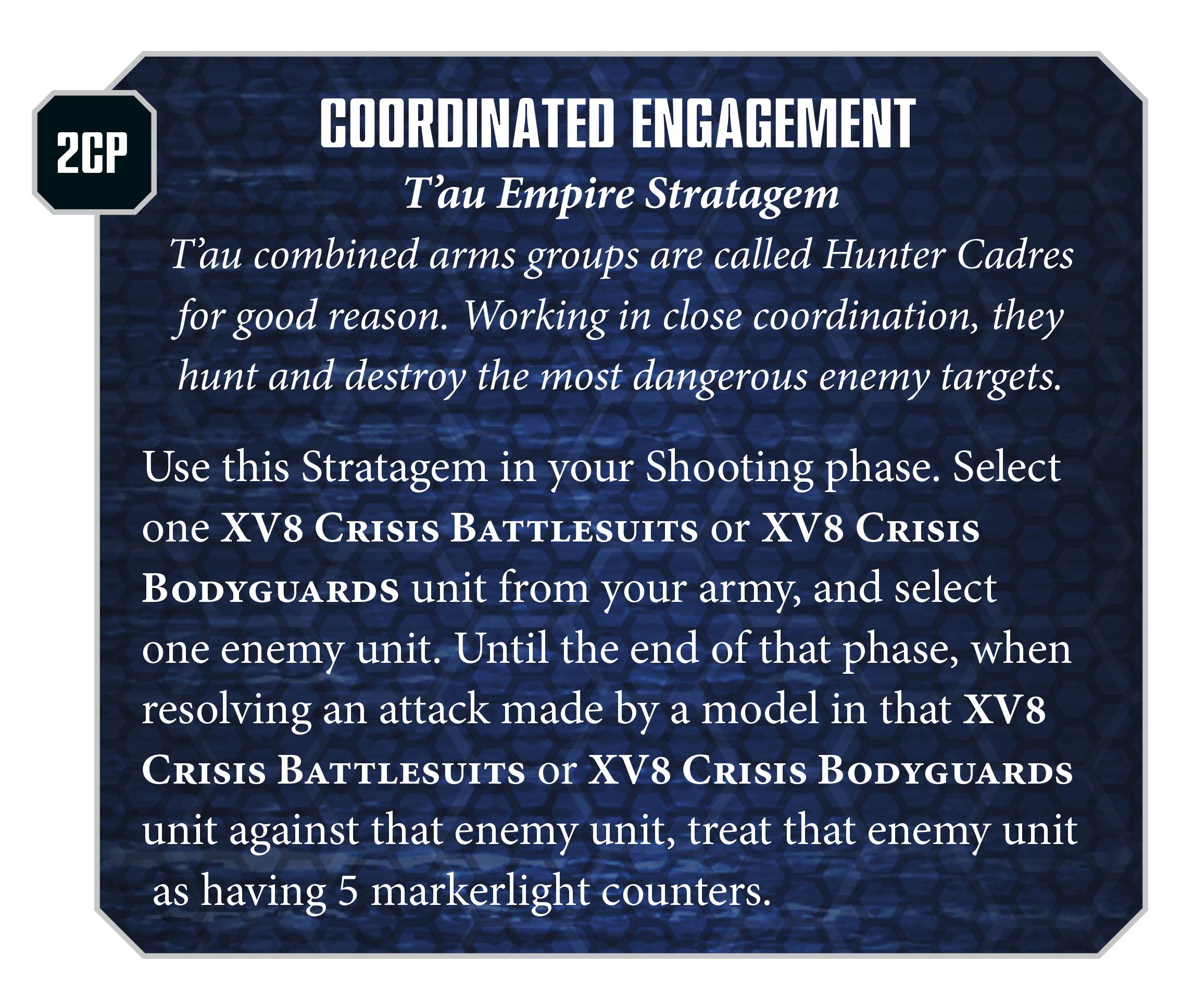 Farsight Enclave Updates
Commander Farsight is also getting some new toys in the Greater Good to play with. Danger Close is a stratagem that is all about getting up close and personal with the enemy: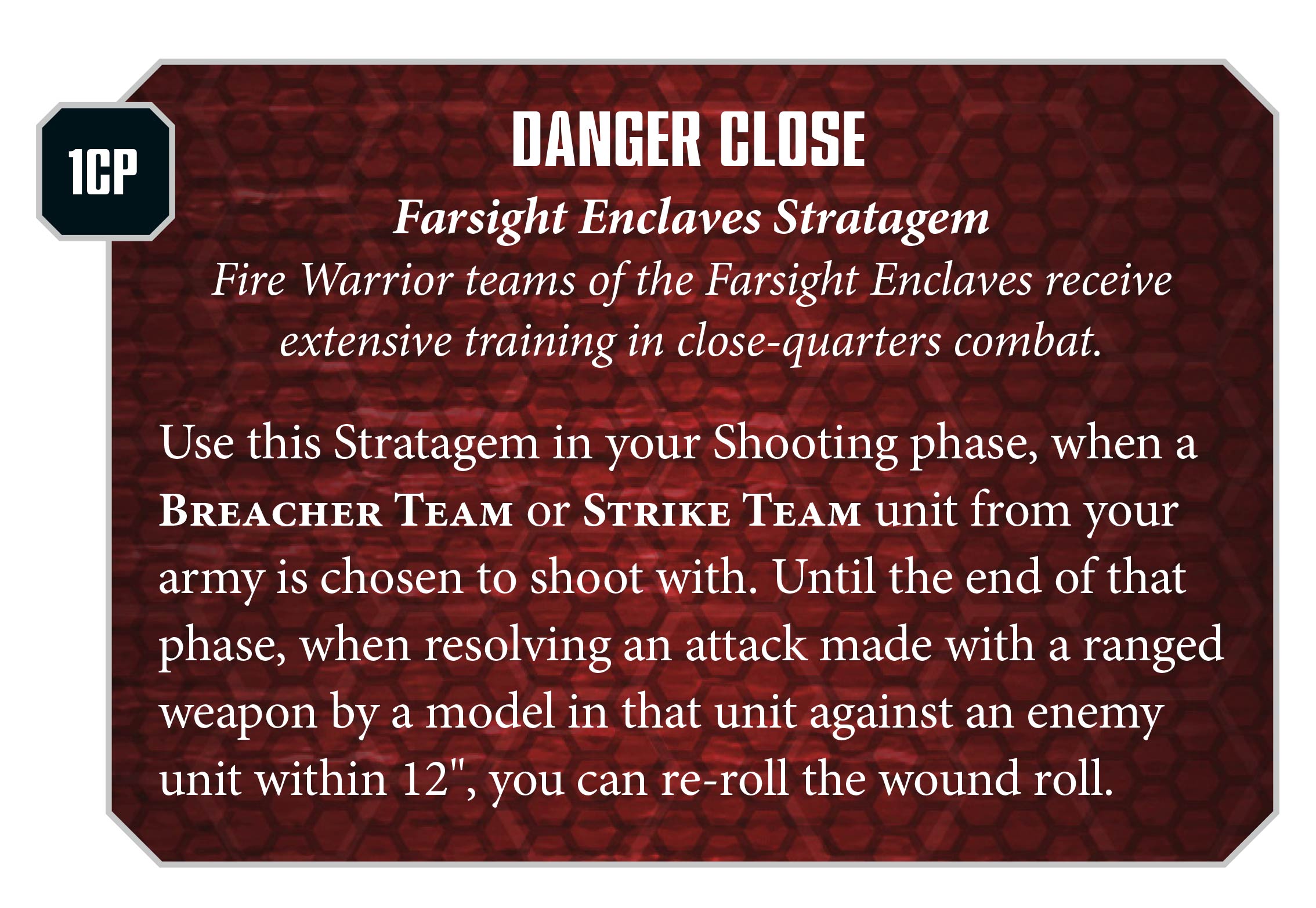 New stratagems not enough? Well new Warlord Traits and Relics are also on the way!
It's going to be a glorious day to be a part of something bigger like The Greater Good!
Are you ready for the T'au because they want to bring you a message of the Greater Good…