RPG: Ironsworn's Dark Fantasy Gets A New Expansion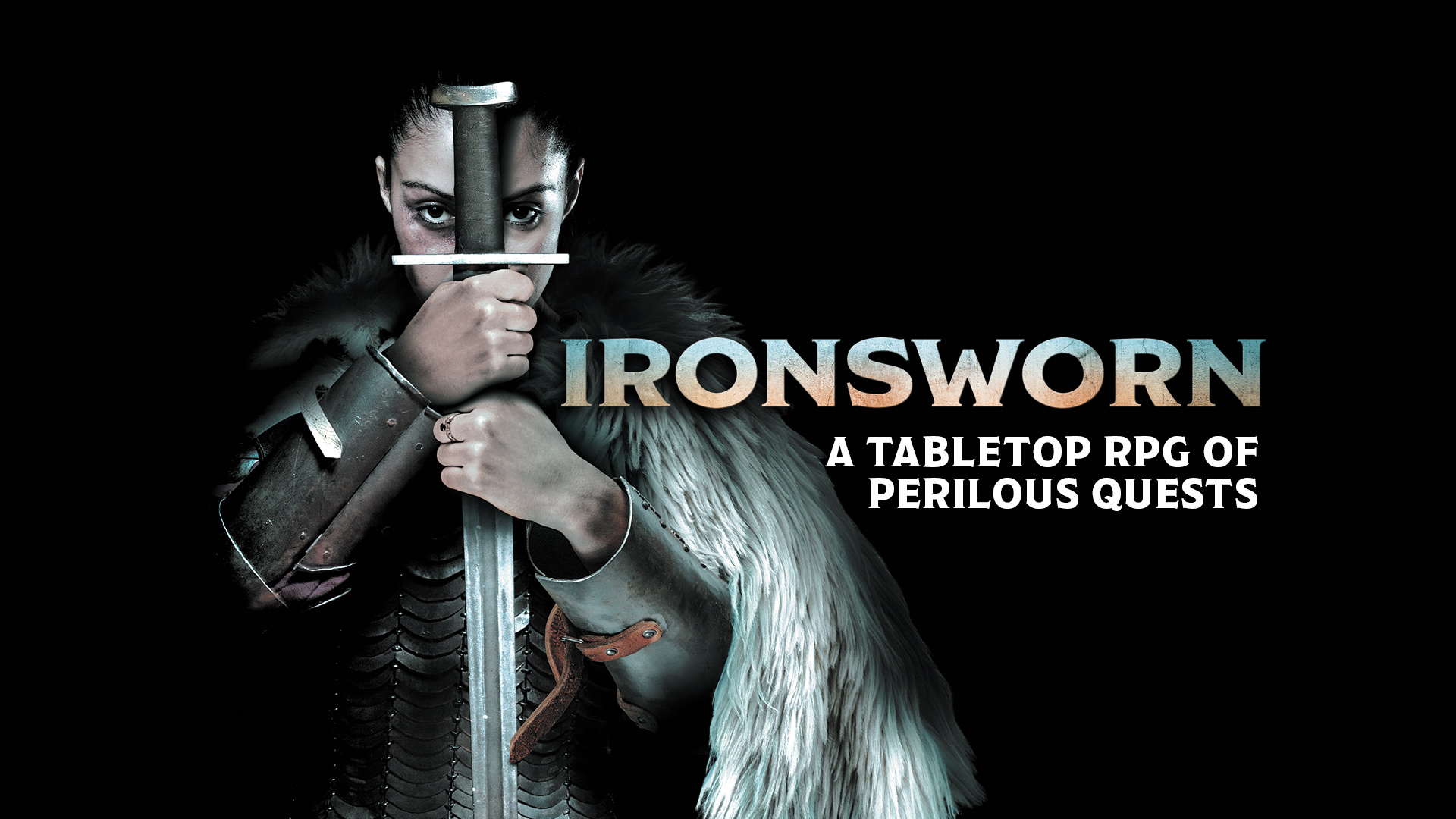 Ironsworn is a dark fantasy RPG that fulfills all your Witcheriest dreams. Now it has a new expansion focused on dungeon delves and danger. Check it out!
Ironsworn is one of the best new RPGs out there right now. With a dark fantasy vibe that can be played in the traditional style, or co-operatively without a GM, or even Solo–so if you're looking for a game you can play by yourself, this is it–Ironsworn has a lot to offer prospective tables. You can get the core rules for free right now, and you'll want them in order to enjoy the new dungeon-focused expansion: Delve. It's Powered by the Apocalypse, so you know what you're getting into with it–and if you want to check out Delve, try the first two chapters free HERE.
via Ironsworn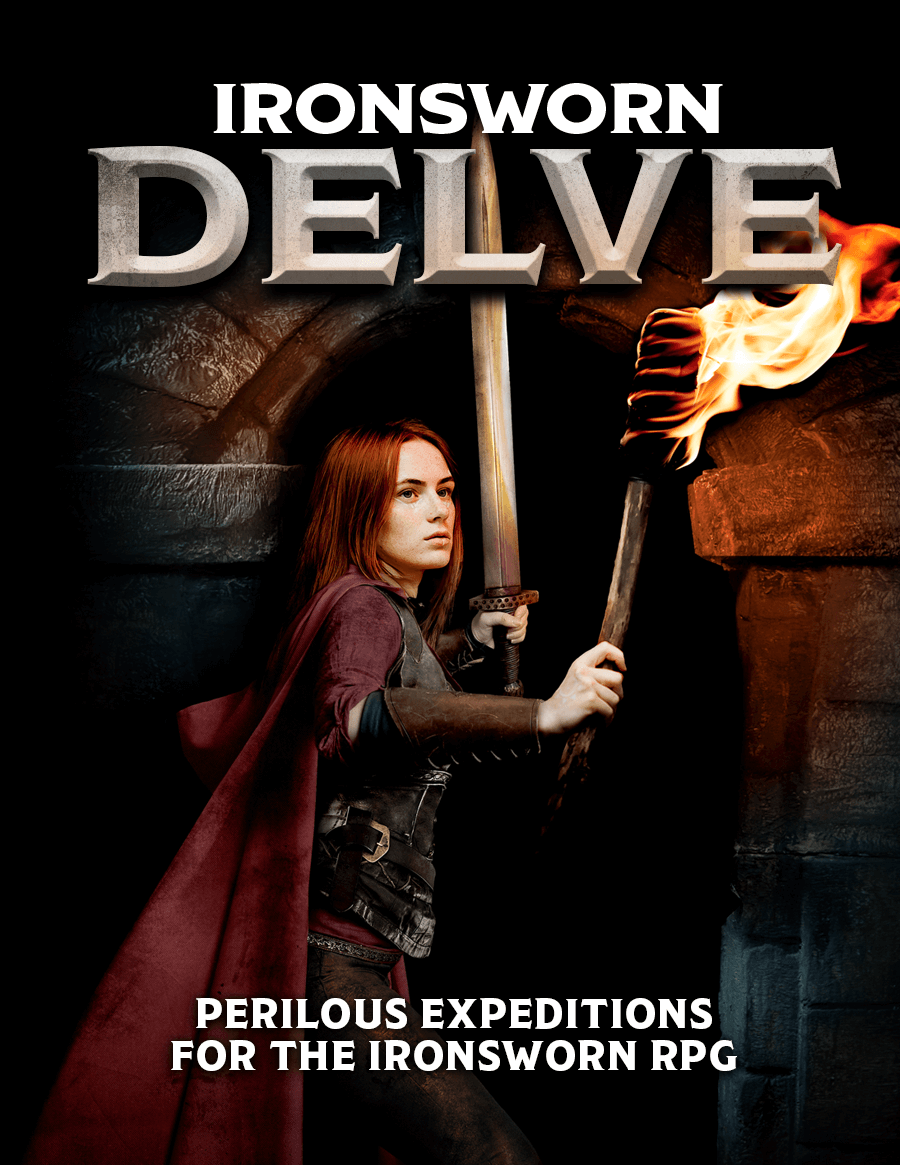 A massive expansion for the Ironsworn RPG. Expeditions into perilous places, more foes and encounters, an array of new oracles, expanded setting info, mysterious objects of power, campaign threats, and much more!
This supplement for the Ironsworn tabletop roleplaying game takes your quests to the deepest, darkest reaches of the Ironlands. Plunge into subterranean caverns. Explore untracked forests and foreboding swamps. Journey across icebound wastes. Uncover lost secrets within ancient ruins.
To fulfill your sworn vows, you will brave the most dangerous places of the world and face the most terrible foes. Will you escape the depths? Play to find out.
With an array of new options and tools, Ironsworn: Delve is the perfect companion for your Ironsworn campaign—in or out of the dungeon.
What's Included:
Support for solo, co-op, and traditional guided play
Gameplay options, tips, and setting details for quest-driven expeditions within perilous sites
Hordes of new foes, extraordinary encounters, and campaign-level threats
Wealth, artifacts, and supernatural rarities to give your character an edge
Quest starters, sample locations, and an assortment of new oracles to keep your story moving
Inspirational tools for zero-prep gameplay—with or without a GM
Note: This supplement requires the use of the Ironsworn RPG core rulebook, which is free to download.

ABOUT THE DELVE DIGITAL EDITION
The Ironsworn: Delve digital package includes the rulebook, site worksheet, printable site cards, and reference sheets. The rulebook PDF is bookmarked, searchable, and optimized for fast tablet display. Portrait and landscape (two-page spread) formats are included. Select the PDF option (above) to buy the digital edition.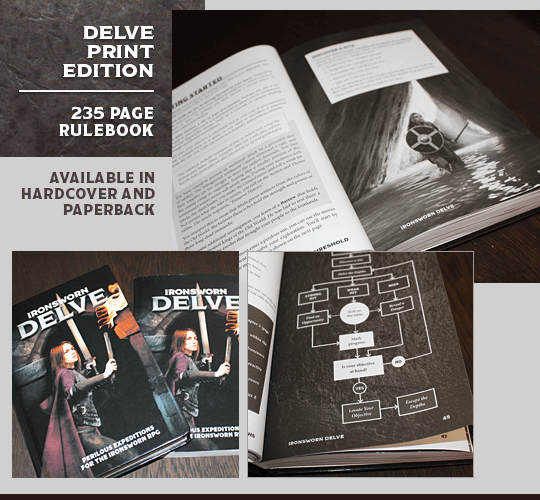 ABOUT THE DELVE PRINT EDITION
Note: The print version shows as "color" in the product summary, but the interior of the Delve rulebook is actually black and white. The color printing process is used for heavier paper and improved image quality.
Subscribe to our newsletter!
Get Tabletop, RPG & Pop Culture news delivered directly to your inbox.
The print edition includes the Ironsworn: Delve rulebook in your choice of hardcover or softcover. The rulebook is 6×9, 235 pages, heavyweight 70# matte paper, glossy color cover, and black and white interiors. All other materials, including the site worksheet, site cards, and reference materials, are provided in digital format. Select a print+PDF option (above) to purchase the book and add the entire digital edition package to your account.
Happy Adventuring!