RPG: Last Chance D&D 5E Middle-Earth Humble Bundle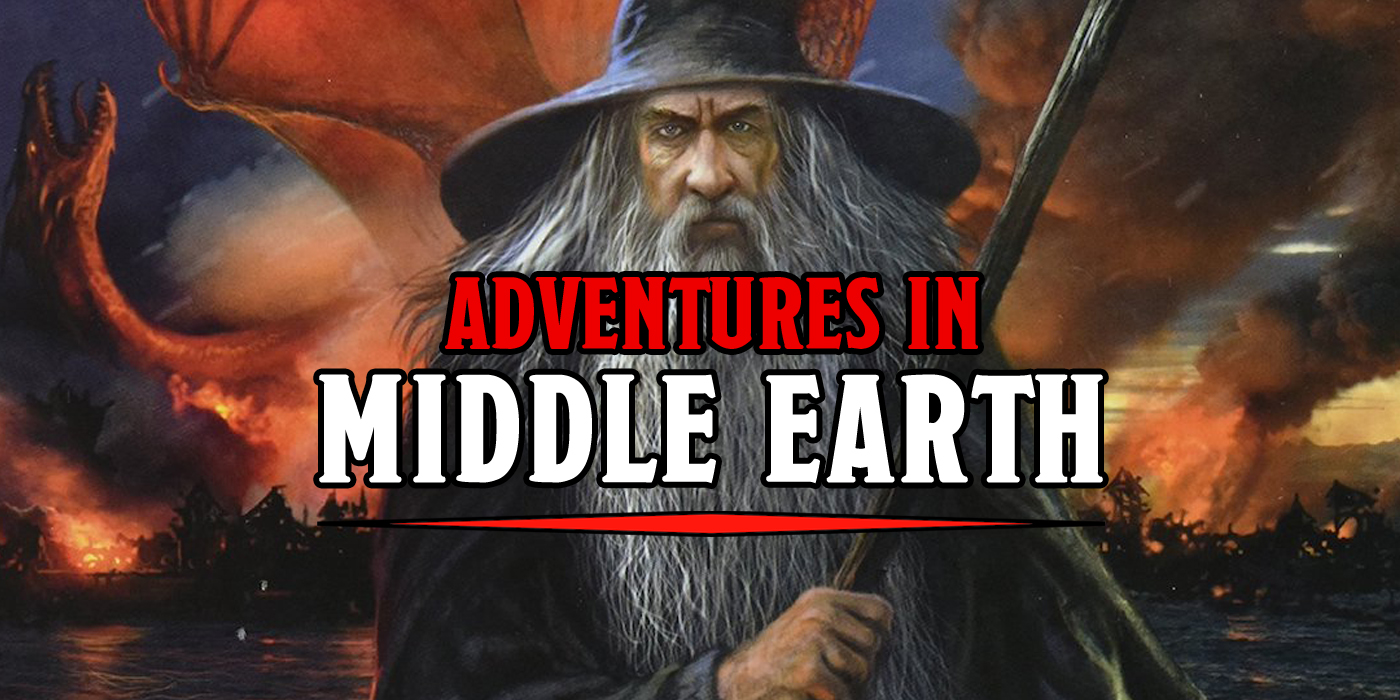 Cubicle 7's excellent Adventures in Middle-Earth is available as part of a humble bundle one last time before they're gone.
Though Cubicle 7 will no longer be publishing their Middle0Earth roleplaying games, there's still a chance for you to grab the latest and greatest 5E version of Middle-Earth roleplaying. Adventures in Middle-Earth is an adaptation of 5E's rules that converts them into a set more thematically appropriate for adventuring in the world of the Lord of the Rings. You'll have rules for chronicles, going on a journey, taking actions as a Fellowship, and all of the classes and cultures have been reworked to be as Tolkienian as they can. It's a lovely system that I'm sad is going away, but now's your chance to grab them, thanks to Cubicle 7 and Humble Bundle.
via Humble Bundle
Adventure awaits you in Middle Earth! We've teamed up with Cubicle 7 for another chance to pick up the Lord of the Rings 5e RPG bundle. Get the PDSFs you need to play 5th edition campaigns in the world of Arda and visit well-known places like the Shire, the Elven Kingdoms, and more. Plus, your purchase will support a Worldbuilders!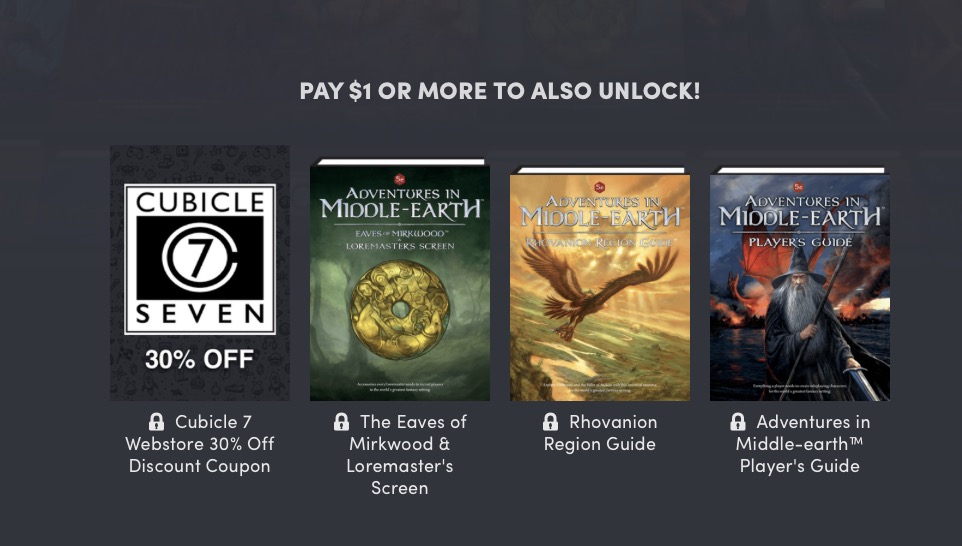 Pay $1 or more. Normally, the total cost for the PDFs in this bundle is as much as $222. Here at Humble Bundle, you choose the price and increase your contribution to upgrade your bundle! This bundle has a minimum $1 purchase.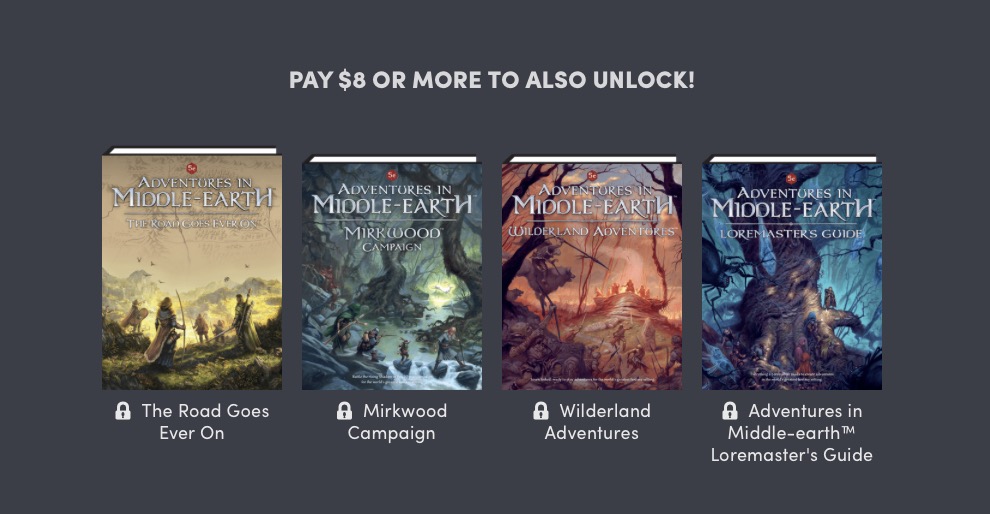 Read them anywhere. The products in this bundle are available in PDF format, so they work on your computer, e-readers, iPads, cell phones, and a wide array of mobile devices! Instructions and a list of recommended reading programs can be found here.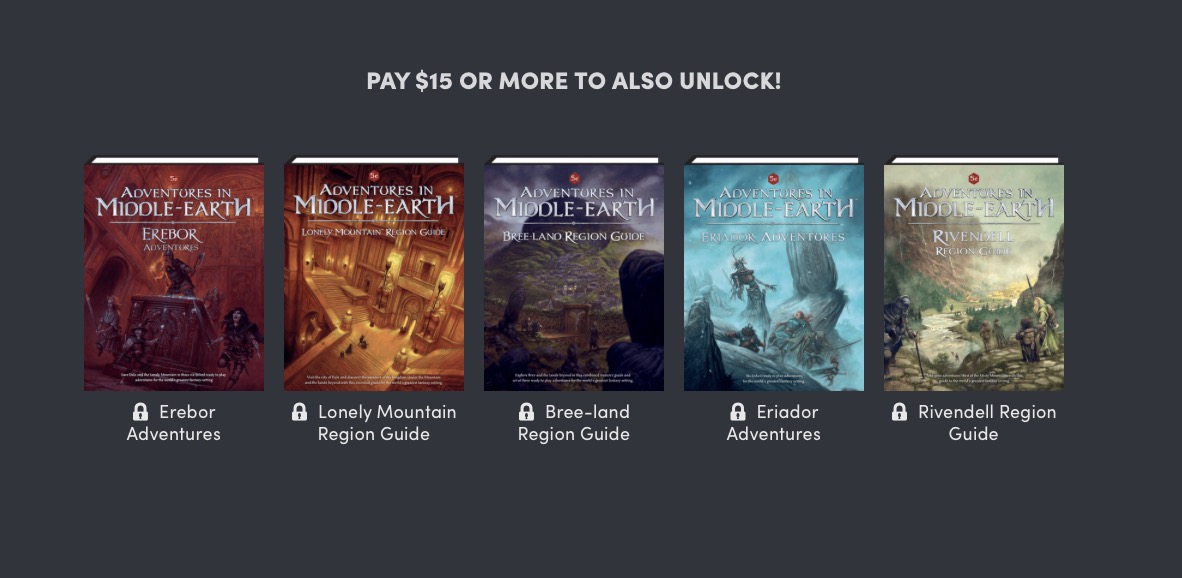 Support charity. Choose where the money goes – between the publisher and Worldbuilders via the PayPal Giving Fund. If you like what we do, you can leave us a Humble Tip too!
Happy Adventuring!
Subscribe to our newsletter!
Get Tabletop, RPG & Pop Culture news delivered directly to your inbox.