Take off your serious tabletop gaming hat and get ready for a ridiculous HBO monster high adventure with this week's RPG Spotlight.
It's Valentine's Day, and if you're anything like me greeting card holidays are the perfect time to play festive themed tabletop RPGs. If you're the sort of person who enjoys the very specific intersection of trashy romance and urban fantasy, Monsterhearts may be the game for you.
Originally started as a joke, Monsterhearts was first became available to the general public in 2012. Using the Powered By the Apocalypse system of game play that you may remember from my MASKS spotlight, Monsterhearts is designed to focus on personal relationships, cinematic themes, and role playing over many of the more technical aspects a more crunchy RPG system. Just like in the other Apocalypse games, players pick their character archetype and have most of the heavy lifting of character creation done for them already. The four stats the characters use are different through with Hot, Cold. Volatile and Dark. Hot and Cold mostly relate to interpersonal actions, turning someone on, shutting someone down, or manipulation for example, while Volatile and Dark relate more to action and occult endeavors such as physically lashing out or "gazing into the abyss."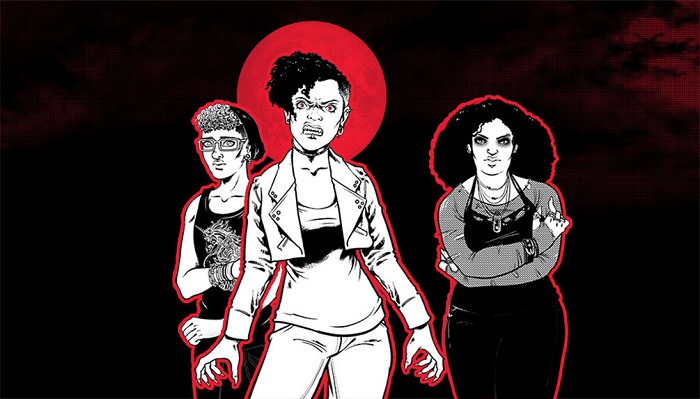 If this sounds like a hilarious way to co-write True Blood fan fiction with your friends, you're not wrong. And if you instead this seems like a game with the sort of sexy potential that may make it awkward to play in certain friend circles, you're not wrong either. Monsterhearts is fun and silly and kitschy, but it's also a game that aims to be sexy with built in rules for avoiding steamy situations and then which character archetypes are better or worse off for not avoiding them. Because of this, Monsterhears may be the game for you or it may very very much not be. When bringing adult situations to any RPG table it's important to have a solid understanding of everyone's comfort levels. For some Monsterhearts may be too much, and that is absolutely okay.
For me, Monsterhearts would be the perfect game to play with my post-college roommates. We shared trashy romance novels, one of them got the rest of us hooked on Twilight (we knew it was bad, but one day I was starting the first book and the next thing I knew I'd finished the series and I may have lost all of the time between), and we laughed about bad television. None of us took any of it very seriously and Monsterhearts would be a perfect way to take a ride of on the nostalgia express together and have a good laugh.
Still not sold? Critical Role will apparently be playing Monsterhearts tonight, giving you the perfect opportunity to see if this is your new favorite game in real time.
---
What are your Valentine's Day plans? Have you played Monsterhearts?
Happy Adventuring!