Commander Shadowsun is back with a brand new Battlesuit and a fancy new model – come take a look at the legendary T'au Commander's new rules!
It wasn't just a new model upgrade – Shadowsun has a new upgraded version of the XV22 Stalker Battlesuit with some new rules to match. This new suit has an array of new options for T'au players so you can find the right tool for the job.
Shadowsun has received a brand-new version of the XV22 Stalker battlesuit, and it is now better than ever. Along with a flechette launcher, pulse pistol and light missile pod, she now has the choice of taking dispersed fusion blasters for melting Space Marines or high-energy fusion blasters for taking out enemy armour. Can't decide? Well, you can always take one of each!

Shadowsun also has a new MV37 Advanced Guardian Drone which replaces her old MV52 Shield Drones. This one provides a 6+ FNP bubble to models within 3″ of the drone.

The final preview of Shadowsun's rules includes an ability that allows her to join any T'au Empire Detachment, even her rival Commander Farsight!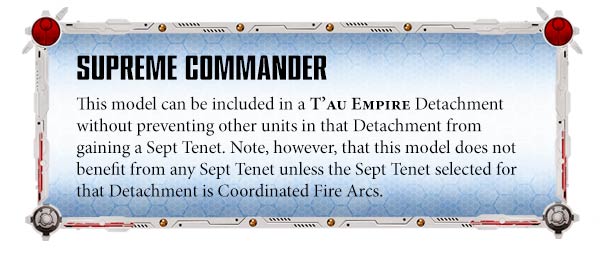 Shadowsun Inbound!
Commander Shadowsun is coming to Pre-Order this weekend from Games Workshop!