Games Workshop Pre-Orders: Pricing & Links – Sister's Final Wave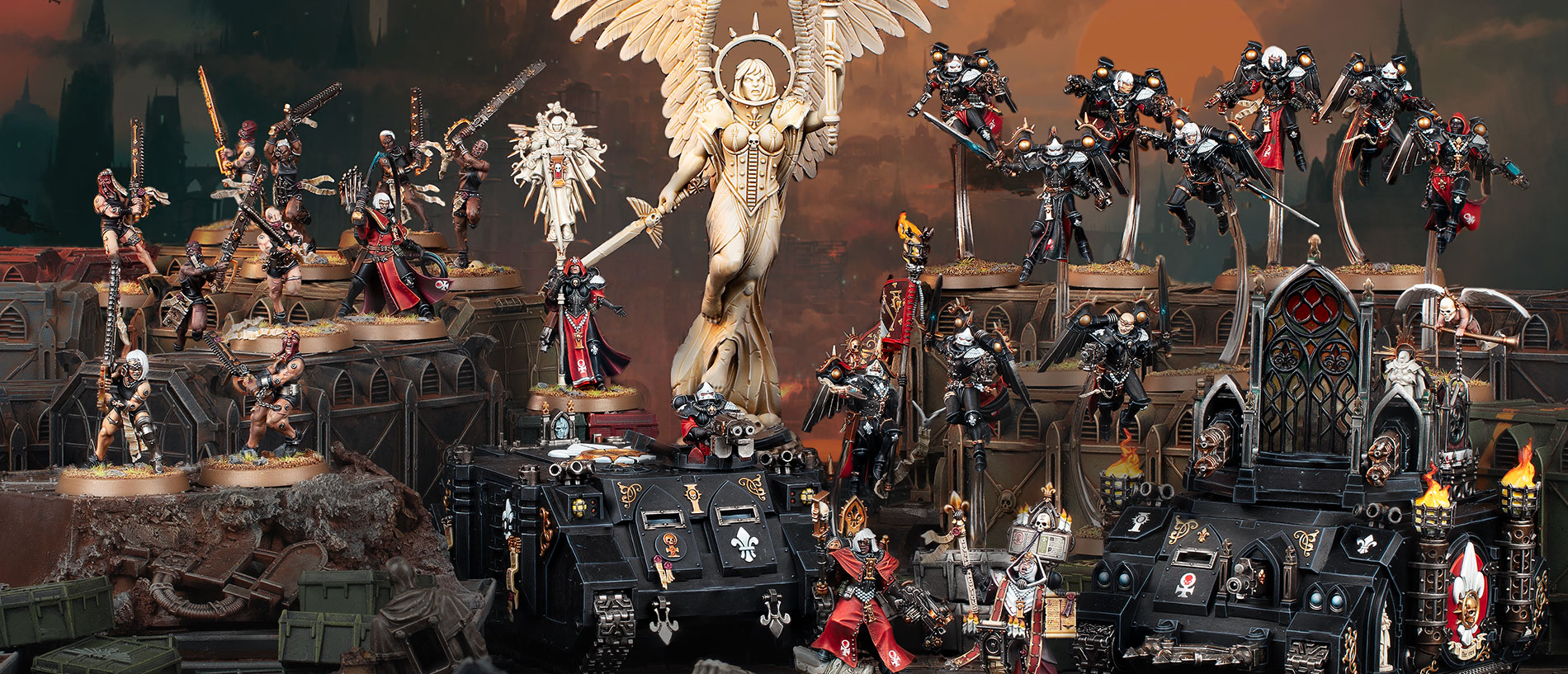 It's the final wave of Sisters of Battle Releases – here are their pricing and links.
via Games Workshop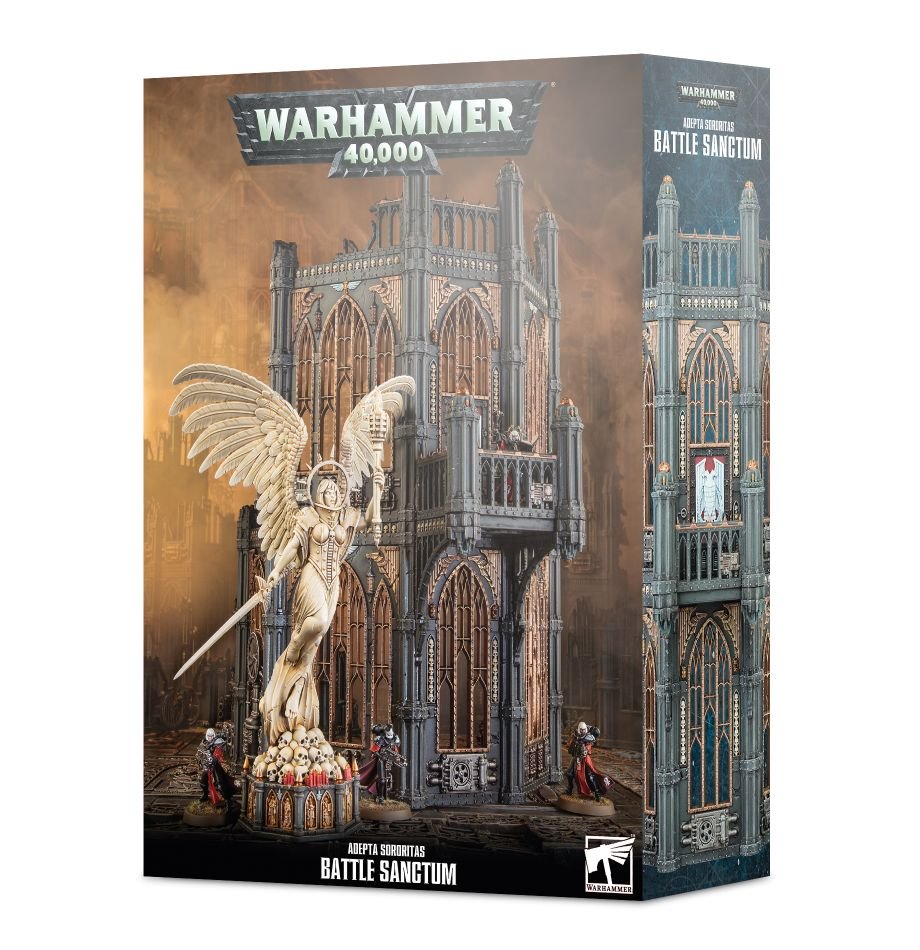 This kit contains six frames of plastic terrain with which to build two brand-new terrain pieces that are compatible with the Sector Imperialis scenery kits. The first is a 12″ tall building with an octagonal design, while the other depicts an 8″ tall statue of Saint Celestine with a sword in her right hand and blazing a torch in the other. You can even combine the kits to create an impressive statue-topped tower building that's 20" tall.
This set is supplied in 134 plastic components.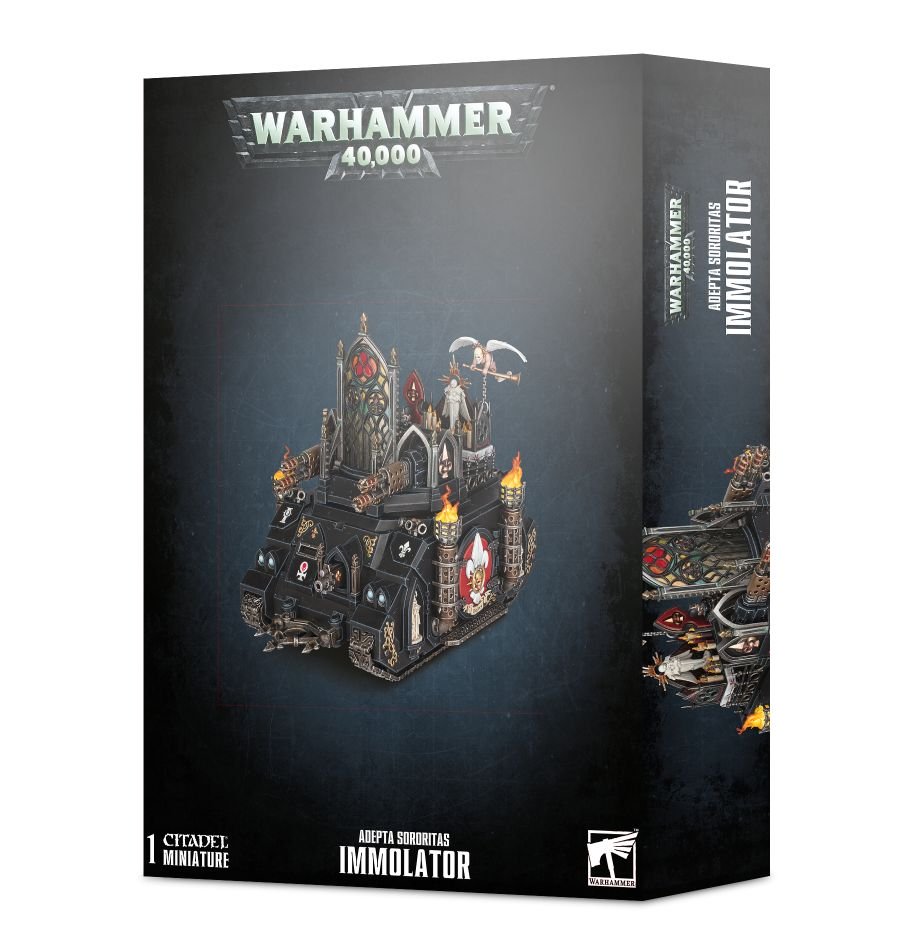 Used exclusively by the Adeptus Ministorum, the Immolator-pattern armoured assault transport is a variant on the Rhino chassis. Atop the hull of each Immolator is mounted an elaborate turret arrangement that incorporates a stained-armaglass ballistic shield, auto-choral targeting array and gunner's nest linked to a twinned pair of devastating heavy weapons.
The Immolator is equipped with a hull-mounted heavy bolter and can be assembled with a choice of three main armaments on its turret – Immolation flamers, twin heavy bolters or twin multi-meltas. It can also equipped with an optional hunter-killer missile.
This set is supplied in 105 plastic components. An Adepta Sororitas Transfer Sheet is also included.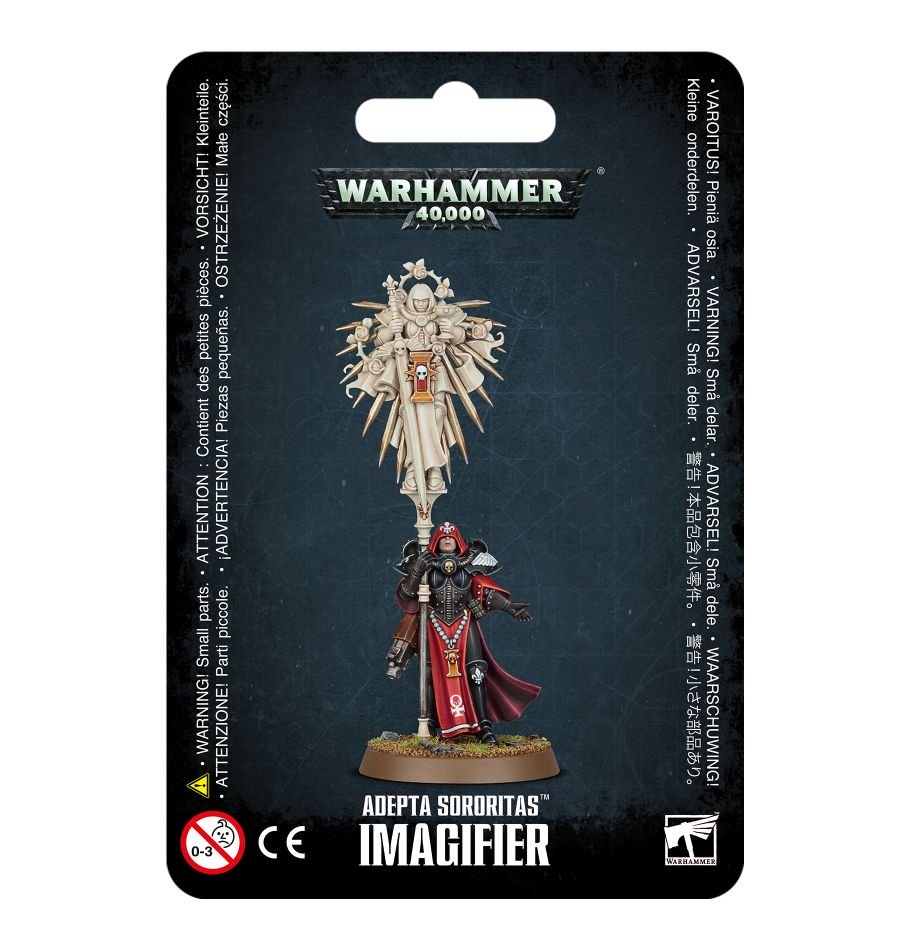 The role of Imagifier is sacred amongst the Orders Militant. To these fervent Sisters falls the task of extolling the virtues of fallen Sororitas, and of preaching their deeds amidst the din of battle so that the martyr's spirit may inhabit the warriors of the Order. An Imagifier bears a stanchion mounted with a graven image of a revered martyr. Held aloft, this image serves as a locus of faith to the Sisters of Battle and a beacon of martial purity, inspiring nearby Sisters to new heights of violence and stoicism in the service of the Emperor.
The kit builds a single Imagifier bearing a stanchion, atop which is mounted the image of a fallen saint wielding a chalice and sword. The Imagifier can be assembled with a choice of two head options –one is unhelmeted, with a low hanging hood over the Imagifier's eyes, while the other is helmeted.
Subscribe to our newsletter!
Get Tabletop, RPG & Pop Culture news delivered directly to your inbox.
This set is supplied in 11 plastic components and contains a Citadel 32mm Round Base.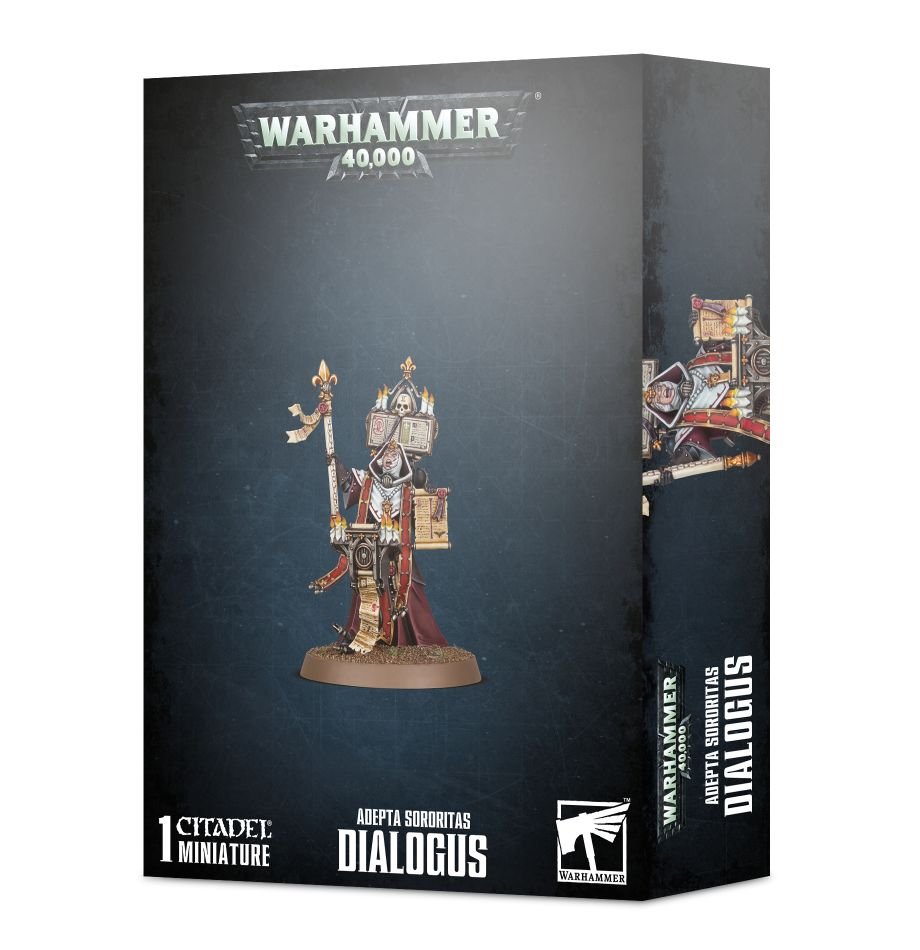 A Sister Dialogus drowns out the filthy war cries of the enemy with shouts of exalting praise to the God-Emperor. She is a locus of faith in the Adepta Sororitas battle line, standing upon fire-swept promontories, arm thrust proudly out with her staff of office in an iron grip as shots whine around her. Her laud hailer amplifies her inspirational rhetoric over the din of battle, and through broadcasts to vox-beads and sensoria arrays she ensures that all nearby Sororitas can benefit spiritually from her deep well of holy knowledge. Each bellowed verse is punctuated by deadly shots of her bolt pistol.
The kit builds a single Dialogus, who bears a variety of microphones and vox-speakers with which to amplify her holy oratory across the battlefield. A lectern hovers in front of the Dialogus, with relic parchment hanging down from it and additional verses on the candle-topped rostrum.
This set is supplied in 10 plastic components and contains a Citadel 40mm Round Base.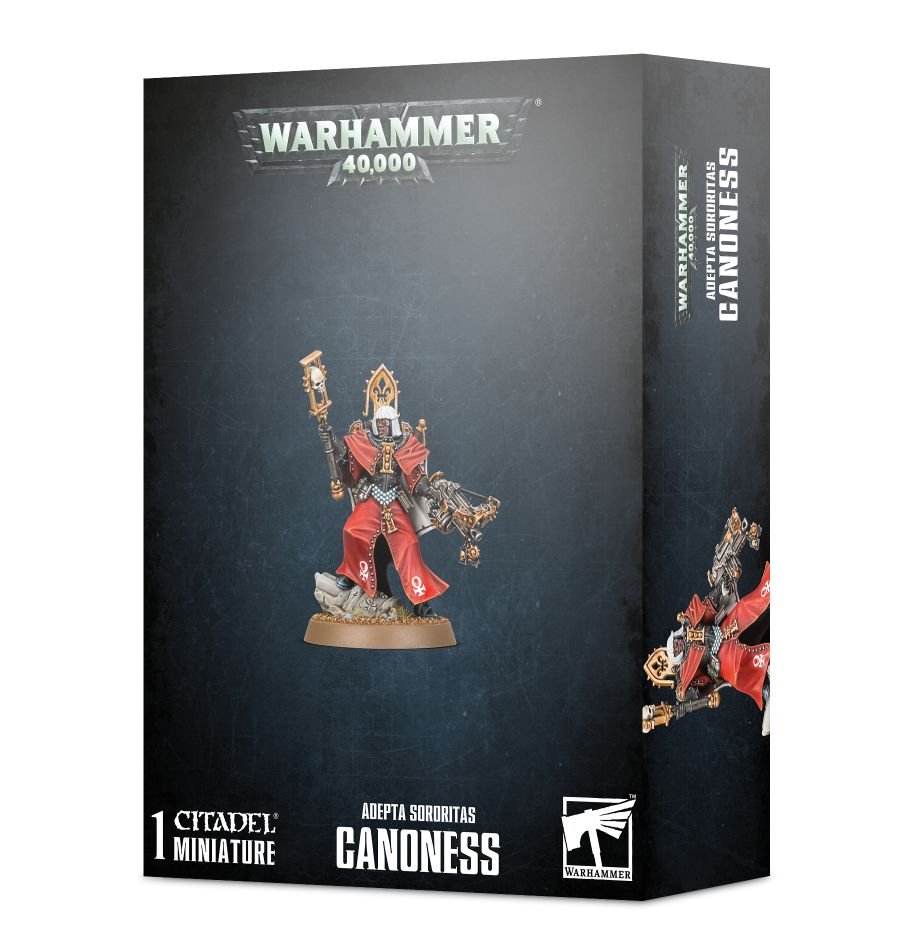 Canonesses are the martial and spiritual commanders of the Orders Militant. Each is a shining example of purity and dedication of purpose, a veteran warrior of many hundreds of battles, and a slayer of the faithless in numerous war zones. But it takes more than just skill in combat to be granted such a position of command in the Adepta Sororitas. To be a Canoness requires a combination of strong leadership, shrewd tactical genius and sheer overarching faith in the Emperor.
The kit builds a single Canoness. She can be equipped with a choice of bolt pistol, plasma pistol, inferno pistol or condemnor boltgun in her left hand. Her right hand be assembled holding a choice of chainsword, power sword, blessed blade, null rod or brazier of holy fury.
This set is supplied in 26 plastic components and contains a Citadel 32mm Round Base.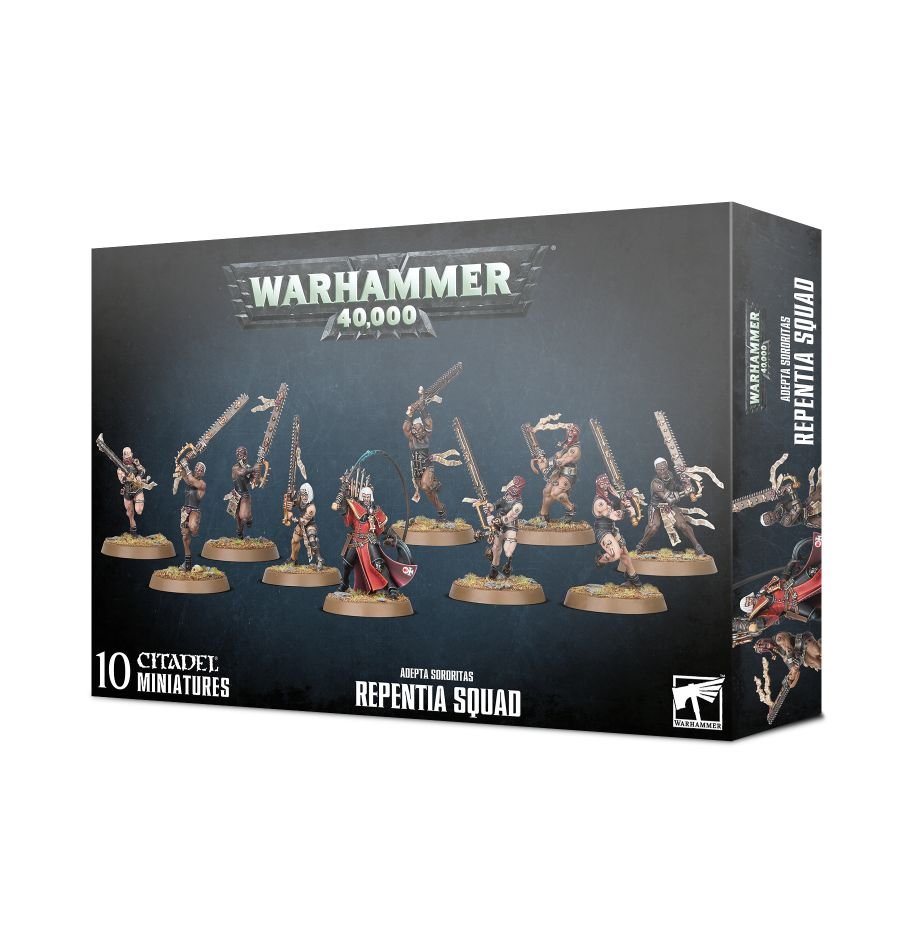 Sororitas who fall short of the Sisterhood's stringent codes of service are stripped of their wargear and cast out from the Order in which they served. Known as Repentia, they are banded together with others who have fallen from grace, and in these squads they are given the opportunity to wash away their sins with the blood of the faithless. It is possible for a Repentia to redeem herself through deeds of great bravery and butchery – Celestine, The Living Saint, was once a Repentia.
The kit builds nine Repentia armed with penitent eviscerators. Each body has a choice of two sets of arms for added variety. The Repentia Superior wields a pair of neural whips – one coiled and the other mid-lash – though one can instead be swapped for a holy tome. Repentia Superior can also be assembled with a choice of two heads (either with or without helmet).
This set is supplied in 95 plastic components and contains 1x Citadel 32mm Round Base and 10x Citadel 28.5mm Round Bases.
The Rhino armoured personnel carrier has been a mainstay of the Imperial military forces since the earliest days of the Great Crusade. Fashioned from a Standard Template Construct, Rhinos are exceptionally durable, robust and easy to operate. The Rhinos used by the Militant Orders are magnificently decorated with filigree and holy icons. Applied and maintained by masterful artisans, these embellishments honour the machine spirit of each Rhino and celebrate its role as a deliverer of the Emperor's divine judgement.
The kit comes with a wealth of optional extras including a filigreed glacis plate, arched viewing ports and a hunter-killer missile. It also features a fully-detailed interior, with a communications array and boltgun on arming rack, and an optional Sororitas driver/gunner.
This set is supplied in 103 plastic components. An Adepta Sororitas Transfer Sheet is also included.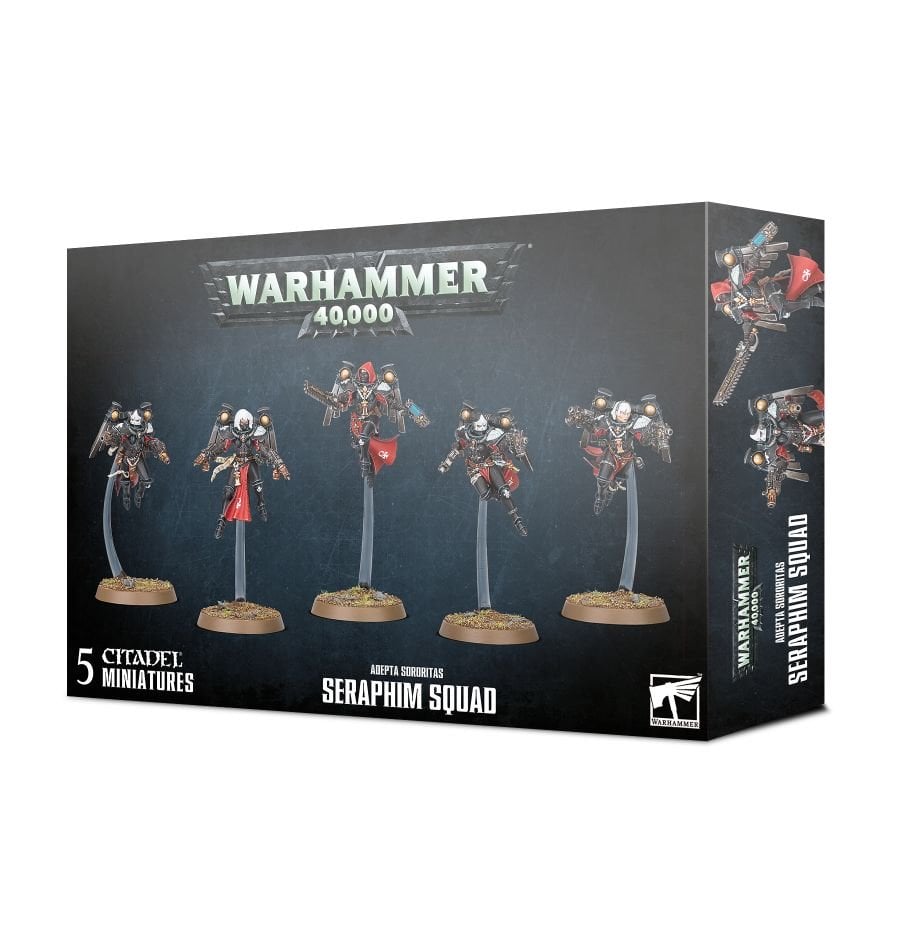 The angelic warriors known as Seraphim fight in the advanced guard of an Adepta Sororitas army. Equipped with San Leor pattern jump packs, they descend from on high and launch themselves at the enemy lines, using shock and awe to shatter formations before their fellow Sisters open fire. Each Seraphim wields a pair of pistols, chosen from amongst the holy trinity of weapons. Bolt pistols are used to spit hails of death as the Seraphim arc through the sky, hand flamers spew burning torrents to immolate packed ranks of foes, whilst inferno pistols fire focused beams of heat that melt through armour and flesh with contemptuous ease.
The kit builds five Seraphim. The Seraphim each carry two bolt pistols, though two of their number can instead be equipped with hand flamers while two more can bear inferno pistols. One model can be assembled as a Seraphim Superior, armed with a bolt pistol or plasma pistol in one hand and a choice of bolt pistol, chainsword or power sword in the other.
This set is supplied in 107 plastic components and contains 5x Citadel 32mm Round Bases and 2x Citadel 45mm Groove Stem Sets. An Adepta Sororitas Transfer Sheet is also included.