Gaming and Hanging Loose in Hawai'i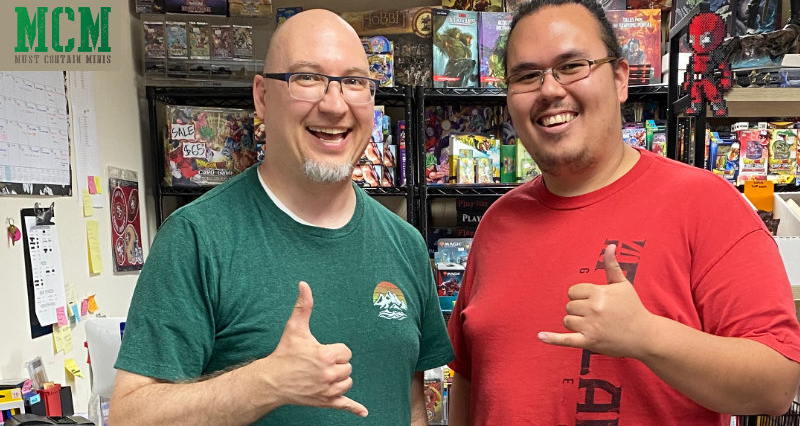 Aloha! It's Jacob and I just came back from a trip from Hawai'i!!! While nearly 4,600 miles from home, I thought to myself, "I wonder how gamer do it on the island." Quickly I did a search to see what games stores might be close to me. To my surprise, I was very close to 4 Pillars Hobby Shop.
For those wondering about my location, I stayed on the big island of Hawai'i, Hawai'i in Kailua-Kona. It is an amazing place. Now back to the game store! When visiting the shop, I met Jon Huihui-Stephenson, the owner of 4 Pillars Hobby Shop. You can check out their Facebook Page if you are interested.
Update… March 30, 2020. The 4 Pillars Hobby Shop is being hit hard by people staying home due to COVID-19. They have set up a Go Fund Me Page to help them weather the storm. If you can help, they would appreciate it. 
Thousands of Miles from Home!
Out in the middle of the Pacific, I was very far away from home. Yet, here I was able to find some like-minded individuals to check out a store and talk about miniatures!
It is pretty cool that people from so many different locations enjoy our hobby. Whether we are at home, the next city over, or in this case, half-way across the ocean, we can find people with the same interests. At this store, I listened to a couple of people discuss their army collections – one man was even talking about his collection of Warhammer miniatures and how his wife wants him to work on some D&D miniatures.
When I got talking to the owner of the store, he let me know that he has a community of Blood Bowl players that meet weekly to play, a couple of groups playing D&D campaigns (one might be open to drop-in players if you're in town), and many card game players. It sounds like they play a lot of Magic and Dragon Ball Super in this shop.
Lots of Space
A volunteer at the store was re-arranging the furniture when I got there. He was prepping to run a day of X-Wing and a day of Magic for folks. As you can see in the picture below, there is a lot of space for gaming (the picture represents about a quarter of the store). Most of the space is open with tables.
I did not stick around to see the X-Wing setup, but it is good to hear that there is a community of players out here too.
Other Products in the Hawai'i Game Store
I took a look around the store, aside from miniatures and cards, the store also sells and supports role playing games, snacks, Gundam models, some collectibles, and darts. Check it out, they even have a couple of dart machines! I didn't ask them about the cabinets or the dart community, but it looks neat.
In the other corner of the room, they had a couple of TVs set up with gaming consoles.
Wrapping it up…
4 Pillars Hobby Shop in Kona Hawai'i was a nice place to take a short break from my vacation. It was great to chat to some like-minded people about miniatures and see how stores are in other places. The hobby shop is well stocked for various card games and supports many other aspects of the gaming hobby too. I was very surprised with how close this place was to where I stayed. A walk-able distance for sure!
Subscribe to our newsletter!
Get Tabletop, RPG & Pop Culture news delivered directly to your inbox.
Special thanks goes out to Jon for taking the time out of his day to discuss a game store in Hawai'i.
I'm curious about everyone's favorite out of town game store – what cool FLGSs have you visited on vacation? Thanks again for reading, and until next time, Happy Gaming Everyone!!!

Read more about great Indy and Historical games on my site!
Must Contain Minis is my personal Website. If you like this post, be sure to check out my site. You can also follow me on Social Media. I am very active on Facebook and share posts of a wide variety. I upload my best pictures to Instagram and am fairly active on Twitter.
My aim is to promote gaming with companies outside of those that already dominate the gaming market. You can find a wide variety of games there from Indy to Historical.