There is a new Rebel Commander Expansion on the horizon for Star Wars: Legion. Check out Cassian Andor and K-2SO!
Rogue One brought us some really cool (if short lived on screen) characters from the Star Wars Universe. Cassian Andor and his feisty droid pal K-2SO are now coming to the tabletop in Star War: Legion. Today, we're getting a look at their rules.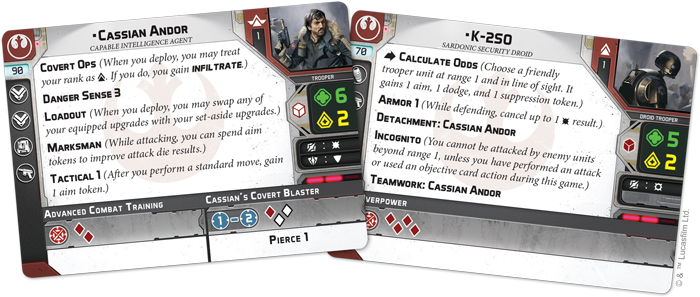 First and foremost, Andor's experience as an intelligence officer has taught him to always carefully adjust his loadout based on the most up-to-date information. This means that, while building your army, for each upgrade equipped to Cassian Andor, you may choose another upgrade card of the same type with equal or lesser points cost. Then, when he deploys, you may swap any of his equipped upgrades with a set-aside upgrade of the same type.
Being able to swap out your gear before a game is pretty powerful. That's some extra versatility we haven't seen anywhere else in Legion. Plus Cassian has access to some pretty impressive gear for you to swap around to: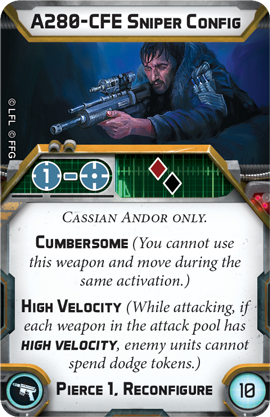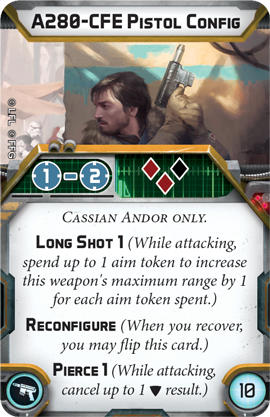 K-2SO also has access to some cool gear, too. In fact, if you can borrow Jyn's blaster for a bit, he's got some decent firepower: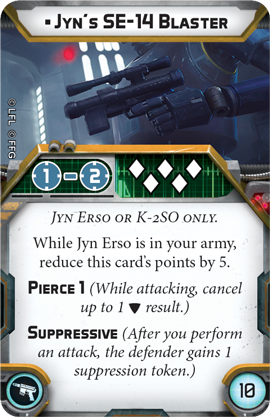 Aside from all their tricks and skills, Cassian Andor also has his own set of command cards to use in battle:
Cassian's kit is flexible and a great addition to any Rebel list out there. He's a Commander who's will to play the ultimate price to get the job done.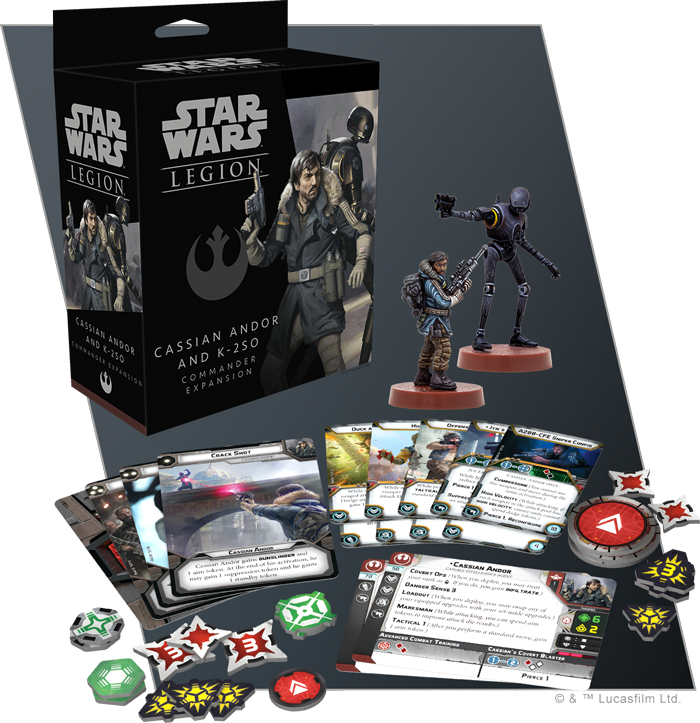 One of the Rebellion's most capable intelligence agents, Cassian Andor has dedicated his life to the cause. Capable of both leading an all-out assault or operating independently on the battlefields of Star Wars: Legion, Andor is a versatile addition to any Rebel army. No matter what role you choose for Andor, the reprogrammed KX-series security droid K-2SO is ready to assist in any operation with both his massive strength and tactical analysis.

Within this expansion, you'll find beautifully detailed, unpainted hard plastic Cassian Andor and K-2SO miniatures that feature a wealth of customization options. Cassian Andor can be assembled with three different weapon options, including his compact blaster and his A-280-CFE in its pistol configuration. K-2SO, meanwhile, can be assembled carrying Jyn Erso's SE-14 blaster, a grenade, or with his hands free. This expansion also contains four new command cards—three for Cassian Andor and one for K-2SO—as well as two unit cards and nine upgrade cards that let you outfit this pair with additional weapons, gear, and more.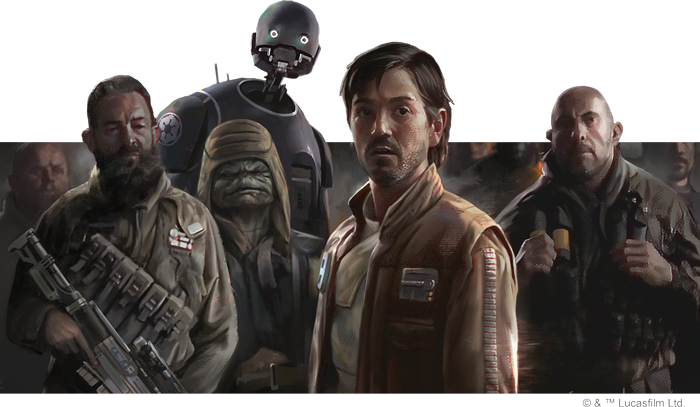 For the Rebellion!