Let's talk about the new upgraded Ragnar, and how Space Wolves can make the deadliest character in the game.
We've talked about some crazy deadly characters here before, remember Timur Khan, the Man Who Can Kill a Titan, but the new Saga of the Beast has really taken it up a notch. Now a lot of people are focusing on the new Ghaz, an amazing and powerful model. However, perhaps the real star of the show is the upgraded Ragnar Blackmane, the Young King, the Space Wolves' newfound ability to make some truly bonkers characters. Saga of the Beast has taken things to the next level and is allowing us to build what is likely the deadliest infantry character in the game. Let's take a look.
Ragnar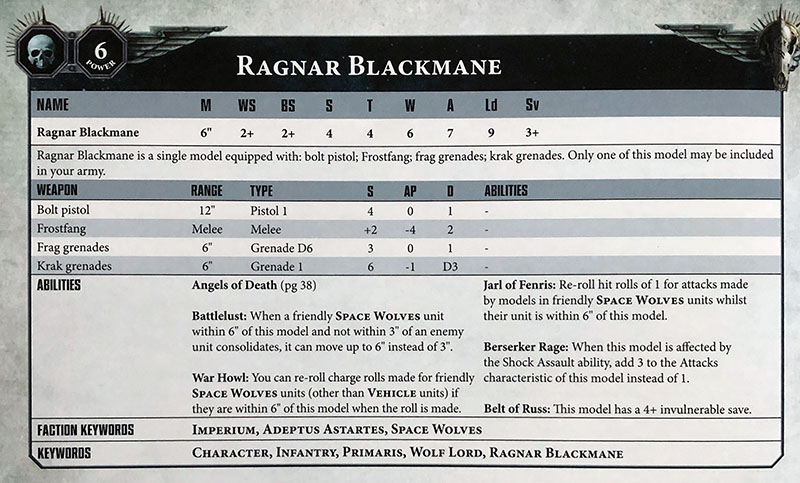 It doesn't take more than a quick look to see that Primaris Ragnar is an absolute beast. He's got a solid weapon and a bunch of great rules. All this for 120 pts makes him a steal and likely to show up in every Space Wolf army. The key we are looking at here, however, is his 7 base attacks, and +3 for charging. 10 attacks is already pretty crazy and makes him a deadly foe, but let us see how we can take it up a notch and look at the top end output that he can throw out. First, we need a couple of Wolf Priests, likely Primaris, and piled into an Impulsor with him. We are going to have one of them pray Exhortation of Rage on Ragnar, and the other will pray the new Space Wolf prayer, Tale of the Wolf King, and the Lord of the Deeps.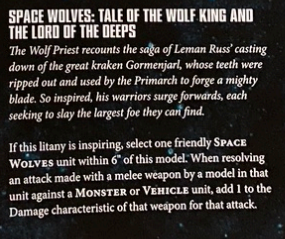 Next up, we've got Ragnar and his buddies charging into combat (or heroically intervening). For getting the max here, let's also assume that one of the Wolf Priests has the Saga of the Wolfkin and that he's killed five models, so it's an aura. We will also assume that the Assault Doctrine is now active. In our experiment, we've moved to the combat phase. It's time for some stratagems, the first of which is Touch of the Wild.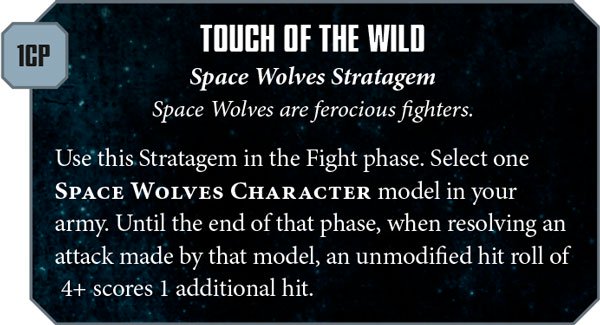 Next up, we have the option of using either Seeking A Saga or Mentors Guidance. Both cost 1 CP and allow Ragnar to re-roll wounds, they have slightly different triggers, but you should always be able to get one of them off.  We can also throw on Gene-Wrought Might for another CP if we want, at this point, we are at 3cp, let's see what all this gets us.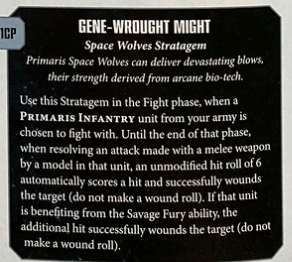 Ragnar has 10 attacks on the charge, 11 if he's getting +1 from Saga of the Wolfkin. He's hitting on 2s+ and re-rolling ones. Each roll of an unmodified 4+ gives him an extra hit. However reach roll of an unmodified 6 gives him an extra attack and 2 extra hits (1 free hit from Savage Fury, 1 hit from Touch of the Wild, and one attack from Exhortation of Rage) and with Gene-Wrought Might two of those attacks auto wound. In contrast, for the others, he gets to re-roll failed wounds. Suddenly this has the capability of turning his 11 attacks into an insane 44 hits! Each of these hits does 2 damage unless you are attacking a vehicle or monster, then with Tale of the Wolf King, you jump up to 3 damage a hit. That gets you 132 damage in one go. Now have him fight twice, and his one turn damage potential maxes out at whopping 264.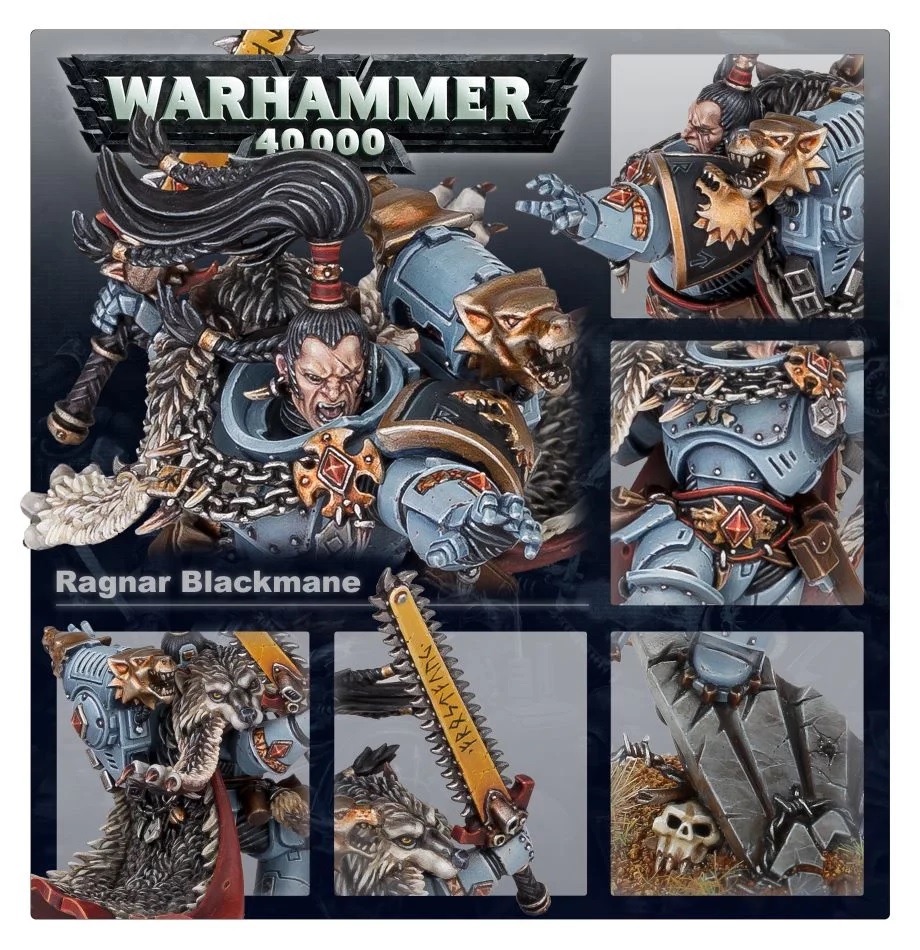 264 damage is an absolutely insane number, enough to kill TWO Warlord Titans in a turn. And yes, the chance that he hits and wounds, and rolls 6s to hit for every attack, is super rare, this is just looking at his max output (though I bet there are some ways I'm missing to bump this up even more). But even going for a more average roll still puts him around 21 hits, for one swing or 42 if he fights twice. Not only is this enough to punch through pretty much any single target in one turn (barring Ghaz who cheats, and I guess Morathi as well since it's all secretly the same universe), but it is enough to single-handedly destroy masses of enemy infantry. It's a damage output worthy of a saga.
Smash Captain
If you didn't want a named character or wanted something faster, you could do a similar build on a Smash Captain (or Smash Wolf Lord in this case). The big difference here is in the number of base attacks, the Smash Captain starts at 4 and only gets +1 on the charge, giving them 6 with Saga of the Wolfkin. Assuming you've given them a Mastercrafted Thunderhammer, they do have a higher output per hit. Their 6 attacks would turn into 24 hits, each doing 5 damage vs. monster of a vehicle. Fighting twice that puts them at a respectable 240 max damage, and a better chance of wounding some things. Not bad for a basic captain.
Final Thoughts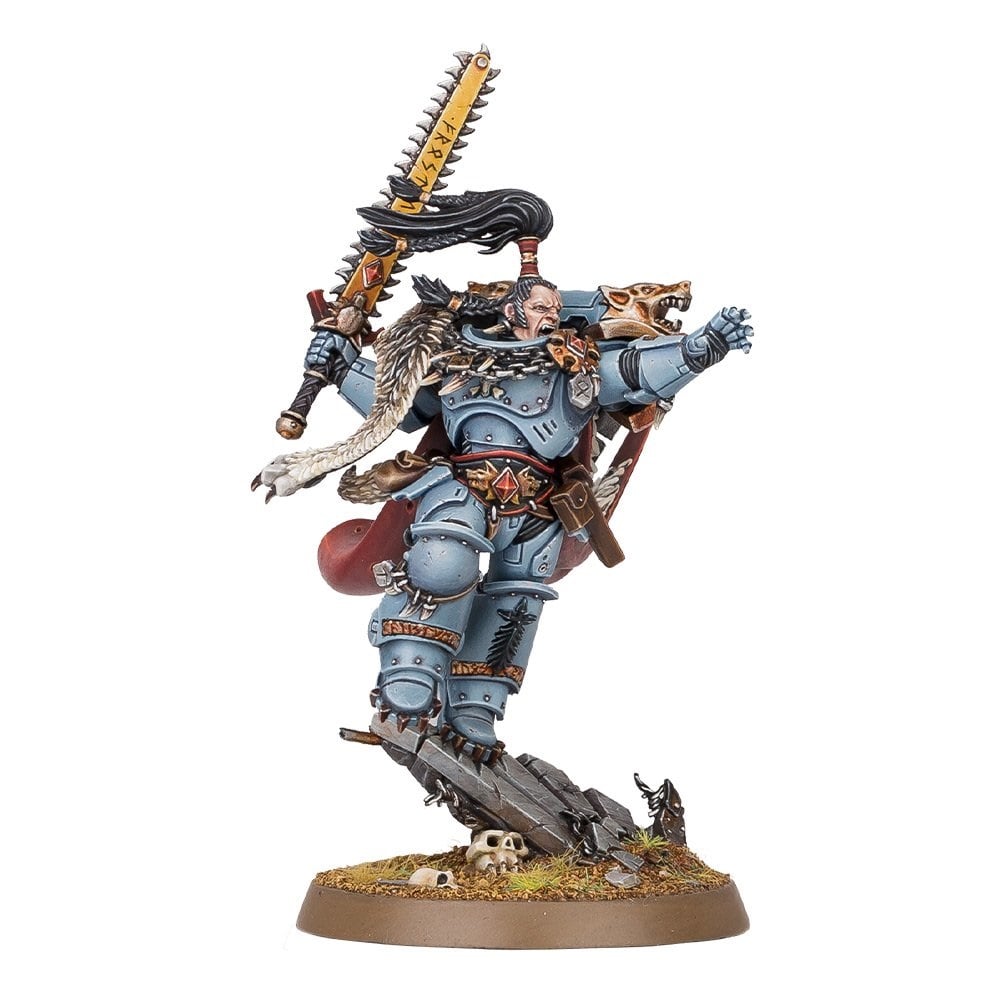 Again I fully admit that these numbers are extreme roll all 6s numbers and unlikely to ever happen during a real game. Still, the fun of theory-hammer is pushing stuff to extremes and seeing what happens. Even looking at average, or slightly above average, rolling leads to some insane damage output, both in raw damage done and in the sheer number of attacks. This makes these builds good against a large number of targets. There are also likely a few ways to bump this up more if you tried. Overall I think you'll be hard-pressed to find a more deadly infantry character than Ragnar Blackmane.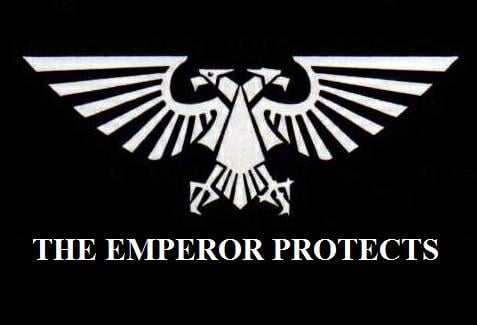 Let us know what you think about this build, down in the comments! 
UPDATED: New Ragnar datasheet now shown.