The Space Wolves are getting an upgrade. Check out their rules preview from Games Workshop!
Yesterday we got the Orky 1/2 of Saga of the Beast. Today, we get the Space Wolves. How do they stack-up? Will they be able to turn the Greenskin Tide? Let's dive in to find out!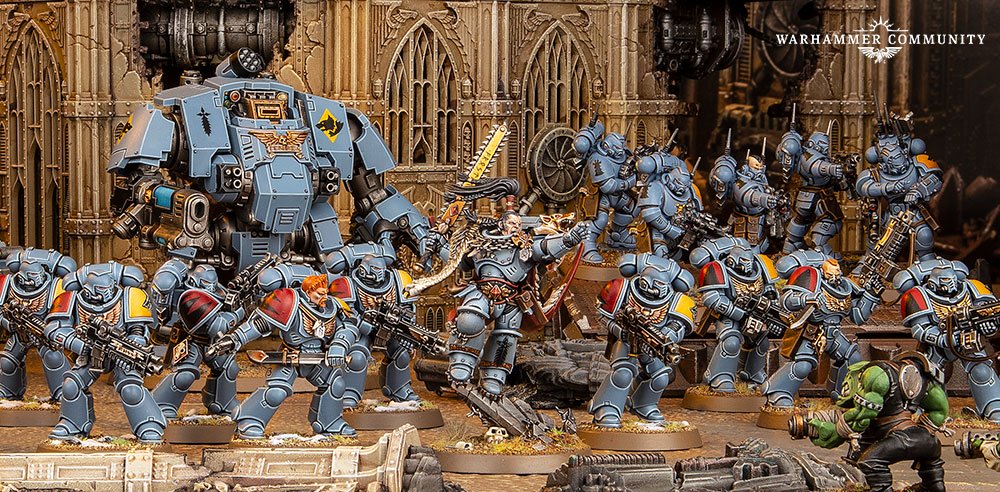 Obviously, one of the big updates is Ragnar Blackmane. Not only will we get the low-down on how he crossed the Primaris Rubicon, we will also get his new rules, too. We already saw the datasheet from Prophecy of the Wolf but now we have an even closer look at his abilities – thanks to some fancier graphics.

Again, stat-wise he is very much a Primaris Marine now. Those 7 attacks are a LOT – but that's just the start…Keep reading.

Shock Assault normally adds 1 attack but thanks to his Berserker Rage, he's getting 3 bonus attacks. And he's not done yet.

Extra pile-in is nice but what really pushes him even further is the new Space Wolf specific Combat Doctrine: Savage Fury!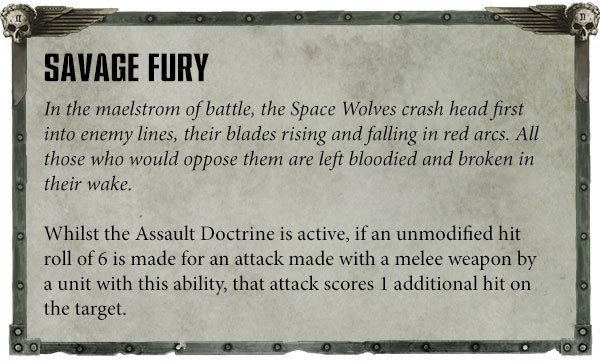 Unmodified 6's to hit cause 1 additional hit. Plus, since he's a Jarl (aka a Captain) he's re-rolling 1s to hit, too. On the charge that 10 attacks, re-rolling 1s, 6's generate additional hits. Frostfang is +2 strength, Ap -4, and 2 damage a pop. That's starting to sound pretty darn scary… if you don't have an ability that limits your damage per phase.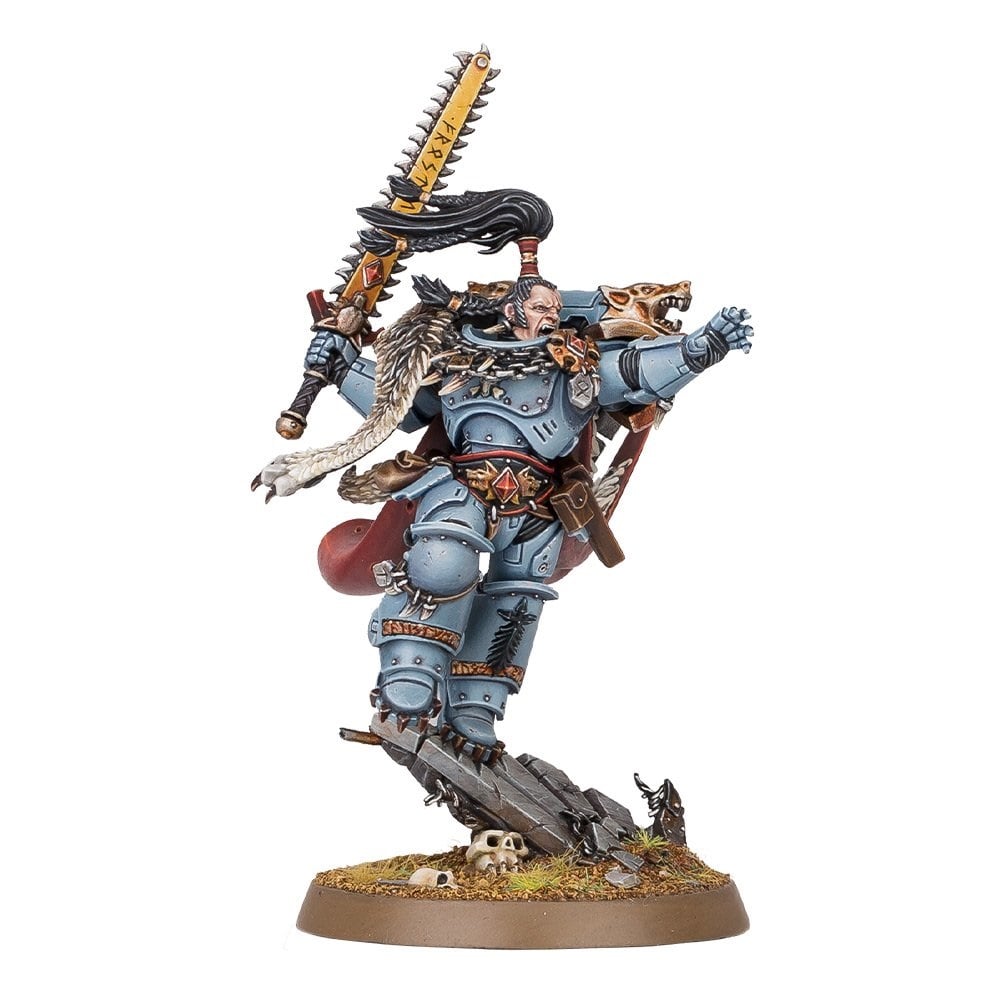 So yes, Ragnar is a beast in combat for sure. But don't forget Savage Fury applies to ALL Space Wolves. The Assault Doctrine is when it kicks off and it's when the Wolves will tear you to shreds.
New Stratagems
Get ready for 24 more stratagems when this book drops! Yep, you read that right – 24 additional stratagems! Now, some of them are repeats from other books which have become standard for Space Marines. Things like Duty Eternal, Veteran Intercessors and things like those. However, the Space Wolves are also getting a few unique options, too.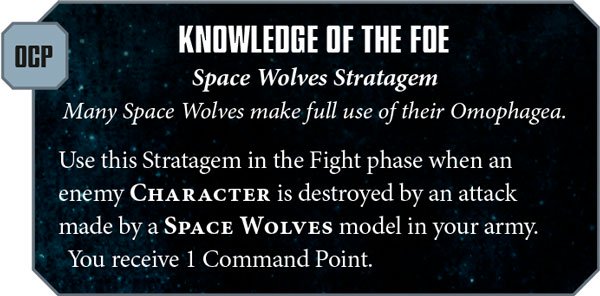 Say hello to the first 0 point stratagem in the game! It's Knowledge of the Foe and it's just flat out great. Did you Space Wolves kill an enemy character in the Fight Phase? Get a free Command Point.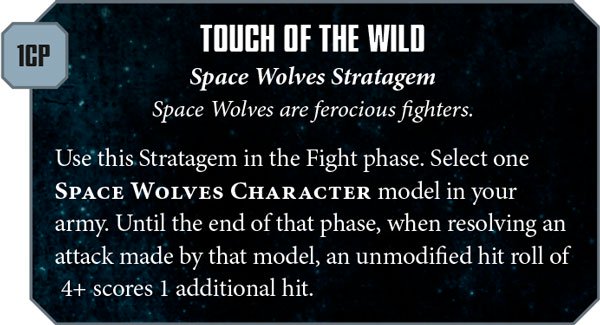 And here we have Touch of the Wild. You know how the Space Wolves get bonus attacks on 6s when Assault Doctrine is active? Well now it can happen to a Space Wolf Character when they roll a 4+ to hit. Do those things stack? I don't see why they wouldn't! So what's the maximum number of hits Ragnar could do to a unit? 30? At 2 damage a pop? Have fun with that.
Litanies of Battle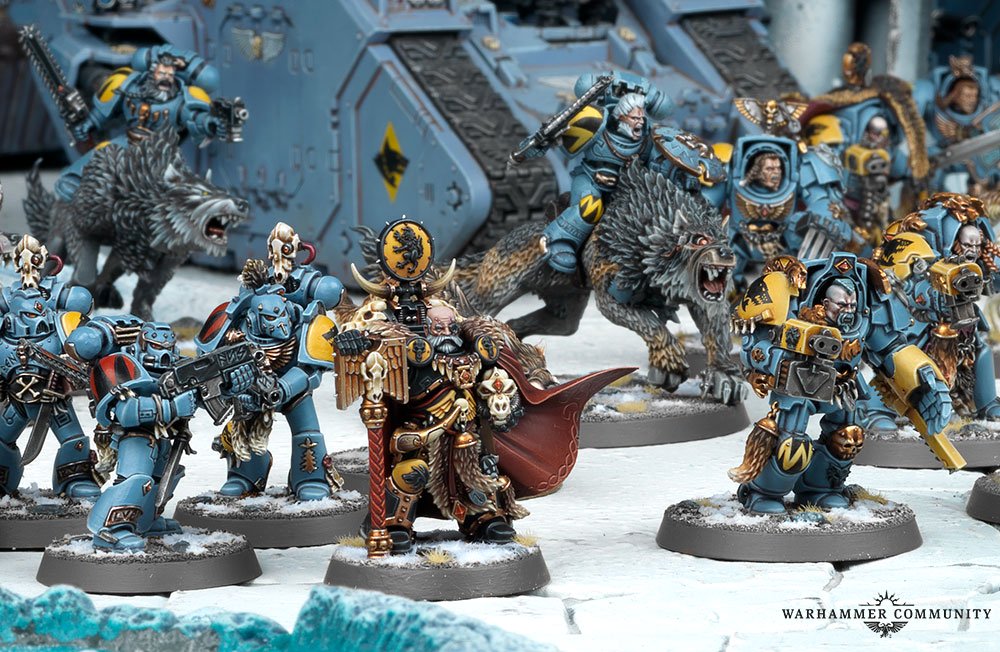 The Space Wolves heard that folks were getting new Litanies of Battle and decided to get in on that as well.
 In addition to the six standard Litanies of Battle, there is one unique to the Space Wolves that can inspire nearby warriors to bring down even the largest prey in short order.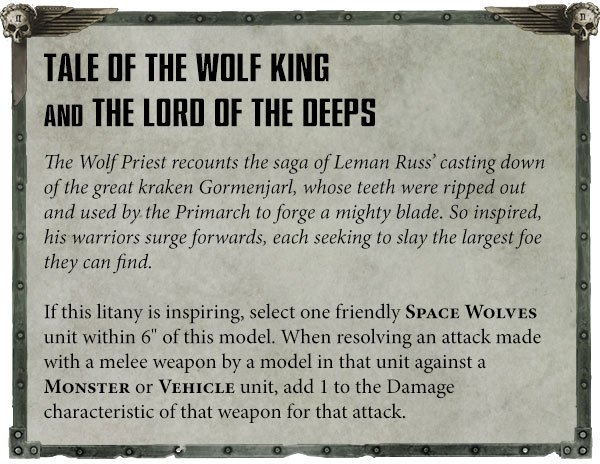 Did we just say Ragnar was 2 damage a pop? Let's make him 3 damage vs Monsters and Vehicles for fun. What is that now? A possible 90 damage? The odds of you actually rolling all those attacks is extremely unlikely. But hey, it's theoretically possible!
Relics!
Hey let's finish this one off with some previews of the new Space Wolf Relics.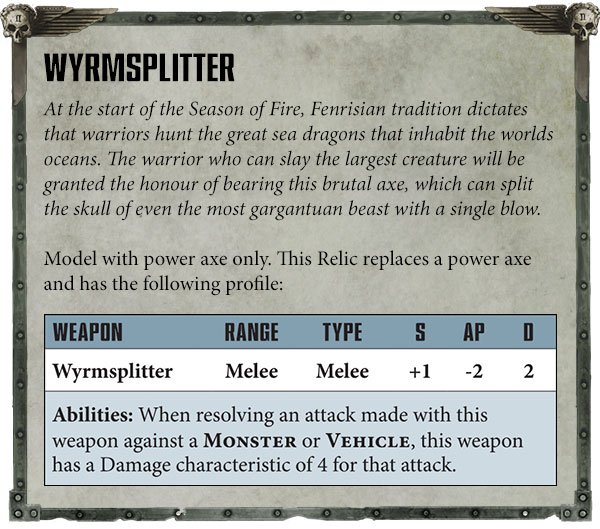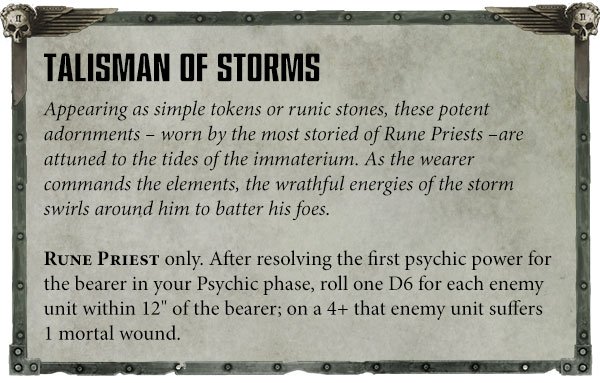 The Space Wolves are going to go monster hunting with Wyrmsplitter and will also have some mean mortal wound generation with Talisman of Storms. And this is just the tip of the Space Wolf spear – you can bet there are more things coming in Saga of the Beast!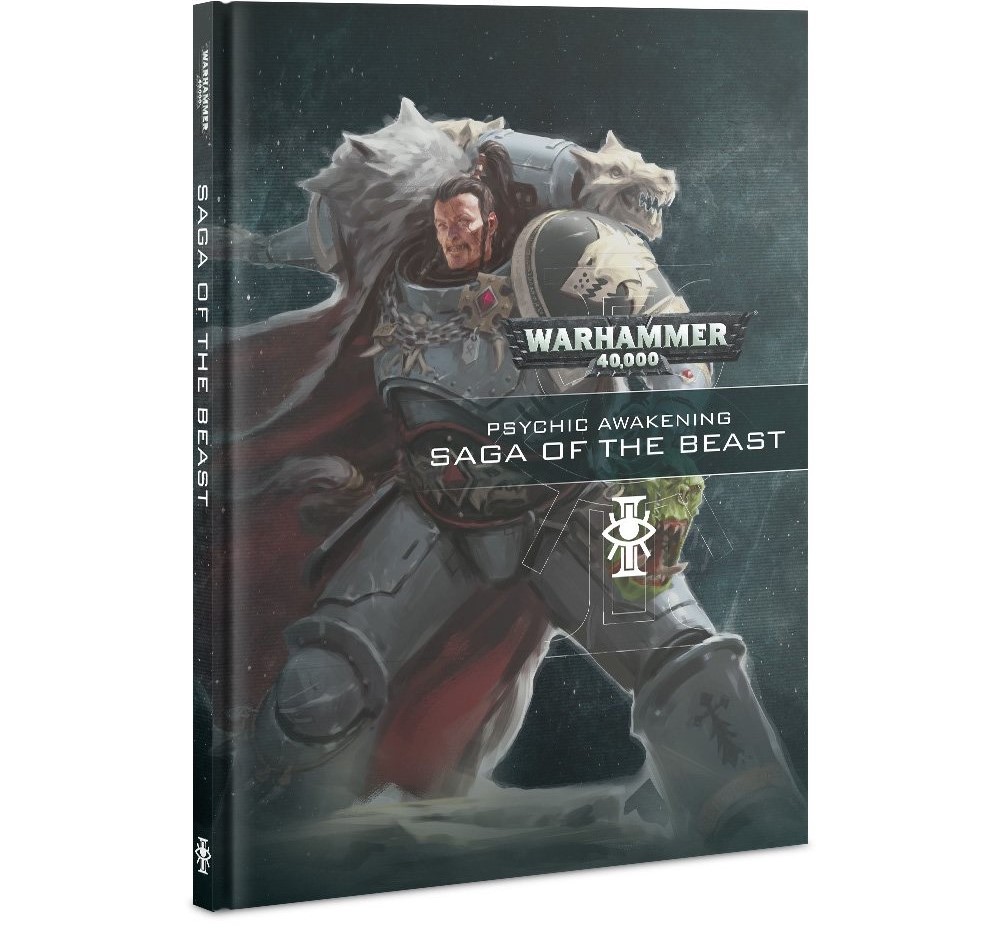 Stay Frosty.