Here's the Lumineth Realmlord releases I am super stoked for, to help get me through the days.
With Lumineth Realmlords coming in fast, there's a lot of new and exciting things to look forward to once we can go out again. This looks to be a varied and interesting army, and is a suitably AoS step away from what we traditionally expect from Aelves. Here's 3 things I'm most excited about for the upcoming army.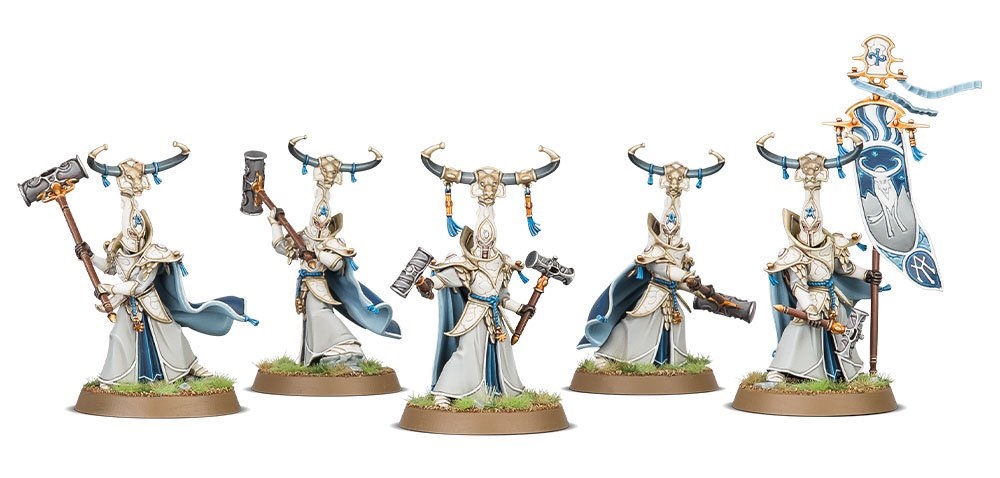 Alarith Stoneguard
Back in the old days of Fantasy, one of my favorite units in the High Elf army was the White Lions of Chrace. I loved their look, their rules, and their fluff as being hardy, buff elves that eschew the usual speed and grace aesthetic of elves and wrestle monsters with their bare hands. I always fielded a few, and my General always had some throwback to Chracian philosophy or weaponry somewhere on his model. The Stoneguard feel like a return to that idea of a "heavy elf" with their bull iconography and massive hammers. There is even a bit of similarity in their posing, with their legs firmly set on the ground to get the most out of swinging their massive hammers. I'll probably be investing in a box or two and using some Duardin axes to make myself some White Lion spiritual successors.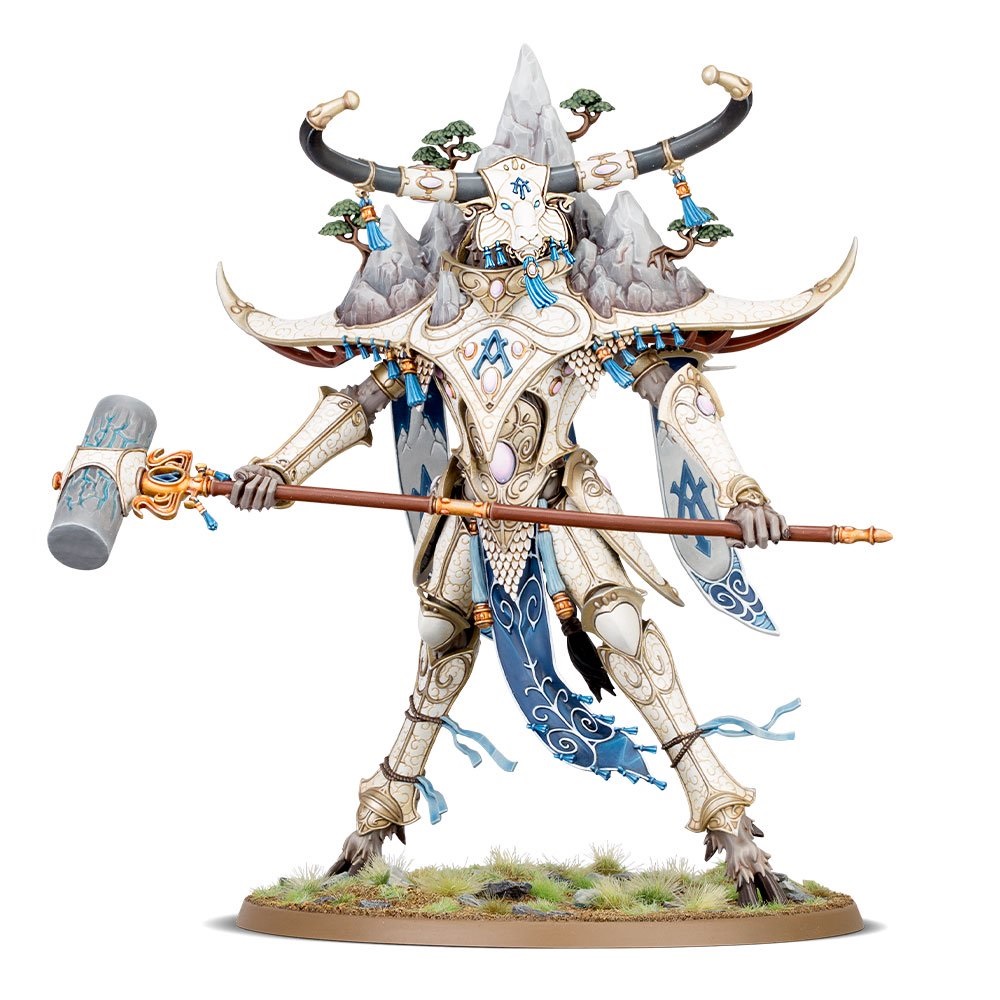 Mountain Spirits
I have heard a lot of mixed things about the big rock bulls the Realmlords are getting, but frankly I think they're awesome. Not only do they speak to the idea that the Realmlords commune with spirits of Nature to draw their power and fighting style, they just look really cool, like the scenery itself has come to life. Plus, I like the idea of a big monster for the elves that isn't a dragon or a hydra, but something a little more primal and ancient. Avalenor in particular looks awesome, and even if you aren't playing Aelves this looks like a prime target for some awesome Chaos Daemon conversions.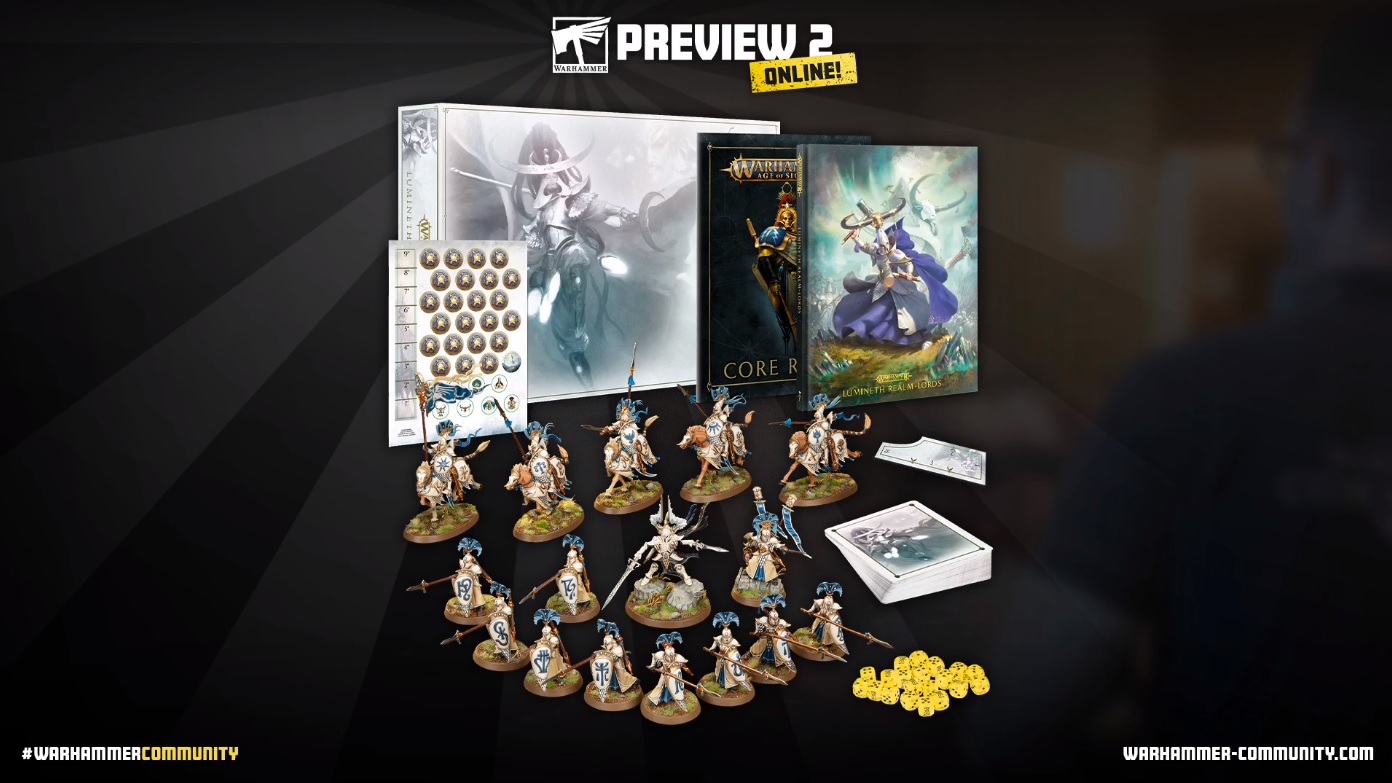 Army Box
Less of a singular unit to be psyched about, I'm really happy GW decided to package all of this new hotness into a convenient army start box. Getting a limited copy of the book, the dice, the warscroll cards, and three model boxes seems like a pretty good deal, so I'm just hoping the price point isn't too high. Plus, you get the model everyone's been talking about since his reveal, the hollow Light of Eltharion. This is definitely the box to get if you want to start a Lumineth army, and it will most certainly go fast, so grab it as soon as you can! I know I'm planning to.
What are you looking forward to after the quarantine?