Fantasy Flight Games is giving out new rules for a Parallel Investigator and a new scenario to play – for FREE!
Arkham Horror: The Card Game has a new deluxe expansion on the way but Fantasy Flight Games isn't waiting until it releases to shake things up. They are asking the question "What if there was a parallel dimension where things were similar but slightly…off?" That's the direction they are going with the new Parallel Investigators concept. The first test subject intrepid investigator is none other than the iconic Daisy Walker. She's been on the trail since the earliest of days of the game and this is a great way to shift things around.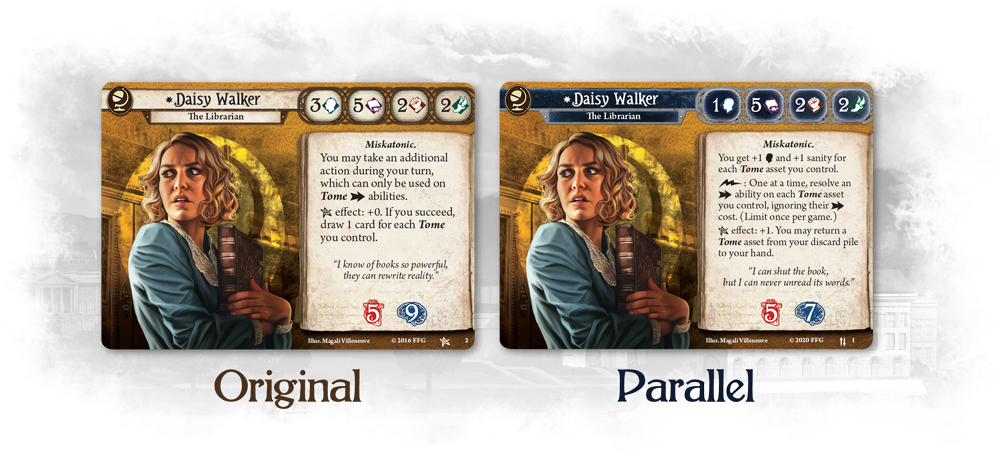 While she's got a similar stat line, there are some big differences in both playstyle and abilities. This version of Daisy shift from an investigator who gets to use free actions to use Tome assets, to an investigator who can use ALL the Tomes in one big powerplay once per game. On top of that this new version also mixes up the Deckbuilding options…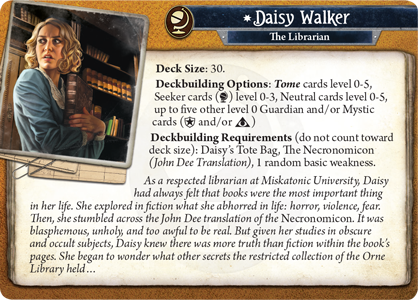 …and her tote bag and her custom weakness.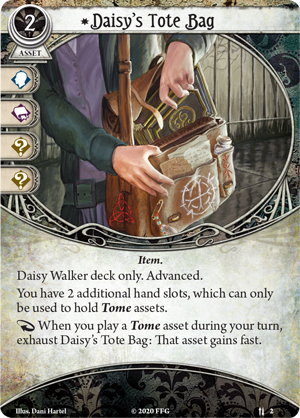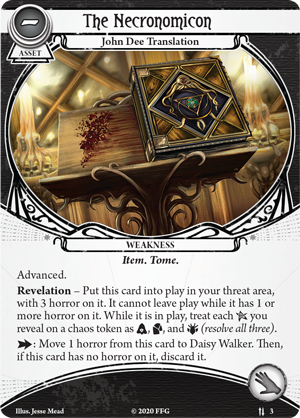 Here's the really interesting thing: You can mix and match her investigator card if you REALLY wanted to change things up:
"…you're free to mix and match between the original and the parallel investigator cards. In other words, you could use each individually, or use the original front and the parallel back, or the parallel front and the original back!"
That said – you're not allowed to do the same with her custom bag and Necronomicon. Those are considered upgrades and function as a pair; if you want the sweet new bag then you're going to have to take the more dangerous Necronomicon card, too.
Read Or DIE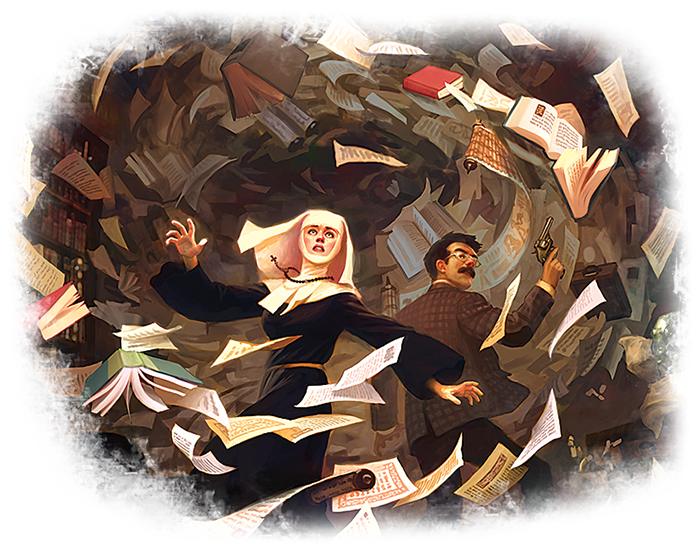 There is also a new challenge scenario you can play as well. This scenario is called Read or Die and it's only playable if you are using either version of Daisy Walker.
"This scenario can be played in standalone mode or included as a side story in your campaign—but you can only play Read or Die if Daisy Walker is one of the investigators in your party and she has at least four Tome assets in her deck. In addition to the new cards included as part of the Read or Die print-and-play scenario, you'll need a copy of the Core Set and The Dunwich Legacy deluxe expansion to play this scenario!"
So where do you get all these Parallel Cards and the new Scenario? You can just download them from FFG for FREE!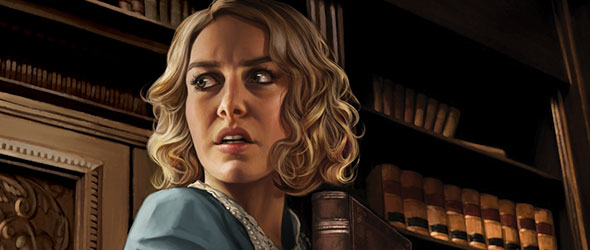 Personally, I think this is a really cool addition to the game. Furthermore, I really like the alternate options this creates as it changes up Daisy's playstyle dramatically and the new deckbuilding options are a trip. The scenario is great because it can easily be slid into an existing campaign – and the rewards are good for other investigators but, for the Daisy player, they are well worth it. I won't spoil it but if I were playing a campaign with Daisy Walker, I'd heavy push towards completing this scenario. I also hope other investigators get the same treatment later on down the road!
Reading is FUNdamental…