Op-Ed: Save the Game Stores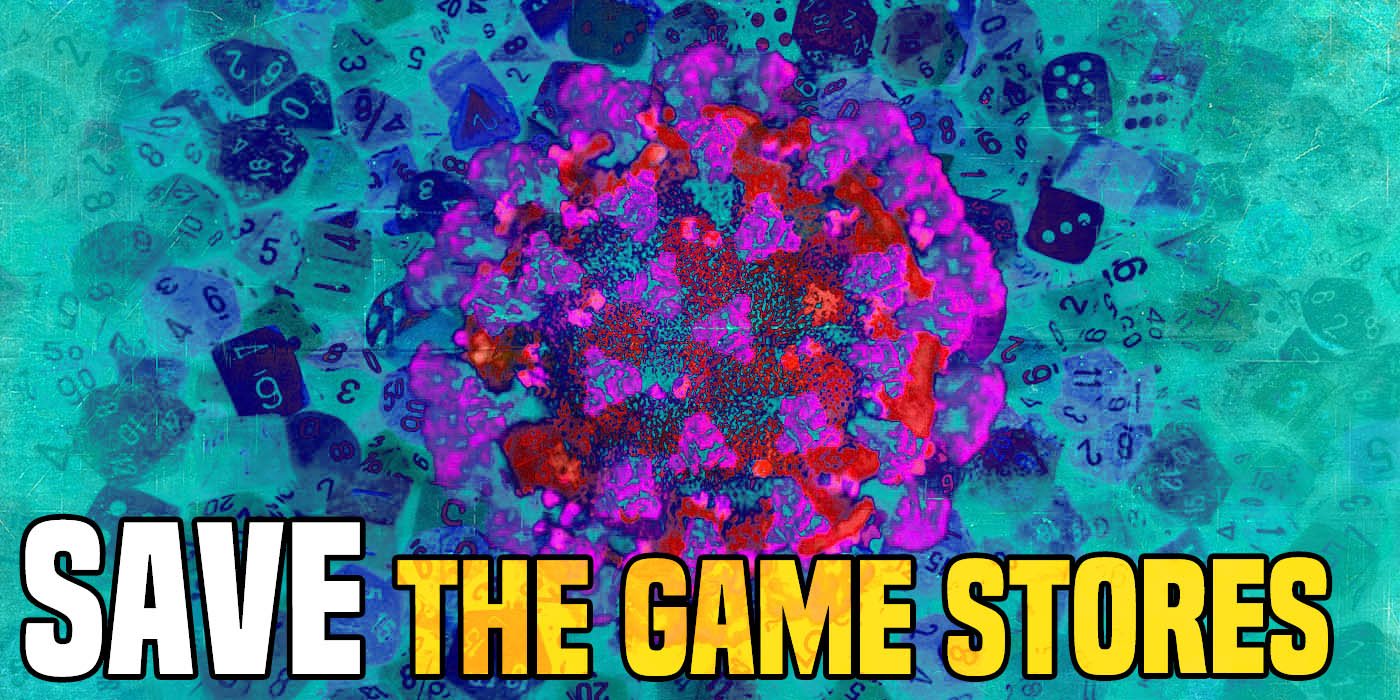 Gamer and fellow BoLS reader Alex offers up a rallying cry for us all to lend a hand to our local hobby stores.
Hello gamers. I hope we're all safe and well during this age of pestilence.
I moved to London in 2017. I did so on short notice for work, having been offered a position just weeks before it was due to start. I arrived on a grey, cold, British January day. I had never really been to London before and so even the process of driving up the right roads to the find the front of my, generously titled, "flat" was a bit bamboozling. Seeing as how it was on a main road with no parking for a square kilometre, unloading was chaos; barrelling out of the car with the warning lights on, parked in a restricted zone, hurling myself up a flight of stairs and flinging whatever junk I was carrying into a small, damp room containing a single bed and a small desk before anyone could give me a ticket. To make things worse, when I arrived at my new office to sign some documents, I found out they were moving so I'd not even managed to secure a room within walking distance, which had been the one perk I'd clung to throughout an otherwise disaster of a day.
On top of that, I soon discovered there was no internet hook-up in the building. So, I had no friends, and no way to socialise even at a distance (sound familiar?).
I'm not a clubber. I'm not even much of a pubber (although, on a sunny day in a beer garden I can be coaxed). So, for me to ingratiate in a new city, and try to make some friends before seeing a noticeable decline in my mental state was going to be a particular challenge. Fortunately, as well as knowing what I don't like, I also know what I do like. When I socialise, I like to do it over some food, drink, good music and a game.
So, first thing I did was use up a little packet of precious data to look up a local gaming store, whack the address in google maps and go for a wander. I wandered past the British museum, past Parliament, across the Thames and past Waterloo station. I eventually came across a gaming store, Dark Sphere.
At last, a lighthouse, beckoning me in from the storm.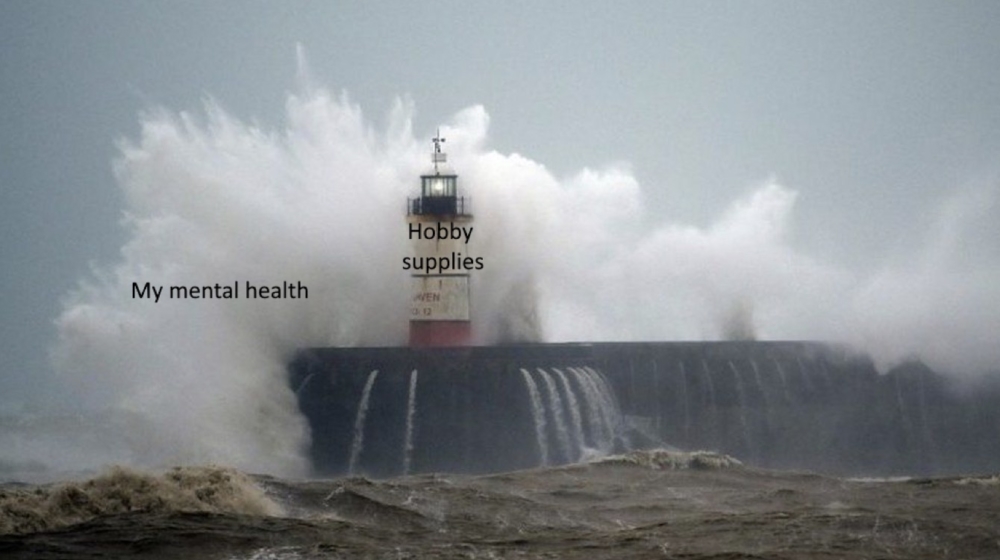 It was under a bridge carrying one of the busiest railway lines in the UK. As such, it was loud, and frankly a little dank. However, there were great people there, walls full of plastic goodies and loads of events. Through one of those events I met a couple of guys and played one of them for his "intro" game to 40k. Little did I know at the time, but it was the only time I'd ever beat him.
The 40k bug obviously caught him hard as, in less than 18 months, he'd opened Bad Moon Café. His vision for Bad Moon was a "gaming experience". Something friendly, relaxed and that shakes the reputation wargaming can have as being board gaming's seamy cousin. I throw my hands up now, I thought it was folly. I wondered how a wargaming store could possibly sustain itself in a central London location if it was anything like a pleasant place to be.
Boy was I wrong. The results blew me away. The café has a few dozen tables, with scenery carefully themed and prepared. Each table has space drinks, dice rolling, books and the like. You can order pizza, coffee, alcohol and sandwiches to the table and there is a board games library too. It has been a real joy to see it grow from a new café with half a dozen patrons in at the weekend, to a thriving social hub where you can pop down and be confident you'll run into someone you know, and just enjoy a gaming-orientated chat with a drink.
Subscribe to our newsletter!
Get Tabletop, RPG & Pop Culture news delivered directly to your inbox.

Right on cue, there's my unyielding sense of bittersweet yearning.
It has become such a special place for me that, last year, after I experienced one of the high points of my career I went straight to Bad Moon Café to mark the occasion. It felt like a safe, happy and affirming way to celebrate. This was a special thing, to have a place to go that I can feel truly at a home away from home… although it came with the odd experience of having attended a hearing at the UK Supreme Court with a bag full of toy cars for the following game of Gaslands.
I know this sounds like an advert at the moment, but I promise I'm just setting the scene as I slowly ramp up to the point. I know these stores are special to me because they're mine, and you'll likely feel the same way about yours. I have no financial interest in either Dark Sphere or Bad Moon and would, in fact, be a hell of a lot richer if both were to burst into flames.
But that would cost a lot more than money.
My heart is breaking to see both these businesses struggling through no fault of their own. I'm not upset because I know Bad Moon's managers. No, it is selfish. If it goes, I will lose an important part of my social life. London will lose a place for wargamers to be a community and celebrate the hobby. And those of us who find catharsis in their hobby will be immeasurably the poorer for it.
I know there are thousands of businesses in trouble all over the globe, daily life feels like it's in freefall and some of you might read this and think I have a very poor handle on perspective. However, for a person with their own complex relationship to social anxiety and more "typical" community hubs; and for a person with a true and growing passion for wargaming and board gaming, I think it's okay to take a moment to acknowledge that the loss of a local hobby centre is a real blow and it's okay to make that a personal priority.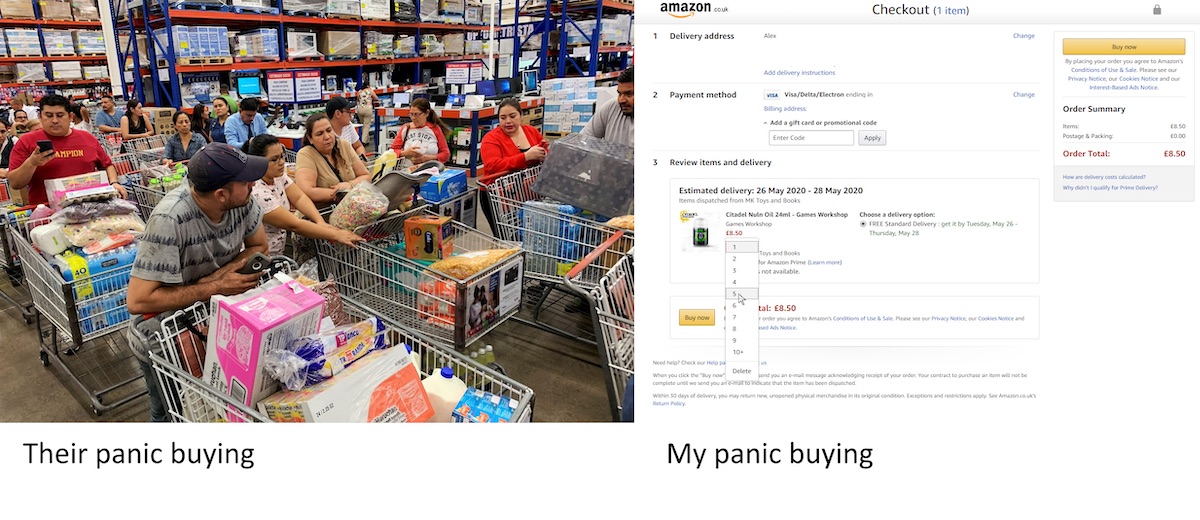 I'm not asking you to save my stores. That's not your bag, as it were. However, I know all you will support your local stores. Because, for some people, a community is an easy thing, for others it takes more effort. I'm in a good place right now (at least I was before the End Times). But that goodness is a more precarious thing than I had previously acknowledged. I don't want to be back at square one when we come through this. Some stores run voucher systems which are a great way to supplement their cash flow now and facilitate your celebrations when the world is finally switched off and on again. If you can't commit money which is understandable at the moment, show your support and pressure your representatives to give clarity and security to small businesses.
I'll leave you with this thought. There's a lot of anxiety in the UK about saving the pubs. See Boris Johnson's dad going on morning TV to say that, before the pubs were ordered closed, he would have ignored his son's advice to stay away if he "needed" to go to the pub. When pressed he qualified that the "need" would be in the interests of keeping the pub solvent (altruistic drinking; an interesting argument). People laughed and whilst I'm sure we will not be ignoring government guidance, that urge is real; to fight to preserve the bits of our lives that we hold dear.
I'll be fighting to preserve:
My family,
My friends,
My cat,
My work,
My hobby.
Not necessarily in that order.
-Alex