The year is 2082, you're paying the orc at the cyberpunk bodega for whatever passes for a coffee these days, and you just got a job. It's time for Shadowrun.
Shadowrun is what happens when you try to find the center of the fantasy / science fiction / dystopian future venn diagram. A system depicting a future rife with corruption and crime but which has also seen a return of magic to the world, making way for elves, orcs, dwarves, and dragons. Megacorporations control their own armies, the internet is practically a physical place, and everyone from random criminals to heads of state regularly hire mercenaries, but hey there's magic.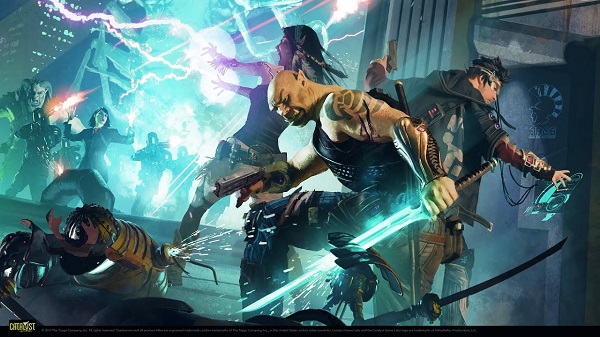 First edition was published in 1989 and inspired heavily by William Gibson's Neuromancer but it's not hard to see what other sources various aspects of the world building have drawn inspiration from since then. And that's not a bad thing at all. Some RPGs are easy to picture, you can be comfortable walking through an imaginary small town and know what everything looks like, but Shadowrun has a very specific aesthetic and feel. The grittiness of the world is almost its own character, which makes almost everybody's universal ability to immediately and simultaneously think of say… Blade Runner an incredibly helpful boon for setting the stage.
Character creation is Shadowrun is can be a challenge for a first time gamer, being a little crunchy but also a little limiting. Most of us are familiar with the charts you may have to reference to make characters in other systems, but few are as headache inducing as Shadowrun. A more experienced and savvy player can truly make the exact character of their dreams, but newer players may find the process overwhelming. Luckily, there are programs and apps designed to help you navigate the world of Shadowrun if the pen to paper approach isn't working for you.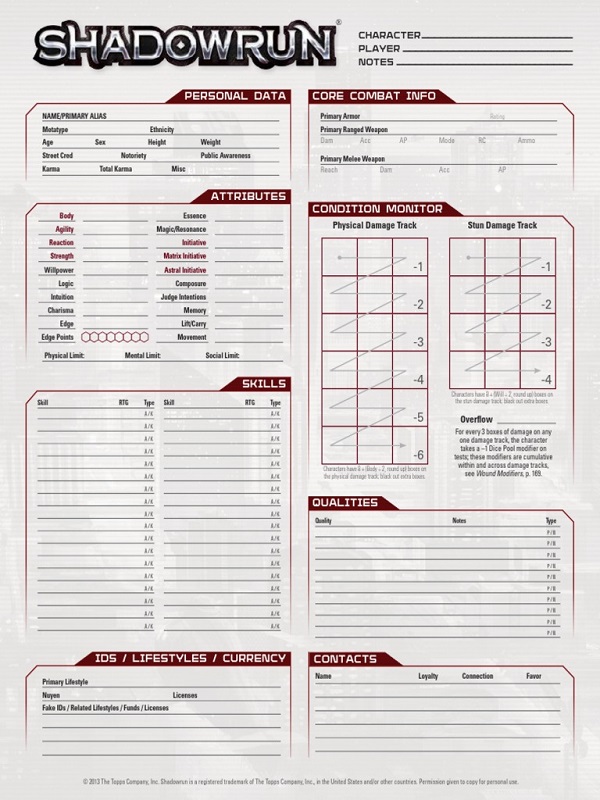 Each character has a list of attributes including but not limited to Body, Agility, Reaction, Strength, Willpower, and Logic, as well as skills and qualities. Attributes and skills are similar in many regards to the same stats in other games while qualities include things like Ambidextrous, Catlike, and Quick Healer. The race you pick tells you how many base points to start with in each attribute and then the book assigns you additional "Karma" points to distributes amongst your attributes, skills and qualities.
All rolling within Shadowrun is done with a collection of D6's where a player's "dice pool" is equal to their skill rank + their stat rank. If your player is trying to sneak pass a mob boss and has a 4 Agility and a 3 Catlike, they will roll a total of 7 dice. If any die lands on a 5 or a 6 they have "hit," and depending on the difficulty of the action they will need anywhere from 1 to 10 hits to succeed. Glitches happen when at least half of the dice land on a 1, and while a character can still pass a roll while glitching, this causes something bad or inconvenient to happen as determined by the GM. Finally, Shadowrun implements burning "Edge," or a certain amount of good luck the character has to overcome failures and re-tip the scales of fate a little.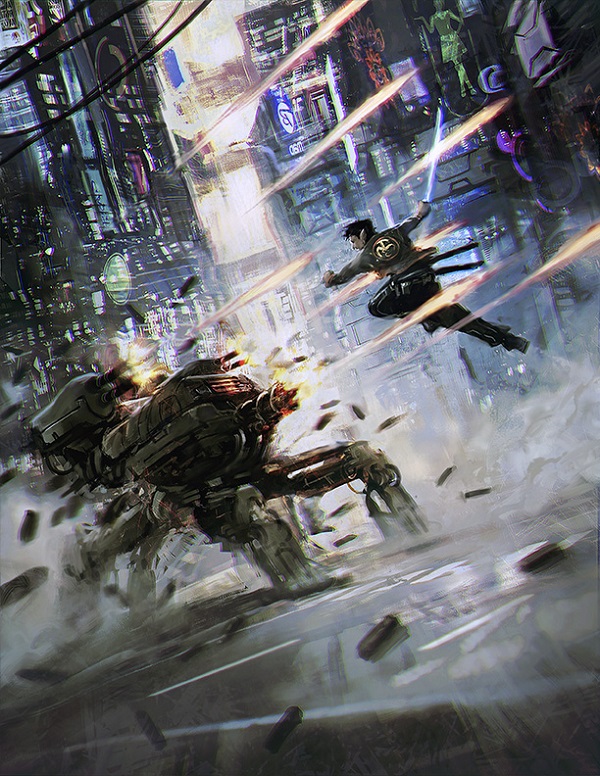 Individually, I like every part of this system. The mechanics are fun and unique and leave room for mixed successes and thematic, cinematic consequences to character actions. Character creation has some crunch, yes, but there are apps that make the process easier (or doable), and I am enamored by the world of Shadowrun. It's an objectively great setting for dynamic storytelling and immersive gameplay. But when their powers combine all of the separate parts of Shadowrun are just enough of a hassle to scare me away from playing often. I wish there was "Shadowrun for Idiots" or "Shadowrun for People with Two Jobs and a Mortgage" or "Shadowrun Lite," because I would be the first one at my local game store to get a copy, but for now the largest brunt of my interactions with Shadowrun is listening to other people play and wishing I meshed with it better.
Overall, with 6 editions and a 20th Anniversary run, 40 published novels, 8 video games, and multiple awards, it's fair to say that Shadowrun is basically RPG royalty. Fast paced, highly visual, and chock full of lore, it's a game that people either love or have a cautious respect for, and that respect is frankly very earned. Will I be playing Shadowrun any time soon? Well, maybe if somebody hands me a completed character sheet and a coffee first. Do I love the idea of a near future orc assassin who can get inside of the internet like the 90's Jonny Quest remake? Absolutely.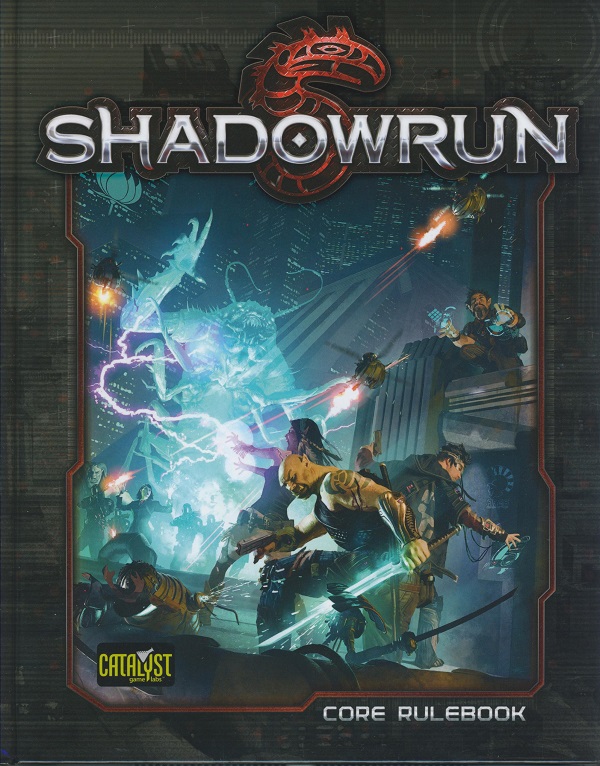 If you'd like to try Shadowrun for yourself you can learn more about the system on the Catalyst Game Labs website.
---
Have you played Shadowrun? Do you love it or do you appreciate its importance in RPG history from a distance? What does your gritty near future sci-fi / fantasy self look like? Let us know in the comments!
Happy Adventuring!