WotC has promised to make D&D more inclusive, but it's still selling books like Oriental Adventures. It goes to show there's a long way to go.
Two weeks ago, Wizards of the Coast released a big statement on their commitment to diversity and inclusivity in their game. Included in that statement were some of their goals for removing some of the racial insensitivities of D&D's past while making room for more diverse voices at their own particular table. Specifically that means: making changes to existing material like Curse of Strahd and Tomb of Annihilation, offering up new products that portray the Vistani and a more positive light, removing the "always evil" from many humanoid species in the monster manual, offering up rules to divorce ability score bonuses from your culture/ancestry, and in general abandoning the word race to describe what kind of creature you are.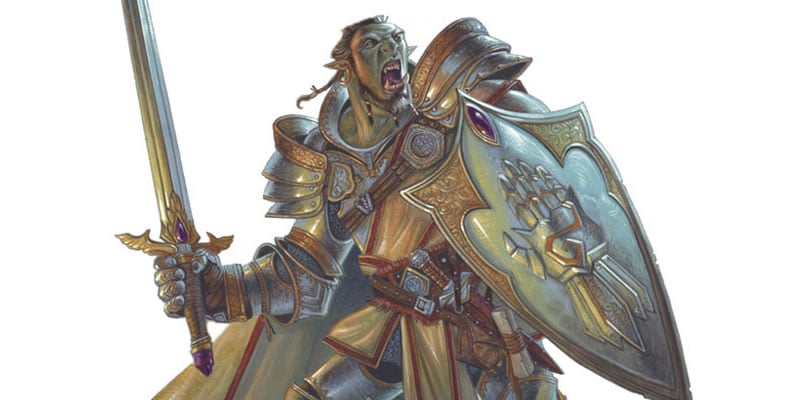 And it was a big story–big enough that even non-gaming sites have started covering it. NPR, Forbes, and the Huffington Post have weighed in on D&D's journey to varying degrees. There's a general consensus among folks that this is a positive step, though it's a very tentative one forward. As game developer Lauren Frazier points out in one of the stories: "It's hard to see yourself in any role playing D&D if you're a person of color" and the new initiatives seem to be acknowledging this.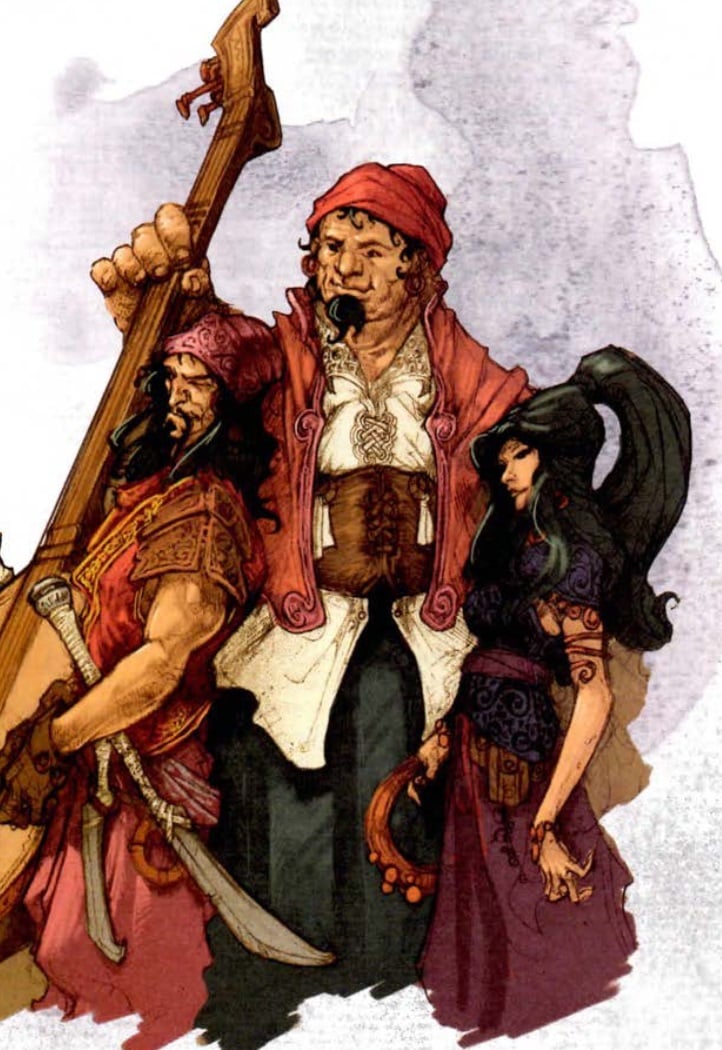 We've already seen some of the changes made to Curse of Strahd to remove descriptions of the Vistani as "lazy" or in Tomb of Annihilation to remove words like "exotic, tribal, and savage" where they appear. Jeremy Crawford, lead rules designer of D&D had a thread on alignment as it exists in D&D right now, saying that alignment will be treated differently in the future:
"You've reminded us that alignment is a suggestion. Does that mean you're not changing anything about D&D peoples after all?" We are working to remove racist tropes from D&D. Alignment is only one part of that work, and alignment will be treated differently in the future. #DnD

— Jeremy Crawford (@JeremyECrawford) June 26, 2020
He acknowledges that the rules for alignment, as they exist right now, are insufficient for WotC's new drive, and if you check out the thread you can find people pointing out how "make alignment whatever you want" doesn't solve the issues of "always evil races". D&D seems to be moving away from that, but not everyone who's been involved in D&D agrees with the overall sentiment: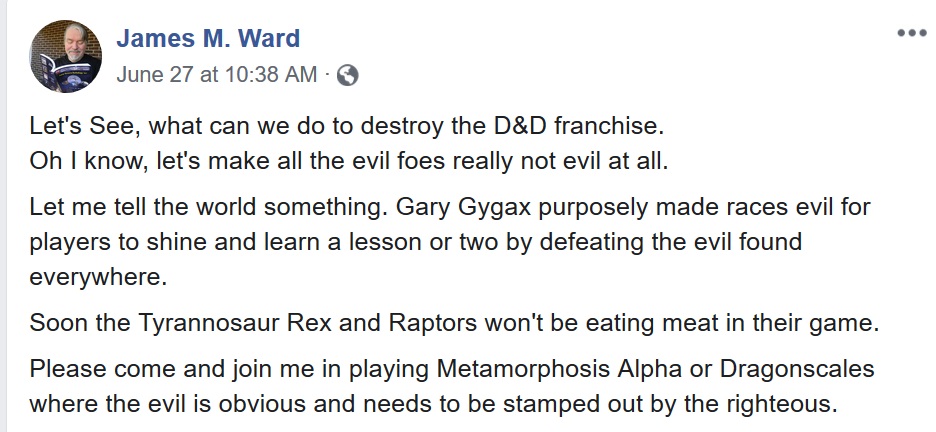 That's Jim Ward aka Drawmij (who instantly summons things) who is touted as one of the founding fathers of D&D doubling down on the need for "evil races." His words illustrate a great point, a lot of what was done in D&D's past is intentional and we're still unpacking that today. And that baggage weighs heavily on D&D's present, especially when you consider that two weeks out, racist products like Oriental Adventures (both editions) are still actively available for purchase–and are even on sale at press time. Daniel Kwan of the ENnie nominated Asians Represent Podcast points out:
WotC's statements about equity in #DnD rings hollow for me for so many reasons. For one, they are still profiting off of Oriental Adventures and other harmful supplements. When you buy this, you show them that you are ok with Asian people being represented by blatant stereotypes. pic.twitter.com/eOsiqOQryn

— Daniel Kwan (@danielhkwan) June 28, 2020
If you disagree, you have clearly never had a piece of pop culture harm you. Books like this take my culture, oversimplify the nuances that make it beautiful, mash it together with other cultural reductions, and present it as THE WAY others should view our stories.

— Daniel Kwan (@danielhkwan) June 28, 2020
And if you STILL think there is a valid reason for WotC to keep the Oriental Adventures #dungeonsanddragons content on @DriveThruRPG (or any for-profit platform), here's a 26 HOUR answer from @aznsrepresent:https://t.co/AHZiJoqQ5m

— Daniel Kwan (@danielhkwan) June 28, 2020
Kwan and many others have gone through Oriental Adventures, examining how the book perpetuates harmful stereotypes and offers up a very limited perspective on cultures that are far more diverse than ninjas, samurai, and honor. But you don't have to take my word for it, there's a playlist here:
And you can also find their partnership with other streamers and creators to do a critical read through of Al-Qadim which is also still on sale (along with many associated adventures) at WotC's online storefront. But you don't have to watch the streams to know these products are at odds with WotC's espoused goals, just look at the descriptions: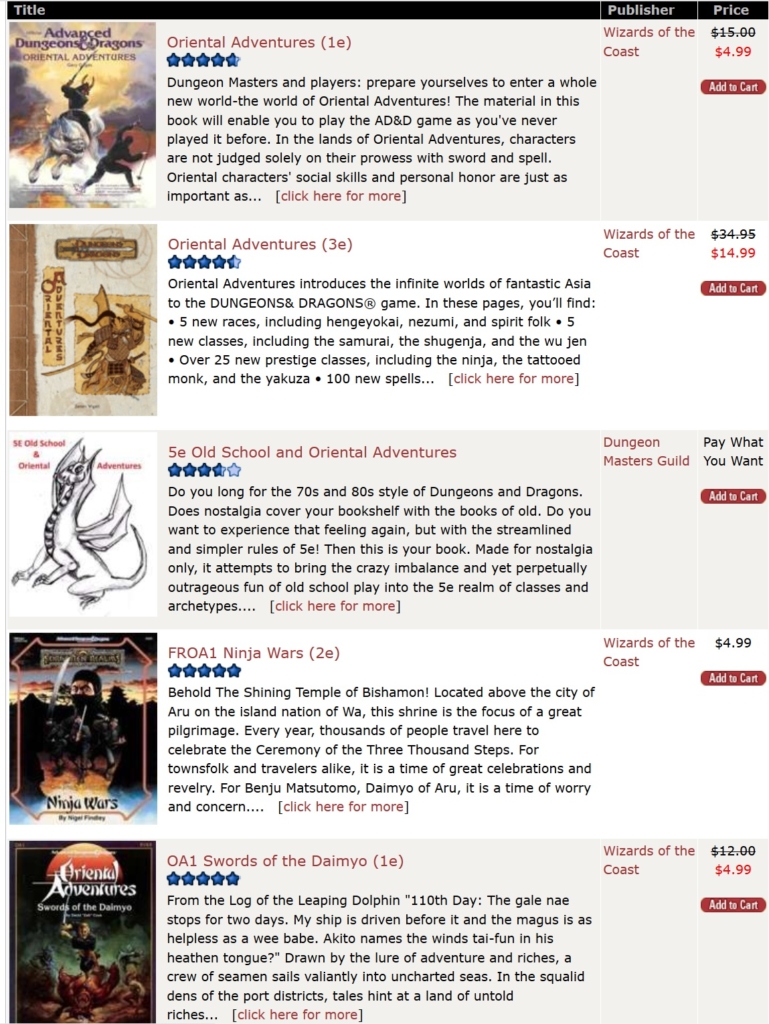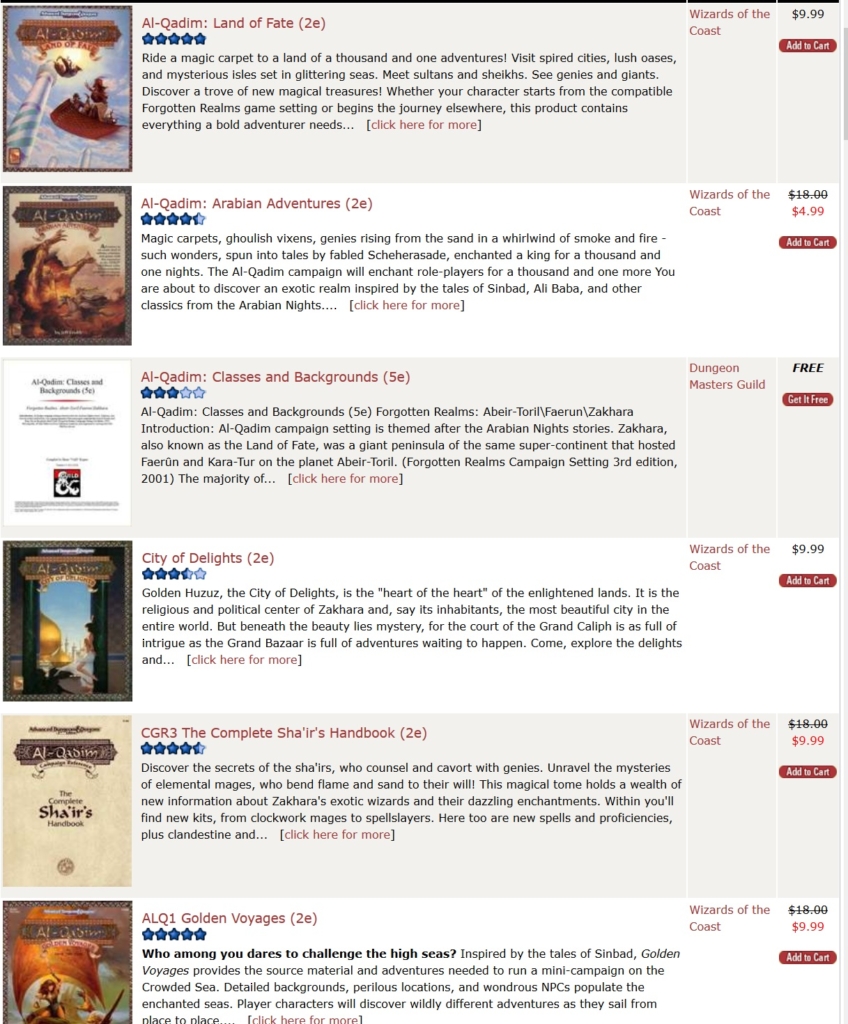 It's not a great look for a company that wants to represent humanity "in all its beautiful diversity." Continuing to sell these products–and bear in mind, the original Oriental Adventures is a "mithral best seller" which means it's continuing to sell–takes a lot of wind out of WotC's Inclusivity and Diversity sails. They have to do better than this if they want their promise to be more than empty words.
Not to say we should pretend these books never existed, but WotC is still actively profiting off of this material. It's not that the book should be available for free to everyone or that we should pretend it never existed. Far from it. As the folks at Asians Represent have said, that these books do well means that people have the capacity to appreciate actual Asian and Middle-Eastern stories, but WotC is minimizing that potential by continuing to sell these products which were previously out of print. If you're looking for an alternative, you should check out Unbreakable Vol. 1 which is a "collection of Asian myth- and folklore-themed adventures" for 5E written by Asian authors using their own stories and voices. It's a fantastic book and we wholeheartedly recommend it.
There's a long road ahead, but hopefully enough people want to see the game change from without and within to keep moving the needle forward.
What do you think of WotC's statement? How would you change alignment to make the game more diverse? What else would you do? Let us know in the comments!