Fantasy Flight Games products are shipping to stores once more – come see what's now available this weekend!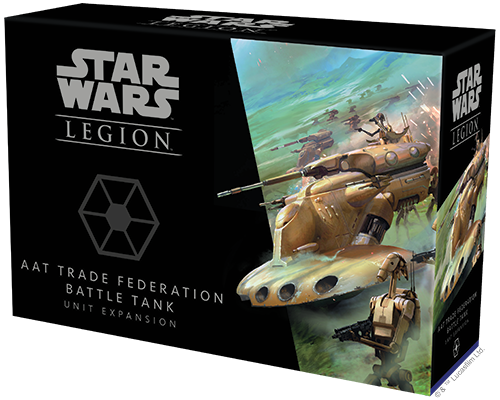 The AAT Trade Federation battle tank is a hard-hitting vehicle favored by Separatist commanders like Lok Durd. While its droid operators require precise commands to be used to full effect, is primary MX-8 artillery laser cannons can blast out barrages that target multiple enemies or hammer the same foe with twice the firepower, and its anti-personnel armament can whittle down even squads as heavily armored as Clone Troopers.
With the AAT Trade Federation Battle Tank Unit Expansion, you can add one of these heavy tanks to your Separatist army. The unpainted, finely-detailed miniature you find here can be constructed with its hatch closed or with a B1 Battle Droid scanning the horizon for new targets. In addition to this miniature, you'll find everything you need to fully customize it to your personal strategy, including eight upgrade cards and a unit card.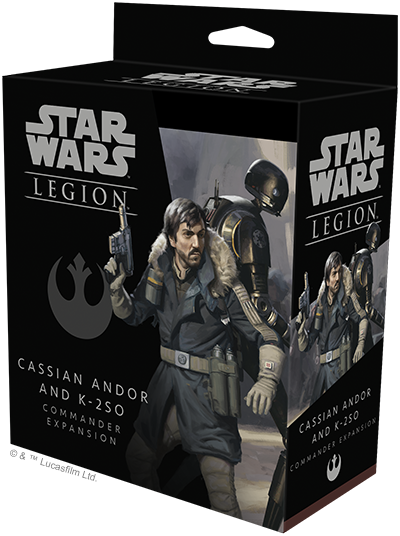 One of the Rebellion's most capable intelligence agents, Cassian Andor has dedicated his life to the cause. Capable of both leading an all-out assault or operating independently on the battlefields of Star Wars: Legion, Andor is a versatile addition to any Rebel army. No matter what role you choose for Andor, the reprogrammed KX-series security droid K-2SO is ready to assist in any operation with both his massive strength and tactical analysis.
Within this expansion, you'll find beautifully detailed, unpainted hard plastic Cassian Andor and K-2SO miniatures that feature a wealth of customization options. Cassian Andor can be assembled with three different weapon options, including his compact blaster and his A-280-CFE in its pistol configuration. K-2SO, meanwhile, can be assembled carrying Jyn Erso's SE-14 blaster, a grenade, or with his hands free. This expansion also contains four new command cards—three for Cassian Andor and one for K-2SO—as well as two unit cards and nine upgrade cards that let you outfit this pair with additional weapons, gear, and more.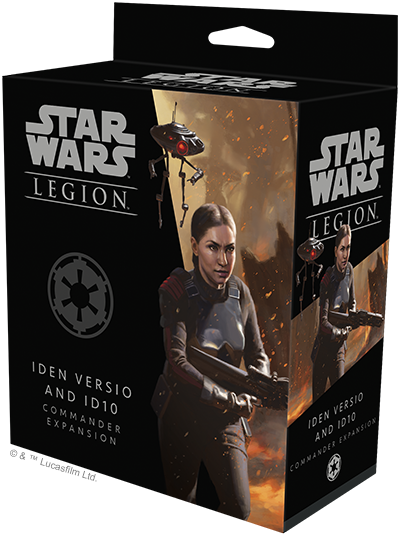 Whether they're battling enemy fighters from the cockpits of their TIE Fighters or on the ground below, Inferno Squad is one of the Empire's most fearsome special forces units and now you can add the leader of this crack team to your Imperial armies. Possessing a keen tactical mind and a deadlier aim, Iden Versio can be an invaluable asset on any mission.
Within this expansion, you'll find finely detailed, unpainted hard plastic miniatures of both Iden Versio and her ID10 seeker droid. Iden Versio herself can be assembled with our without her Inferno Squad helmet and respirator and can also be assembled with three distinct weapon options, letting you build the miniature that fits the look of your army. In addition to these miniatures, this expansion also contains four new command cards—three for Iden Versio and one for her ID10 seeker droid—that invite you to experiment with new tactics. Finally, nine upgrade cards give you the power to further customize these units with new weapons, gear, and more.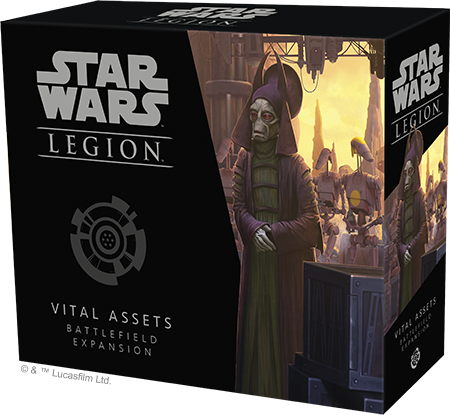 Soldiers are called to serve in many types of missions, from tense hostage exhanges to payload deliveries to bombing runs. Wherever and whenever the battle rages, the Vital Assets Battlefield Expansion adds new options to expand the scope of your Star Wars™: Legion games!
This expansion contains 16 unpainted, finely sculpted battlefield objective miniatures, including two hostages, six bombs, six crates, and two repulsor pallets that can replace your objective tokens or enhance your battlefield. These miniatures are joined by new battle, hostage, and supply cards that add even more variety to your battles!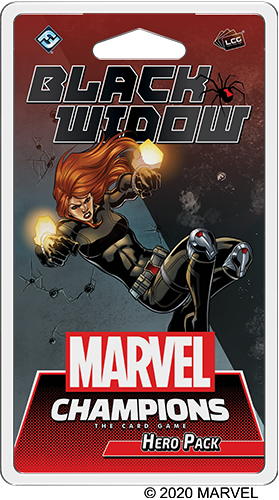 Spy, Assassin,Hero: Natasha Romanov has taken on many roles, and played many sides, in a life shrouded in mystery. But throughout every new stage of life, Natasha has developed a unique set of skills that she now utilizes in the role of the Black Widow, international super-spy!
Complete your mission with the Black Widow Hero Pack for Marvel Champions: The Card Game!
The Black Widow Hero Pack includes a pre-built deck for black Widow utilizing the Justice aspect, the Taskmaster Nemesis set, and additional cards to help increase your deck building options! With well-rounded base stats and a Preparation card for every occasion, Black Widow is always ready for what's coming next!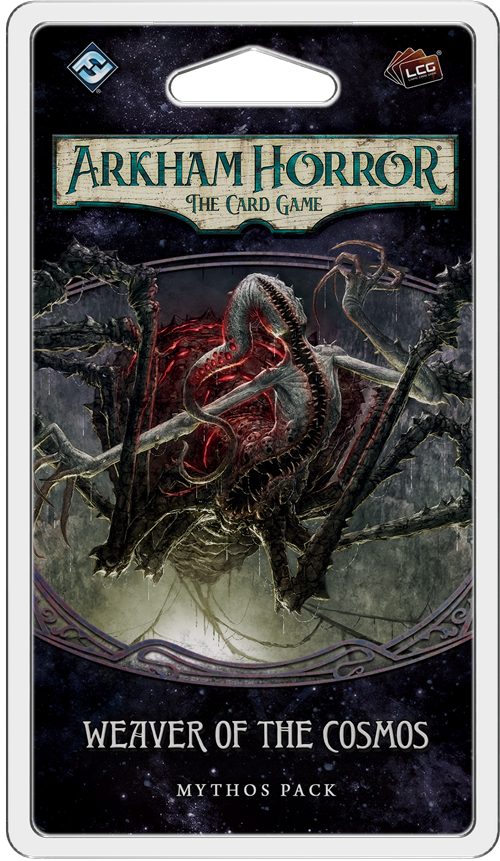 Defend the Dreamlands from the schemes of the Spinner in Darkness in Weaver of the Cosmos, the sixth and final Mythos Pack in the Dream-Eaters cycle for Arkham Horror: The Card Game!
Weaver of the Cosmos is Scenario 4–B of The Web of Dreams campaign for Arkham Horror: The Card Game. This scenario can be played on its own in Standalone Mode or combined with the other expansions in The Dream- Eaters cycle to form a larger four-part or eight-part campaign. After the events of Point of No Return, you have finally reached the perilous nightmarescape that you have been led to since the very beginning. Everything has led to this— Virgil's writings, your companions' unending sleep, the black cat, all of it. This transdimensional space is home to a spider creature that would obliterate your world and replace it with a new reality. If you cannot stop it, there will be no Earth left to return to, no escape from this hellish dream, and the Dreamlands will be lost as well. You have no choice but to fight.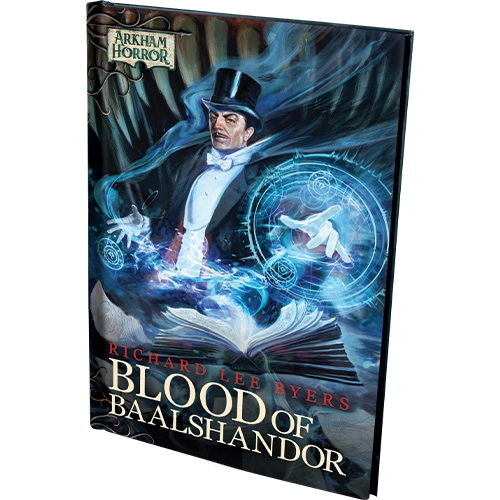 Discover the power of true magic in Blood of Baalshandor! This Arkham Horror novella by Richard Lee Byers invites readers to return to Arkham alongside Dexter Drake as he searches for arcane tomes that can shed some light on the secrets he first glimpsed in a torn page from the Necronomion during the Great War. Lured to an auction of occult items, "Drake the Great" and his assistant Molly Maxwell find themselves targeted by the depraved servants of an otherworldly force of disease and corruption. It will take more than a little misdirection to get the magician out of this scrape.
In addition to a hardcover copy of the novella, Blood of Baalshandor includes four exclusive cards to add Dexter Drake as an investigator in Arkham Horror: The Card Game. These cards allow readers to build a deck for Dexter Drake, complete with a signature asset and weakness, and mark his first appearance in the game.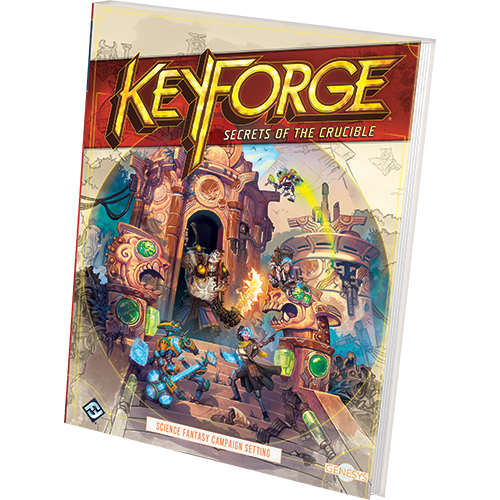 In the center of the universe hangs the Crucible, a gigantic artificial world created by the enigmatic Architects and home to countless beings and cultures. Here, impossibly advanced technologies mix with arcane powers to make for a setting unlike any other! Uncovering the secrets of this mysterious world will take all your skills—but the potential rewards are boundless…
Explore this world of boundless opportunity in Secrets of the Crucible, a new sourcebook for the Genesys Roleplaying System set in the KeyForge universe!
This 272-page sourcebook allows you to undertake fantastical adventures and uncover the Crucible's many wonders and dangers. Lost civilizations, cryptic conspiracies, bizarre environments, mutated monsters, and more await!
Secrets of the Crucible contains new character creation options, unique weapons and armor, new skills revolving around the mysterious æmber, bizarre adversaries, and a new adventure builder that puts all these aspects together!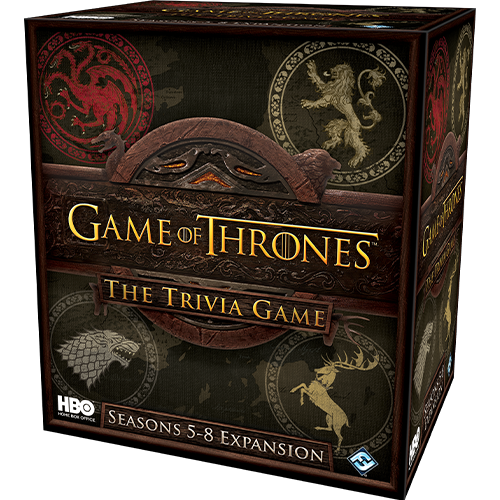 Finish your battle for the Iron Throne with the Game of ThronesTM: The Trivia Game Seasons 5-8 Expansion! As the only game that matters continues, the competition intensifies with the inclusion of a fifth player and more than 1,200 new questions to test your knowledge of the hit television series.  Complete with clear season markings to avoid spoilers and new iconic characters to align yourself with to gain their powerful unique abilities, your battles for control of the seven kingdoms will continue long after the final credits have rolled.
This is not a standalone product. A copy of the Game of ThronesTM: The Trivia Game Core Set is required to play.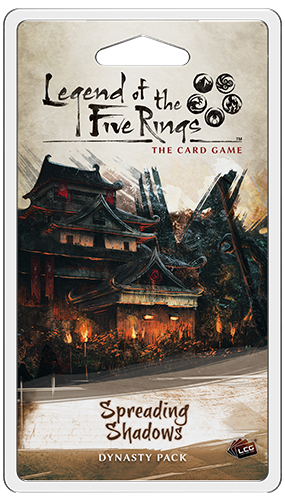 There is a darkness spreading through Rokugan. War is on the tip of everyone's tongue and chaos has come to the Imperial Capital. Meanwhile, the Crab Clan fights valiantly to defend the Emerald Empire from the shadows spreading to the south. With Rokugan as unstable as ever, can the samurai of Rokugan stop the spreading darkness?
Defend Rokugan with Spreading Shadows, the second dynasty pack in the Dominion cycle for Legend of the Five Rings: The Card Game!
Spreading Shadows continues to emphasize the themes of the Dominion cycle, introducing new eminent provinces, cards featuring the rally keyword, and a focus on powerful dynasty events.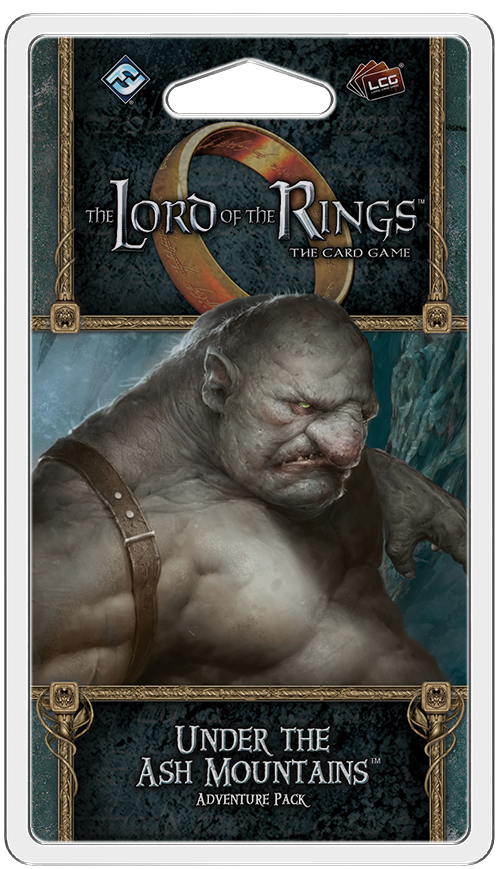 Under the Ash Mountains is the fourth Adventure Pack in the Vengeance of Mordor cycle for The Lord of the Rings: The Card Game.
Your pursuit of Thane Ulchor has almost reached its conclusion. All that stands between you and this dastardly foe are the tunnels of Torech Gorgor under the Ash Mountains. As your journey reaches its final stages, this 60-card pack takes you deep into this labyrinthine cave system where you'll face dwindling supplies as well as the nameless terrors that dwell there. Food and water will be scarce in these darkened tunnels, so you must conserve your resources if you hope to survive.
This task can be made easier with a little preparation and Under the Ash Mountains gives you plenty of tools to deal with dangers you'll find in the tunnels. Numerous allies can help you find your way, and a new Contract ensures you have a diverse array of options as you inch closer to Mordor. Do you have the will to find your way through before all hope is lost?
FFG is back in stock – check with your FLGS!