This week on DriveThru RPG and DM's Guild we're joining the circus, starting a lightning war, and solving mysteries with Scoob and the gang.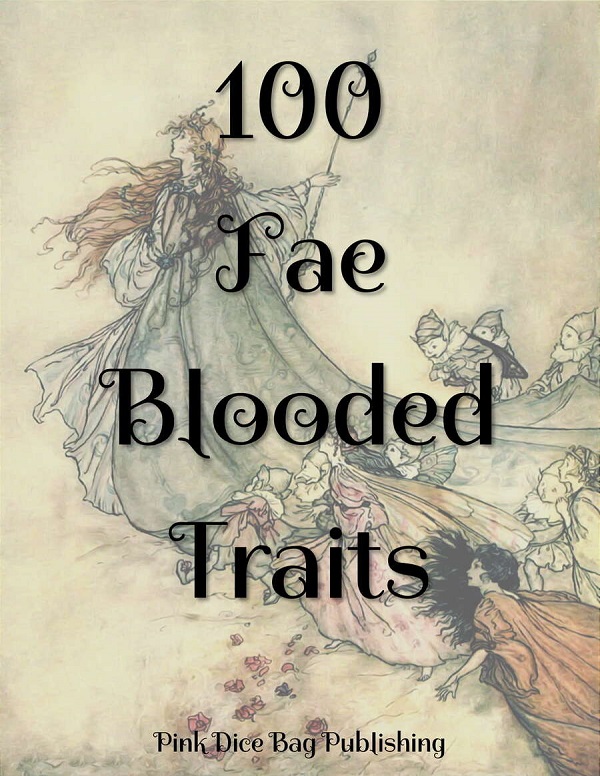 "So you know how in fairytales sometimes fae will take a mortal spouse? Well…

This list features 100 traits for fae blooded characters that may reveal a bit of their fairy ancestry. These traits, directly inspired by Celtic, Scandinavian, and Slavic folklore, provide a wide range of options for fae blooded characters. Some traits merely affect appearance, such as perhaps having moss like hair or the tail of a cow. Others will affect the way that they are treated by others, such as frequently inspiring songs and poems or cattle and horses frequently spooking when they're near. All of them though, will bring a touch of the otherworldly magic of the fae to your character in a way that's sure to help make things interesting."
Finding inspiration for our characters in fae ancestry and real world folk stories is a fun and very magical way to make your character a little more special. Whether it's a simple physical attribute that differentiates them from everyone else or a special relationship with animals, a character with fae parentage will always stand out in a crowd. Will this be good in your game? Will the fae like your character? Let's find out!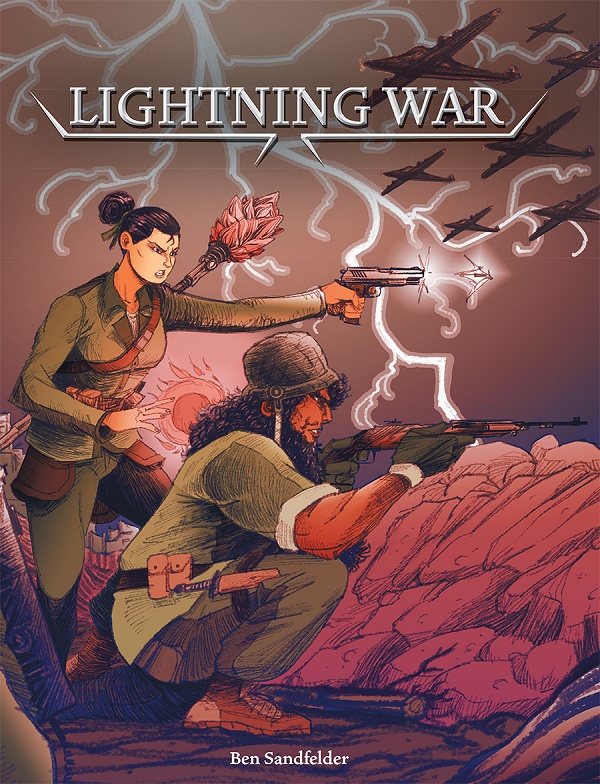 "A WORLD ON THE BRINK

Lightning War is a roleplaying game set in a high fantasy world's World War II. When three of the most powerful nations in the world succumb to the insidious evils of fascism, everyday people are forced into a desperate war for their survival. This book includes all of the rules you need to play, from squad creation to tense exploration and deadly tactical combat. It also features a gallery of adversaries, and guidelines for game masters to design devious missions.

Lightning War is about acts of heroism in the face of constant danger. Creep through ancient ruins and ruined cities. Battle ruthless enemies and dangerous monsters. Use creativity, strategy, and teamwork to win against all odds.

At this critical moment, even the smallest victories could turn the tide of the war.

WHAT'S DIFFERENT?

How is Lightning War different from other tabletop RPGs you might've played?

Lightning War uses an original system that combines fast-and-loose rules with tactical teamwork-based combat. Each player controls a team of characters: one specialist and two grunts. Think of specialists as your "main character," but grunts provide helpful bonuses while they are still alive. It's a game for roleplayers who relish high stakes and hard choices, and a game for wargamers who enjoy the unique narratives created by writing battle reports or playing unusual scenarios.

Combat in Lightning War is extremely dangerous – but there's a way characters can cheat death. Once per session, a character can avoid a fatal attack by revealing a detail from their backstory. This "Flashback" mechanic encourages you to give history and depth to characters who could otherwise be treated like expendable pawns.

WHAT'S IN THE BOOK?
A broad overview of Lightning War's high fantasy setting.
A full-color cover, and a colored interior with lined artwork.
Five playable species: cinderfolk, dwarves, halflings, humans, and orcs.
Ten playable roles, including the crafty Arcanist, terrifying Flamethrower, decisive Officer, nimble Scout, and fearless Support.
Fast-paced and intuitive rules for exploration and roleplaying.
A fine-tuned combat system that allows for fast-playing but highly tactical battles.
A robust GM section with guidelines for customizing the game to fit your group.
Random tables GMs can use to quickly generate interesting mission prompts.
Over thirty versatile NPC profiles, including allies, enemies, beasts and monsters."
A little bit wargame and a little bit tabletop RPG, Lightning War is a high stakes game of staying alive while coming up with unique and detailed backstories. This book gives you everything you'll need to start your own battle including a description of the setting, classes and races, randomized generation tables, GM tips, and a collection of helpful and harmful NPCs alike. Put both your survival and creativity to the test.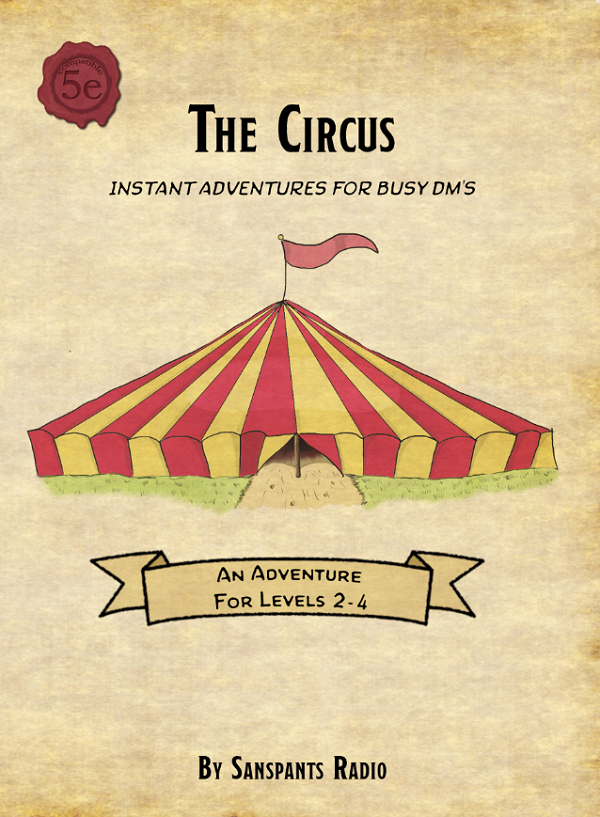 "Are You Prepared For Your Next Session?

Short On Time Or Looking For Extra Content?

An Instant Adventure For Fantasy Roleplaying Games.

The Circus: is an adventure designed for a standard group of 3rd level players, though with some adaptation, you can modify it for higher-level parties if you wish. The story follows the crazy events and people of a small town called 'Temperance'.

The Circus is a drop-in adventure for your campaign or next one-shot.

Designed for a group of 4-5 players with low to mid-level characters.
Use as a standalone adventure, connect to an existing campaign, or as a random encounter in a pinch!

Includes:
* (1) A4 pdf file of the Roleplaying Adventure – The Circus"
You always know it's going to get a little weird when the circus comes to town, but are we looking at some Night Circus weirdness, or closer to Something Wicked This Way Comes? You'll have to take a trip to Temperance and visit the circus to find out. Take your group of 4-5 adventurers on a quick side trip or start a weird and wondrous one-shot for some brand new 3rd level characters.
"In Memory is an add on to any game you currently love. It's about old friends, past partners, worn out soldiers and veterans of the deepest dungeons gathering together at a pub to talk about their exploits over ale!
In Memory is a roleplaying game add on. You use it as an additional layer over the top of any roleplaying game your group is already familiar with.
It frames an adventure or scene from that roleplaying game with a drinking game component. You play old characters at a tavern as well as them in their younger years going toe to toe with whatever drama you love to play."
Describing itself as a drinking game, In Memory let's you spend an evening reminiscing, regretting, and maybe starting a fight or two with other retired adventurers as you get together in a tavern. Perhaps you remember the same event differently or parted on less than amicable terms? Or maybe you remained close friends with a yearly date to get together and talk about the good ol' days. Pour yourselves a pint in memory of your old adventures.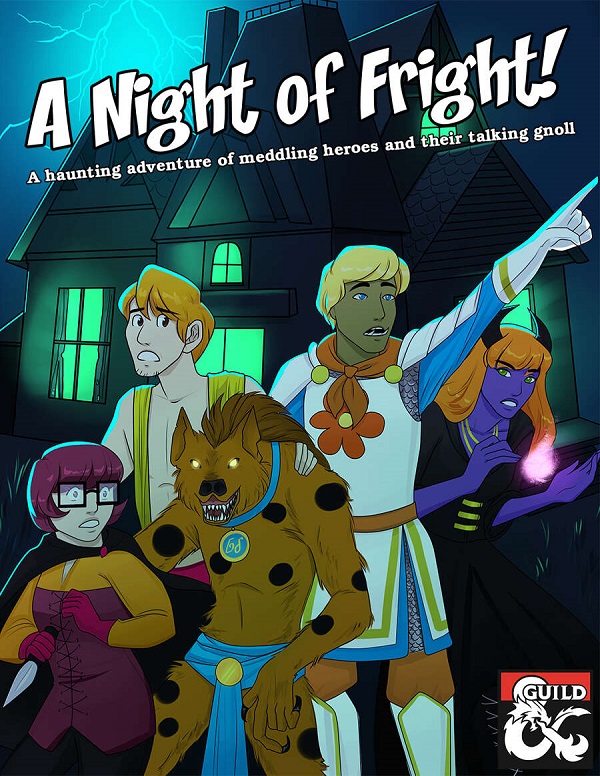 "Jinkies! Uldryn Beauregard is dead—and he's left one million gold to anyone who can survive the night in his haunted mansion! But spooky things are going on, and nothing is as it seems. Luckily, Mystery LLC is on the case!

TL;DR Here's what you get:

A four-hour parody-horror adventure that, if you're asking me, is pretty funny
Five ready-to-play pregenerated characters, each with a custom sheet and token for digital play
5 fully playable subclasses to continue the shenanigans of Mystery LLC
An interactive PDF and screen reader-friendly doc
Maps! There's even maps in this sucker. One with labels, one with grid lines, a blank one … you can really go nuts if you're into maps!
The ability to print out and frame that cover art, because look at it it's so funny and cool

A Night of Fright is a parodic one-shot adventure designed to be played in a single four-hour session by five players. In a loving send-up of classic mystery cartoons, players will take the role of one of four meddling heroes—or their talking gnoll! Explore a haunted mansion full of traps, frights, spooks, scares, ghosts, ghasts, and ghouls to uncover old Uldryn's secrets before it's too late—for this is no run-of-the-mill real estate scam. There's real danger in the mansion and Mystery LLC will need all the help they can get!

(Yes, you can play this without the pregenerated characters or with less than five people. It'll work fine, I promise. It's just more fun to actually get to be Mystery LLC!)

With over 20 different possible encounters, no two games will be the same. A fully interactive PDF created by bestselling designer Lydia Van Hoy helps DMs easily navigate the digital format.

Honestly, we just had a lot of fun making this adventure. So much so that we kind of accidentally created five new subclasses: Bespectacled Sleuth Rogue, Warlock of The Damsel, Oath of Traps Paladin, Way of the Coward Monk, and Bardic College of Snacks. These subclasses are fully playable, but a bit more on … let's generously call it the "fun" side. They're pretty balanced! Probably! Just don't peek too close. Anyway, you could actually play a full campaign with the Mystery LLC gang and please do and send us stories.

This adventure is purposefully designed to be a bit on the lighter side. It could fairly be stated that we openly flaunt generally accepted guidelines like "don't build in villain monologues" and "don't split the party." But the result is a replayable, trope-laden game of memorable fun and moderate spooks that multiple playtesters said was really fun!"
This game pitches itself as far as I'm concerned. Jump into the world of mystery teen cartoons and animal mascots with Mystery LLC and any of their 20 different encounters to ensure that your Way of the Coward Monk and College of Snacks Bard will be solving at least an entire season's worth of hilarious mysteries. It's up to you meddling kids to make sure no crime goes unsolved!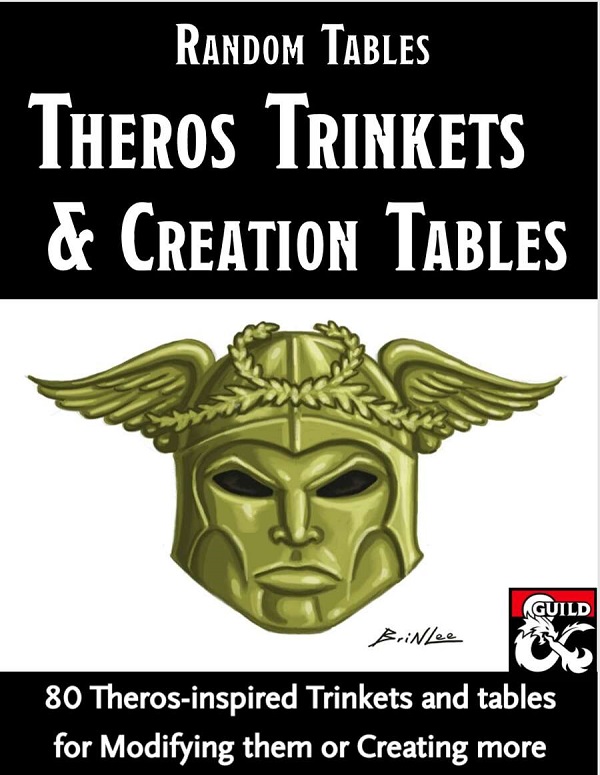 "You can see all of the tables in the Previews under the product image.

Theros Trinkets and Creation Tables to create your own trinkets. Using 1d20 tables

80 Theros Trinkets (tables A-D)

Theros Trinket Creation Tables (Modifying Existing Trinkets, Building Your Own, Trinket Base Item A, Trinket Base Item B)

Descriptors and Extras (Trinket Descriptors, Trinket Extras A, Trinket Extras B)

Decorations, Inscriptions and Materials (Trinket Decorations, Trinket Depictions, Trinket Inscriptions, Trinket Materials)

Part of All the Trinkets Bundle. Also of interest might be the Character Races Bundle or Romance Trinkets."
With Odysseys of Theros finally available you're going to want to add as much on-brand flavor to the world as possible. Add up to 80 randomly picked trinkets inspired by mythology and epic poetry to your adventure as you get ready to meet new creatures and become the favored hero of new gods.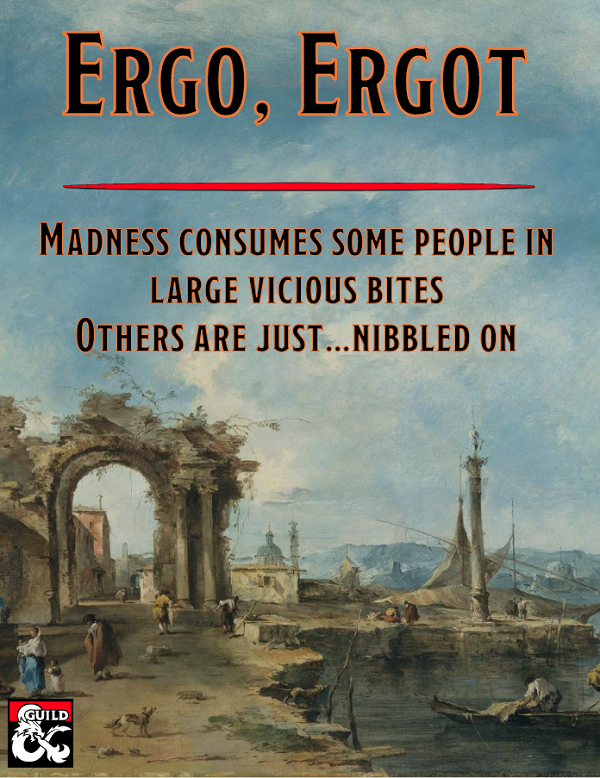 "Tired of the usual encounter? Want a challenge but need to do more than just slice up the next page of the Monster Manual? ERGO. ERGOT!

Arglynn presents Ergo, Ergot, a tale of trickery, betrayal, and danger! Do you have what it takes to figure out who wants who dead and why, before it's too late for you or for them?

Ergo, Ergot is an adventure optimized for four to six 2nd level PCs. In it you will find the main adventure, numerous adventure hooks across the Isle of Kairdomak, notable personages, side quests, and challenges that will require skill, wits, and brawn, but won't necessarily be beaten by combat alone. Included are rules and effects for ergot poisoning for over a dozen races, and cut-out card "menus" for the players.

Maps, floorplans, and detailed descriptions for the village of Kairdek, the Sunken Treasure, Kairdek Cairns, the Wizard's Tower, and the merchant ship, the Kairdek Queen, are included in this module!

Intrigued? Support my work by throwing me a couple of bones when you type in how much you want to pay for this. Thanks, and good luck, adventurers!"
Ergo, Ergot gives you everything you'll need with main and side quests, challenges and puzzles, mystery, and a little bit of madness just for flavor. Will you fall victim to ergot poisoning? Who would want to poison you? And who is wreaking this havoc upon the town? Everything you need to play through this adventure and save the town is included; let's just hope you don't succumb to the effects of the ergot before then.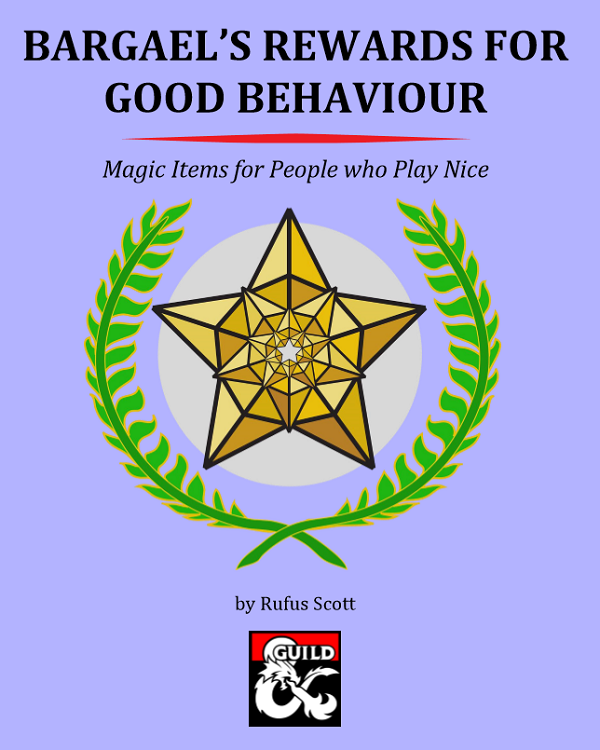 "Welcome to Bargael's Business
I have spoken to all sorts of adventurers. Different races, different fighting and magic styles, different outlooks… but they pretty much all have one rule that they stick to:
"Don't split the party."
There is an important life lesson wrapped up in those four words: adventurers succeed when they work together. Your selfish, conniving, vain 'heroes' never last as long as the Good Guys who help each other through the hard times.
I have a special stash of items for that kind of adventurer. These things only benefit the team players, the heroes that help each other. Some power up when a noble deed is performed, others enhance your ability to help a friend in need.
— Bargael Quillpoint
Bargael's Rewards for Good Behaviour contains 20 magic items designed for young and old players who want to work as a team and those that deserve to be rewarded for their excellent role play. These magic items are:
Amulet of Song
Armour of the Ally
Bracers of the Protector
Brooch of Cheer
Crawling Shield
Crown of Success
Friendship Bracelet
Friendship Bracelet of Communicating
Friendship Bracelet of Togetherness
Friendship Bracelet of Tracking
Gift of Happiness
Hands of Helping
Medal of Success
Ring of Mutual Healing
Rod of Excellent Roleplay
Stone of Celebration
Stone of Condemnation
Wand of Spell Sharing
Weapon of Mercy
Yemmi's Trampoline"
Are your characters unherdable cats who split off to do their own thing? Is encouraging them with a forward moving plot and a gold star for their character sheet not doing the trick? Bargael has an entire list of items that specifically benefit adventurers (and their players) who work as a team and stick together. Let Bargael help you encourage better behavior and maybe keep the entire party working side by side with some magical friendship bracelets.
---
What new books or supplements are you picking up this week? Are you as excited for Theros as we are? Which of my list look like the most fun to take into your weekly games? Let us know in the comments!
Happy Adventuring!