Smash, bite, claw, or tickle your way to sweet victory as you collect and lock away your most favorite candies.
Sugar Heist is a brand new game on Kickstarter right now, and being published by Studio71, the same company which brought you Binding of Isaac: Four Souls. But rather than killing monsters and collecting souls, Sugar Heist asks you to do far less unethical things: just steal candy from babies.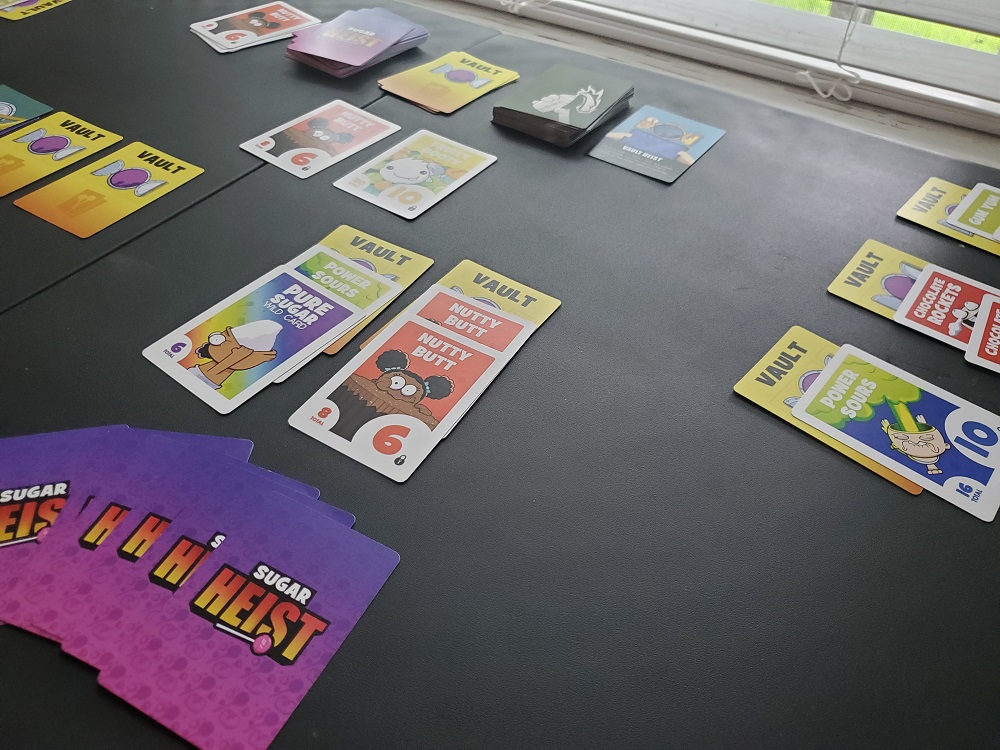 The fine folks over at Studio71 were kind enough to send me a copy of their game to give it a go for myself.
Sugar Heist is a competitive set collecting card game with trading and take-that mechanics. The goal of each player is to have the most candy at the end of the game. Candy is gained each turn, drawn from a collective deck. However, for candy to be worth anything, it must be stored on your vault. And candy can only be stored in matching pairs. Once a vault has as many pieces of candy as is listed in the lower right, that vault can be locked, protecting it from any would-be thieves.
So, where do you get the candy you so desperately need? Steal it?! No, of course not!
…Well, not yet.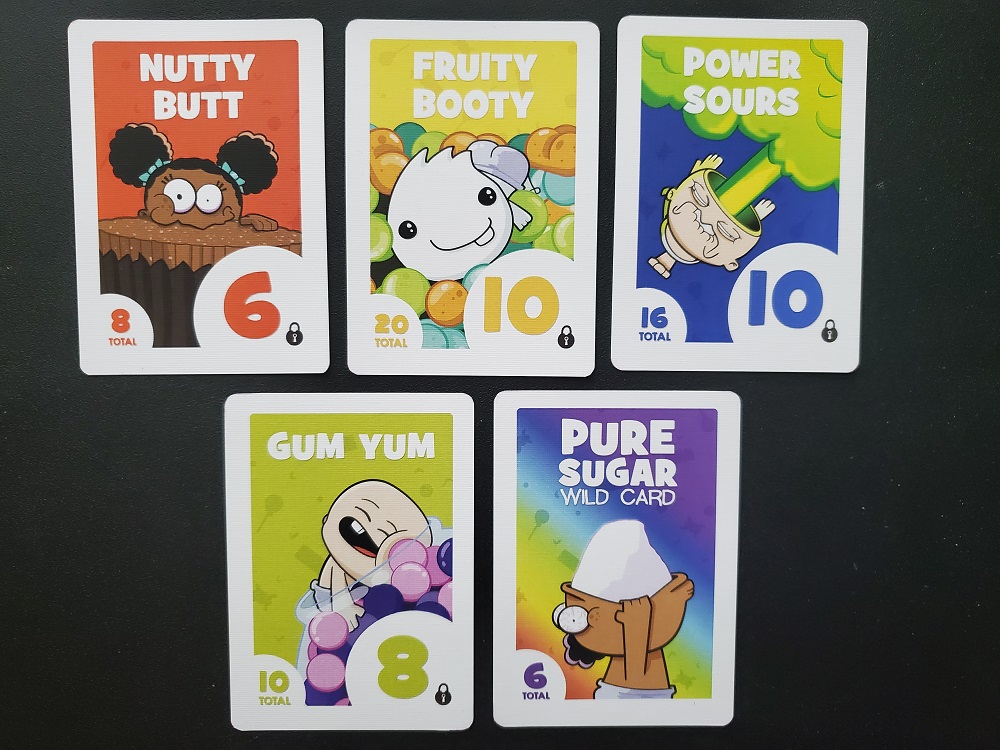 Like any good and civilized baby, you start with diplomacy. Flipping over 2 cards from the Candy Draw Pile and either collecting them yourself, or offering them up for trade. The goal here is to collect pairs of candy, which can be locked away in your vault. Because once candy is locked away, it can be spent.
After the trading phase is over, the active player has the chance to buy additional cards with the candy they've locked away. Players can buy additional vaults, since each player starts with only 2 vaults and you can't mix candies together in any one vault. This makes collecting more candy even easier. But the real star here are the Battle cards.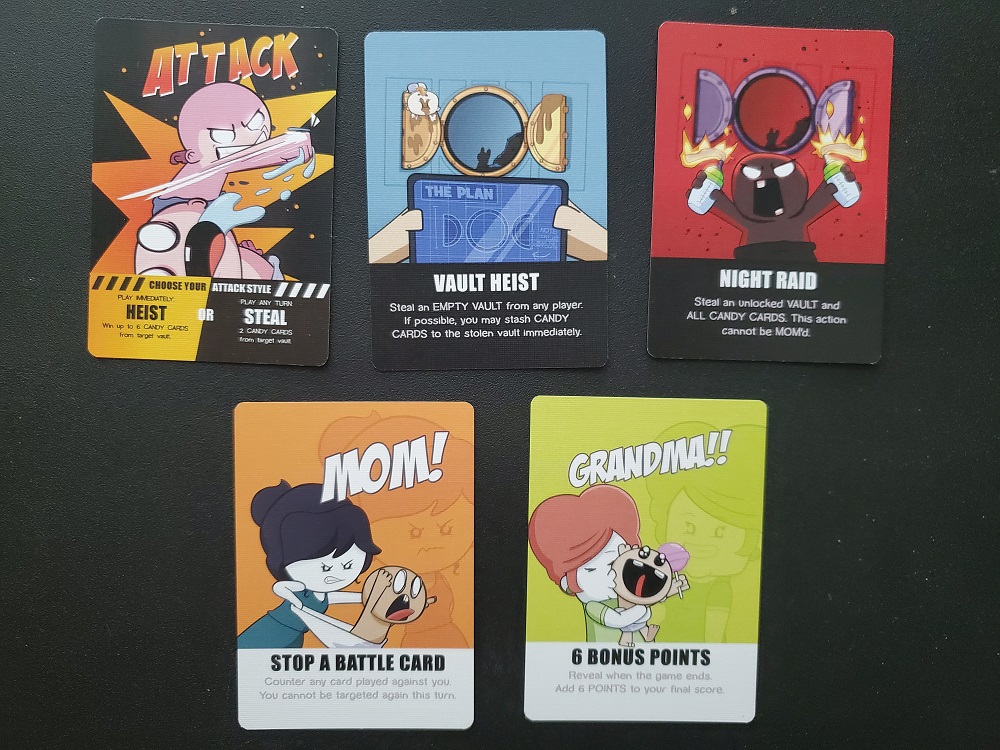 Battle cards allow you to do what you've always wanted to do but society keeps being super lame. Battle cards allow you to steal candy from babies. There's over 15 different types of Battle card. Some allow you to steal directly from another player's vault, while some allow you to steal the vault itself!
The most common Battle Card is Attack, which gives two options. The first option is Heist which begins a mini-game of sorts where the dueling players chance it out with up to 6 candies on the line. Or cowards can choose the second option: Steal, which will automatically steal 2 candies with no chance of failure. Unless Mom shows up, which can be used to cancel any Battle card.
Once the Candy Draw Pile has been cycled through twice, the game is over. Players count up all the candy stored in their vaults, and…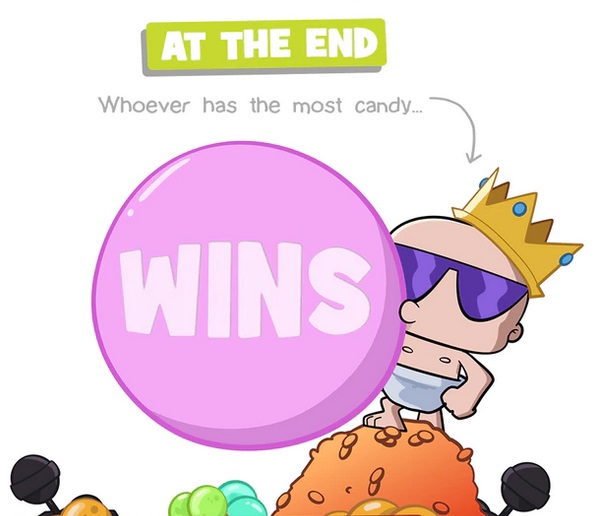 Final Thoughts
Sugar Heist is an enjoyably goofy game that's easy to learn and a blast to play. The art alone should be enough to grab anyone's attention. But it's also a great intro party game that's light enough for people new to the hobby, but still engaging enough for experienced players. Plus, it's got a really enjoyable theme. …I mean, not that I've ever wanted to steal candy from a baby, of course.
But it's nice to have done it for the experience, you know? Just for the thrill…
The Kickstarter campaign is still running for a couple more days, so head on over there and check it out.
Sugar Heist –
$20 on KS

– Campaign Ends July 2nd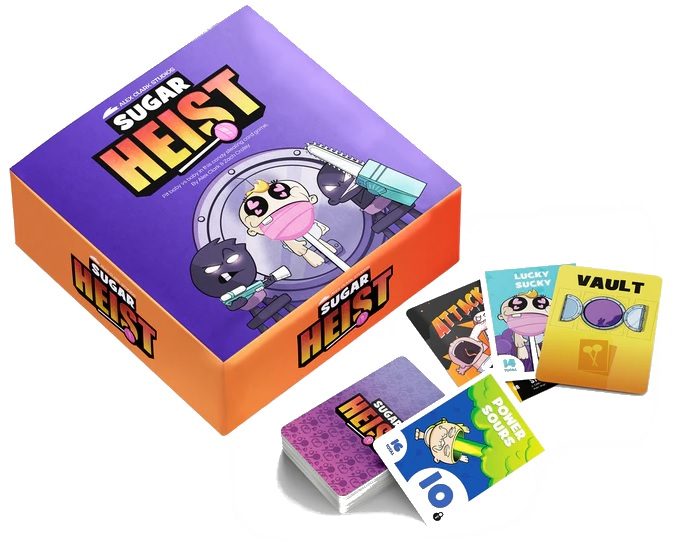 SUGAR HEIST is a card game where players collect, trade, and steal candy cards. Dominate your opponents and strategically heist their sweets as you battle it out for the biggest stash of candy. Sugar Heist is quick to learn, family friendly, and takes 45 to 60 minutes to play.
Thanks for reading!