9th Edition's main rulebook is a nice hefty 382 pages. We went on hunt for Classic Marines. This is what we found.
A New Edition of 40K is upon us and we wanted to check in on those old Classic Marines to see how they were doing in the new rulebook. We are only three years after the launch of 8th edition in June 2017.  Taking a look back though the 8th rulebook we find that Classic Marines were the cool new guys on the block and were fighting alongside their class marine brothers.
The majority of pictures in the 8th rulebook featured a mix of Classic and Primaris on the tabletop, usually with the Intercessors up front and in the foreground, and lots of their older brothers coming up behind.
Fast Forward to 2020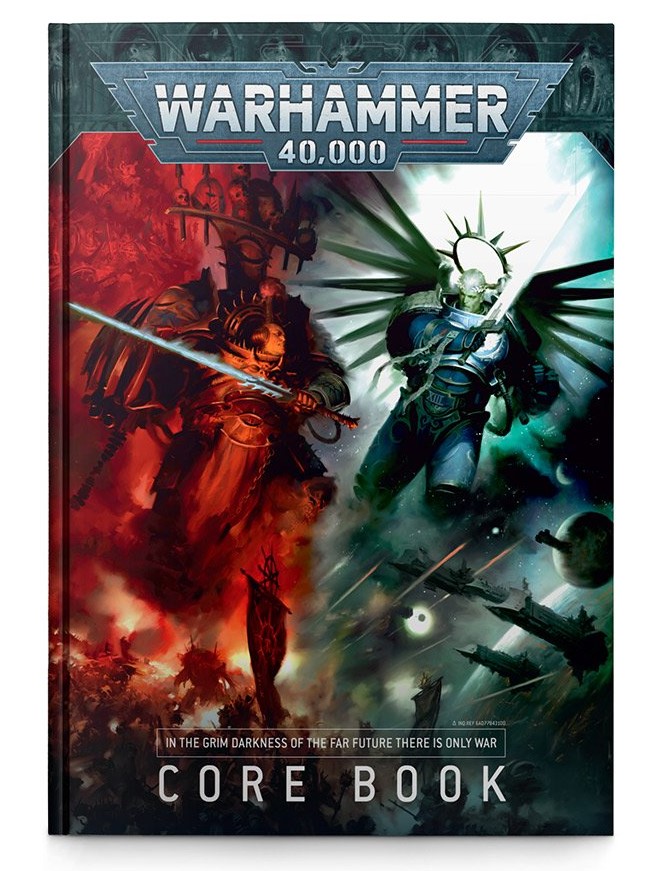 In the last three years we've seen a whole lot of Primaris units released and about a dozen more with 9th edition's launch. With that in mind we dove into the new codex not expecting too much in the way of Classic marines. Here'w what we found:
Terminators – It appears that the visually distinctive appearance of Terminators made the cut. Termys appear in many images in the background behind the Primaris minis.
Oddballs – There are occasional units such a unit of Thunder Wolf Cav, or a couple Sanguinary Guard models.
Power Armor Classic Marines – In the entire book, with many, many stunning layouts of battles we found only these Power Armor Classic Marines:
The Deathwatch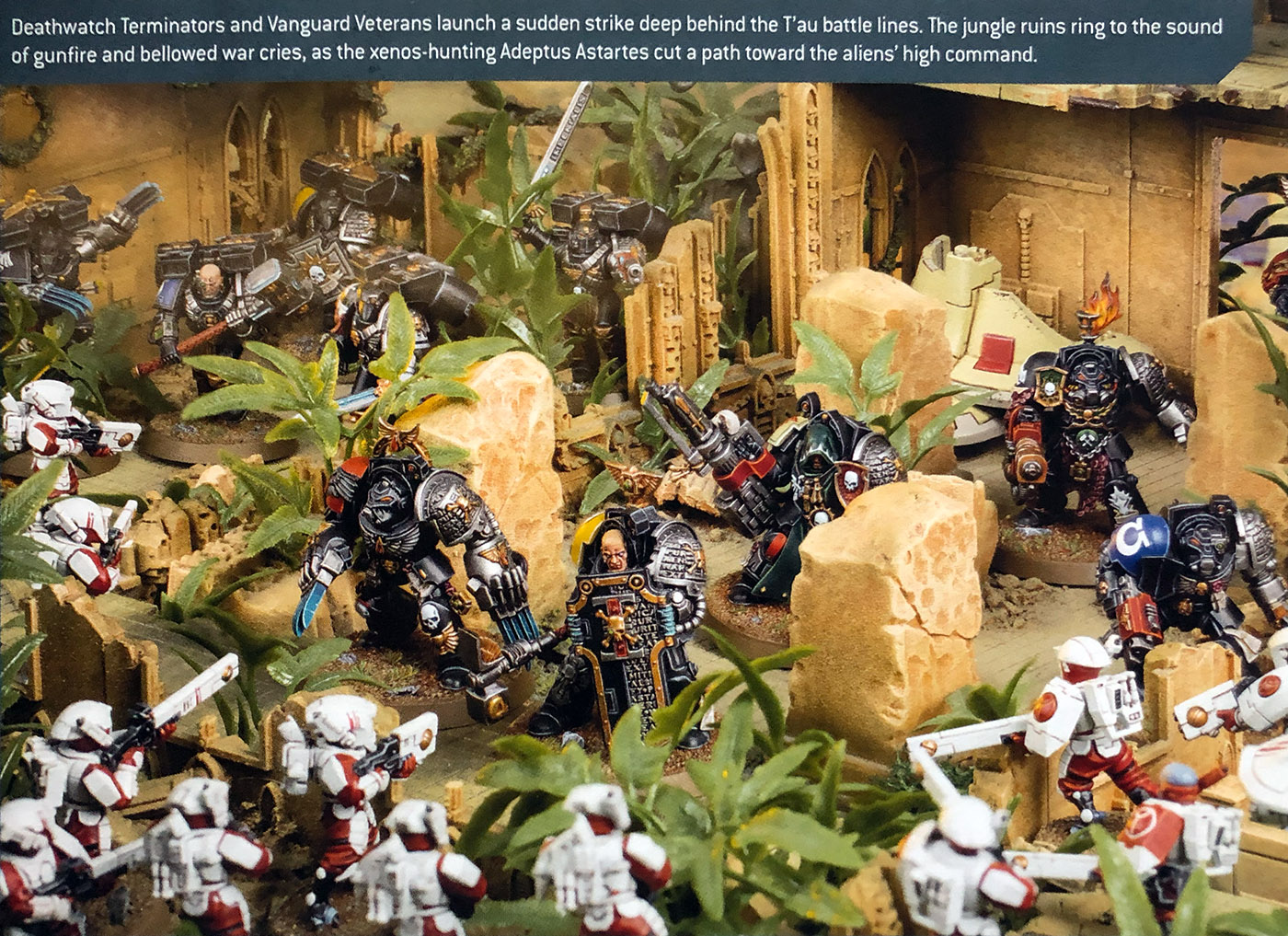 Did you see them up there, way in the corner? Behind the termys.  Let me make it easier on you.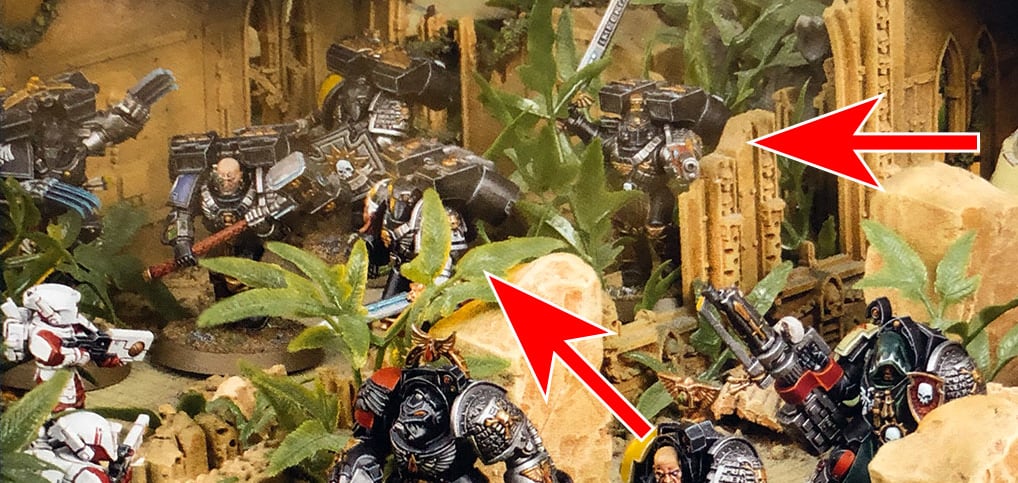 I count five.
The Grey Knights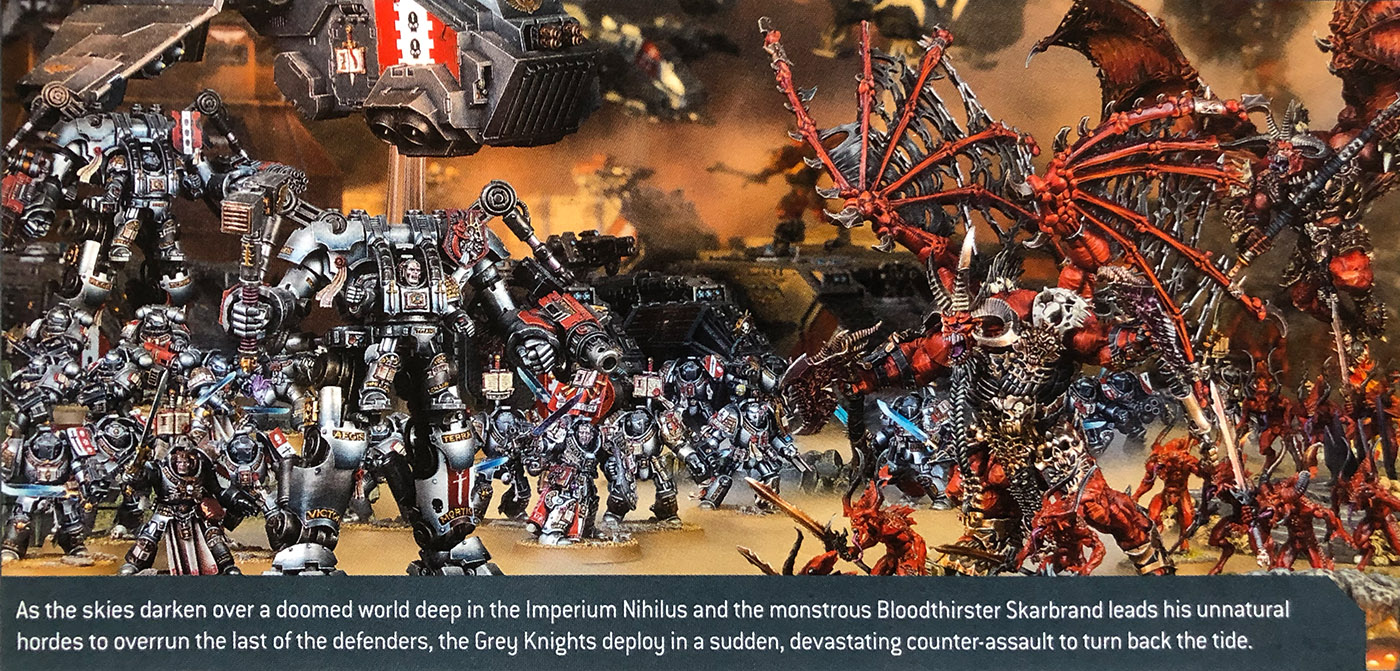 Second verse, same as the first.  This one is trickier as the Grey Knights are the Marine faction who still has no Primaris marines, so you would expect to see a bunch of Power Armor Classics. At first glance it looks like all termys, but up there on the left in the back…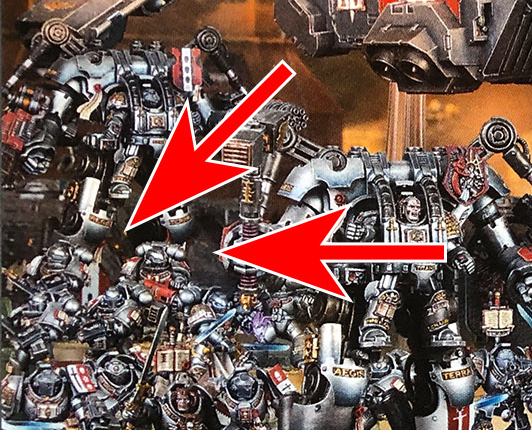 I count six.
Onto the Written Word
And that is it. Eleven power armor Classic marines in the entire rulebook. Now let us move onto the written sections of the background. The entire Space Marine section is written generically, highlighting the basics of the Astartes. Their genetic enhancement, their monastic lifestyle, their superior training and equipment. When it comes to their history the section notes there are older First Founding chapters, Successor chapters, and recent Primaris chapters. There is no mention of different types of marines themselves whatsoever.

Putting it Together
What this means has been clear from day one. GW is not going to remove Classic Marines from the game. If you own hundreds and love them – great use them. What they are doing is slowly but surely erasing them from visual exposure in the game.
Think about this. If a new player picks up a 9th Edition rulebook to learn about our beloved hobby – they would have no idea that Classic marines exist. Only by playing against older players with existing collections would they encounter them. I think we can assume that we will see the new sexy Primaris kits showing up with better rules and more attention in the upcoming Marine Codex. Alongside this, we will see Primaris kits subtly replace the classic kits on store shelves as well, with the Classic kits slowly but surely moving out or circulation. The Classic rules will be there, shoved off to the background… for now.
The bigger question is when, three years down the road the Primaris line is fully mature and a complete "Primaris plus Classic" Marine codex would have 150 units and be 300 pages.
Then what happens?