Sharpen your lance and grab your radar orb; it's time again to jump into way back machine as we take a look at the 1990 D&D video game, DragonStrike.
Released in 1990 by Westwood Associates and Strategic Simulations, Inc., DragonStrike was a Dungeons and Dragons flavored flight simulator with elements of a role-playing game sprinkled in.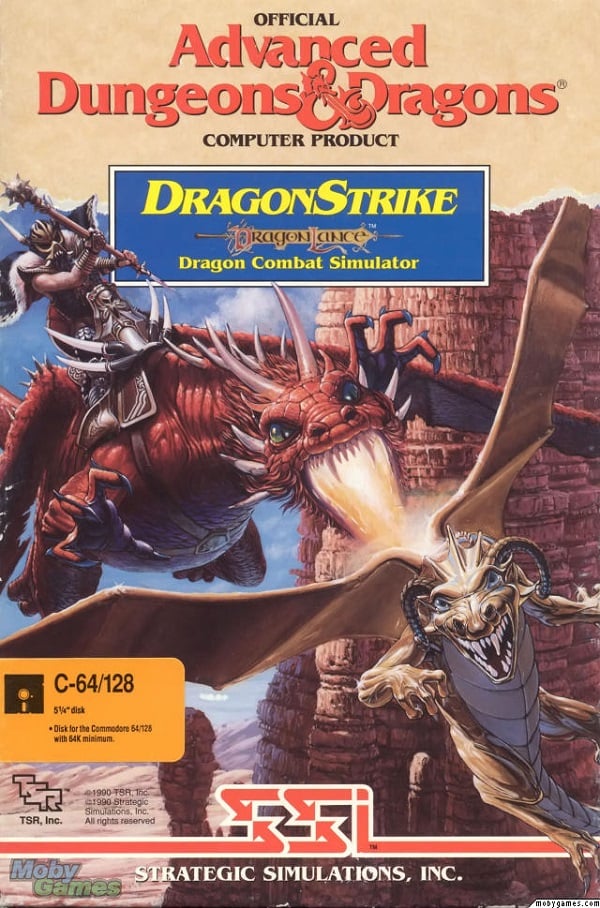 You played as a knight flying dragonback to fight armies of enemy dragons, manticores, and gas spores armed mainly with a lance and a crystal radar ball, but a handful of other magical items as well. True to D&D fashion, the dragon isn't a helpless steed, armed with its own bite and claw attacks as well as the infamous breath weapon. And honestly, that's just about it. There is a plot, but it's loose and a minor part of the game overall; more of an excuse for you to be lancing dragons while riding a dragon in different locations than a story to immerse yourself in.
DragonStrike takes place on Krynn during the War of the Lance and your character is a greener knight. You spend the game the game taking on missions to prove yourself and earn more powerful dragons and more chances to excel. Interestingly, the choices you make and which dragon you chose between bronze, silver, or gold, dictates which missions you go on and adds some variance to the game. It's not a huge role-playing aspect, but the small influence you can take over your character's story is a nice touch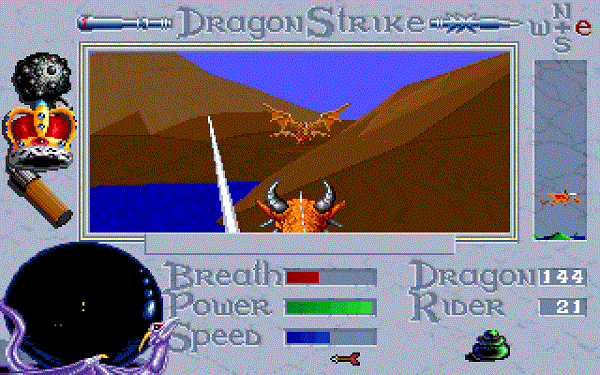 Gameplay gives you control over your dragon's direction, elevation, and let's you attack with graphics that are pretty nice up close and get cheesier and cheesier as the object gets farther away. This is to say that your dragon looks great and a monster near enough to engage with probably looks pretty good too, but anything farther away is a collection of pixels or basic shapes that eventually morph into recognizable creatures. In 2020, it would be bad even as a phone game, but in 1990 it would have been fairly impressive.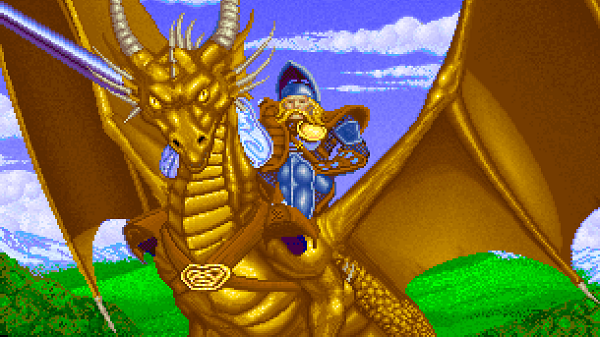 DragonStrike was a simple game, but that's not a bad thing. Simple games are a cornerstone of gaming. I can personally play Centipede or Tetris for hours at a time without so much as a thought, and a game like DragonStrike where gaining experience to get a better dragon to do it again can be downright addictive. And to it's credit DragonStrike earned a lot of praise as a fun and innovative way to merge fantasy and strategic simulation games. Unfortunately, this didn't equate to sales and DragonStrike only sold about 34,000 copies. Some say, however, that this was an underappreciated game in its time and deserves a remake. Is there a rebirth and future for DragonStrike? Only time will tell.
Courtesy of Internet Archive's MS-DOS archive.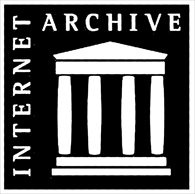 ---
Did you play DragonStrike? Would you play a remake or re-release? Which dragon would you pick to take with you to the end of the game? Let us know in the comments.
Happy Adventuring!