The experience of World of Tanks is coming to the tabletop thanks to the folks at GF9!
Gale Force Nine and Wargaming.net have partnered to being the award winning online game to the tabletop. You can field a platoon of tanks that you can customize with crew, equipment, and modules before going head-to-head with your buddies. The first wave includes a starter set that will provide everything you need to play, and some reinforcements. Pre-order is open now and everything is expected ship in September, so you don't have to wait long to get some tracks down on the battlefield.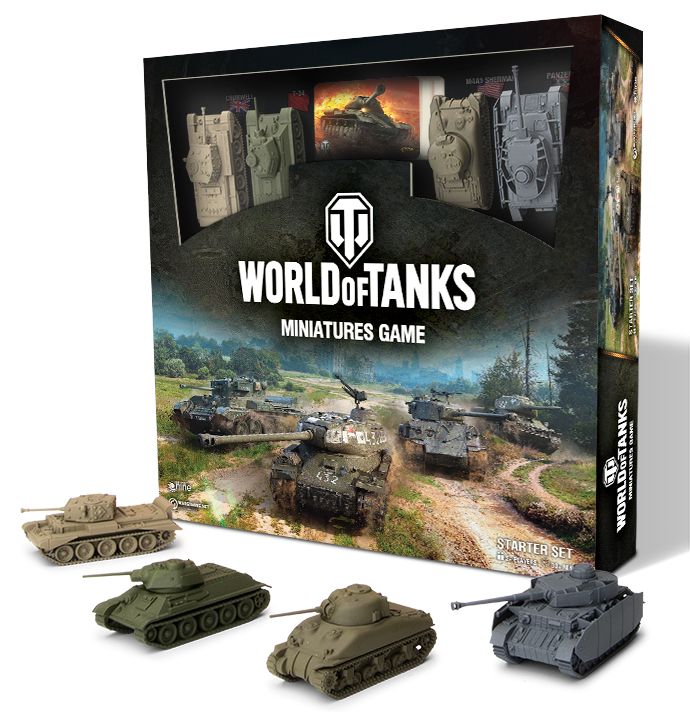 World of Tanks Starter Box – $40.00
4x Highly Detailed, Assembled, Painted Plastic Tanks
6x Custom Dice
Tank Cards
Terrain and Tokens
Crew, Module and Upgrade Cards
Critical Deck

Tank cards (lower left) are used to keep track of your various Tanks' Stats, Special Rules, and record any damage they have taken. Crew, Module, and Upgrade Cards (bottom right) represent the extraordinary soldiers or additional equipment that separates an individual Tank from the factory standard. They are used to modify a Tank's Base Stats or give them extra abilities. And, of course, all of the Tokens, Terrain and Dice you need to get started straight out of the box. And of course, a 24 page Rulebook!
Expansion Packs – $12.00 each
One Highly Detailed, Assembled, Painted Plastic Tank
Tank Card
5x Crew, Module and Upgrade Cards, including Named Crew and other cards, only available in the packs
In game bonus codes