Goatboy here. I've read the rules and talked to the ringers. Here's what the smart money says to look out for in the #NEW40K.
It's another lovely Monday and I have some 9th edition thoughts.  After getting a chance to read over the book, review some mission ideas, and a lot of other online chatter I have come to some thoughts about the new edition.  We are still missing some full pieces with the new Missions and Stratagems from the Chapter Approved book not out yet but I think I can be pretty broad in my predictions.  Also basing this on some of the playtesters play styles and overall vibe from this new release and the mission present.

I'm Not Dead Yet
First of all – horde is not as dead as people think it is.  I think a static horde castle style play style is not going to do well – but a smothering and enveloping style of play will be important in the new edition.  With the battlefield getting smaller – space becomes a hot commodity.  Having a large amount of models that can move up and hold area as well as objectives will be important.  This leads me to think of some of the other "horde" style armies that can do something other than just dying.  I know I have talked  about how a true wave of Daemons might be a powerful thing.  With a built in "auto" bonus for rolling a 1 on leadership as well as usually some kind of faster move/assault option these type of lists might be good.  They also have some interesting "fast attack" options that can split out and go complete a mission or two as needed.  The game is shifting from just a pure kill more attitude and while having a pile of bodies might not always be the best – it will let you move up and take over spaces.  Mix this in with some abilities to actually hurt stuff if they get into combat and it might be good.  Sure the army looks like an "assault" army but it is really just a board control type of game.  Having 5 turns to churn thru 120+ models is a pain to do for a lot of armies – especially if getting to close means they can quickly dish out a good deal of damage to just about anything.  Throw in some Greater Daemons that didn't go down to much and you got the muscle to knock things out.  These builds will be poised to utilize the new Terrain too as they are not shooting and thus can use it to obscure the firepower.  Thankfully most of the greater Daemons sit at 16 wounds or less so they have less of the Magnus/Morty issues we need to worry about.  Mark my words – there will be a high volume Daemon horde Wave showing up whenever we get a chance to play games again in a big tournament setting.

Mech Is Back
Besides the horde aspects I think will also see some interesting Mech based lists that show up.  Aggressive tanks and vehicles that can move quickly will be interesting.  I do wonder if there is a Battle Wagon list that could work as they can easily move around the table, dump out bodies to do the work and even become a threat when stuck in.  There is the threat of blowing up and not being able to reroll – but I think you have to look at vehicles as individual flank options instead of some of castle system.  This new edition looks to favor the aggressive – whether it is moving into the army or just moving into the table.  You have 5 turns and if you can get ahead by turn 3 – then you only leave 2 turns for your opponent to catch up.

Many "Successful" Units
MSU will be key to a lot of match ups as well as you have a ton of options to perform these new "actions" to win the game.  I am sure there will be a slew of new ones coming out which range from specific types of units being able to score to some high risk but high reward options.  I think a lot of armies need to look towards some of their Fast Attack options for extra units to push a flank and maybe raise a flag, perform some kind of secondary action, or just get somewhere to pounce as needed.  The new Outriders for the Marines seem poised to be this for almost every Marine based faction.  In fact I hope we see more FA options like that coming in the future for the other armies out there.

Lord of Skulls – The Gatekeeper
Now I know what you are thinking – I might be excited for my Lord of Skulls.  First – I can still play 3 in an army.  I won't have as much stuff – but all the basics to get them to work is in there.  It might not have some of the other smaller combos – but it still can hit on 2's and do a ton of damage.  My pure Chaos Knight armies are also changing as well.  I still think they can work as a Gatekeeper option – especially if we see smash captains and other high damage options get less important.  I don't think they can push the game as well on these new Missions but overall they can have some fun.  Just expect to lose a game or two in any bigger event bar getting very lucky on match ups or some hot saving throws.

Welcome to the Future!
Right now this edition is feeling like a much more skill focused game.  It will be very brutal but movement is important as well as building armies that can do a lot of different things.  I don't think Castling will win you the game so match ups will be based on getting to a specific point and doing what is needed to be done.  I bet there will be some new Missions to push some of this "engineering" like options from Nova missions as well as again push the narrative you don't have to crush them completely to win the game.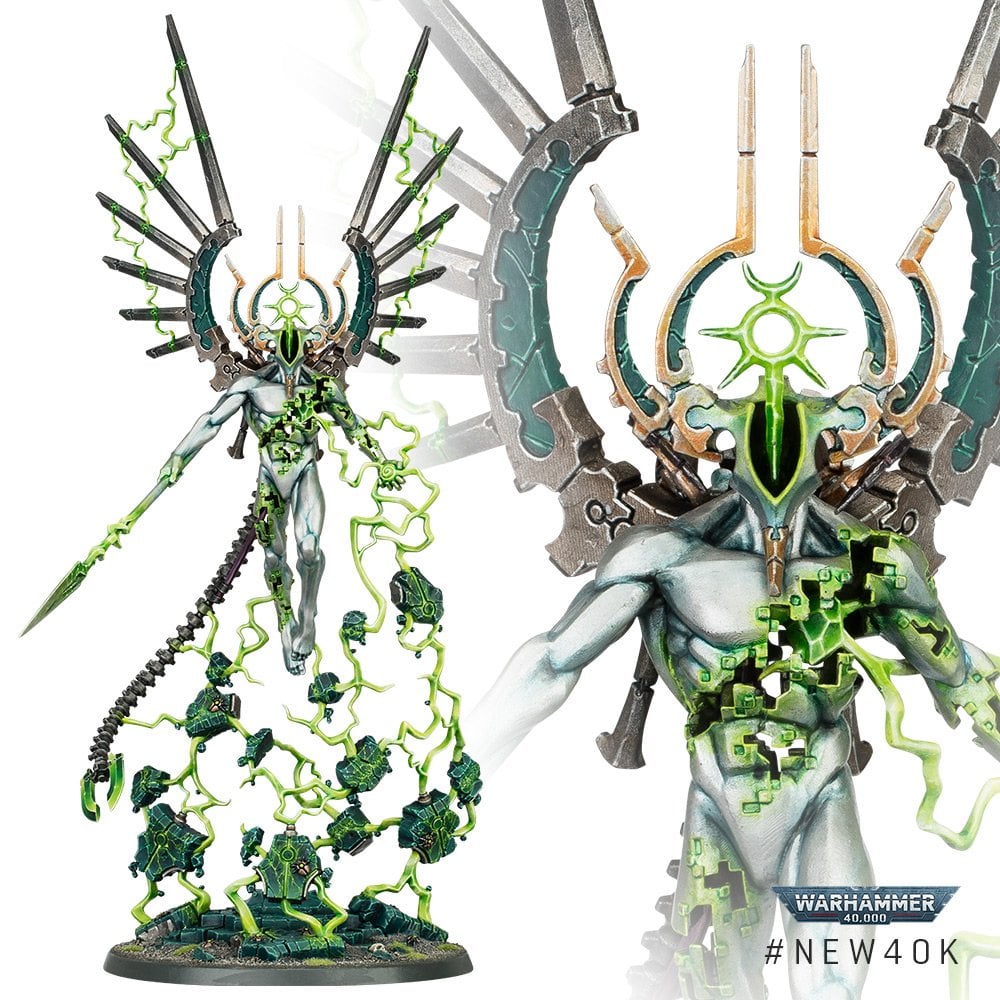 I hope everyone got their box on preorder somewhere.  I went to one of our local shops and locked in a box set myself.  That way a buddy can get my extra book and I can look at filling out some Necron stuff as I got an itching to play the Void Dragon and all those rumored bits about how awesome the C'Tan are.  I bet will see a true starter in the coming months – maybe full of those other new minis that were leaked and show up in those Indomintus points we saw a bit ago.
~ Should I jump onto the Necron bandwagon?