GURPS is back friends. Steve Jackson games is doing a Kickstarter to promote a run of 12 different PDFs, with three days left, here's what you can get.
GURPS strikes again folks. That's right, the Generic Universal RolePlaying System is back with a Kickstarter to help kick off a series of 12 different PDFs which you can grab for only $3. There are twelve short pdfs, each one with a different focus, from the action-fueled, fast and furious cars of Tricked-Out Rides, to the the horrific monsters that lurk behind Beyond the Pale. Check it out!
via Kickstarter
With GURPS, you can be anyone you want – an elf hero fighting for the forces of good, a shadowy femme fatale on a deep-cover mission, a futuristic swashbuckler carving up foes with a force sword in his hand and a beautiful woman by his side . . . or literally anything else! Thanks to its flexibility, quality writing, and ease of use, GURPS has been the premiere universal roleplaying game for over three decades!

The GURPS team, under the direction of GURPS Line Editor Sean Punch, has prepared a dozen different PDFs . . . and this is your chance to possibly grab all twelve of the new PDFs for only $3!
Here's a look at each of the PDFs.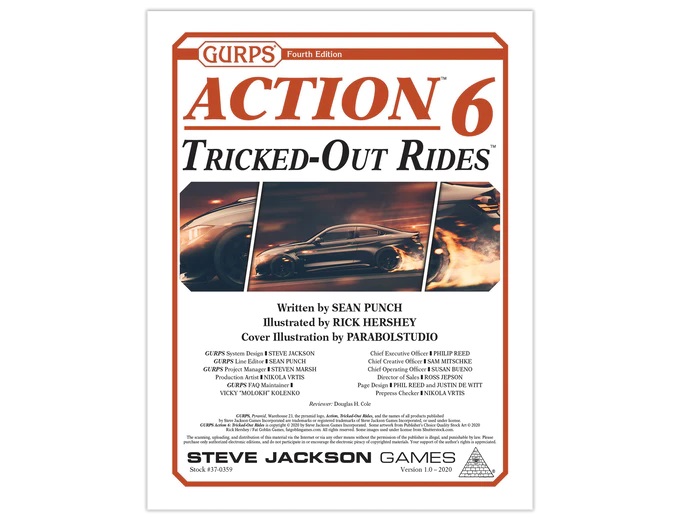 Starting with the latest expansion to the GURPS Action series (see Warehouse 23), your pledge of $3 secures you a PDF copy of GURPS Action 6 – Tricked Out Rides. This 10-page PDF, written by Sean Punch, is a quick-and-dirty toolkit for adventures where sports cars pack more gadgetry than fighter jets, and miniguns fit behind headlights!
That's an incredible value if you're looking for any flavor of GURPS adventure/supplement/tool kits, you'll find it here. And because these are all PDFs, you can get what you're looking for by November. But if you want even more value, as part of this Kickstarter, you can back for $99 and get $125 worth of pdfs from Warehouse 23.