The Green Dawn Mall is just like any other mall. Except that it's sentient. And sometimes people get trapped there forever.
When you open up the PDF for Green Dawn Mall and scroll past the cover pages, the first thing you read is:
"All malls, in time, become the Green Dawn Mall. Green Dawn Mall never ends. Green Dawn Mall is hungry for customers. It forgot what a customer is, but it wants some. You're not customers. You entered Green Dawn Mall, looking for a lost friend. It wont let you leave."
And just like that I am immediately and entirely invested in this game.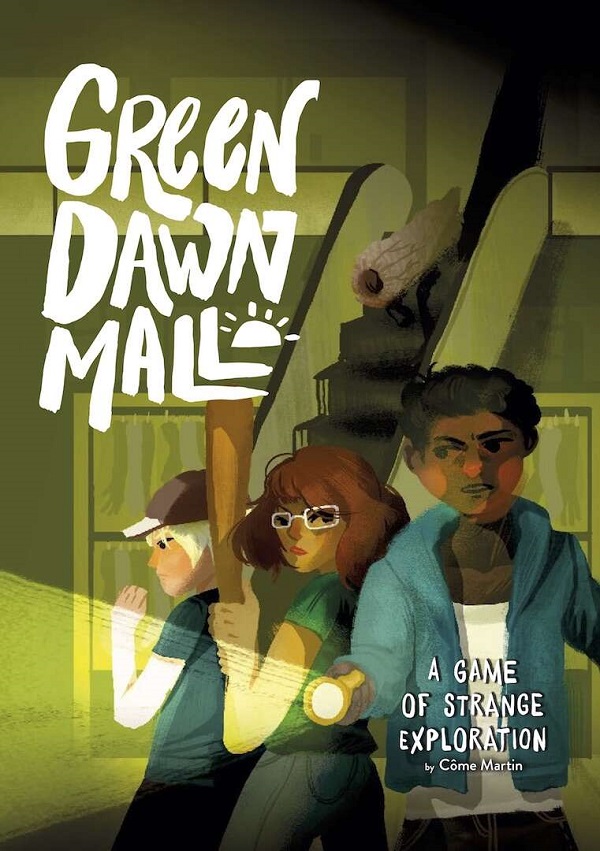 Green Dawn Mall is a simple RPG focusing on regular people exploring a strange place. It mixes a little bit of horror with adventure and sci-fi for a game that will feel a mixture of an 80's children-going-on-weird-adventures movie and the eerie sadness of visiting a dying mall in 2020. Sad, unkempt, a little uncanny, and soullessly capitalist without really knowing why anymore.
In the universe of this game the Green Dawn Mall is a sentient shopping center that fed on the spending habits of it's shoppers until it was powerful enough to sustain its own pocket dimension and slowly began to creep into every mall and shopping center around the world. "All malls, in time, become the Green Dawn Mall." It's forgotten how to be a mall and grown too big, producing distorted versions of the shops it used to create and closed or broken down storefronts. The mall doesn't know what necessities like food are, all it knows is that it needs customers and if you're unlucky enough to wander down the wrong corridor with incandescent lights and piano muzak, the Green Dawn Mall may never let you leave.
Characters in this game are generally teens or young adults whose friend has recently disappeared while visiting the mall looking for something "very special." Character creation is incredibly simple with Personality, Favorite School Topics, and Hobbies as well as up to six relevant piece of equipment they are carrying in their backpack. There are no stats and no bonuses. You create a mundane – but not boring – teenager by being as creative as you'd like or even by describing yourself.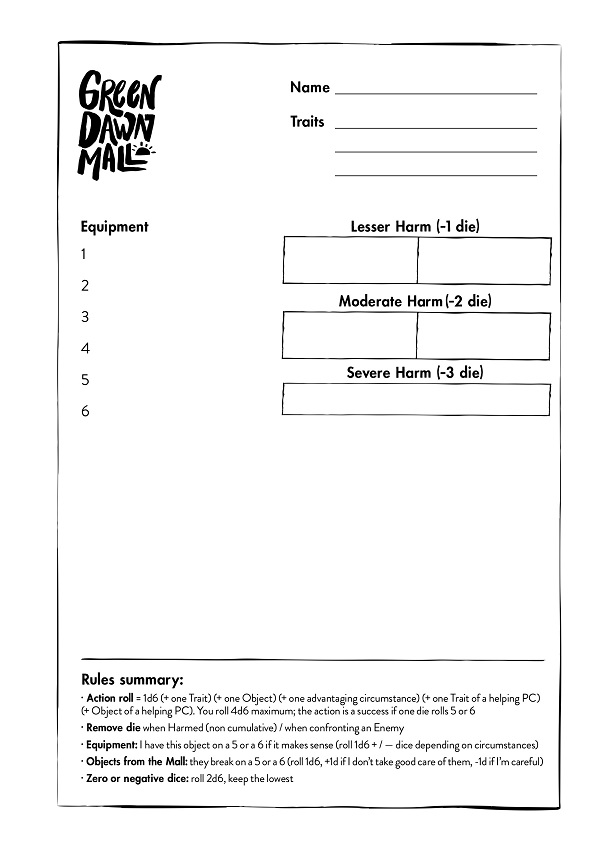 Game play is almost as easy as character creation. Any action that requires a chance of "interesting failure" requires the roll of a 1d6. The GM either decides beforehand or collaborates with the player to determine what a failure would look like in-game; usually they result in narrative setbacks, but harm can be an option as well depending on the situation. Players can add a dice to their pool if their character has a relevant trait, object, is getting help, or has a narrative circumstance working in their favor, but the dice pool never goes above 4d6. Success occurs when at least one die shows a 5 or a 6.
Simple games like this lend themselves very well to sessions where role playing and storytelling are key over lucky breaks and good stats, and Green Dawn Mall has set up a world that's so interesting and dynamic that I want to spend more of my time exploring it with my friends than worrying about who has the best technical skill for spot checks. Of course, rules light games have their own pitfalls and sometimes games with less structure can be more difficult to maneuver through. In D&D I know how hard my character can punch, in the mall I may miss an opportunity to be creative and get a narrative boon.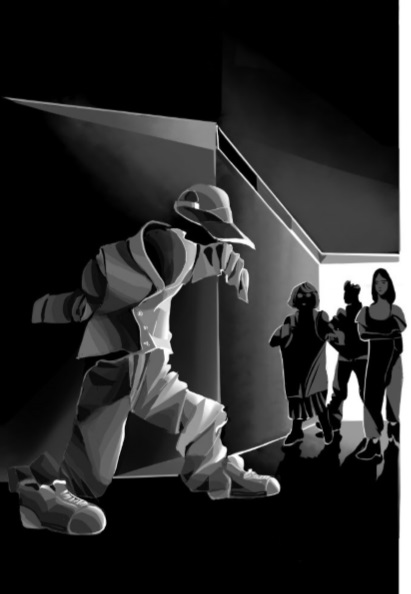 For the GMs, Green Dawn Mall wants you to be creative, take the mall and run with it, but the book is also full of charts if you need an event or an odd object. There are descriptions and stories for different stores, food court, indoor mini golf, arcade, and even the parking garage, and offices. You could build and entire mall around just the pages and pages of suggestions before your players reach the Heart of the Mall and the endgame.
Green Dawn Mall is a great game for more inexperienced players with its lite approach to rules and emphasis on role-playing. It's a great game for inexperienced GMs who want to try their hand at being a little more creative than using a module but want the safety net of a game system happy to tell you exactly how to lay out the next room. And it would honestly be great for anyone who's been playing for years and years, too. This is a fun game with a seriously cool premise in a world that will feel nostalgic and current and magical and real all at the same time. It's not horror but it can be spooky, it's not a children's game but it can absolutely be child friendly, and it's simple but it's not boring. But most importantly, it's a lot of fun.
If you'd like to get lost in the Green Dawn Mall for yourself, you can download a copy on ich.io or DriveThruRPG.
---
Have you played Green Dawn Mall yet? Will you be giving it a try? Have you ever gotten lost in a regular, not sentient mall? Let us know in the comments!
Happy Adventuring!