After a long wait, we've finally got our first look at the Clone Wars ships for Star Wars Armada.
This week at their GENCON Online In-Flight Report, Fantasy Flight Games finally showed off the first of the long-awaited Clone Wars ships for Star Wars: Armada. Fans of the game have been waiting for these for years and are excited to see them finally show up.
The Republic Starter Set

With the Clone Wars Era, FFG is taking a slightly different approach to releasing ships; then it did at the start of Armada. Rather than releasing a starter set ships for two factions, they've chosen to release two sets, each focusing on one of the factions. These sets contain three ships, four squadrons, the cards you need to play them, and all the dice, tokens, and instruments needed to play the game. I'm guessing they also come with a rule book since it was said they contained everything you needed to play, but that hasn't been explicitly shown. This seems like a nice balance that caters both towards new players looking to get into the game, and existing players looking to build one of the new factions.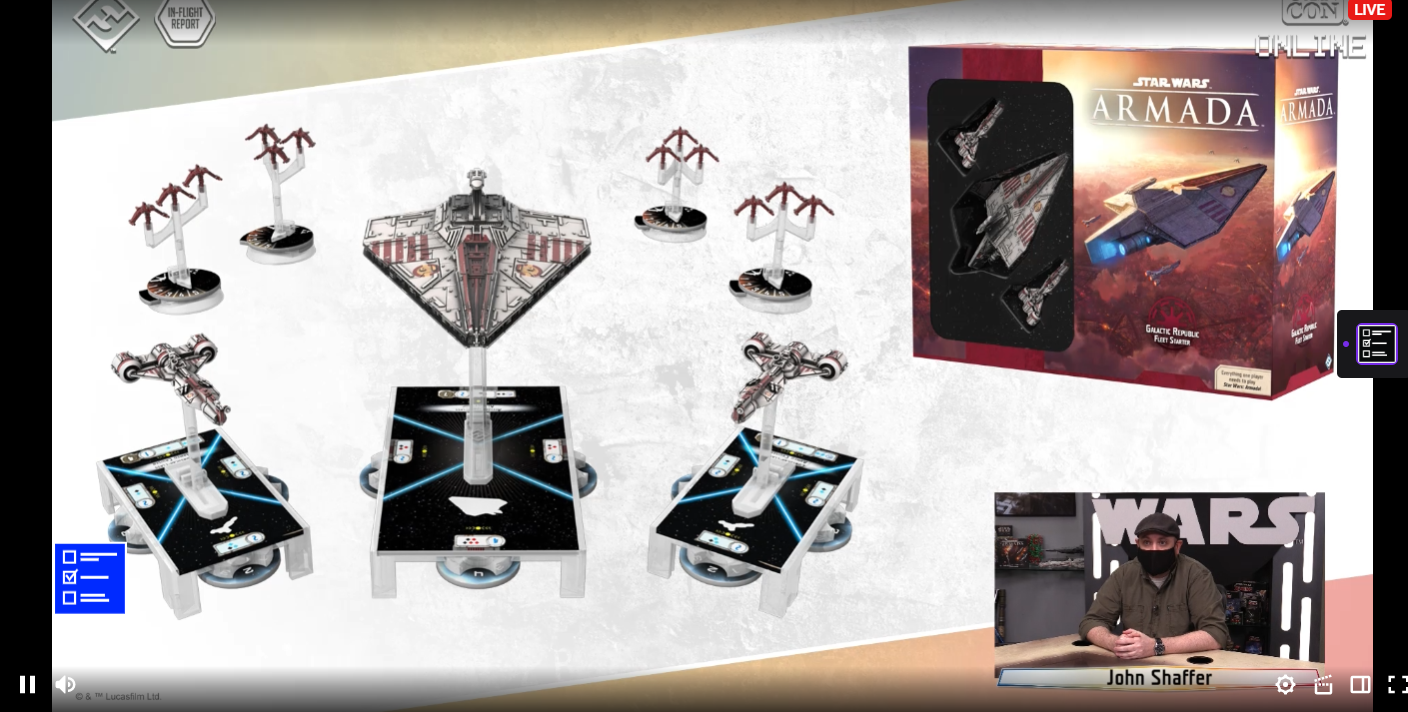 The Republic starter box comes with one Acclamator Class Assault Ship, two Counselor-Class Cruisers, and four squadrons of V-19 Torrents. Based on these ships, the box represents ships from the early stages of the Clone Wars. We can't see all the details, but based on what can be seen the Acclamator seems to be rather similar to a Victory Class Star Destroyer with a heavy front battery of red and black dice. It seems to trade some firepower for extra shields. The Counselors meanwhile remind me of Raiders, with their speed four and blue/black close-range armaments. The miniatures in this pack look really hot, and I'm digging the worn look of the Acclamator.
Separatist Starter Pack

To face off against the Republic Fleet, we've got the Separatist starter pack. This is another box that comes with a complete fleet and everything else you need to play the game. It's also worth noting that FFG has reworked the ship cards, they show fleet building stuff on one side, and game stats on the other. The new cards also have more room to show off new artwork, making them reminiscent of the limited edition cards you could get at some events.  FFG also said they've been working to standardize card sizes for easier storage.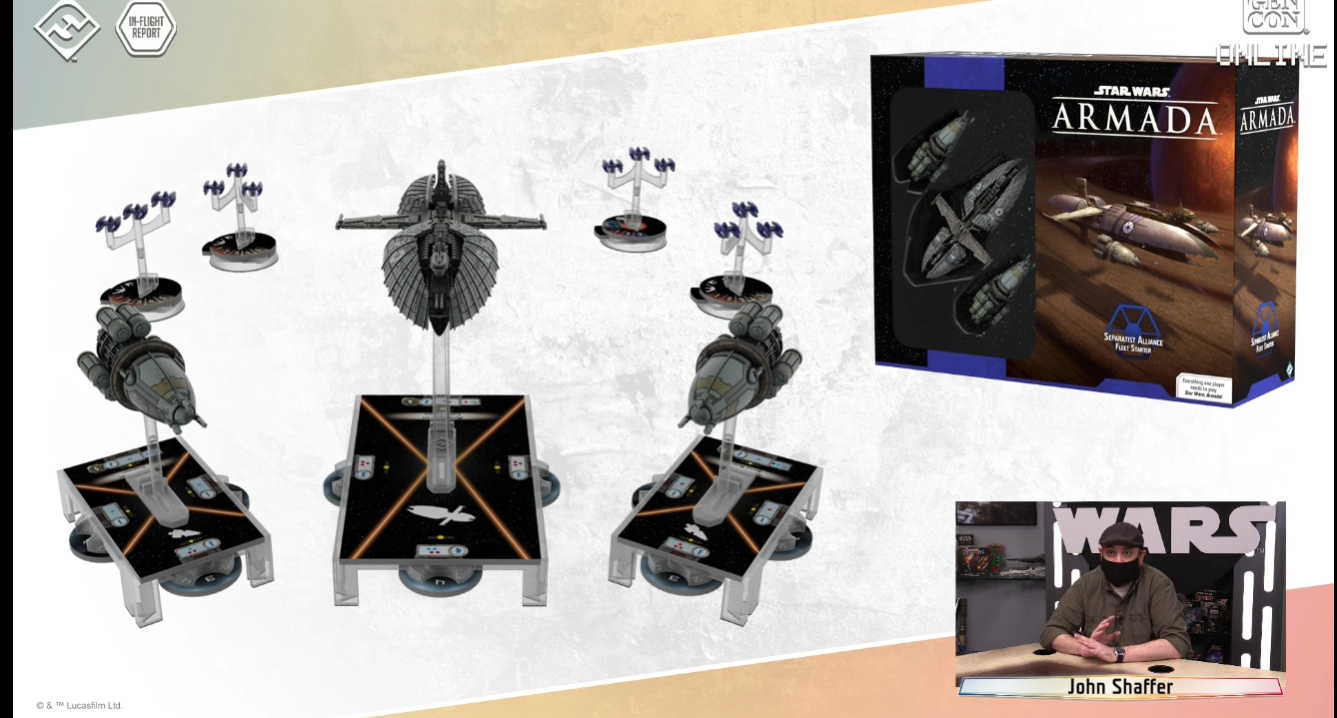 The Separatist pack gets you a Munificent-class star frigate, two Hardcell-class interstellar transport, and four squadrons of Vulture Droids. Again these ship choices seem to represent a fleet from the early part of the Clone Wars. I think the Munificent was a predictable choice, its an iconic Separatist ship and probably the most common one in their fleet. Interestingly though the ship is known for its heavy forward cannons, this version seems to be set more as a broadside vessel. I really like the arcs on it since it should be pretty easy to get an enemy ship in both for double arc goodness, this ship can put out some good long-range firepower, though it is slow. With 6 hull it's not super tough, but it seems to have good shields. The Hardcells are a stranger choice. Though they do show up in Attack of the Clones, they aren't a well-known ship. They don't have great armaments but seem to have decent anti-squadron firepower. They seem well placed to be useful picket ships, and if they are speed 4 might serve a similar role to CR90s.
Republic Squadron Pack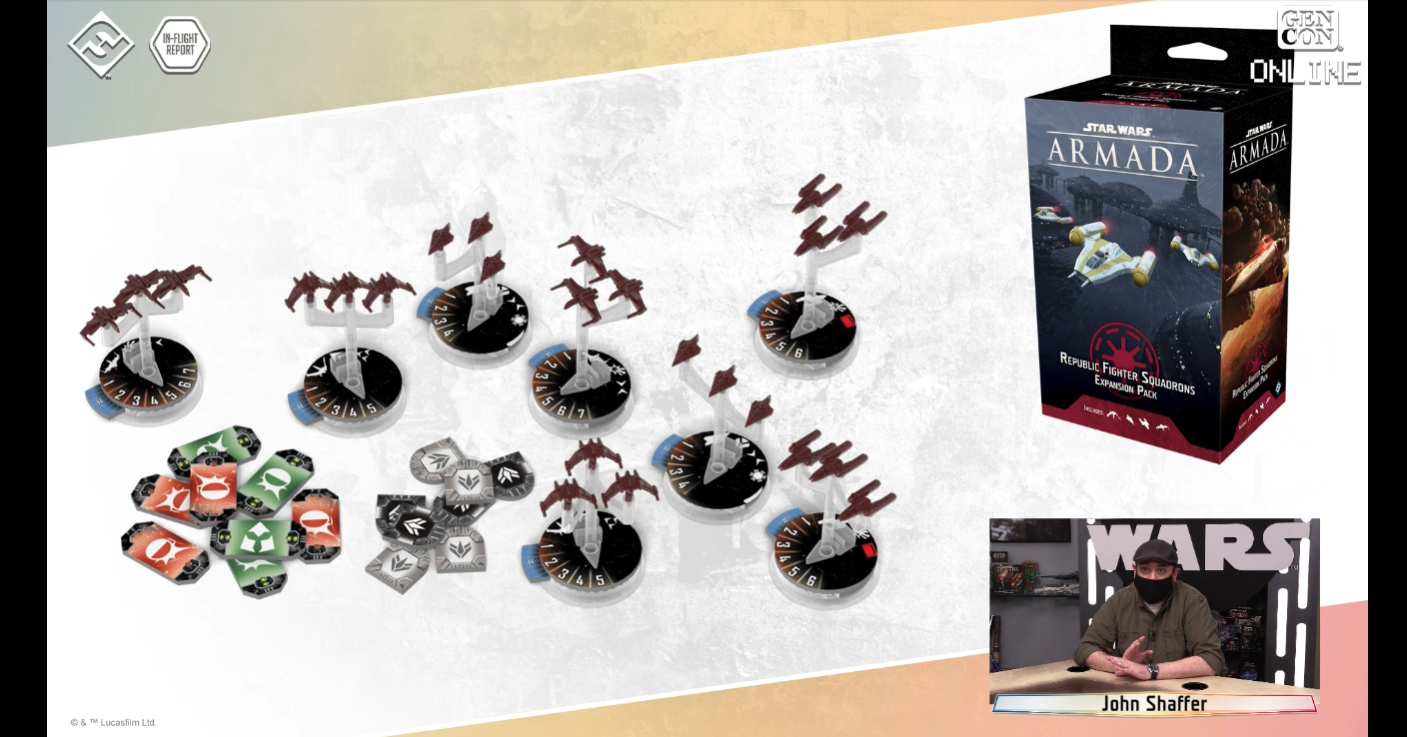 Next up, we've got the Republic Squadron Pack; it gives you two V-19 Torrents, two ARC-170s, two BTL-B Y-Wings, and two Delta-7 Aethersprites. This is your usual mix of several squadrons with a few aces mixed in. Some of the Squadron cards were visible in the preview, such as the Delta-7.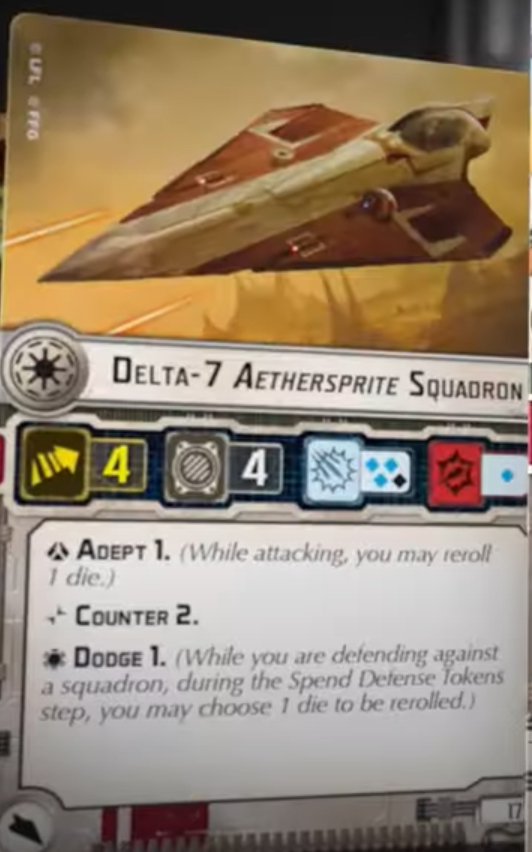 These seem a bit like a super version of the Rebel A-Wing. They are a little slower but get an improved anti-squadron armament in return. Not only do they get Counter 2, but they get to reroll an attack die and force the enemy to re-roll an attack die as well. This makes them both super deadly and pretty survivable. They should be able to win most 1 v 1 dogfights and are great for hunting enemy fighters. Ont he other hand their price tag of 17 points isn't cheap.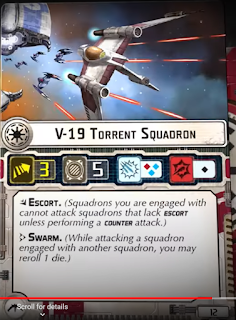 We were also able to see the card for the V-19 Torrent. This has the speed and hull of an X-wing, along with the Escort ability, but worse offensive power. It does have swarm, making it a little better in numbers. At 12 points it's slightly cheaper than the X-Wing and seems to be a similar but more focused version without the bomber capability. For bombers, we'd no doubt want to look towards the ARC-170 and the Y-wing; however, we weren't able to see their cards yet. We could see that the ARC has 7 hull and the Y-wing 6, so these are tough nuts.
Separatist Squadrons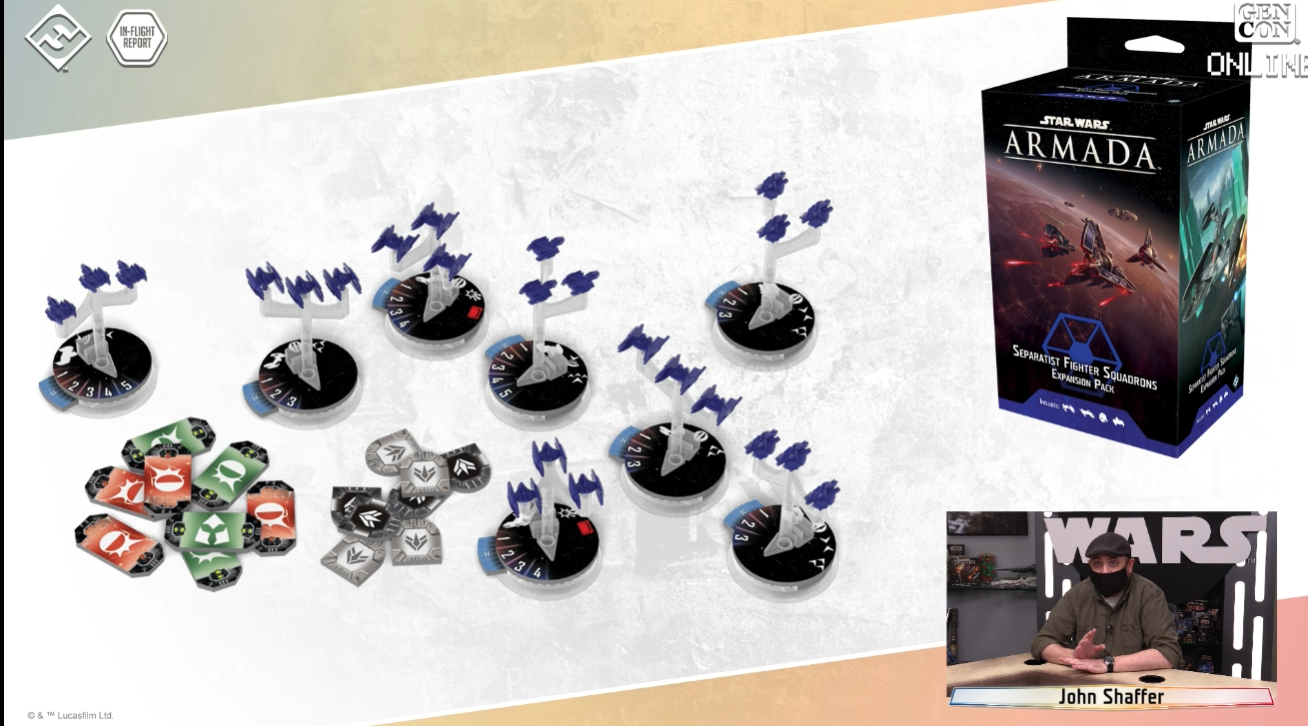 The Separatists also get a fighters pack. This gives you two squadrons of Vulture Droid Fighters, two squadrons of Hyena-class bombers, two squadrons of Droid Tri-Fighters, and two squadrons of Belbullab-22 starfighters. Again this is a good mix of fighters. Overall the Separatist Squadrons seem to have less hull then their Republic counterparts, but they do have some new interesting rules.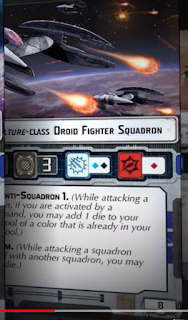 The Vulture Droid, surprising no one, is a cheap disposable fighter. Based on the ACE version we are guessing it has speed 4, with hull 3 and swarm. This, and its 8 point cost, makes it most comparable to the TIE-Fighter. It's got one less anti-squadron die, though the black die is nice, and a slightly better anti-ship armament. Also, it's AI: Anti-Squadron 1 rule seems to allow you to add an additional die to its attack when you have been activated by a squadron command and are attacking a squadron. This fits with the idea that Droids like to be commanded. If left on its own, it is a little worse than a TIE; however while under command, it's a little better, which seems like a fair trade.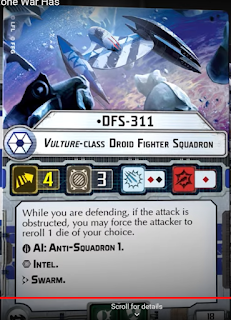 Let us know what you think of these new ships, down in the comments!