The Hollow Cabal adventure path comes to a thrilling conclusion as the players cut loose the strings behind the mind controlling conspiracy…
Starfinder's Hollow Cabal adventure path has taken players deep into a world of conspiracies and betrayal. As a cabal of mind-controlling aliens work to take over Pact Space from within–a conspiracy that goes all the way up to the top–the players have fought off pawns, been stymied at various turns as they uncover evidence of the aliens' sinister plot. Now that they've put an end to these aliens' machinations for the last time… a bounty has been put on their heads. Now the powers that be have it out for the Starfinders… find out how they'll survive the Hollow Cabal now that they've been reduced to Puppets Without Strings.
via Paizo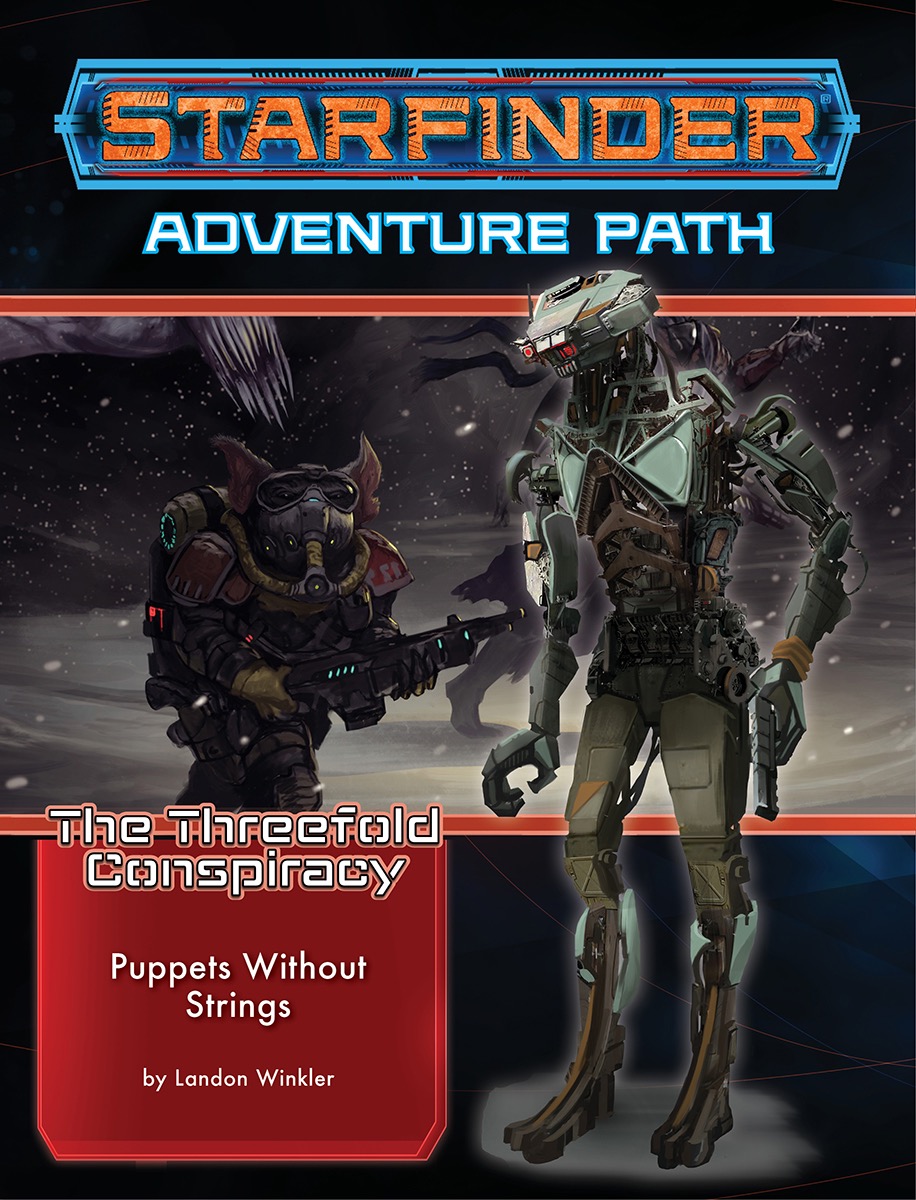 With bounties on their heads and evidence of a conspiracy that goes all the way to the top of the Pact Worlds government, the heroes travel to Absalom Station to clear their names and root out the duplicitous agents. But time is of the essence, as the suspects are on the verge of being elected onto the powerful Pact Council. With the operatives unmasked, the heroes have their final chance to come face-to-face with the puppet master behind all their troubles and the architect of the vast conspiracy that threatens the entire system!
"Puppets Without Strings" is a Starfinder Roleplaying Game adventure for four 11th-level characters. This adventure concludes the Threefold Conspiracy Adventure Path, a six-part, monthly campaign in which the players unravel the machinations of insidious aliens who have infiltrated galactic society. This volume also includes advice on how to keep your campaign going past the final encounter, a look at magical training academies across the galaxy, and a selection of new and inexplicable monsters.
Each monthly full-color softcover Starfinder Adventure Path volume contains a new installment of a series of interconnected science-fantasy quests that together create a fully developed plot of sweeping scale and epic challenges. Each 64-page volume of the Starfinder Adventure Path also contains in-depth articles that detail and expand the Starfinder campaign setting and provide new rules, a host of exciting new monsters and alien races, a new planet to explore and starship to pilot, and more!
Happy Adventuring!