Life is a rollercoaster sometimes. GW came back and it was product after product, but now that 9th Edition is here…there's nothing new next week again.
That's right folks, the release of 9th Edition is big enough, it seems. Games Workshop has announced that they're not releasing anything for pre-order next weekend, so there's no weekend preview of things to come. And while initially this might seem a little rough–GW's releases seemed to impose a strange sense of normalcy on the chaotic timelessness of life under Covid-19–it does mean that there's another week which can simultaneously exist and not exist. So enjoy the quantum uncertainty and let's take a look at some of the story positioning that GW is doing as the Indomitus Crusade rolls up to the Pariah Nexus, the strange region of space where Noctilith aka Blackstone pillars have cut off an area of the galaxy from the warp and is slowly reducing the people who "live" there into soulless husks. Sounds familiar.
via Warhammer Community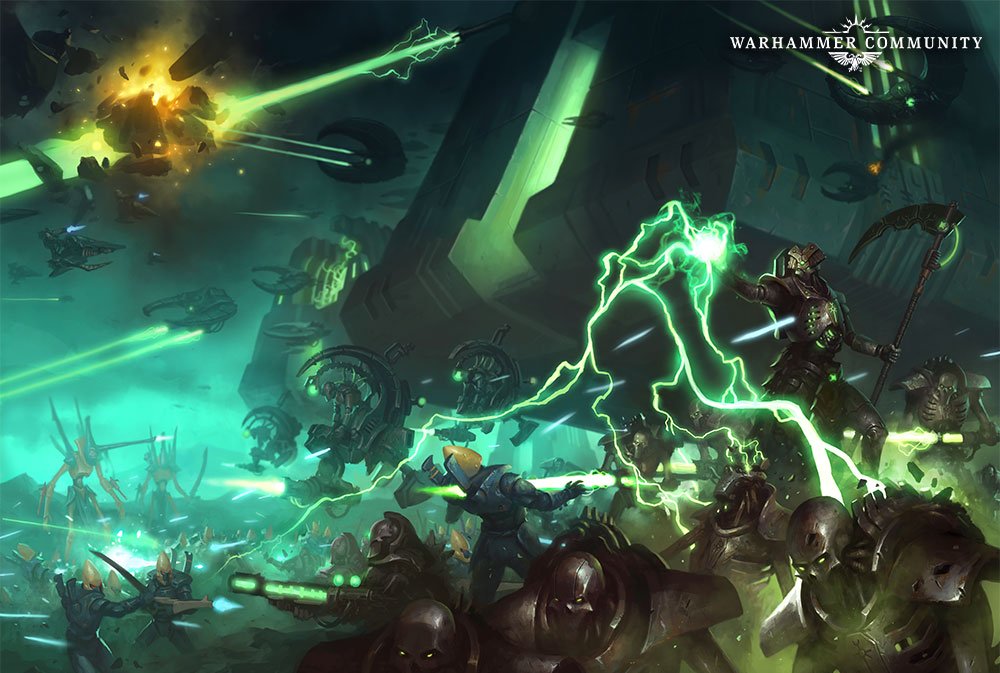 So the big story right now is the return of the Silent King as the Necrons position themselves as the new immediate threat. It mirrors the big war that's going down in the Age of Sigmar–the forces of Death and Order battle for the Souls of the Mortal Realms, and Chaos and Destruction sort of mix it up in there a little bit, but by and large everyone agrees that beating Death is the most important thing. And Death in the 41st Millennium is represented by the Necrons. Szarekh might not be Nagash, but the Necrons are hungry for souls–because they don't have any and want to reverse biotransference. What is biotransference?
It was a bargain struck with the C'tan, trading in living flesh for "living metal." But really it meant casting off their sentience (and their 'life energy' aka souls) for the C'tan to feast on, while the population, for the most part lost their personality and sentience, becoming little more than mindless automata. Szarekh wants to study this phenomenon, looking for a way to reverse it. Which means needing living vessels… which means soulless husks: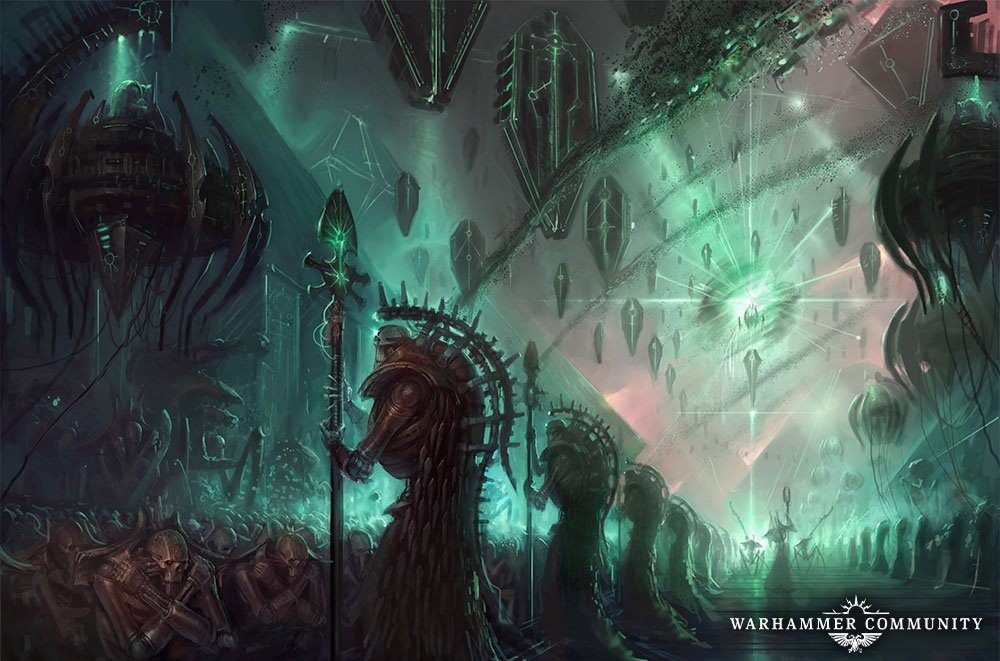 Szarekh has initiated a scheme that is simply a masterstroke, creating arrays of immense pylons made of noctilith. This mysterious substance can enhance or shut down psychic powers, and even Belisarius Cawl sees it as the way to defeat Chaos. Where these pylons are raised, whole regions of realspace are cut off from the warp – in its fearful ignorance, Mankind has dubbed this the Pariah Nexus. Any living creatures within this area of space find themselves afflicted with a numbing despair that only worsens with time until they become little more than a mindless husk – the perfect vessels for experimentation on the reversal of biotransference. Due to the negative charge of the pylons, the manifestation of daemonic or psychic energies within these regions becomes vastly more difficult. The Necron's plans are finally coming to fruition.
Again, it's a war for souls, of a sort. Szarekh and the Necrons are Death, the Imperium and their "allies" (aka Xenos who they will still kill but sometimes can work together) are Order, and the Orks are Destruction, along with the Tyranids. It's not a hundred percent parallel, but the two games are starting to look a little more familiar.
We'll be back next week with more, hopefully. In the meantime… what do you think? Will we see more of "order" vs. "death" in New 40K? How much bleed do you think there will be between AoS and 40k?