They're extraordinarily intelligent, they're almost always good, they munch on gems, and one could be at the pub with your party and you wouldn't even know.
Newton famously observed that for every action, there must be an equal yet opposite reaction. As we would later discover in 1974, he was talking about Dragons, of course. For every evil dragon, there must be a good dragon and vice versa. Good is the opposite of evil, we all know that. But what you might not know is that red is the opposite of gold. Which must be true, because Gold Dragons are the counterpart to Red Dragons, and if that doesn't work then Newtonian physics doesn't work and then where are we? Drowning in oobleck, I suppose. But that's neither here nor there–what is here, right now, is a look back at the biggest, brightest, bestest of the metallic dragons.
First Edition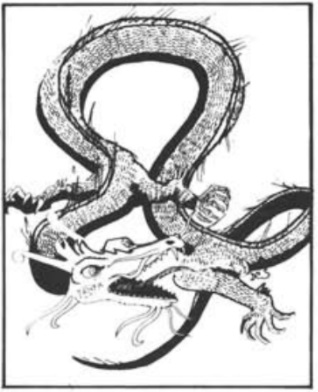 Gold dragons are a lot nicer and a lot weirder than other dragons we've looked at here. Usually of genius intelligence and always lawful good as a rule, they can usually be found with a spellbook, and sometimes be found wandering around among other animals or humans – not that you would know by looking at them. Gold dragons are able to assume any form they would like by polymorphing themselves with little issue and no harm. They do, however, eat jewels and pearls for nourishment, so if you catch somebody at the local jewelry store munching down on some gems as if they were popcorn, you may have found yourself a gold dragon.
Second Edition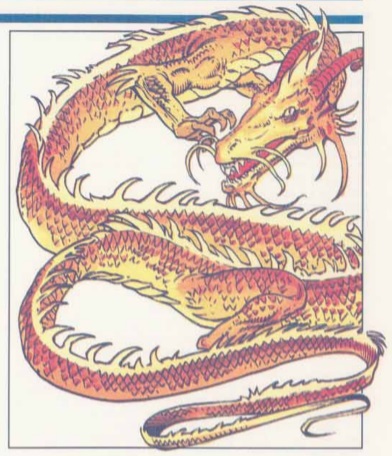 Second edition gold dragons are much the same as their older counterparts with a few additions to make them possibly the most reasonable creature your party could encounter. Before combat they engage in parley, using both the detect lie and detect gems spells. Once it's been established that a peace won't be found or what the terms of the battle will be, they will often use luck bonuses at the beginning of the combat if they haven't already used a luck bonus at the start of their day as a morning habit. Their breath weapon is the dragon classic fire cone, but they can also cast spells at a 11th level.
Third Level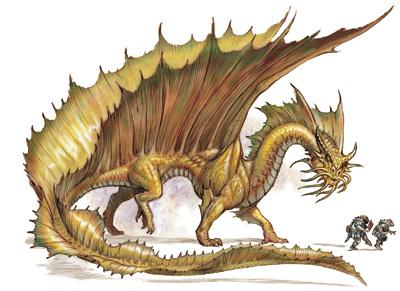 Sometimes there are great sweeping changes between editions that leave the new version of the monster looking almost unrecognizable from the previous versions. Other times, they even keep the same wording. The second edition to third edition transition of the gold dragon falls into the latter category. As is standard practice for 3E, they have broken the gold dragon down into twelve different age groups each with different spell casting levels, special abilities, armor classes and speed as well as added quite a few spells and abilities on top of the previous repertoire.
Fourth Edition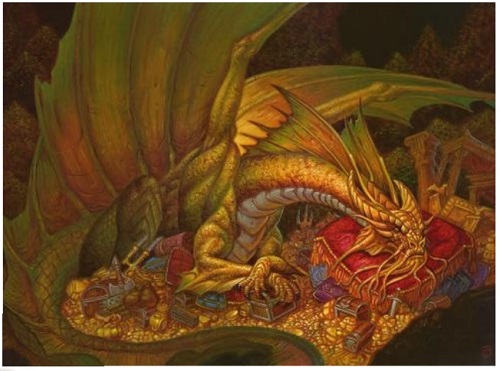 By 4E gold dragons act a little more like other dragons. They are still very intelligent and wise, but now they are generally unaligned as opposed to always being lawful good and will often act in ways that are selfish and self serving. In fact, aside from their transformative abilities, this edition makes gold dragons somehow less interesting and less special than any other kind of dragon.
Fifth Edition
Fifth edition brings back the lawful good dragon who hates injustice and evil making them creatures you will probably not have to face off against, but fearsome foes if you do. Loaded up with lair effects such as an ability to take a look into the future or banish another creature into a dream plane and regional effects that seem mostly designed the clue the adventurer into the fact that they may be entering gold dragon territory, they can be your best ally or your worst nightmare.
Have you encountered a gold dragon? Did you become fast friends or were they an enemy to fight. And how and why did you make an enemy of a gold dragon?! Let us know in the comments!
Happy Adventuring!