I got in my first game of the new Edition. What I learned surprised me.
Overall I thought it was pretty good.  It didn't feel off – rules mostly made sense – and I even found the overall mission structure satisfying.  Overall I give it to thumbs up even though I can see some weird issues occurring – especially as we get more armies out there with multiple layers of rules (Codex, Updates, and what not).  With that let's talk about the things I noticed.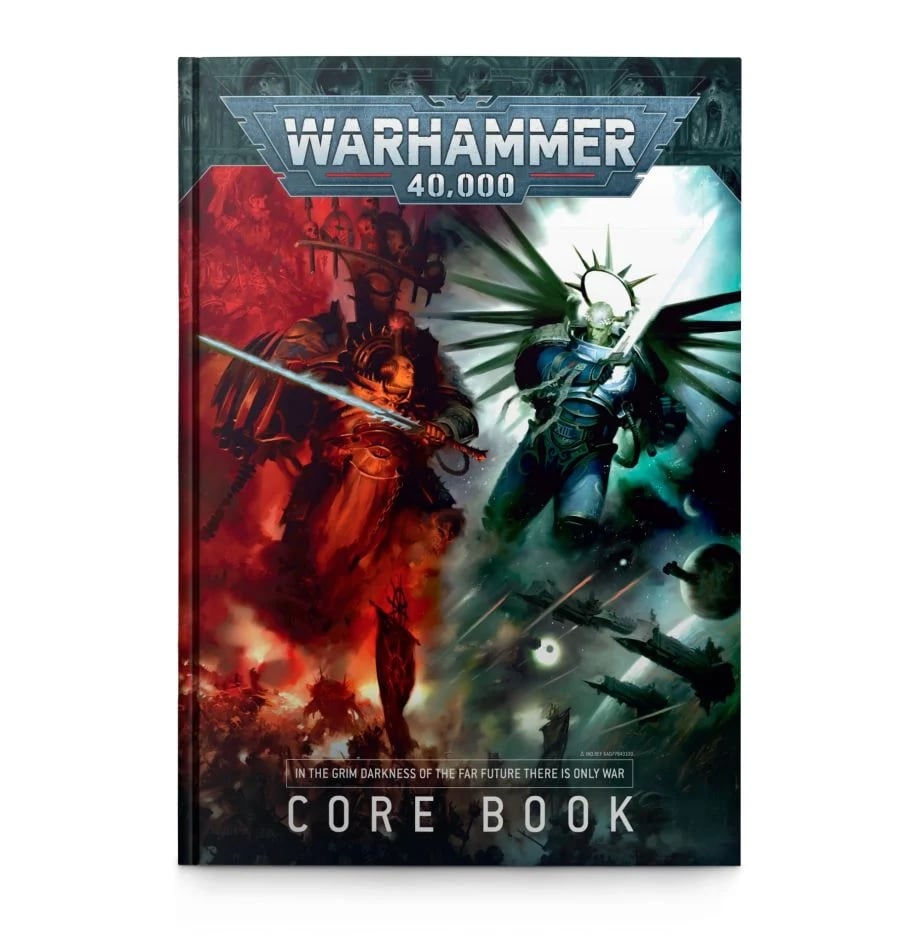 Smaller Board
First – the board size is a good deal smaller.  Mix this with a lot more terrain and you have a much more claustrophobic battle space.  I liked this as it meant we got to business quickly and you had to truly plan out your movement more than previous editions.  You mix that with how you are supposed to win the game and you have a much different feeling game than 8th's "did I kill more and hold more" type of game play we were all used too.  But I enjoyed the smaller size for sure.  I am always an aggressive player by heart so having less space for an opponent to hide and letting me bully the board space a bit more is a win for the Goatboy.

New Terrain
After the board size change the other big one was the terrain itself.  I think we needed to have a  better break down of what each piece did but overall terrain really matters.  Does it obscure?  Does it just give you a -1 to shoot thru it.  Is the charge a -2?  What about things that are placed really high and can see the model?  Obscured blocks that still right?  This whole thing about not wanting to have terrain based is really annoying too.  Still terrain mattered a ton as we tried to maneuver around it.  We also had to make sure things were set up correctly so we could get there during a game and start scoring the primary.
Scoring
Speaking of scoring – the game moving away from just kill more and be killed less is a good thing.  I got my butt rocked by some hot rolling Exorcists and I still won because I played the mission and moved forward onto objectives.  That was the big thing I pulled away from it – my opponent should have pushed more aggressively.  Heck – castling is not going to win you the game.  It will in fact make you lose it as you don't have the options to get that 5-10 you need a turn.  Even if you kill everything you only have 4 true turns to score the primary.  You miss out on the first two it is really hard to get the points needed in 4 and 5.

5 Turn Limit
The 5 turn limit is both a hit and a miss for me.  I do think it is good for the overall health of the game to limit turns and try to limit time spent during a round.  I also always hated the random game length nonsense we have had in the past as it has both won me games and had me lose games in a frustrating manner.  The issue I feel is we kinda need a turn 6 to ensure the 2nd player and beta attacker can have more rounds to try and get the primary.  The only big issue is it forces players to not move as much that turn 2 – so maybe we just keep it at 5.

Movement Matters
Movement seems to be the biggest improvement so far.  Your army needs to move and spread out to try and get the locked objectives.  Not being able to move into a scoring position turn after turn is how you will lose the game.  No matter how many awesome things you kill if your giant killing machine isn't on an objective then it doesn't really matter.  You have to score on objectives, hold objectives, and then try to get secondaries your army can win.  Thankfully there are a few secondaries you can lock down if you have a faster army.  Engage on all Fronts seems to be a good choice as well as some of the "keep x units" alive if you have ways to hide your guys.  I was playing Death Guard with two Daemon Princes so I knew they could be chosen to survive.  As I didn't need to throw them into the fray most of the time they just floated around, bullied areas, thru out some well needed auras, and let me get some points in the end.

Faction Thoughts
Playing this game also made me think how Custodes are going to be annoying.  They don't have to kill anything – and if you move to close they can use their charge in your charge phase to get extra movement, attack you first, and pull an objective off of you.  This game also has me thinking Chaos Knights are going to be in for a hard time as they try to figure out how to play, hold objectives, and support each other.  It makes me think Armigers are going to be heavily needed to be able to run around.  I plan on testing some soon as we figure out some more time frames to play games.  My buddy needs to figure out his Sisters army and I just throw mean stuff at him to see what sticks.
Unit wise I tried 2 defilers that died turn 1 due to some hot damage rolls from Exorcists.  28 wounds and 14 wounds done by tanks is a rough thing to survive.  I thought a 4+ Invulnerable save meant you ignored half the damage – silly me.  Beyond just trying out that stuff I bet there is an MSU DG army that can show up with FNP Rhinos, lots of Plague Marines and with the Biologus dude you can have a chance to kill just about anything you need with throwing Grenades.

What armies are you excited about?  This week I tried to figure out if my Lord of Skulls army could actually work.  I am also again tinkering with a MSU DG list to see if it can fit.  How many Rhinos is enough Rhinos and is it worth it for PBC's or Defilers.
Until next time roll those hot 6's.