Paizo released a ton of new books in physical form to celebrate this year's Gen Con. Everything from Lost Omen: Legends, to the Operations Manual for Starfinder. Check 'em out!
Gen Con is touted as the best four days in gaming, and though they have been entirely virtual this year, there's been a lot coming out for the non-virtual world. Which I would ordinarily say is just "real life" but it feels like real life is virtual these days. Regardless, if you want a physical book or a bunch of PDFs to put in your folder of doom, here's a look at everything Paizo put out for this year's Gen Con.
via Paizo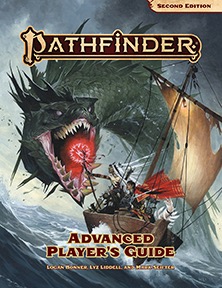 Ready to go beyond the basics? Expand the limits of what's possible with the Pathfinder Advanced Player's Guide! This 272-page Pathfinder Second Edition rulebook contains exciting new rules options for player characters, adding even more depth of choice to your Pathfinder game! Inside you will find brand new ancestries, heritages, and four new classes: the shrewd investigator, the mysterious oracle, the daring swashbuckler, and the hex-slinging witch! The must-have Advanced Player's Guide also includes exciting new options for all your favorite Core Rulebook classes and tons of new backgrounds, general feats, spells, items, and 40 flexible archetypes to customize your play experience even further!
The Pathfinder Advanced Player's Guide includes:
Four new classes: the investigator, oracle, swashbuckler, and witch!
Five new ancestries and five heritages for any ancestry: celestial aasimars, curious catfolk, hagspawned changelings, vampiric dhampirs, fate-touched duskwalkers, scaled kobolds, fierce orcs, fiendish tieflings, industrious ratfolk, and feathered tengu!
40 new archetypes including multiclass archetypes for the four new classes, Pathfinder favorites like the cavalier, dragon disciple, shadowdancer, and vigilante, and brand-new archetypes like the familiar master and the shield-bearing iron wall!
New class options for all twelve classes from the Pathfinder Core Rulebook including champions of evil, genie and shadow sorcerers, zen archer monks, rogue masterminds, spellcasting rangers, and more!
Even more exciting new rules, from rare and unique backgrounds to investigative skill feats, from spells and rituals like reincarnate and create demiplane to new items including special wands with unusual effects and exciting potions worthy of a witch's cauldron.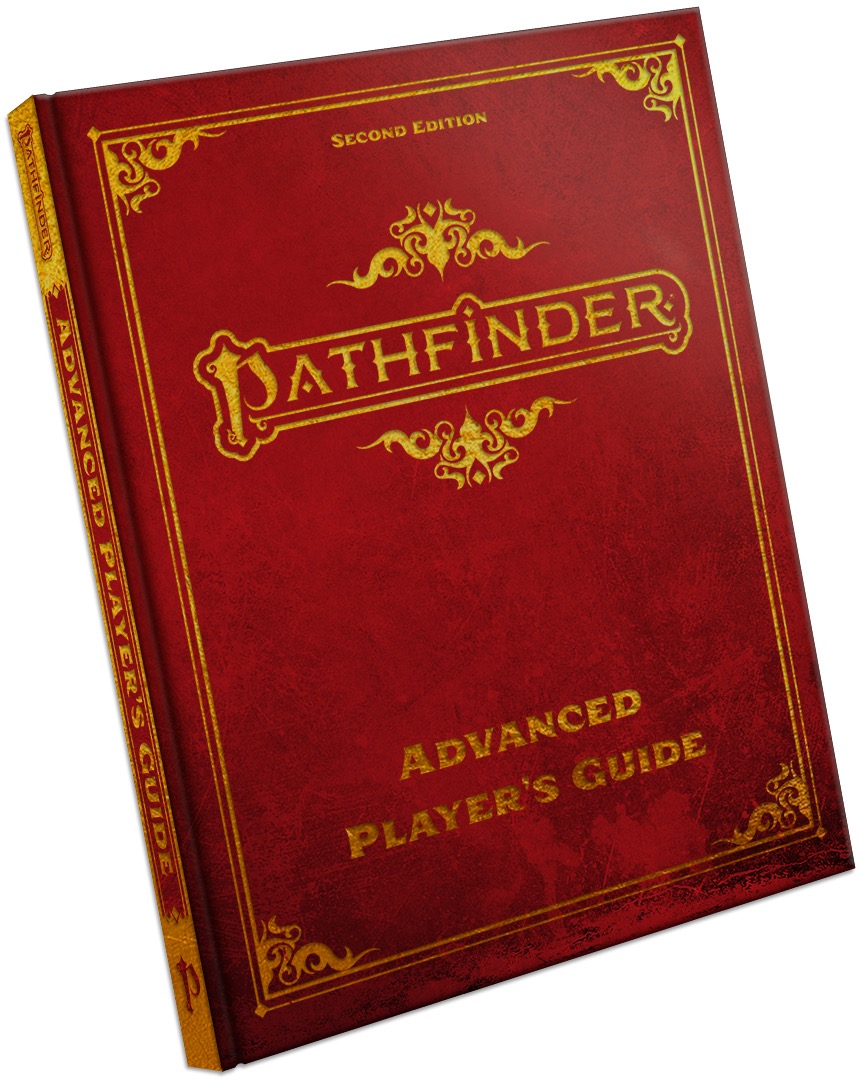 This deluxe special edition is bound in faux leather with metallic deboss cover elements and a bound-in ribbon bookmark. The perfect way to commemorate Pathfinder's new edition! (Cover color and design subject to change.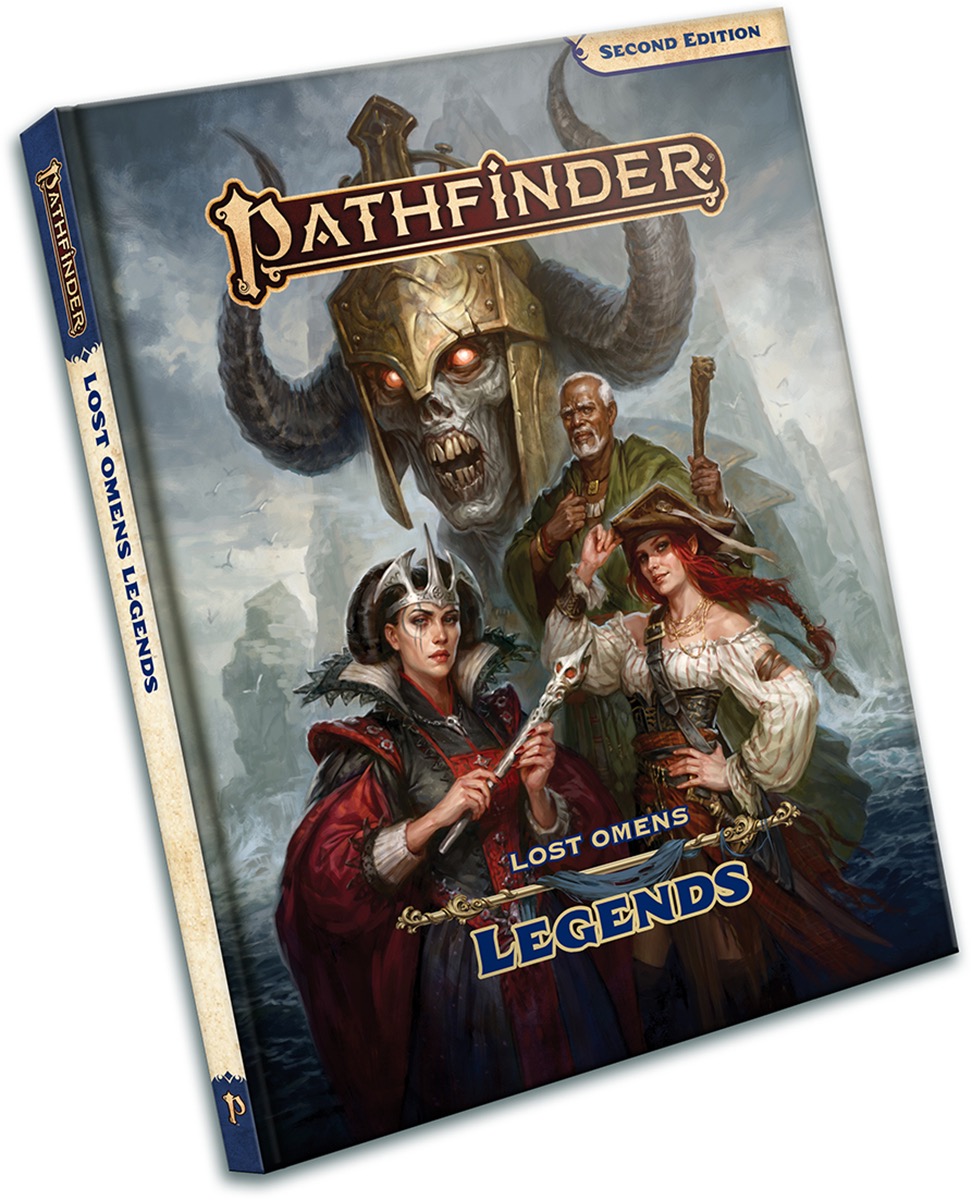 It's not always what you know, but who you know! The heroes of the Age of Lost Omens forge their path through an uncertain world, but that world has been shaped by many others who came before or who now stand beside them! Lost Omens: Legends provides details on 42 of the Inner Sea region's biggest personalities, from queens and kings that rule the present to distant figures from Golarion's past. Uncover details from the inner lives of movers and shakers from all around the globe, as well as the secret techniques, items, and knowledge PCs might gain from encountering these larger-than-life figures!
Written by: Amirali Attar Olyaee, Alexander Augunas, Kate Baker, Jason Bulmahn, Alexandria Bustion, Carlos Cabrera, Calder CaDavid, Jessica Catalan, Natalie Collazo, Ryan Costello, Jr, Greg Diaz, Fabby Garza Marroquín, Jaym Gates, Alice Grizzle, Steven Hammond, Nicolas Hornyak, James Jacobs, Michelle Jones, Kristina Sisto Kindel, Aaron Lascano, Ron Lundeen, Stephanie Lundeen, Sydney Meeker, Liane Merciel, Matt Morris, Patchen Mortimer, Hilary Moon Murphy, Dennis Muldoon, Andrew Mullen, Mikhail Rekun, Michael Sayre, Mark Seifter, Ashton Sperry, Owen K.C. Stephens, and Isabelle Thorne.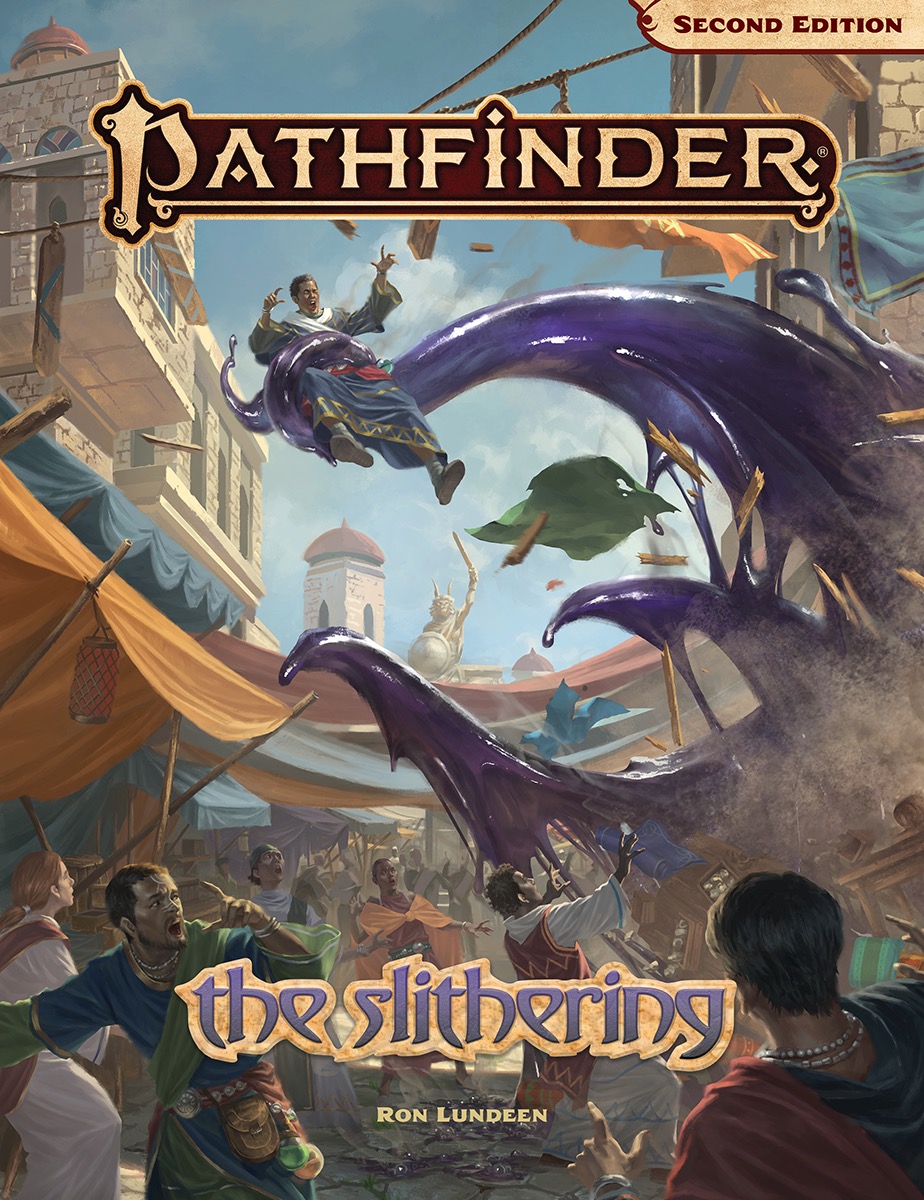 In the cosmopolitan trading city of Kibwe, at the edge of the Mwangi Expanse, innocent people struck by a terrible curse known as the slithering are melting into malevolent oozes. The heroes are at the epicenter of this slimy curse and might be the only ones capable of recovering the ancient magic required to break it. Tracking the course of the slithering through Kibwe's colorful markets and shrines, the heroes must untangle the curse's origin and discover the role the nefarious Aspis Consortium plays in the unfolding conspiracy. The mysteries the heroes uncover might usher in a new era of plenty and prosperity for Kibwe, if the heroes can survive the slithering to experience it!
The Slithering is a deluxe adventure for 5th-level characters written by Ron Lundeen. Featuring terrifying new monsters, repulsive new rules and magic items, and an in-depth look at one of the most exciting cities in the jungle-choked Mwangi Expanse, The Slithering provides a wealth of secrets and dangers! Be sure to check out the Flip-Mat for this adventure here!
---
Other Pathfinder products include:
Meanwhile, if you're looking for some Starfinder, be sure and check out:
via Paizo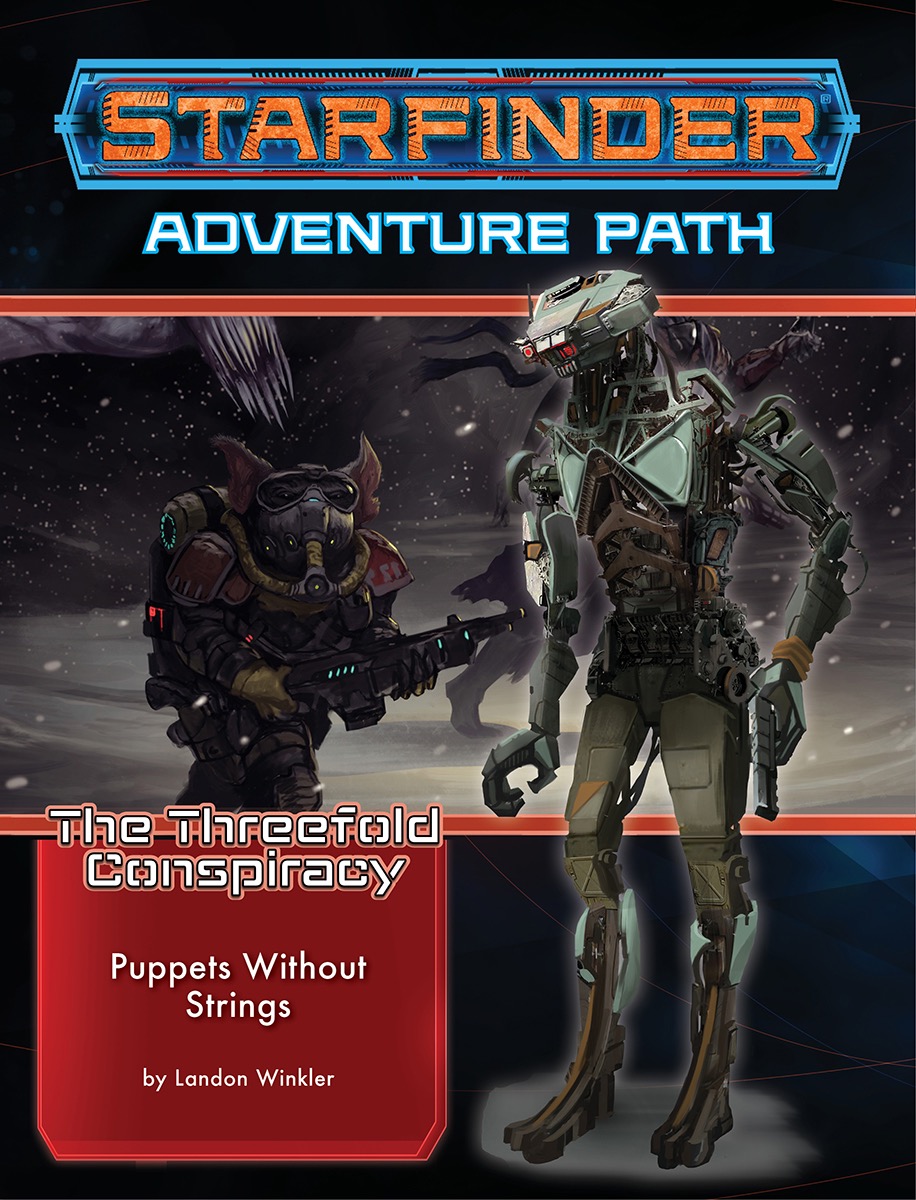 With bounties on their heads and evidence of a conspiracy that goes all the way to the top of the Pact Worlds government, the heroes travel to Absalom Station to clear their names and root out the duplicitous agents. But time is of the essence, as the suspects are on the verge of being elected onto the powerful Pact Council. With the operatives unmasked, the heroes have their final chance to come face-to-face with the puppet master behind all their troubles and the architect of the vast conspiracy that threatens the entire system!
"Puppets Without Strings" is a Starfinder Roleplaying Game adventure for four 11th-level characters. This adventure concludes the Threefold Conspiracy Adventure Path, a six-part, monthly campaign in which the players unravel the machinations of insidious aliens who have infiltrated galactic society. This volume also includes advice on how to keep your campaign going past the final encounter, a look at magical training academies across the galaxy, and a selection of new and inexplicable monsters.
Each monthly full-color softcover Starfinder Adventure Path volume contains a new installment of a series of interconnected science-fantasy quests that together create a fully developed plot of sweeping scale and epic challenges. Each 64-page volume of the Starfinder Adventure Path also contains in-depth articles that detail and expand the Starfinder campaign setting and provide new rules, a host of exciting new monsters and alien races, a new planet to explore and starship to pilot, and more!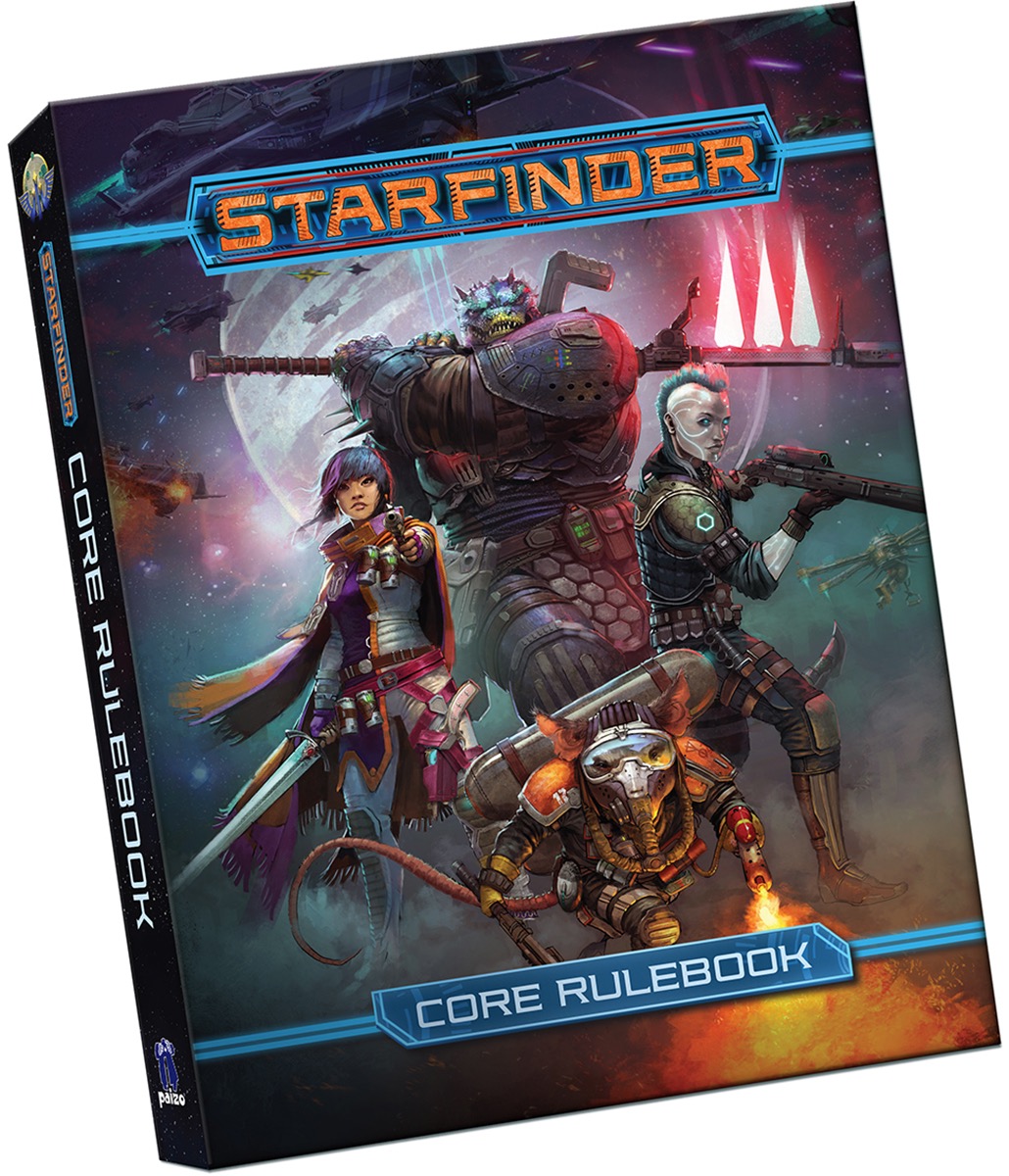 Blast off into a galaxy of adventure with the Starfinder Roleplaying Game! Step into your powered armor and grab your magic-infused laser rifle as you investigate the mysteries of a weird universe with your bold starship crew. Will you delve for lost artifacts in the ruins of alien temples? Strap on rune-enhanced armor and a laser rifle to battle undead empires in fleets of bone ships, or defend colonists from a swarm of ravenous monsters? Maybe you'll hack into the mainframe of a god-run corporation, or search the stars for clues to the secret history of the universe or brand new planets to explore. Whether you're making first contact with new cultures on uncharted worlds or fighting to survive in the neon-lit back alleys of Absalom Station, you and your team will need all your wits, combat skill, and magic to make it through. But most of all, you'll need each other.
This massive 528-page softcover rulebook is the essential centerpiece of the Starfinder Roleplaying Game, with rules for character creation, magic, gear, and more—everything you need to play Starfinder as either a player or Game Master! The next great adventure in science-fantasy roleplaying takes off here, and the Starfinder Core Rulebook is your ticket to a lifetime of adventure amid the stars!
Inside this book, you'll find:
All of the rules you need to play or run a game of Starfinder.
Seven character classes, from the elite soldier and stealthy operative to the physics-hacking technomancer and mind-bending mystic.
Character races both new and classic, from androids, insectile shirrens, ratlike ysoki, and reptilian vesk to the dwarves and elves of the distant future.
An in-depth exploration of the Starfinder setting, including its planets, gods, factions, and threats.
Hundreds of weapons, spells, technological gadgets, magic items, and other options to outfit any character.
Complete rules for starships, including customization and starship combat.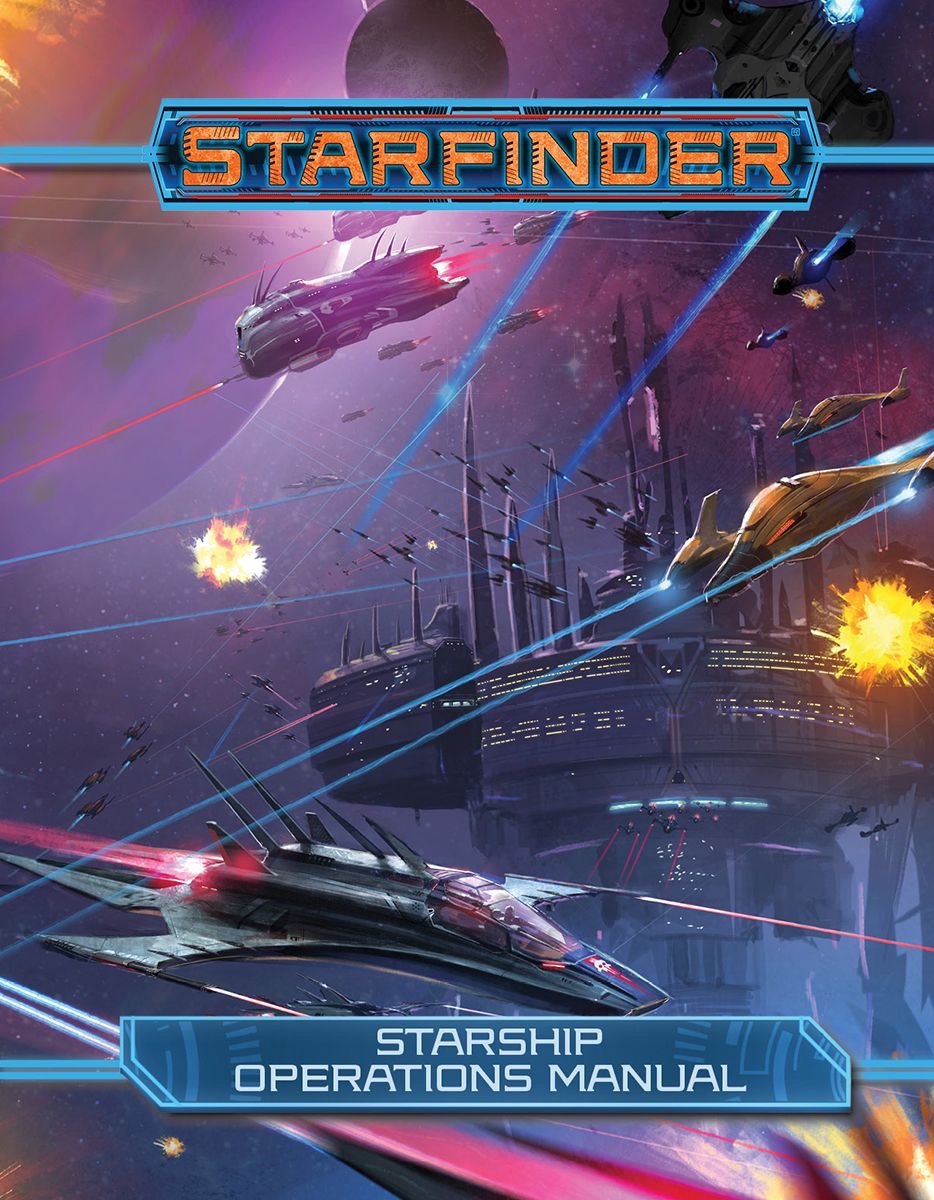 Blast off into space with the Starship Operations Manual, Starfinder's latest rules expansion hardcover! Outfit your beloved starship with more than 100 new starship weapons, expansion bays, alternate armors, and systems like drop pods, ramming prows, mines, ablative armor, virtual intelligences, and more. If you're looking for a new ride, you'll find profiles of leading starship manufacturers as well as statistics for more than 40 new starships found throughout the galaxy.

The Starship Operations Manual puts you at the controls, offering bold new ways to present starship combat, from dogfights in planetary atmospheres to daring chases through asteroid fields to pitched battles between huge fleets. New rules allow crewmembers to get even more out of their skills and feats, unlocking thrilling critical success results that add excitement to starship combat. Take your adventures into the great unknown and beyond with the Starfinder Starship Operations Manual!
Other Starfinder products include:
Happy Adventuring!