Star Wars: Our Top Picks For A Live Action Rebels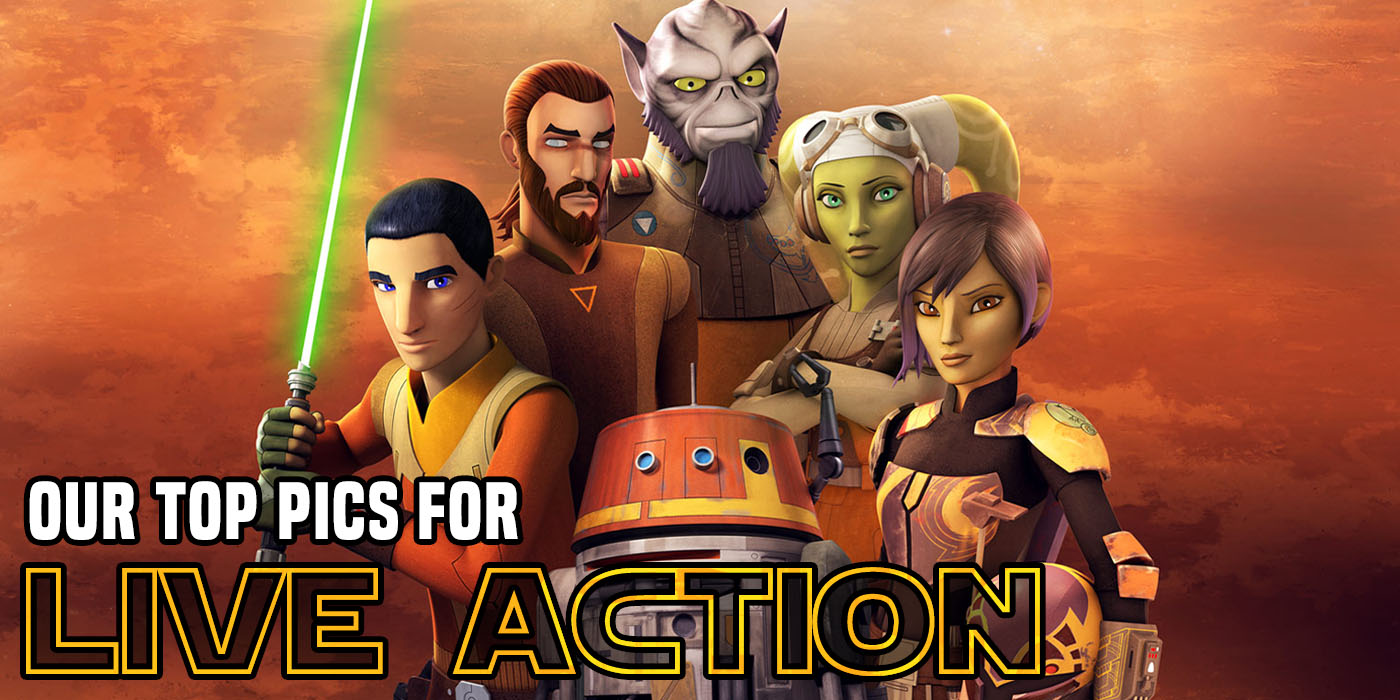 With live action Ahsoka and a rumored Ezra coming to the small screen we started wondering, who would play the entire Rebels Crew? These are our top pics.
Between a live action Ahsoka Tano coming to The Mandalorian and whispering of the search for a flesh and blood Ezra Bridger, Star Wars has been having us question what the future of the galaxy will look like and what TV shows and movies we can expect in the future. After the cool reception earned by Rise of Skywalker, it's a little unclear where exactly the future of the series lies, but if The Mandalorian's popularity was any indication, the TV shows and streaming services are the way. I'm excited and hopeful at the possibility of seeing Ahsoka and Ezra again, but while we're at it, why not the whole cast? These are our top pics for prospective Ghost crew members if they ever make the transition over to live action.

This one is contingent on a lot of things. An Ezra being cast right now for a future show will probably be on the older side for a story that will cover the post-Rebels years, but I decided to shift my focus to the version of the cast as we know and love them right now. You may know Aramis from Into the Badlands where he proved that always looking a little angry and a little confused as well as physical side of the character would be right in his wheelhouse.

I wanted to say "Just cast Freddie Prinze Jr. He's already perfect," but that feels like it may be cheating. Luckily, Colin Farrell has that perfect combination of 'leading man' and 'tired team dad' that would really encapsulate who Kanan is as a person and a filmography spanning a huge range.

It's been a little bit since her Firefly and Serenity days, but I have no doubt Gina Torres could kick quite a few space asses. She has an incredible air of authority and competence that are an absolute requirement for Hera, and could probably step right back into the roll of keeping an entire ship together effortlessly.

Subscribe to our newsletter!
Get Tabletop, RPG & Pop Culture news delivered directly to your inbox.
I hadn't heard of Ritu Arya until season two The Umbrella Academy, but that was enough to see that she could so easily take on somebody who's a little bit physical combat, a little bit hilarious, and a little bit edgy like Sabine. Would jetpacks and darksabers translate well from superpowers? I think so.
Zeb – Andy Serkis
Andy Serkis is, in my mind, an absolute no-brainer for Zeb. As a character that would either require a lot of costume or motion capture or both, he's somebody that Andy Serkis would be uniquely qualified to make absolutely perfect. Plus, he's no stranger to the galaxy, already lending his voice work and motion capture to Supreme Leader Snoke. But let's be honest, Zeb would be a much more memorable and deserving character for his levels of talent.
Are you looking forward to more Star Wars and possibly seeing the future of some of the animated characters in live action? Which character do you most want to see make the leap into 3D? Who would you pick to play the Rebels cast?