Take On the Cyber World with These Cyberpunk Red Miniatures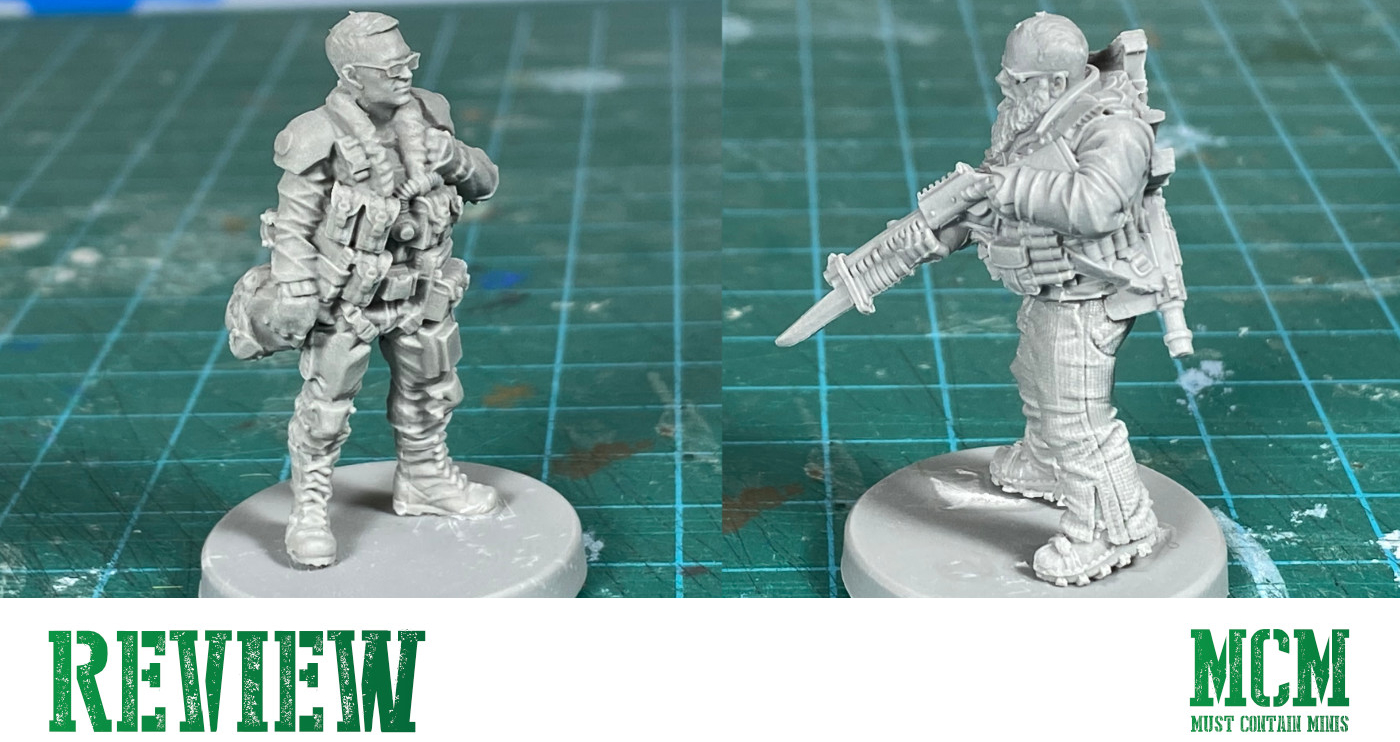 In this post, we take a look at some really well done miniatures by Monster Fight Club for the new Cyberpunk Red RPG. While these miniatures are for a Role Playing Game (RPG), you could use them as proxy miniatures for other games too. Join me in this review of Cyberpunk Red Miniatures. In this post, I am looking specifically at their Team Monster miniatures set, which is available as a
direct purchase
from Monster Fight Club.
Team Monster – Cyberpunk Red Miniatures Live Session
The miniatures in this review are actually representations of the players from a Cyberpunk Red game scheduled for
Gary Con
. Due to COVID-19, this event could not occur, but RealmSmith facilitated and recorded the actual game. Below is the Youtube video of that session. The game Master of this section is actually the original creator of the Cyberpunk RPG, Mike Pondsmith.
The Miniatures
Below are pictures of the unpainted miniatures. They look superb and are begging to be painted.
Building the Miniatures
These models look great and go together easily. They are made of resin and I used super glue for assembly. I made a few mistakes that I wish I hadn't but it all worked out. I point out my biggest mistake with them below. The miniatures come with pegs on their feet. Keep at least one of those pegs on each miniature and they match up perfect with the holes on the back of the bases if you drill your way through them. One of the models, you will certainly want to peg, and I am glad that I caught the tip before finishing that model. For more about the build of the models, check out my
longer review
.
Scale Comparison
Normally I like to reserve the scale comparison images for my longer version of a review, but I include them here as there is no frame of reference for size on the Monster Fight Club website. I measured the miniatures to generally be 33mm to 35mm foot to eye.
Wrapping it up…
There you have it. Some really neat resin miniatures from a relatively new gaming company. Although the company is new, the guy behind it has a wealth of experience and it shows in their work. If you are into the Cyberpunk genre, these Cyberpunk Red miniatures by
Monster Fight Club
are well worth a look. For those who want to look into Cyberpunk Red, the miniatures game, it is published by 
R. Talsorian Games
. If you want an even more in depth review, come check out the one on
my personal site
. It is much longer and contains different pictures than this post.
Until next time, Happy Gaming Everyone!!! 
Disclaimer: Monster Fight Club sent Must Contain Minis a package of products for review purposes. This set of Cyberpunk Miniatures was in that package. While I accept review products, I am in no other way compensated for my posts and reserve the right to give positive and negative reviews. 

Read more about great Indie and Historical games on my site!
This story is a shortened version of an article that first appeared on
Must Contain Minis
. Over there, you can find the
much longer review
as well as plenty of articles about all sorts of miniatures games. You can also follow me on Social Media. I am very active on 
Facebook
 and share posts of a wide variety. I upload my best pictures to
Instagram
 and am fairly active on 
Twitter
. My aim is to promote gaming with companies outside of those that already dominate the gaming market.