The Monolith was terrifying when it first arrived in the game. With a new model on the way, here's how we would restore it to  greatness.
The Necron Monolith arrived in 3rd Edition in 2002. Back then the kit was enormous, and one of the most durable things in the game, the centerpiece of Necron Phalanxes for some time.  But the old gal has slid in recent editions and las lost her lustre.
With an all new Necron Monolith on the way, it's a perfect time for GW to polish up some rules and restore the Monolith to it's  previous glory. Here's how we would do it.
Current Unit
The Monolith is clocking in at 270 points, dog slow, and limited to 24″ weapons. It is durable with W:20 and T:8, but that isn't a giant amount in modern 40K. Knights offer a lot more than that in terms of durability and useful firepower. Getting the Monolith right isn't just about stats. It's got a whole different vibe. This is an almost mystical malevolent structure. It appears out of nowhere, is as durable as solid rock, is pulsating with power, and can vanish in an instant. It can send out arcs of deadly lighting all around. It's a portal to other dimensions. In short, it should NOT feel like any other faction's pedestrian tanks.

Durability
The first issue is durability. There are a few ideas to keep it in the game longer:
Quantum Shielding – Give the thing Quantum Shielding. Other Necron units already have it, and it would help negate the effects of small attritional attacks. I think a floating glowing structure made of living metal is an ideal candidate.
Remove it's Degrading Statline – Bring back some of the ominous menace and uber technology of the Necrons by keeping the Monoligh totally functional until the point of it's destruction, at which time it simply fades away, without a trace. Spooky! As a minor note I would remove the "Explodes" rules to make it more sinister.
More Wounds – It could use a handful of more wounds to bring it closer to Knights. The Monolith has always been a large model, so I can see it going up to W24.

Firepower
Gauss Flux Arcs – These aren't cutting it in the game. I would suggest an extra shot, and the ability do D:2 if the Monolith doesn't move (power surge). That should keep the marines worried.
Particle Whip – This isn't an issue of range, as much as power. This is the monolith's big shot, so it should count. I would suggest a 24″ range version of the Doomsday Arc's cannon, with the Low and High Power settings. Again this would make the Monolith dangerous and interesting to command with critical decisions on how to move it.

Ominous Power
Finally some suggestions to make the Monolith feel like something from another time and from a level of terrifying technology.
Eternity Gate – It's funky – leave it!
Portal of Exile – It's funky – leave it!
Veil of Darkness – My suggestion is to make the Monolith start the game on the table, but be able to deepstrike outside of 12″ of any any enemy models, instead of using the Portal, Eternity Gate, or Particle Whip that turn.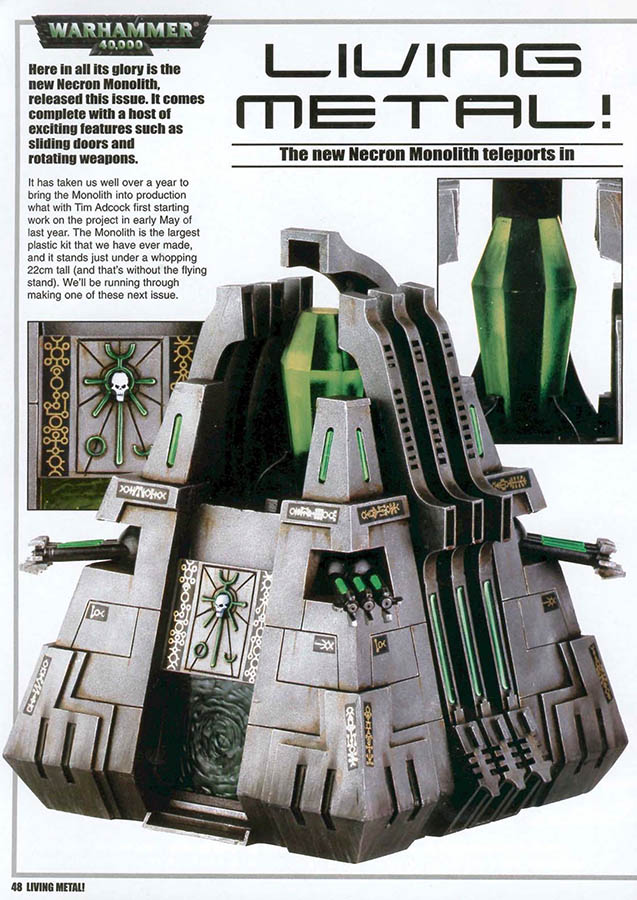 Busting heads since 2002…
~Too much, too little, or just right?