Today let's delve into the grand conspiracy that has dominated humanity since the very beginning. 
Everything you have been told is a lie. For tens of thousands of years, across all the long eons from the birth of the first man to the coming of the Emperor, humanity has believed itself free. The master of its own destiny. It was only when the Emperor emerged from obscurity to end the reign of the techno warlords and bring Unification to Terra that humankind was giving a guiding hand. Only then was the fate of mankind taken out its own hands and control by another, higher, divine power. Or so we have been told.
But this is a lie.
In truth, the fate of mankind has never been its own to control. Since before the first word was written, back in the dim pre-history of the species there have been those on Terra with powers far beyond those of mortal man.  These beings have long controlled the direction of human civilization, acting as a hidden immortal conspiracy to direct the ebb of flow of human growth. They have used humanity as their playthings, used mankind as fodder in their wars and feuds, and conspired to dominate all. Lurking in the shadows these have made sure that humanity has never truly been free.
I speak of course of the Perpetuals. The immortal gods that walk among us.
Let us delve know into their dark history. Their nature and powers. And their grand plot to control the future of the species.
***Warning- Spoilers For The Horus Heresy and Siege of Terra books***
The Conspiracy Reveled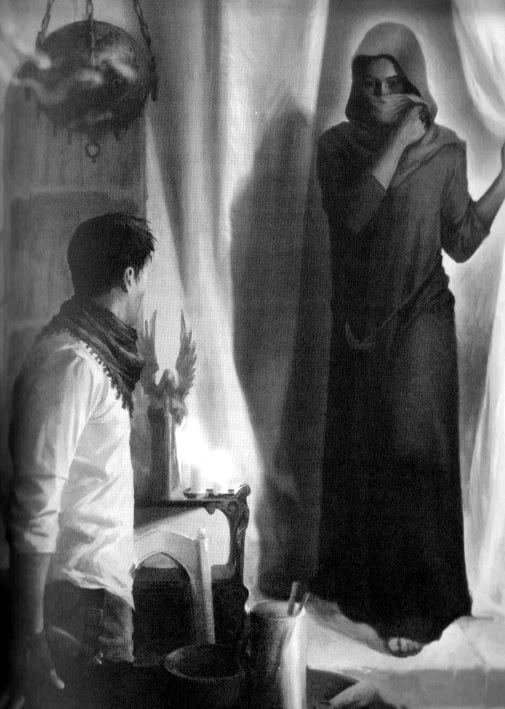 Last time we discussed who the Perpetuals are and their various powers. It has long been suspected by many, myself included, that there was more to this group of people then we had seen at first. Their various connections and often interweaving narratives had many people positing that the Perpetuals were somehow working towards a goal. At last, in the novel Saturnine we are privy to a conversation between two of the major Perpetuals, John Grammaticus and Erda. 1
Over the course of this conversation Erda reveals to John, and us, much about the history of Perpetuals. She confirms the existent of a vast conspiracy meant to control the destiny of humanity. As she admits Perpetuals have:
"Many talents, many powers. We are what we are, transcendent mortals, who have often influenced the course of human life and achieved great things. We have been guides and steersmen, pilots and mentors, something to whole nations and peoples."  2
Beyond these individual efforts she goes into detail on a far grander and more complex conspiracy.  One centered around the being now known as the Emperor and the very fate of humankind.
The Perpetuals and Their Connections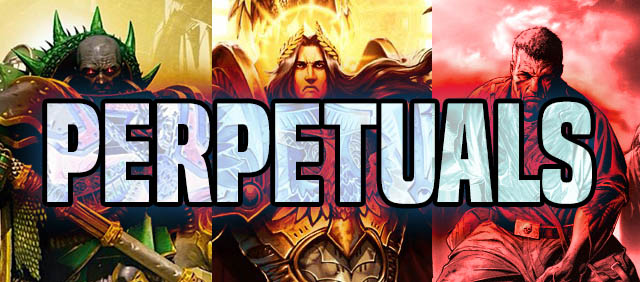 Before we delve into into the conspiracy more lets take a look at some of the players and their connection. In particular the six major Perpetuals we know of, John Grammaticus, Erda, Malcador the Sigilite, The Emperor, Alivia Sureka and Ollanius (Oll) Persson.
Erda: she appears to be the oldest and most constant companion of the Emperor. They had a close relation for apparently a large chunk of human history and its implied they were romantically involved.  She acted as a genetic "mother" for the Primarchs. She appears to know Oll Perrson well from the distant past. She also appears to have known John Grammaticus in days past, though maybe not well. She also clearly has worked with and known Malcador for a long time, possibly since his birth. She does not have a known connection to Alivia Suerka and does not mention her. She was a member of the conspiracy.
Malcador the Sigilite: Malcador is at the time of the Heresy the Emperor's closest companion. He is considered the most loyal of the Perpetuals and appears to be the only one of the old group, that still works closely with the Emperor. It appears he knows most of the others, with the possible exception of John Grammaticus, though he rarely mentions them. He is a member of the conspiracy.
Alivia Suerka: Along with Malcador, Suerka is one of the Perpetuals who has remained loyal to the Emperor up till the time of the Horus Heresy. She was left on Molech for an unknown period of time, possibly thousands of years, to guard the Warp portal there and as such has not been involved in major events else where. She was friends with Oll Perrson lovers with John Grammaticus. She has known ties to all the Perpetuals aside from Erda. She is a member of the conspiracy.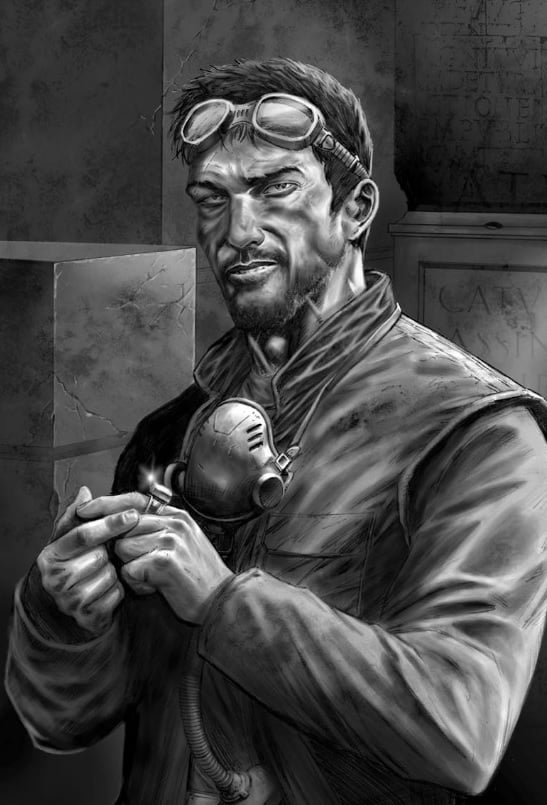 John Grammaticus: Grammaticus, as we discussed last time is a bit of an odd duck and has a conflicting history. As an artificial Perpetual he was always apart. In the words of Erda: "Not one of ys. You mearly rhymed with us. And poorly."3 More confusing is, as previously discussed, the manner and time of his birth. which could be as late as M29 and as early as before M1. He appears to have been friends with Oll Perrson and had a romantic relationship with Suerka. He also appears to have met Erda prior to their meeting in M30, and its implied this was in the distant past. Despite his connection to these Perpetuals, it said that he only met the Emperor once, briefly, in M29 and he has no known connection or meeting with Malcador. He was not a member of the conspiracy, and if anything worked to oppose it.
The Emperor: He has made himself the Master of Mankind. He has a close and long relationship with Malcador and Erda, and the loyalty of Suerka. He knows Perrson, though we do not know how He feels about Oll. It is unclear if He knows of John Grammaticus, it does not seem that He ever sought John out. He is the apparent leader of the conspiracy.
Oll Perrson: Perrson is the one everyone seems to like. He appears friendly with and respected by Grammaticus, Suerka and Erda. He knows the Emperor but doesn't seem fond of Him. He also is aware of Malcador, though there relationship, if any, is unclear. He is the one natural Perpetual we know of who was not part of the conspiracy, and indeed avoided power or control, choosing to live life after life as a common person.
Thus we can see that while the Perpetuals are intertwined only four of the major known ones, Erda, Malcador, Sureka and the Emperor were part of the conspiracy.
What Do the Perpetuals Want?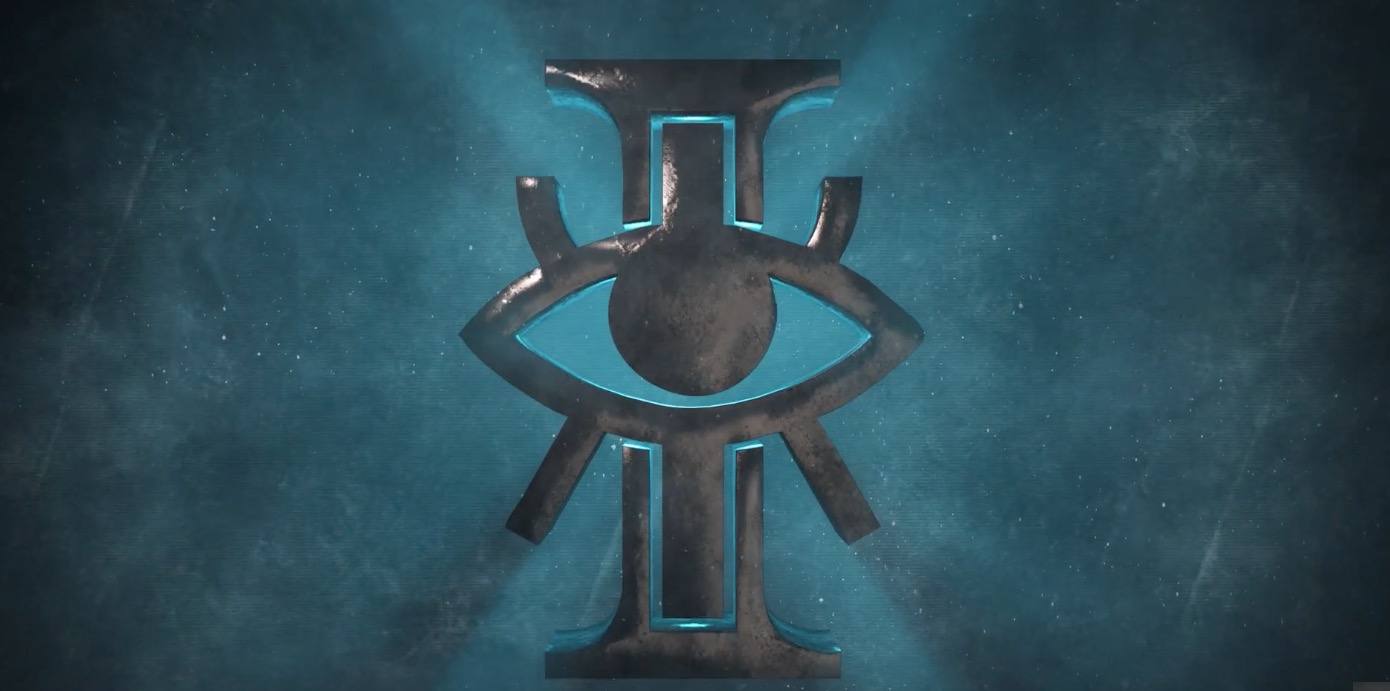 So what is the goal of the Perpetuals and what is the conspiracy trying to accomplish. Erda lays out the main goal of what the Perpetuals want in her conversation with John:
"'I believe the Perpetuals,' she [Erda] said,' which have been appearing for at least the last forty-five thousand years, are abnormally advantageous mutations. The theory suggests that we are what you might call Homo superior. The next step along for the triumphantly successful Home sapiens. We are the next evolutionary form our species is intended to take.'

'Intended?' He [John] echoed, and frowned.

She raised her hand apologetically. 'That was the wrong word. I do not subscribe to the idea of a divine plan, or the work of god. I meant the process of nature, advancing a species, enhancing it. I believe that the Perpetuals are the early appearances of the next generation of humans. Freak outliers appearing in very  small numbers in advance of the evolutionary curve. And I believe, not because nature has any sort of plan, but because we are a fully sentient species, our purpose is to shape and guide the human race. Marshal its course and trim its sails. Use our gifts and longevity to drive it towards the future, to the point at which we are the new normal. To the point at which Homo sapiens, collectively, become Homo superior.'

'And that's what your kind does?' asked John.

'Generally. Mostly through individual efforts. There are very few of us, after all…." 4
In short, according to Erda it is the role of the Perpetuals to guide human kind into its next evolutionary step, to help all of humanity become Perpetuals. It is interesting to compare this explanation to what the Emperor stated his overarching goal was in The Master of Mankind:
"+soon I will offer humanity a way of interstellar travel without the reliance upon Geller fields and Navigators. I will offer them means of communicating between worlds without reliance on the warp-dreams of astropaths. And when the Imperium shields the entire species within the laws of my Pax Imperialis, when humanity is freed from the warp and united beneath my vision, I can at last shepherd mankind's growth into a psychic race+"5
We can see that the two goals clearly line up here. While the Emperor says a "psychic race" instead of Perpetuals we can infer that these are either the same or closely aligned goals. This should come as no surprise the Erda and the Emperor worked together for tens of thousands of years. They both feel that it is their role to control, to shepherd mankind into its next evolutionary step, though it remains possible that their end goals are not quite aligned and that a physic race is not quite Perpetuals.
Either way we can see that Perpetuals are generally aligned in their goal. Erda points out that not all Perpetuals felt this way, some merely sought personal power or pleasure, or like Perrson rejected notions of control. The major ones however seem to have worked on their own towards this nebulous goal, controlling humankind from behind the scene. The Emperor helped change all that.
Why The Conspiracy Formed
In short the Conspiracy seems to have formed because the Emperor is impatient. The bulk of  Perpetuals appear to have been happy to play the long game, guarding humanity through the hundred of thousands, if not millions of years necessary for evolution to take it's course. The Emperor however is not like the other Perpetuals, He is both more powerful and apparently more driven. Erda describes how he formed this group:
"'In the time of the First Cities. He was a warlord even then. A king. And He was doing exactly what most of my kind do. He had taken on the stewardship of the human race. He had a greater understanding of the universe than anyone, such was His power. He saw the dangers of the warp, the fragility of humanity, the recurring flaws of our species… credulity, anger, false-faith, yearning. Everything that was terrible and also wonderful about humanity. When I met Him, He had already begun on His path to shepherd makind towards a brighter future.'

She looked at John.'I believed in Him, John. I adored Him. Most of us did. It was hard not to love Him, hard not to be in awe of him, harder still to perceive the dangers of His ambition.   He wanted to achieve what most of us dreamed of, and He had the will and power to do it. Not just do it, but do it faster and more completely than any Perpetual could. He had the means to accelerate our efforts and accomplish, in just a few generations, what might otherwise take millions of years.'

John drew up a stool, and sat down facing her.

'Go on,' he urged.

'Over time He located, and tried to recruit, every single Perpetual on Earth,' said Erda softly. 'Some of us joined Him, others decided not to. Some of us fought Him. Several of the greatest conflicts in world history were caused by rival Perpetuals trying to thwart His programme.'" 6
Again we should note that Erda's account here does seem to match with what the Emperor revels in Master of Mankind, both in his goals and how long He has been working towards them. While we don't have a ton of details on specific actions of the conspiracy, we do know that Emperor started his work in the "time of the First Cities" likely around 3500 BCE and since then He worked to unit the Perpetuals towards a common cause. He formed a conspiracy, what one might call an Illuminati, that secretly worked to control the world for tens of thousands of years. It guided the course of humankind. Many of the great conflicts of human history were driven by this conspiracy, or those who opposed it. It also seems that by some point, at least the end of Unification, though possibly much earlier, the Emperor had either convinced all the Perpetuals to join Him or had made sure they could not oppose Him.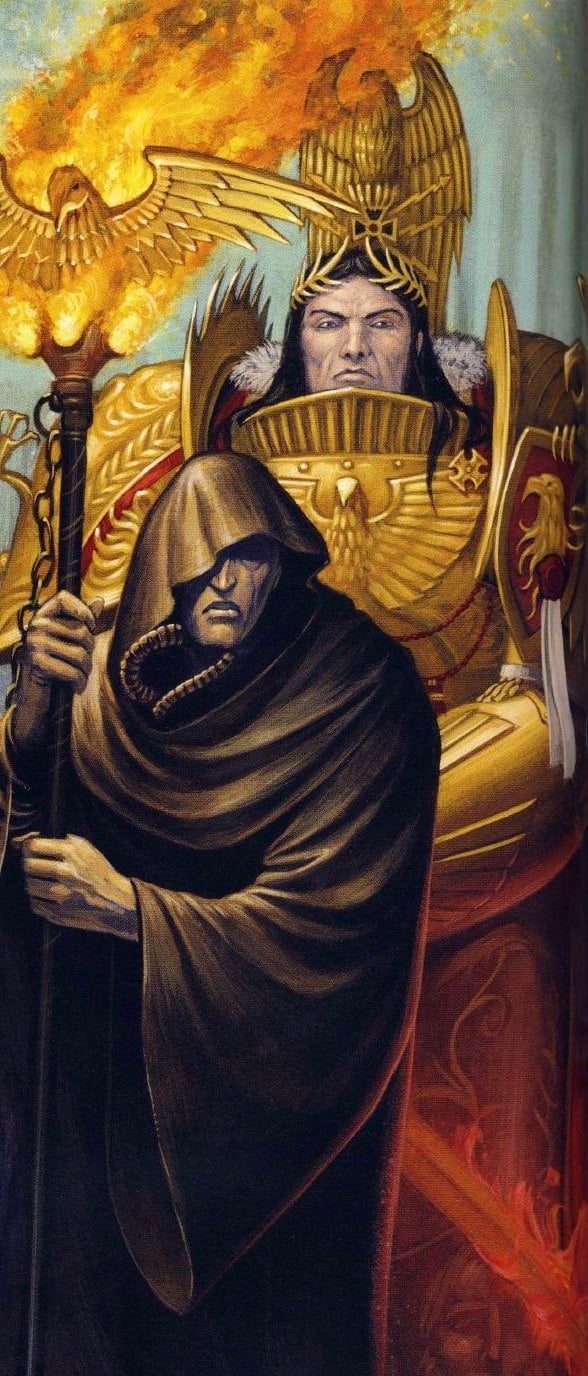 Interestingly again it seems the Emperor never sought out John Grammaticus. Despite the fact that he was active on Earth, and known to other Perpetuals, he only met the Emperor, seemingly by chance, in M29, it appears the Emperor did try to recruit him, until fate, and the Cabal, intervened.
The Fall of the Conspiracy

At some point it appears that the Emperor's Illuminati fell apart. Erda again talks about that:
"'Over time, disaffection grew among our kin. Even the best of us could barely keep up, and I think He resented that. He is quite ruthless, and He is astoundingly arrogant. I suppose it would be hard not to be if you were Him. He was always right. He never looked for advice or counsel. He reshaped the world, and drove it forward, and He would not be questioned on the merit of His plan. To do so was… Heresy. … Most of us divorced ourselves from His efforts. He was taking risks. One by one, Perpetuals allied to Him slipped away. He was glad to see the backs of them, I think. He was tired of their objections, weary of their caution . He wanted results. He became angry with minds that could not match His speed of thought and His genius. So most of us left Him. They went away, into other lives, or went into hiding, or left the home world. A few stayed. The Sigillite, of course. He was always married to the cause.'" 7
So in the end it was the Emperor's impatience and arrogance that broke up His conspiracy, driving away His immortal allies. Erda appears to have been the last of the Perpetuals to abandon Him which she did when the Primarchs were scattered, by her apparent doing,  possible around 792.M30. After this the only known loyal natural Perpetuals would be Malcador and Suerka. Of course by this point the need for a secret conspiracy controlling mankind was moot. The Emperor had come out into the open and begun Unification. Perhaps his decision to act when he did was related to the collapse of the Perpetual's alliance. Either way by the time Erda left, there would be no more hiding in shadows, no more secret control.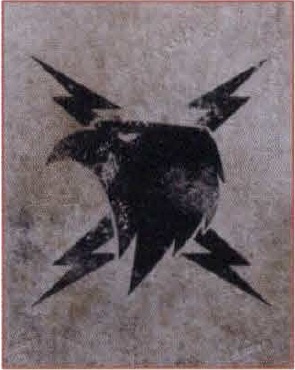 The Perpetual's left the conspiracy due to the Emperor's direct action. Both his attitude and, as Erda says, the risks He was taking. In particular they began to disagree with the speed with which He wanted things done. They began to feel, for one reason or another, that forcing the rapid evolution of humankind was a bad thing, and so the tens of thousands of year of secret Perpetual control ended.
Implications
The knowledge of the Perpetual Conspiracy, and all that goes along with it has a lot of implications. Now we do have to be aware that most of this comes from a single source: Erda. It's possible that she is being less than honest. While she doesn't seem to have a reason to lie to John in their conversations its possible she is for her own reason, after all her closest companion, the Emperor, lies all the time. So we should take things with a grain of salt. However we should also note that what she says does for the most part match up with other facts we know and whit what the Emperor has claimed.
So it seems from these accounts that humans have never really been in control of their own destiny. Since the beginning of recorded history the Perpetuals have worked behind the scenes, first alone and then increasingly as part of a vast conspiracy to control mankind. This puts my efforts to find the Emperor in real life in some new light.
The revelations also should make us question if the Emperor's actions are correct. While He seems to want what is best for humanity, and to save us from the Warp, His path is apparently one that one that bulk of the other Immortals, some older than Him, disagree with. What implication does the Emperor's impatience have for the future of humanity. Moreover was it this impatience alone that caused the Heresy? Did He push things too fast leading to a collapse. Was His return to Terra after Ullanor to work on the Webway project not part of a well thought out plan, but simply driven by a need to be done with it? We also don't know if the plan failed or if it just now coming to fruition with the psychic awakening.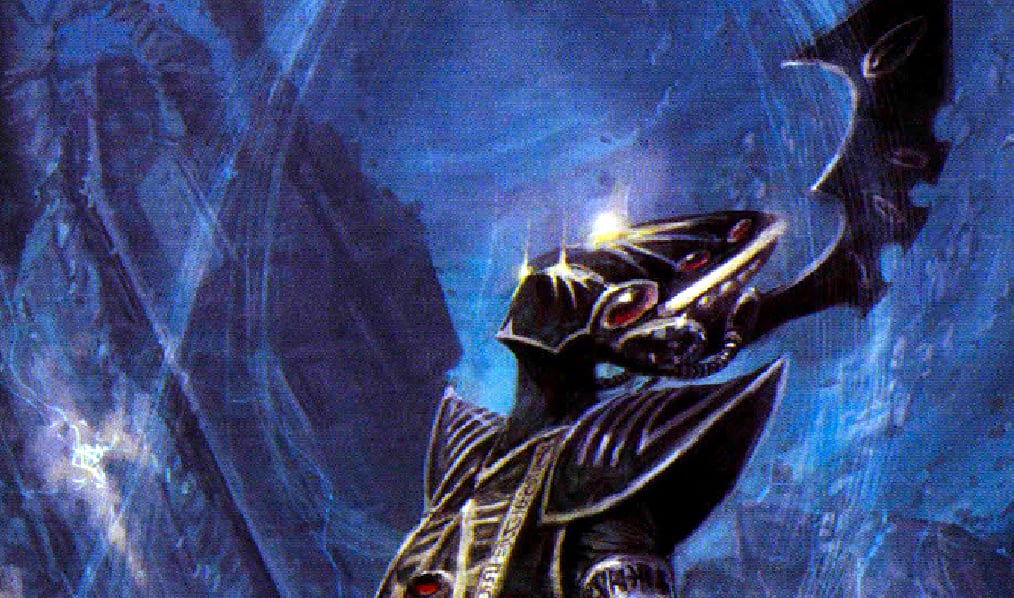 Lastly we might ask how does the Xenos Cabal play into all of this. They are clearly aware of the Perpetuals, even creating their own. They have been active on Earth since at least M1. Moreover Erda knew of the Cabal and it's meddling before her conversion with John. (John for his part plays pretty dumb about the history of the Perpetuals but might know more then he is letting on.) We don't know when the Terran Perpetuals first became aware of the Cabal but it's possible it was very early in human history. We know the Cabal are worried about the Emperor's actions, have they also been opposed to the Perpetuals works? It would not be hard to see how they would be worried about humanity becoming a race of powerful immortals. Thus how much of human, or even galactic history, was actually driven by conflict between these two secretive groups?  Is it possible that the rise, and eventual fall of the first human stellar empire, and the Golden Age of Technology, was  because of these two groups and their conflict.
The possibilities, and questions, are endless.