D&D: The Scarlet Citadel Is The 5E Megadungeon Of Your Dreams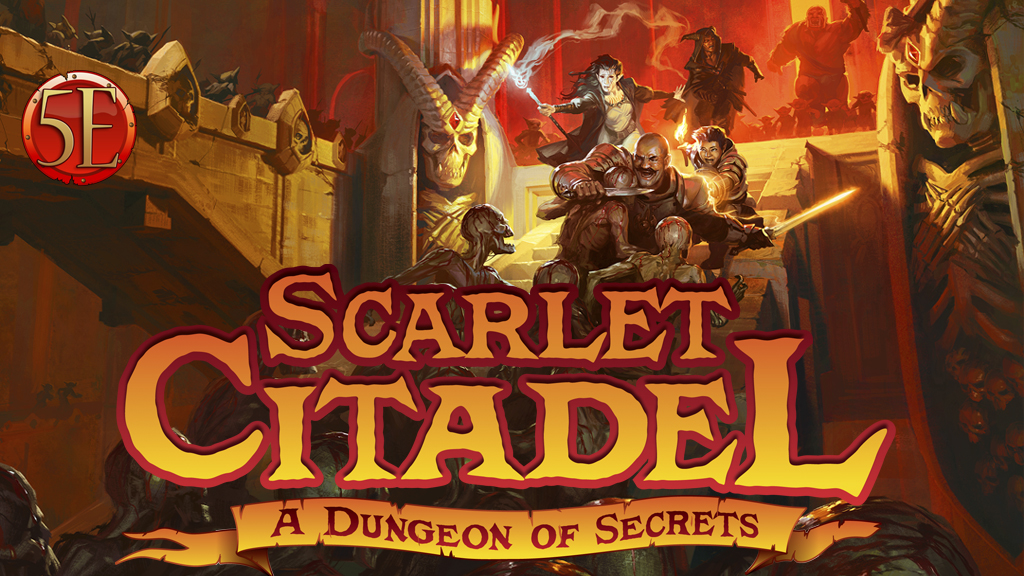 Kobold Press' new all-dungeon all-adventure campaign will take you into a massive dungeon complex for classic adventure in the latest edition.
Kobold Press is one of the best 3rd-party purveyors of 5th Edition out there right now. In fact, as 5th Edition was coming off the pipeline, they were the ones who brought Tyranny of Dragons in for a landing. And if you haven't checked out their Midgard setting, you're missing out on one of the most mythological 5th Edition settings out there. Or perhaps you've followed their character-filled campaigns like Empire of the Ghouls. Now you can dive headlong into their newest endeavour, oops all-dungeon, or as they're calling it Scarlet Citadel. It's a mega dungeon complex that takes your characters to Level 10 in a sprawling adventure evocative of classic D&D. Check it out.
The 5th Edition of the world's first tabletop RPG is all about dungeons (and also dragons, though not in this project!). This is the first dungeon-centric adventure design that Kobold Press has tackled for 5th Edition, and the design effort is led by TSR and Wizards of the Coast veteran Steve Winter, working with notes and characters from Kobold Press publisher Wolfgang Baur's home game.

The result is a classic, old-school dungeon crawl that goes from a surface setting to a deep set of caverns far from the light of the sun, where alien things skitter and guttural chants murmur down chill and damp passageways lit only by magical spheres and phosphorescent fungi.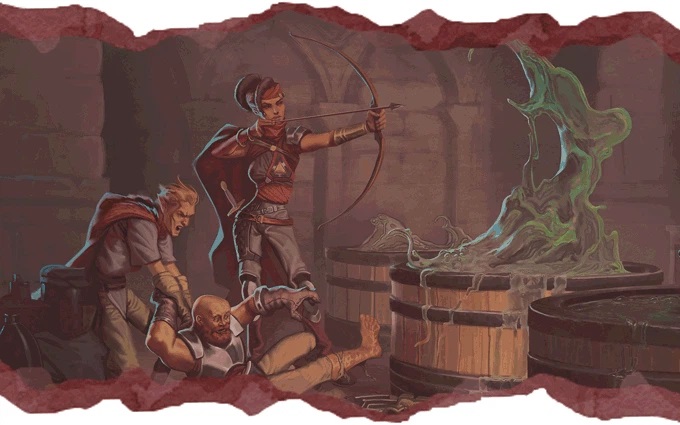 The Scarlet Citadel includes at least 6 levels of dungeon exploration with lavish maps, plus a town base, appendixes of additional monsters and characters, and a full suite of PDF and virtual tabletop options from Roll20 and Fantasy Grounds.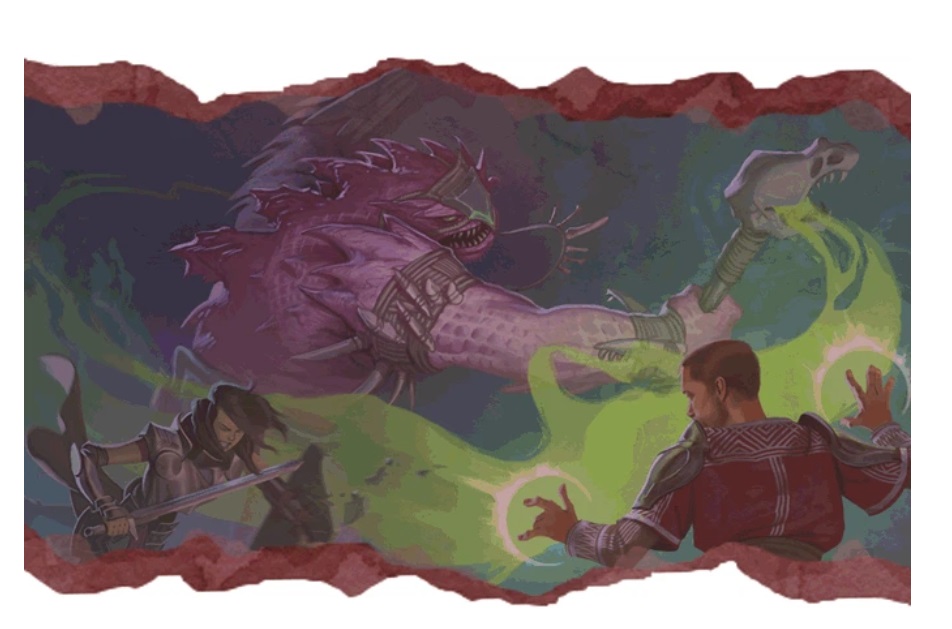 The project will create 6 main items:
A hardcover book in both regular and limited editions,
A hand-tooled, rich leather edition,
A map folio of poster-sized, table-ready battle maps to play on,
A fully-optimized PDF,
A digital edition for the Roll20 virtual tabletop (VTT), and
A Fantasy Grounds edition for that VTT platform.
The limited edition will be printed once with a leatherette, foil-stamped cover, ribbon bookmark, special endpapers, and similar touches. The content is identical to the regular edition, but this deluxe, limited edition often becomes extremely sought after.

This project does also offer a handbound leather edition for collectors and bibliophiles. This is done entirely in the traditional style of bookbinding, with excellent leather (likely scarlet-colored) stamped with gold foil and embellished with corded spine, ribbon bookmarks, and other flourishes. This is limited to about a dozen copies and is not available after the Kickstarter. Because of the extra time needed to create it, this reward ships about a month after the other reward packages do.

Subscribe to our newsletter!

Get Tabletop, RPG & Pop Culture news delivered directly to your inbox.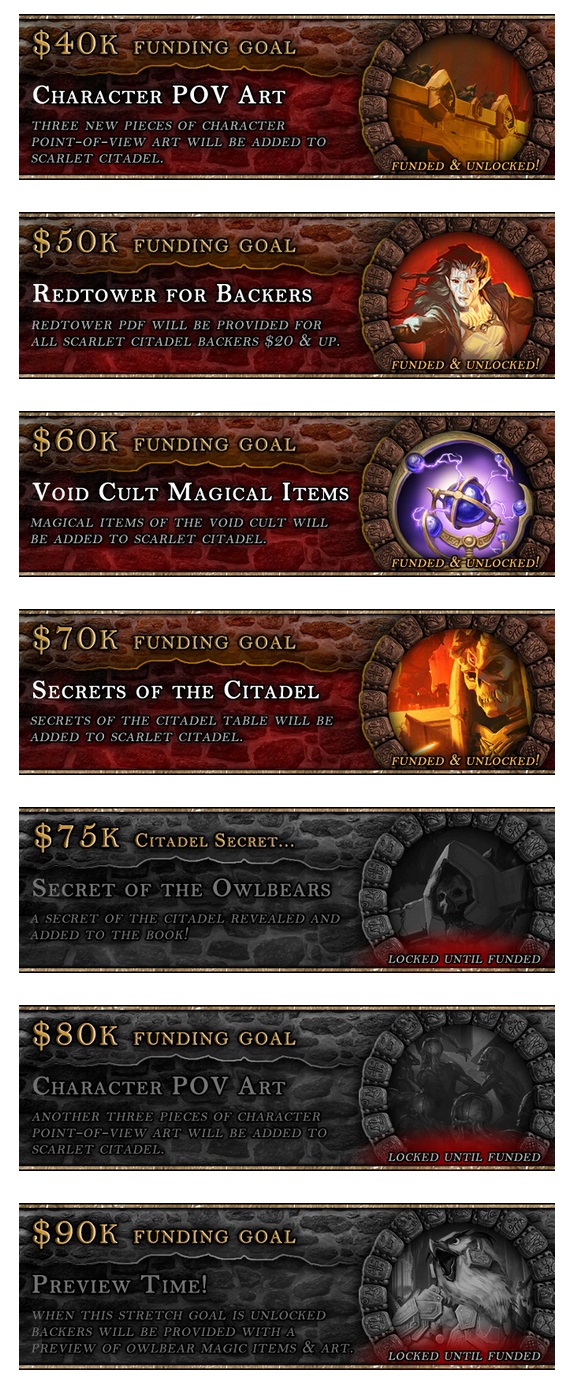 The Kickstarter is already massively funded, and well on its way to knocking out the stretch goals pictured above. So get in on this campaign while you can!
Happy Adventuring!