RPG Accessories: D&D Wall Art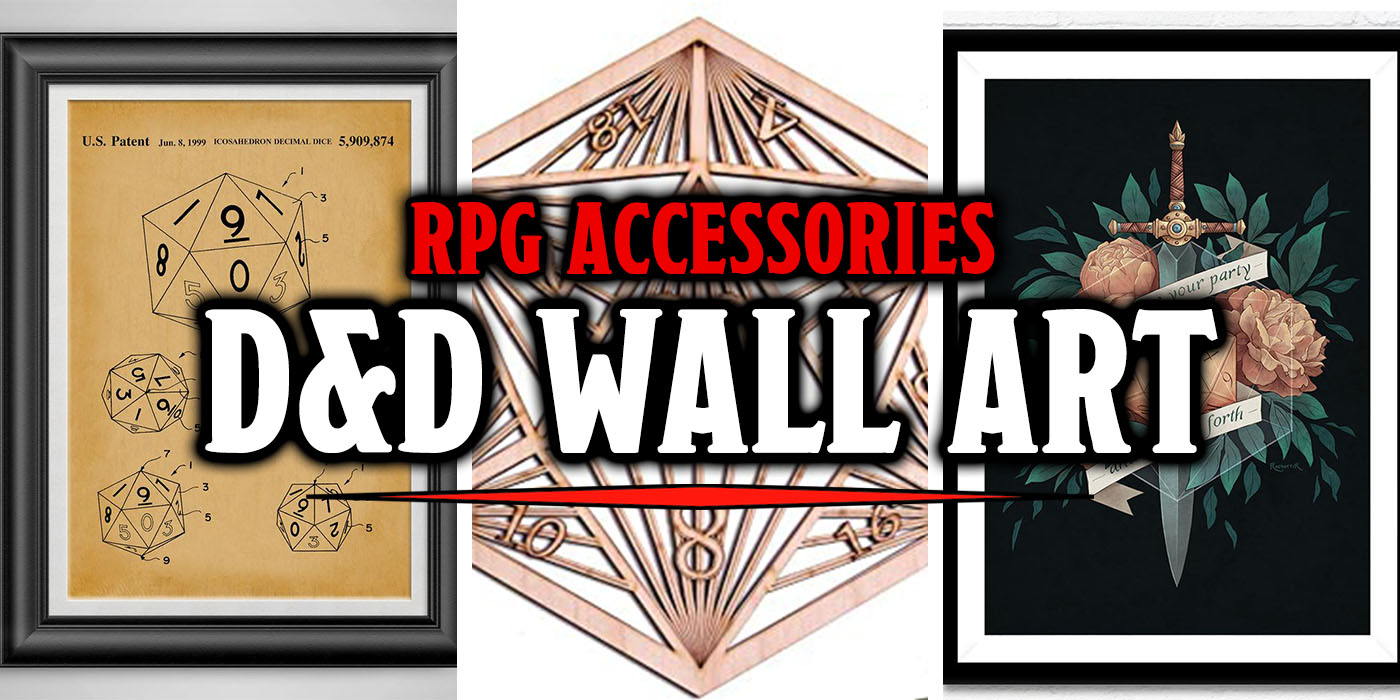 It's time to beautify your nerd cave and decorate your adventuring space as we take a look at some interesting, awesome, and one of a kind D&D wall art.
Growing up into a fully fledged adult nerd with your own space means you're going to have so much more real estate on your walls to cover with nods to your interests. Whether that's posters, framed prints, or just a pretty on-the-nose clock there are loads of ways to show all of your friends and visitors exactly what you're into while making your place look awesome. As always, if you're interested in any of my top picks for RPG Accessories, the titles are links you can follow back to each respective shop and support the artists.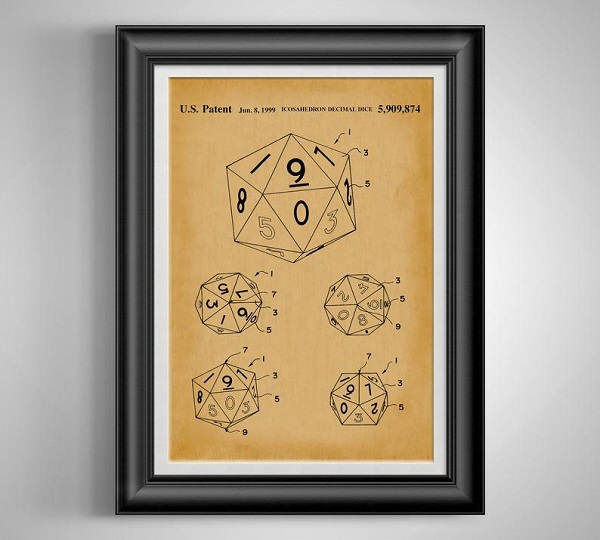 This sort of art really speaks to me for some reason. The almost faux seriousness of having a patent design for a d20 framed in my living room would be both hilarious and charming. It says, "I don't take myself super seriously, but I may take my hobby of playing pretend and rolling dice a little too seriously and that's totally alright."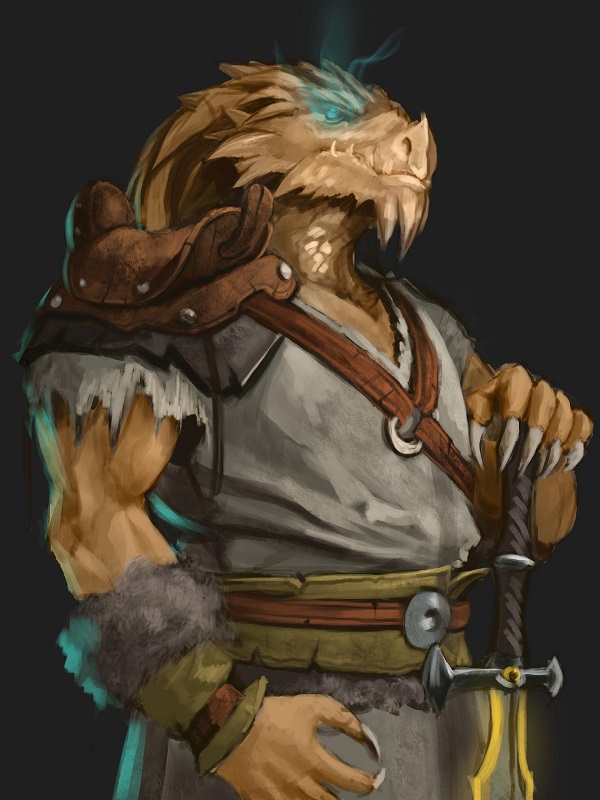 Nothing will express your love and devotion for your number one D&D character quite like getting a custom painting of them commissioned. Chat with the artist a little about who your character is, what they look like, and maybe any reference doodles you may have, and get a one of a kind piece of art to show that they truly are a part of your house and family. This particular offering is for a digital painting, so if you wanted to actually hang their portrait above the fireplace (or anywhere else on your wall) you'd have to get it printed yourself, but I think it would be entirely worth it.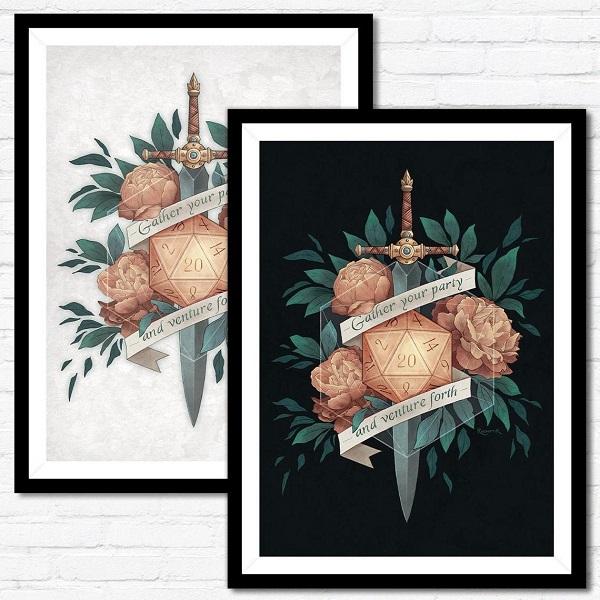 Everything about this print is neat, clean, beautiful, and looks like something that would fit in on a wall that isn't otherwise terribly full of nerd culture, or one that is ceiling to floor full of D20s. The dice and warm colors remind me of tattoo art and the details on the sword as well as the delicate outline of the larger die around the main D20 make it clear that this was something that a lot of love and care went into. Gather your party, even if it's just around the nearest table.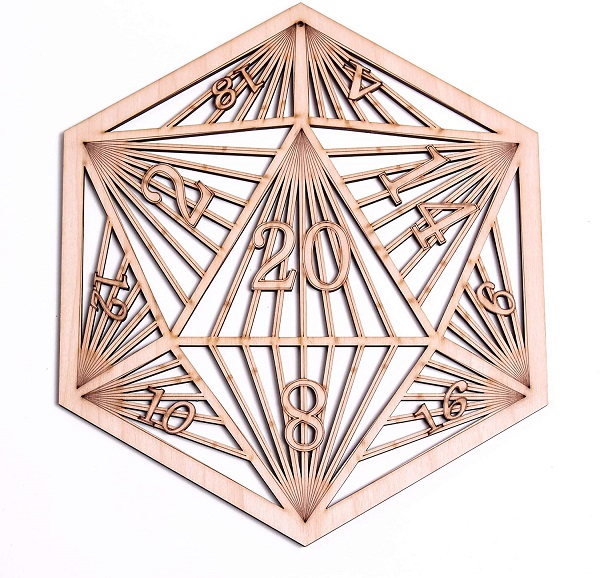 Subscribe to our newsletter!
Get Tabletop, RPG & Pop Culture news delivered directly to your inbox.
This 12 inch wooden D20 mimics the actual 3D shape of a die using nothing but optical illusion and straight lines on a flat surface, and while that isn't unheard of or unusual, in this case the effect is quite beautiful and classy. It's obviously a huge twenty sided die, but the design is low-key enough to blend into any room with with little notice except from somebody who knows what's up. Sometimes quietly nerdy inside jokes for my friends are my favorite kinds.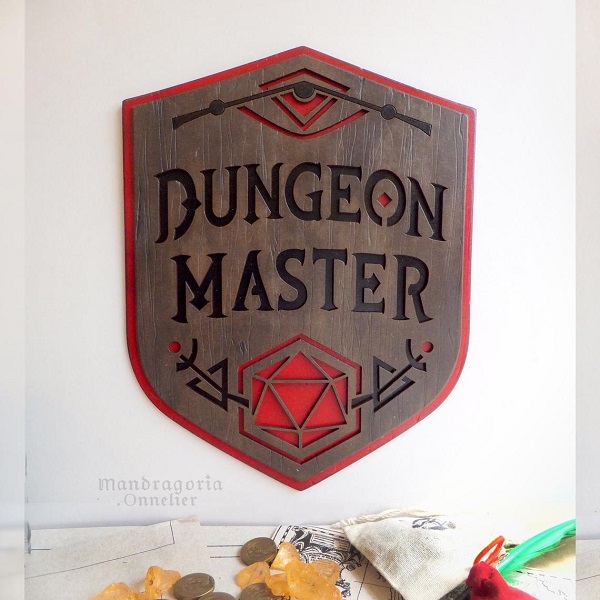 This reminds me of a sign you may see at a fantasy tavern, and I love that about it. It's equal parts decorative, immersive, and silly, making the perfect gift for any DM or the perfect decoration for whichever room your adventuring usually happens in. This is the sort of wall art you want to drink mead and ale around while you roll those crits.
How do you decorate your nerd cave? Do you have any D&D themed art around your home, or is it something you keep more quite? Or did you not know how much incredible D&D art is out there? Let us know in the comments!
Happy Adventuring!