Tabletop Kickstarter Round-Up: September 16, 2020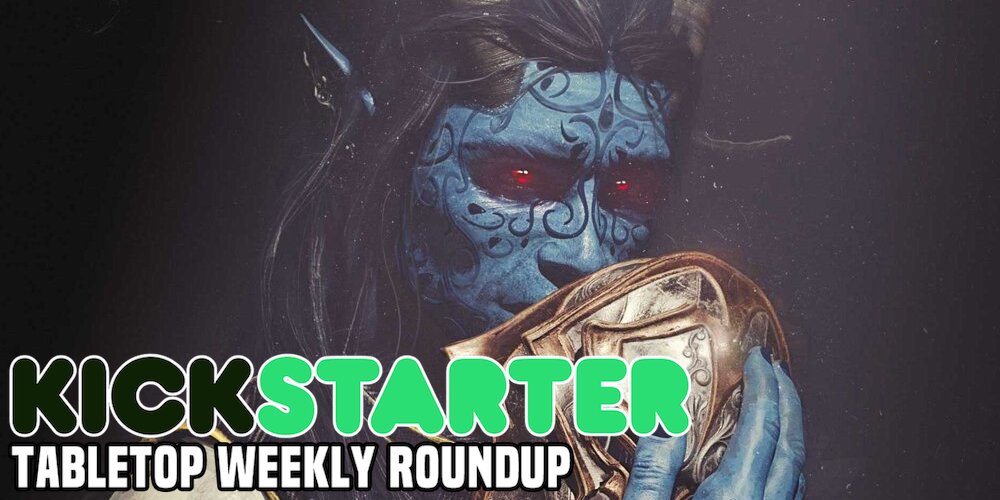 Come check out this week's batch of crowdfunding highlights!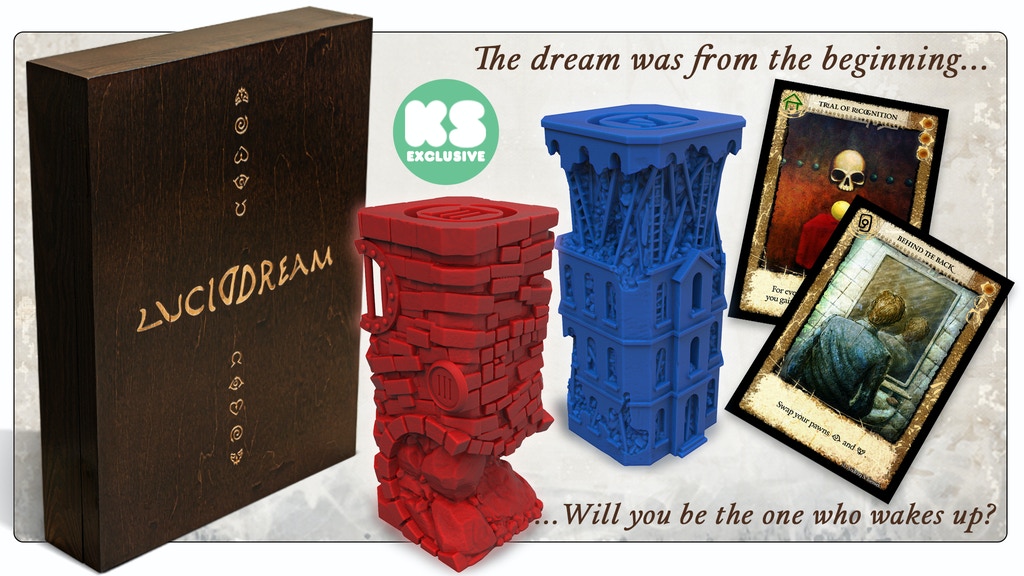 Enter the world of Lucid Dream created by the artist Andrzej S. Bieniek. With astonishing and extraordinary graphic art this 2 player board game will take you to the oneiric world where you will play the role of Dreamers.
During the game divided into rounds, players using cards and special pawns will try to be the first to wake up from sleep, leaving their opponent forever locked in the Lucid Dream. They can achieve this in two ways. The first one is to bring your Dreamer Pawn to the center of the board to wake him up. The second way is to control one of the circles of sleep by building four scenes in it.
Create your own decks from over 100 available cards, strategically manage your special Pawns to control what is happening on the board so that you won't be devoured in the Lucid Dream.
Pledges start at $39 for the core box with stretch goals.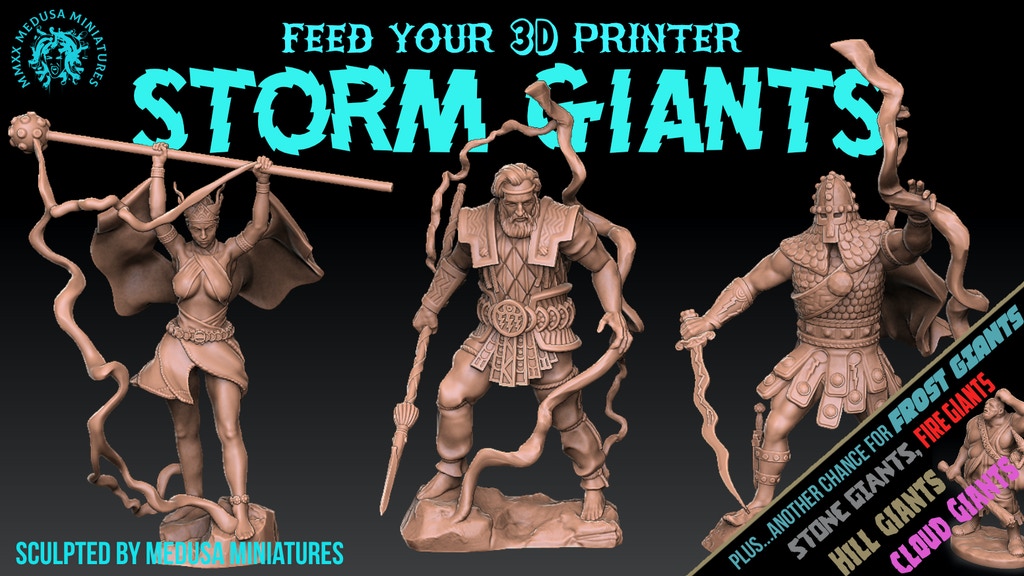 All of the models are finished and processed in meshmixer for error free meshes. We have seven rewards:
Storm Giants 3d files (£5)
Fire Giants 3d files (£6)
Cloud Giants 3d files (£6)
Hill Giants 3d files (£6)
Stone Giants 3d files (£6)
Frost Giants 3d files (£6)
All 18 Giants – Storm, Fire, Cloud, Hill, Stone and Frost Giants (£27)
All the Giants and all previous Medusa Miniatures 3d printable Kickstarter files (£42)
 Pledges start at $7 for the Storm Giant files and you can snag all 18 giants for $35.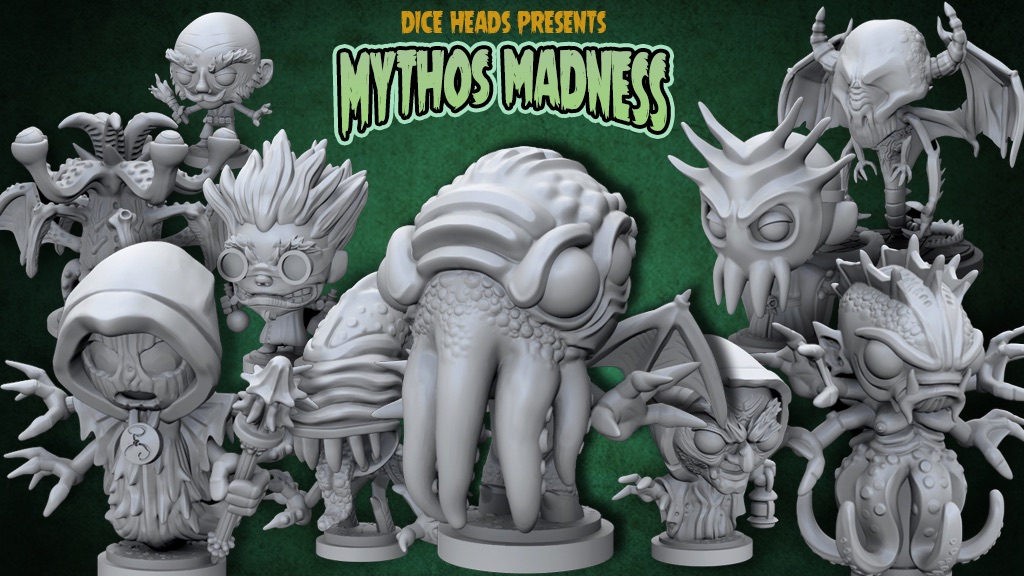 Subscribe to our newsletter!
Get Tabletop, RPG & Pop Culture news delivered directly to your inbox.
Mythos Madness: Cthulhu Mythos 3D Printable Miniatures is the creation of 3D artist, illustrator and RPG fanatic Andrew Pawley. This campaign is for printable STL files to print at home. The bundle contains 30 chibi and multipart models. Become one with the Cosmic Horror throughout the Multiverse with these Mythos inspired models. With characters from the Cthulhu Mythos, Dunwich Horror, The Dreams In The Witch House, Mountains Of Madness and more, this set is a great way to share the insanity amongst your friends.
Perfect as gifts for Investigators and Keepers alike!
Pledges start at $20 for files to print all of the models plus stretch goals.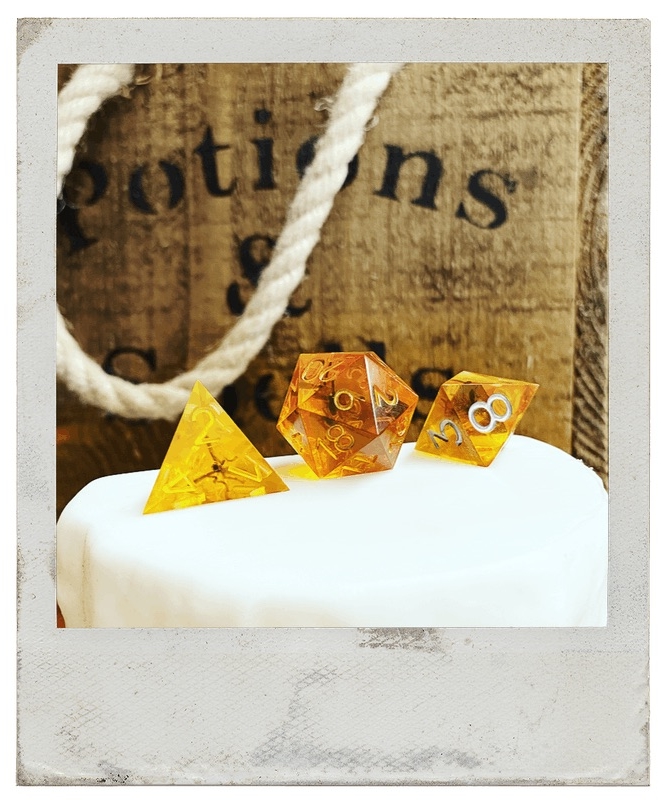 These dice are perfect for all of you Jurrasic Park gaming needs – or just to look at because they are pretty. Creator Enrica Martiné is also offering themed dice for Breaking Bad, It, and some based on personality types that you can add on to your pledge. They're all pretty and will certainly make any dragon that hordes dice very happy.
Pledges start at $7 for one mystery die with a gift bag.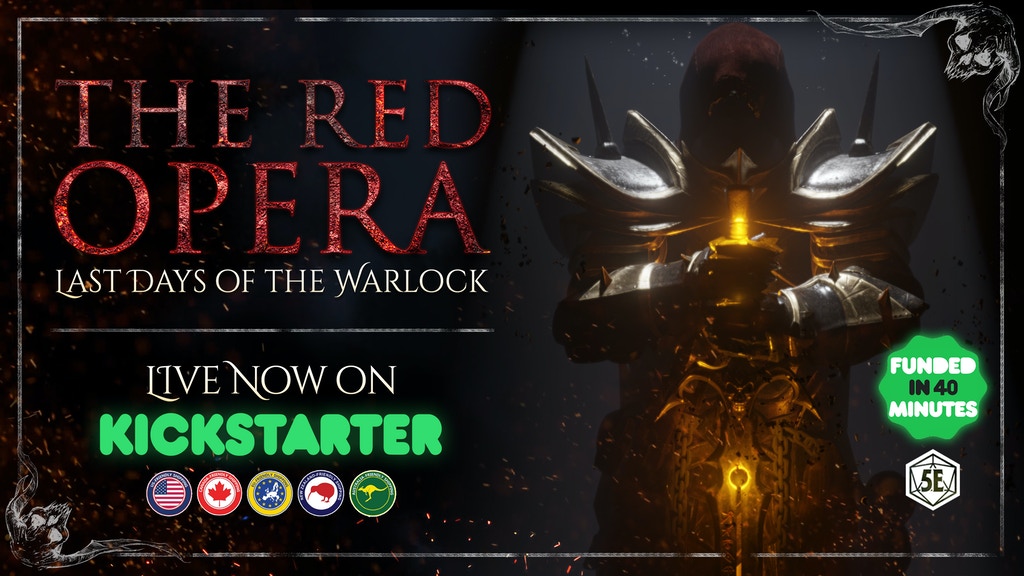 The Red Opera is a musically inspired 5e edition campaign, featuring an epic warlock-infused journey of the Shadelands. A land where the barriers between worlds run thin, and there's a devil in every corner willing to cut a deal. In this campaign setting, we've created an extremely metal-themed epic-saga where the players determine the final fate of the Shadelands. A place where the veil between elemental planes runs thin and Patrons can whisper directly with members of all classes, not just Warlocks. Here, the Accursed King sits on a throne, delicately balancing deals with nearly every patron–but his grip on reality is starting to fray. While cities ruled by Wizards, Clerics, and Paladins are common, a war-torn city where Warlocks have sought refuge is rare indeed.
The Red Opera provides storytellers and players a look into this relationship between Warlock and Patron, and opens it up so anyone can wield their power. Using this, explore the hidden agendas of those Patrons who aren't yet strong enough to be gods, or help young warlocks avoid losing their souls before its too late.
Partnering with DiAmorte, the Heavy Metal Hall of Fame, and The Budapest Scoring Symphonic Orchestra, each of our adventure acts is paired with a track on The Red Opera album. This creates a truly immersive experience by providing multiple mediums of engagement. So, other than your soul, what do you have to lose?
Art from this game is featured in this week's header image.
Pledges start at $30 for a PDF plus digital art.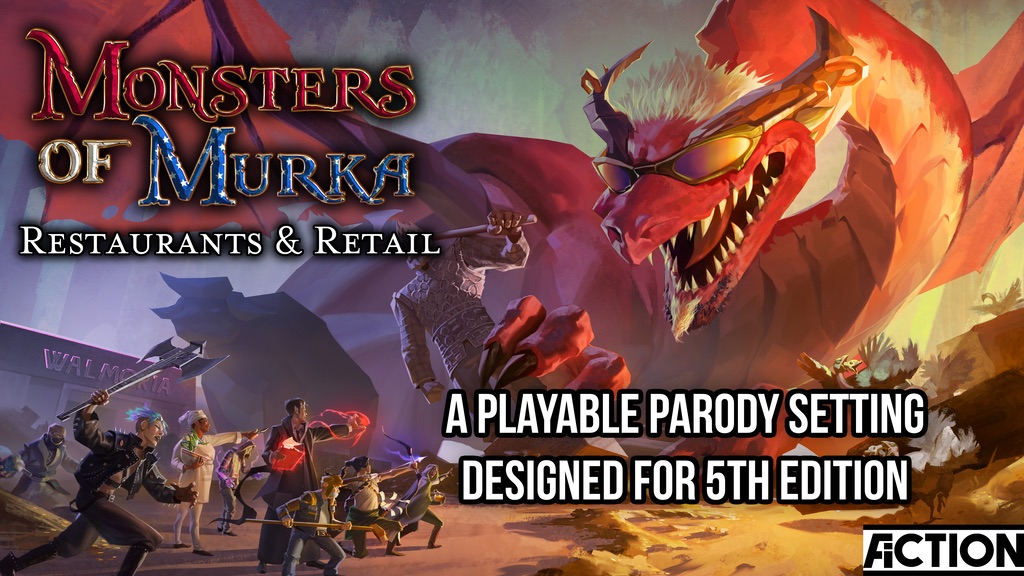 Restaurants and Retail is the first full-scale expansion for the United States pop-culture parody campaign setting: Monsters Of Murka (a gold best-seller on DriveThruRPG). Designed for 5e DnD, Restaurants and Retail includes new subclasses for every class, over 20 horrifying monsters, over a hundred weapons, spells, and magic items, and a host of tools to enhance play.
Murka was once a kingdom of great promise. In its earliest years, it quickly became a melting pot of myriad creatures, creeds, and connections, though it was not without its fair share of missteps. In recent years, many citizens of Murka have turned to adventuring in the hopes of finding a mythical artifact: The Murkan Dream.
Restaurants and Retail gives you the tools, resources, and materials to explore new locations like Flavor City and Walmoria; to collect new items like the Flavor Glaive, candied weapons, and the cake-cutting knife that turns anything it cuts into cake; and to fight new monsters like Killer Tofu Cubes, Flavor Dragons, and the dreaded Taste Beast.
Pledges start at $20 for a PDF and immediate access to playtest materials.