D&D: Critical Role Shines A Spotlight On The Combat Wheelchair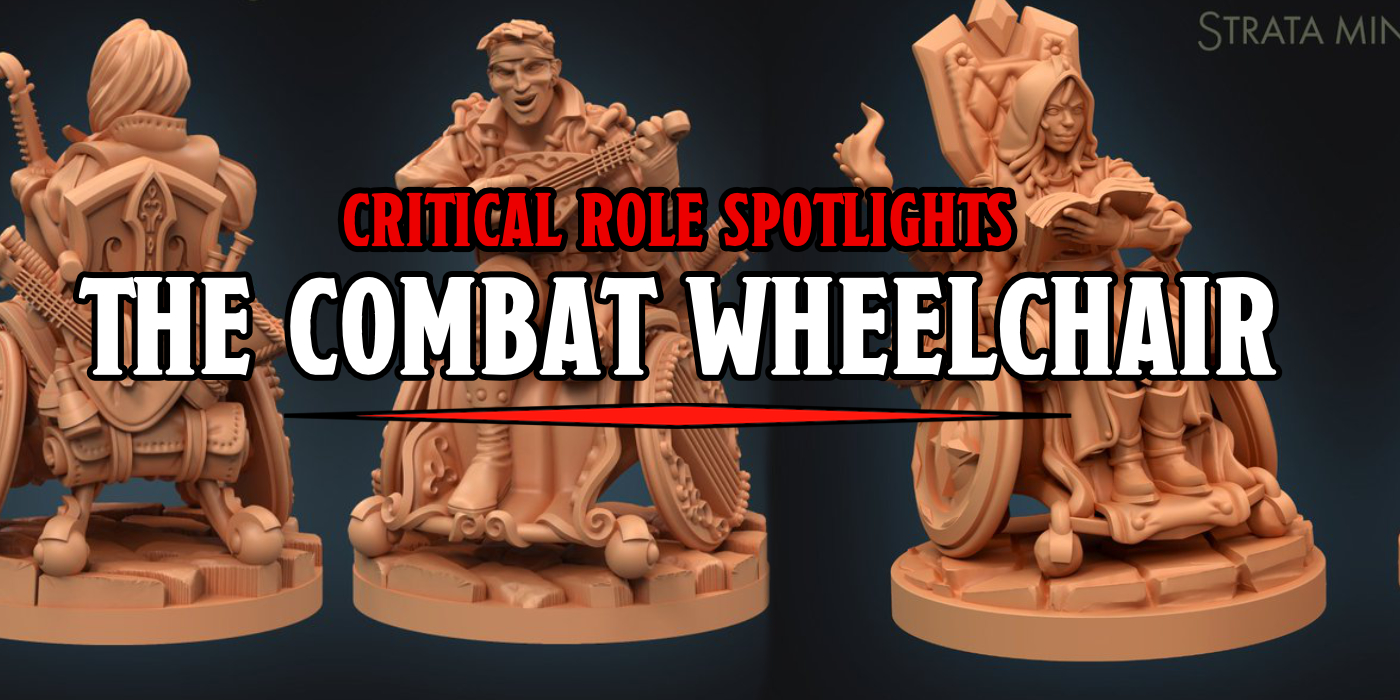 Matt Mercer introduced a wheelchair using NPC onto the scene in this week's Critical Role, spotlighting both its usefulness and accessibility in D&D.
Critical Role is a massive influencer in the tabletop gaming realm. Some folks decry "The Mercer Effect" where new players expect their DM to be a fan of their characters and set up interesting scenarios for them, rather than tolerating the same lazy/adversarial DM behavior that has pervaded the hobby ever since Gary Gygax decided he wanted to be able to kill any player character that dared challenge one of his dungeons.
But beyond that, Critical Role has been intertwined with the rise of 5th Edition, with its legion of fans able to bring about both their own D&D book and an animated special. So when DM Matt Mercer featured the Combat Wheelchair, as designed by Sara Thompson (most current available version here) in the latest episode of Critical Role, it's a pretty huge deal.
For those who are curious, the badass that is Dagen Underthorn is a proud user of the Combat Wheelchair, designed by the brilliant Sara Thompson below. <3#CriticalRole#CriticalRoleSpoilers https://t.co/1C5ysDMGcp

— Matthew Mercer (@matthewmercer) October 30, 2020
Mercer's move does a ton of work to spotlight and help normalize the idea of disabled characters in gaming. The NPC in question, Dagen Underthorn made full use of the Wheelchair's rules:
Dagen saying "Oh, it's kitted out for that, don't you worry. In fact…I hope you can keep up" in response to being asked if his wheelchair can get across icy terrains???
I live for it.
Thank you @matthewmercer 💜

— A spooky DM @ Combat Wheelchair v3.0.1 OUT NOW! (@mustangsart) October 30, 2020
Subscribe to our newsletter!
Get Tabletop, RPG & Pop Culture news delivered directly to your inbox.
I completely missed the official description but you know what COMBAT WHEELCHAIR AND SHEILA for Dagen Underthorn!#CriticalRole #CriticalRoleSpoilers @mustangsart pic.twitter.com/XG7AS3u6Uz

— ☠️Lich Queen Gael | Gaelfox (@OGaelfox) October 30, 2020
And already the detractors are out there with the same old tired arguments that "there's no reason for a disabled person to use a wheelchair" without realizing that it's a) optional, and b) something a ton of players want to see in their fantasy game with dragons, ogres, and humans that people still play even though you can be a sentient magic robot.
Wheelchairs don't 'confine' people. They're freeing. They give disabled people independence.
Seems like someone's upset that I made some #dnd content and that Critical Role then used their platform to push back against ableism like yours lmao https://t.co/97bhfOrOPA

— A spooky DM @ Combat Wheelchair v3.0.1 OUT NOW! (@mustangsart) October 30, 2020
Critical Role isn't the only one to feature the Combat Wheelchair though–if you're looking to get a wheelchair using miniature, Strata Miniatures has recently teased a second wave of their wheelchair using heroes, with four new minis, two of which can be seen below: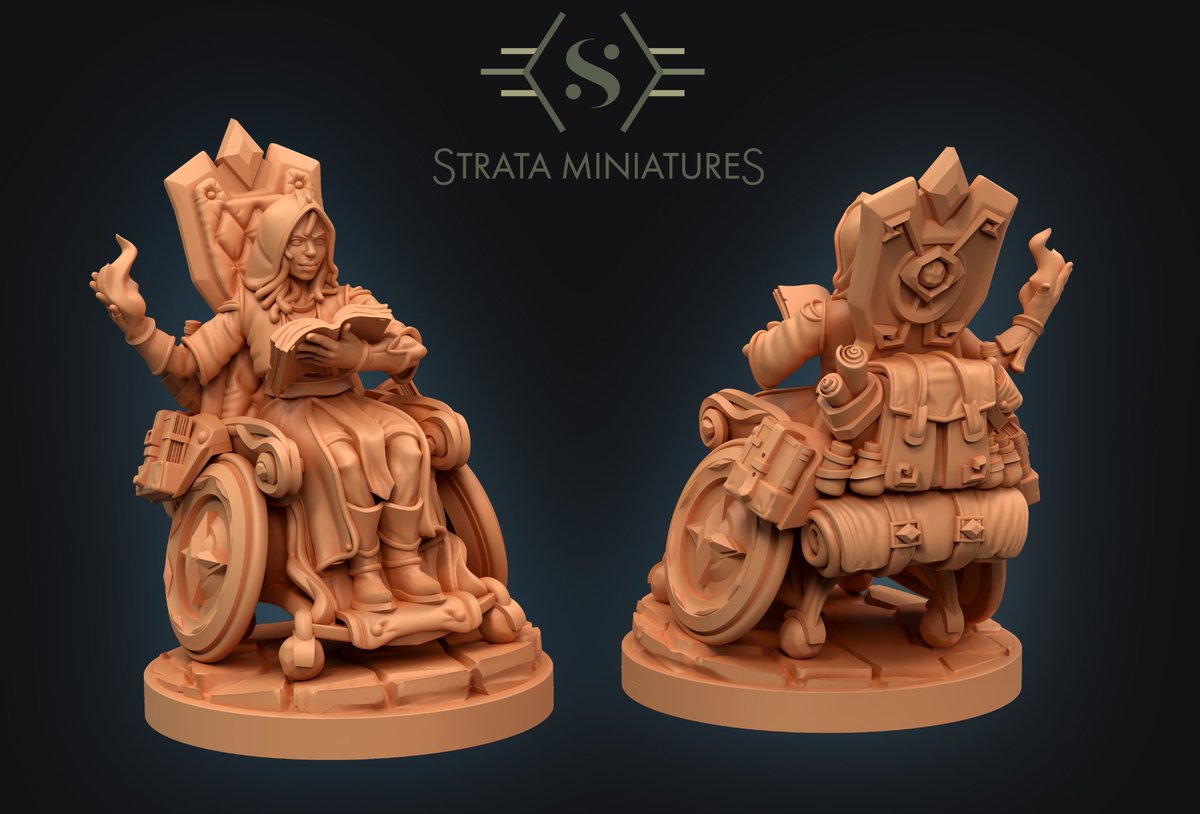 First up, a wizard complete with scroll caddy and rack for their adventuring kit, as well as readily accessible tome holsters on either side. And then a bard who comes with two different heads as well as many different musical instruments who also happens to be an amputee.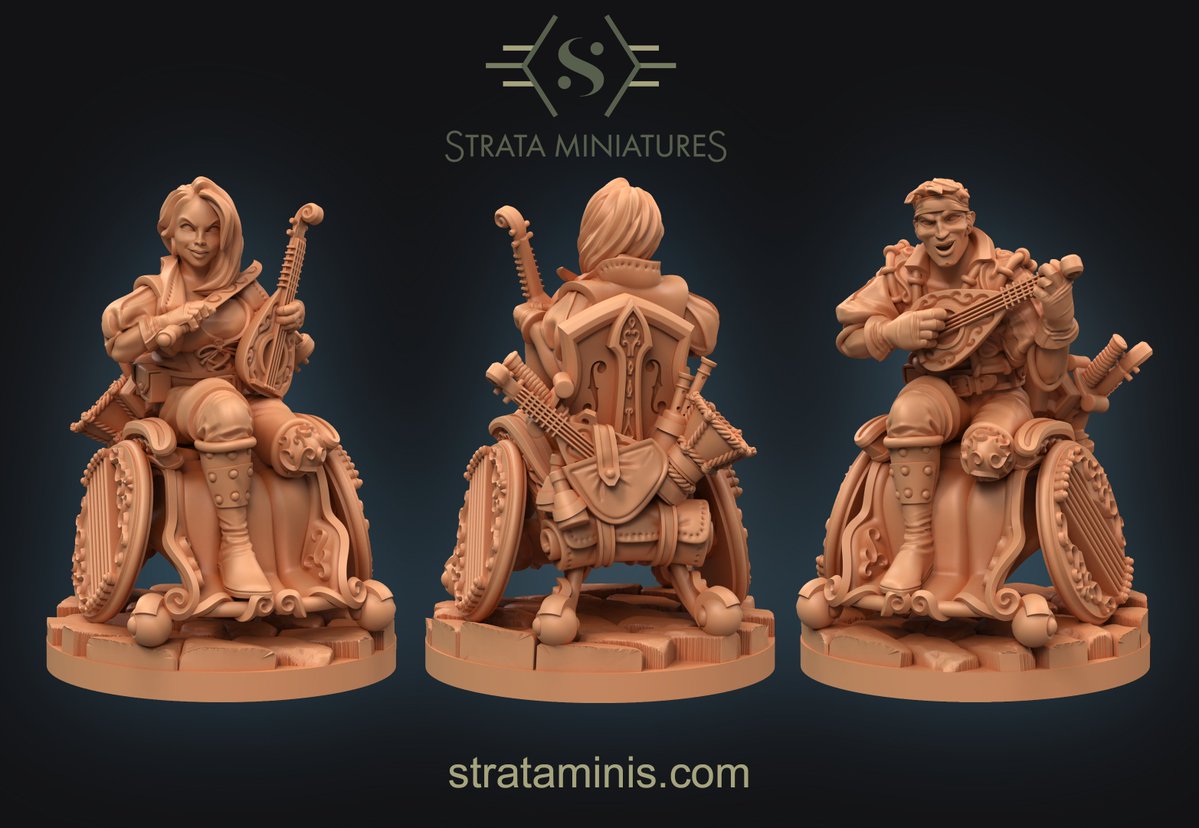 All of this goes along with the hashtag #everyonecanbeahero, which many in the community have adopted to highlight representation of all kinds, not just gender, sexuality, and skin color–but disabled representation as well.
You can find out more from Strata Miniatures.
Happy Adventuring!