D&D: That Time Andrew Yang Played D&D And Politics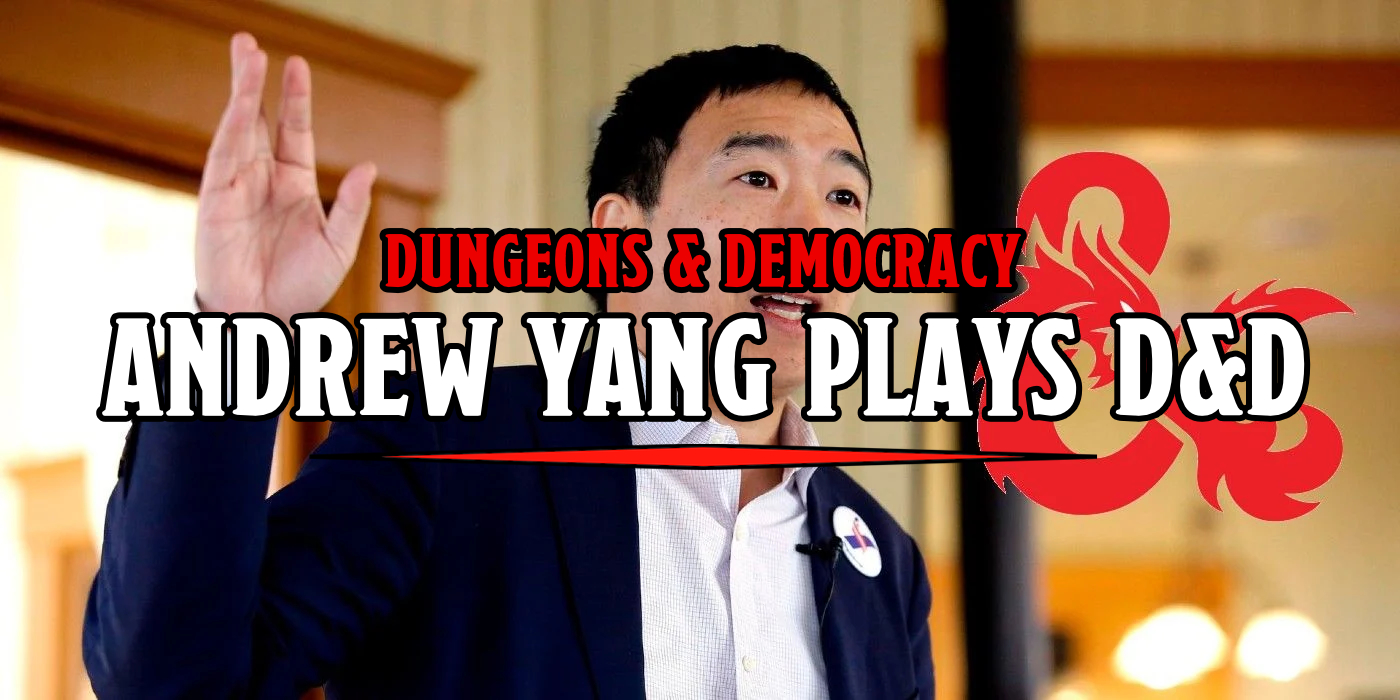 In a move that proves to be "extremely 2020" a former presidential candidate recently played a livestreamed game of Dungeons & Dragons.
Dungeons & Dragons and politics make strange bedfellows. Specifically D&D and local elections tend to go hand in hand. Which is one of the weirder sentences I've had to type, and that's in 2020, a year of extremely weird sentences. But whether deciding the outcome of local elections or, as is the case today, helping to fundraise for candidates, and thus influence the election, D&D and local politics are intertwined.
When we say that games are political, I don't think that anyone means it quite like this. But here we are. Andrew Yang, who famously promised to bring D&D to the White House if elected, joined a team of Asian-American actors to play a livestreamed campaign of D&D. Yang joined Vyasar Ganesan, of Netflix's Indian Matchmaking, voice actress Erika Ishii (of Fire Emblem fame), voice actress Zehra Fazal, and Texas Congressional Candidate Donna Imam in a game of "Dungeons & Dems" that aired yesterday.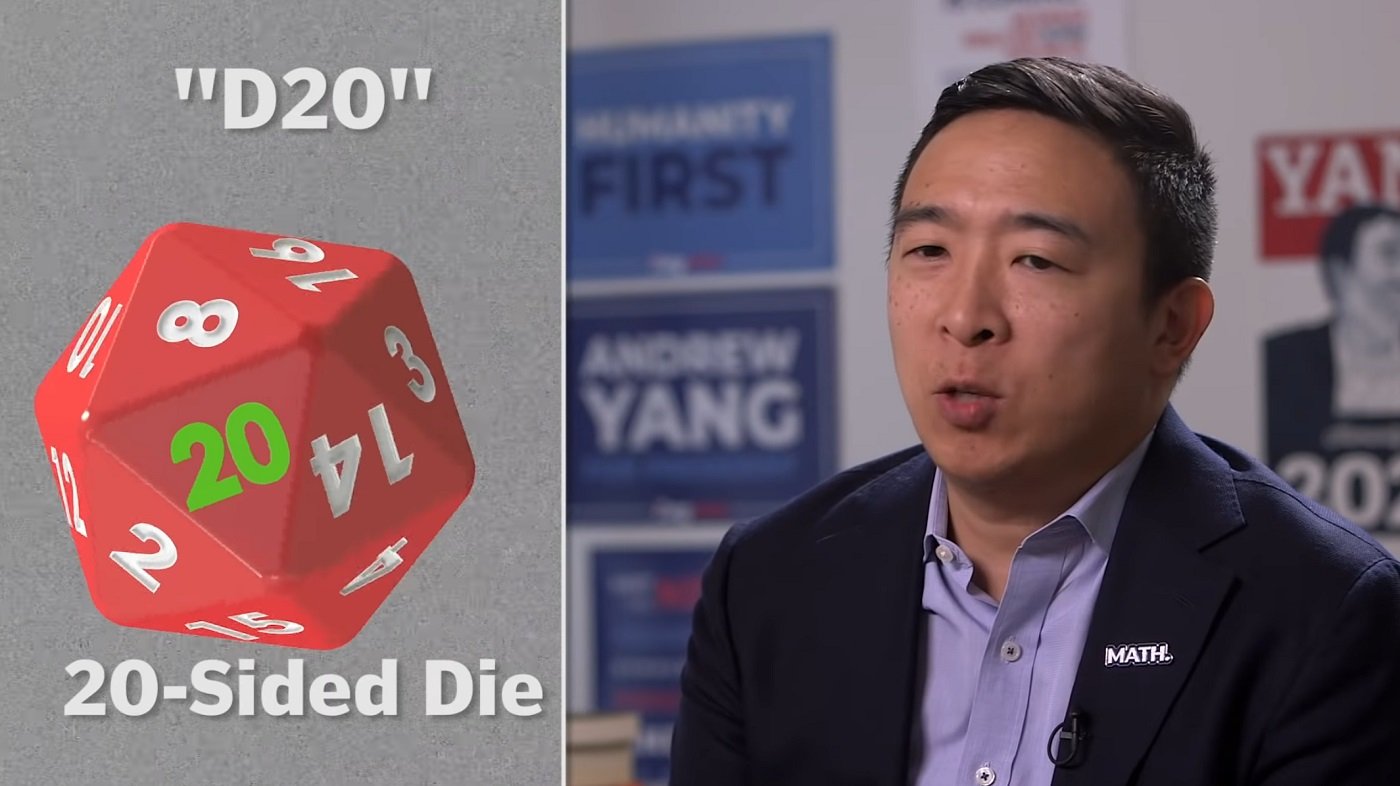 This marks the first time, to my knowledge, that D&D has come within spitting distance of elected office. It goes to show how pervasive gaming is in our society. It's not just that Andrew Yang is an outsider for playing–famously, Alexandra Ocasio-Cortez hit Silver III in League of Legends this past summer (she mains Lux, Sona, and other supports, because of course she does). As generations who grew up with gaming start to take office, and as the reach of platforms like Twitch and other streaming services become more widespread, I think we're only going to see more.
How long is it before we see Bernie Sanders, for instance, organizing a coalition of goblins and kobolds to try and take back Waterdeep? Or before the next runoff election is decided by best KDA? Here's a look at the event, though if you wanted to watch it, you'll have had to donate. But you can find a few clips below:
via ActBlue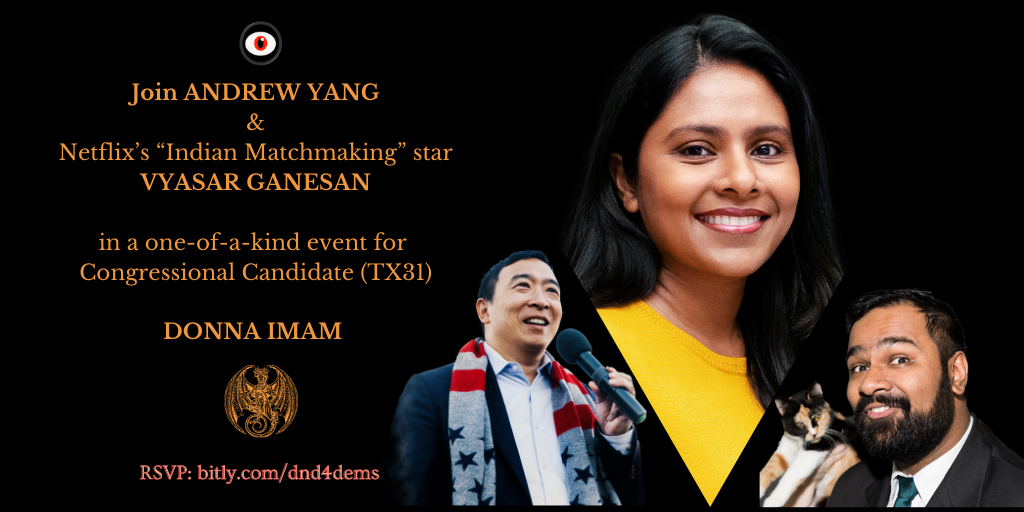 Dungeons & Dragons with Andrew Yang + Donna Imam

We're going on a mission Mon., Oct. 12, 7 p.m. CT – to help Congressional candidate Donna Imam defeat Trump's henchman in Texas' 31st Congressional district, so she can become the first AAPI Congressmember from Texas. We need your help to do it.

Join "DnD for Dems" with Andrew Yang, Netflix's "Indian Matchmaking" Star Vyasar Ganesan, Actor Erika Ishii and Actor Zehra Fazal for a one-of-a-kind fundraiser, hosted by Asian Democrats Central Texas, Asian American Democrats of Texas, and AAAFund-TX. Watch Donna and her team solve puzzles, fight monsters, and, ultimately, save the day from an unknown evil plaguing her village.

Together, we'll embark on a journey into the world of Dungeons & Dragons to build a coalition that will win on November 3. #DnD4Dems

Subscribe to our newsletter!

Get Tabletop, RPG & Pop Culture news delivered directly to your inbox.
The seer of the #YangGang enters the game: @AndrewYang!!! He's got a message for our heroes… pic.twitter.com/kglJbPyhkk

— Humanity Forward Texas (@HumanityTexas) October 13, 2020
Regardless of the game's outcome, it's a great reminder that our democracy, like our games, works best when we're all active and engaged participants. As today marks the start of early voting in Texas, it's a good reminder to get out and cast your vote.
Happy (civic) Adventuring!