GW Pre-Orders: Pricing & Links – Codex Launch Weekend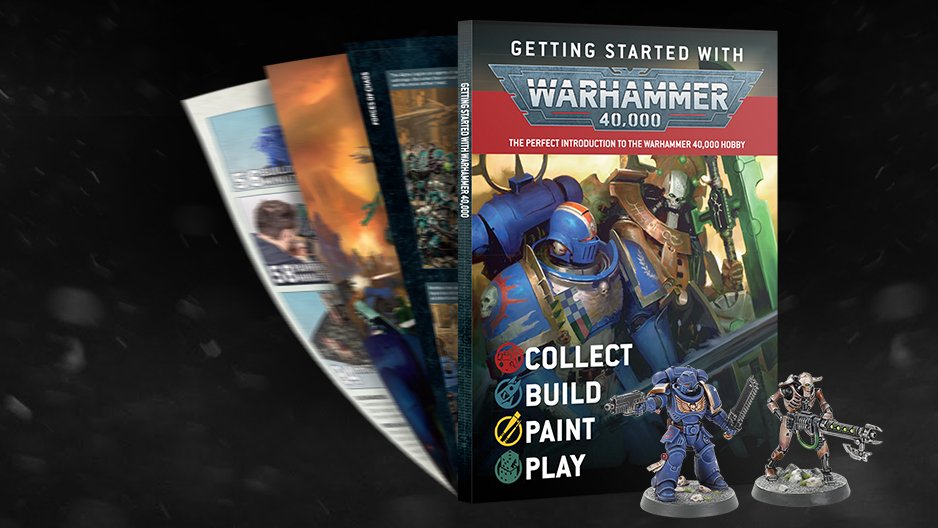 Codex Space Marines and Codex Necrons are up for grabs from Pre-Order this weekend from Games Workshop. And the Silent King has arrived.
via Games Workshop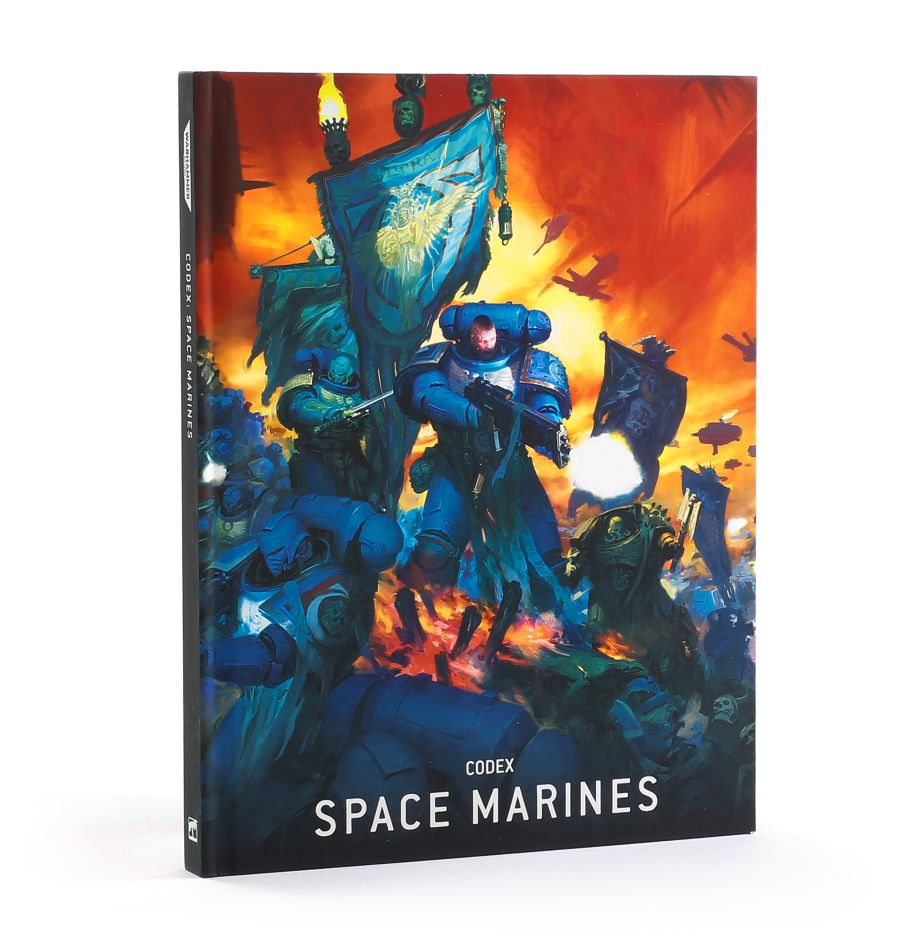 The collector's edition is a premium quality codex designed for ultimate fans of the Adeptus Astartes. It comes with gilt-edged pages, a soft-touch cover with foil blocking, and a black 1/4″ ribbon marker.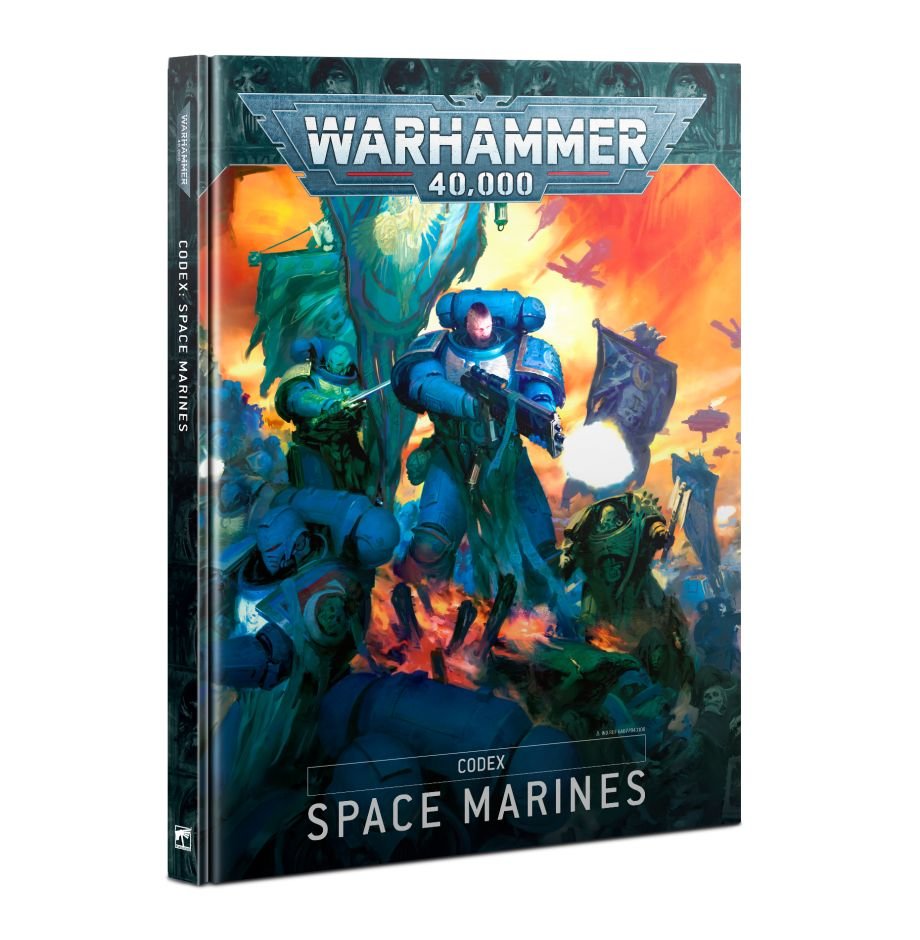 The Space Marines are numbered amongst the most elite warriors in the Imperium. Created by the Emperor himself from the genetic material of the demigod Primarchs, they are the ultimate soldiers for a cruel and terrible age. Inside this 208-page hardback codex, you'll find everything you need to unleash the Space Marines in battle, plus thrilling lore and art to inspire your own collection.
Inside this book, you'll find:
– The history of the Space Marines, with a look at how these genetically engineered warriors annihilate the enemies of the Emperor with terrible force
– A Space Marines bestiary with background details for every unit and Character featured
– A showcase of stunningly painted Citadel miniatures
– Rules for Space Marines units that are available to every every First Founding Chapter, their Successors – including more diverse Chapters such as the Space Wolves, Blood Angels, Dark Angels – and the Deathwatch
– Rules for creating your own Successor Chapter Tactics
– Rules for upgrading your Characters to members of the Chapter Command – Chapter Ancient, Chapter Champion, Chief Apothecary, Master of Sanctity, Master of the Forge, Chief Librarian, and Chapter Master
– Stratagems, Warlord Traits, Litanies of Battle, Psychic Disciplines, Chapter Relics, and optional Secondary Objectives that define the ways that the Space Marines wage war
– Bespoke Crusade rules providing new Agendas, Requisitions, Battle Traits, Honorifics, and Crusade Relics that are unique to the Space Marines
– And more!
You will need a copy of the Warhammer 40,000 Core Book to use the rules included in this codex.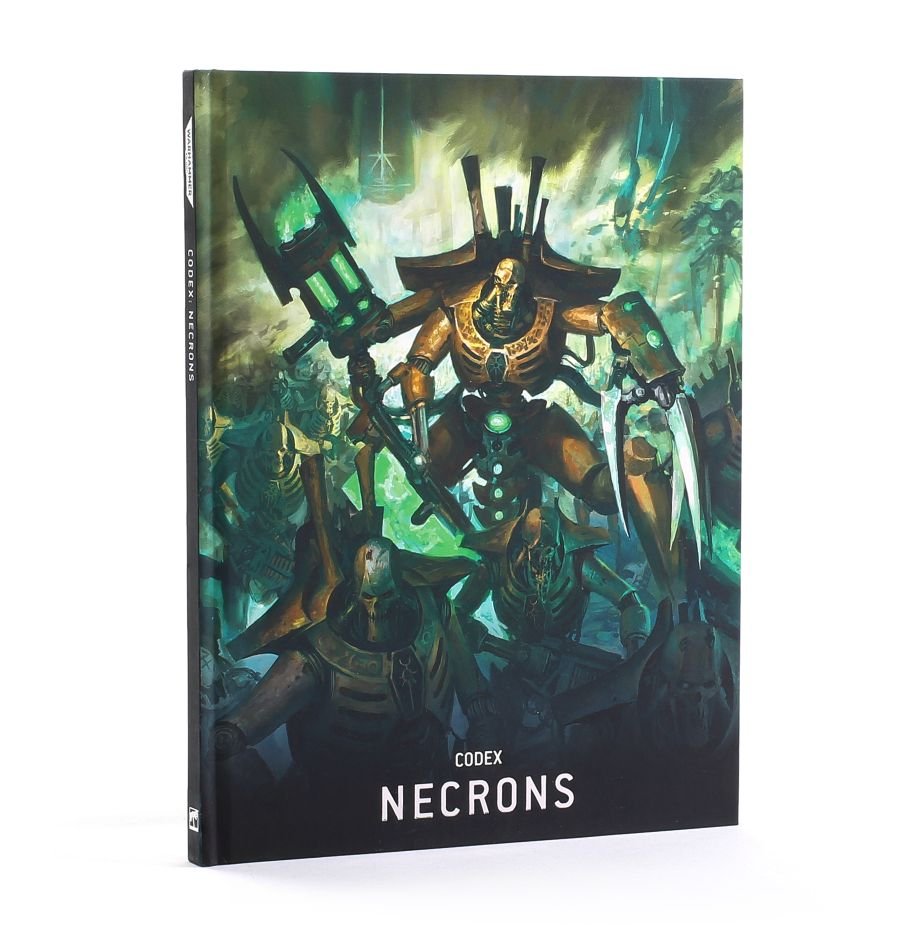 This collector's edition features printed page edges, a ribbon bookmark, and a soft touch cover. It is only available while stocks last, so secure yours early to avoid disappointment!
Subscribe to our newsletter!
Get Tabletop, RPG & Pop Culture news delivered directly to your inbox.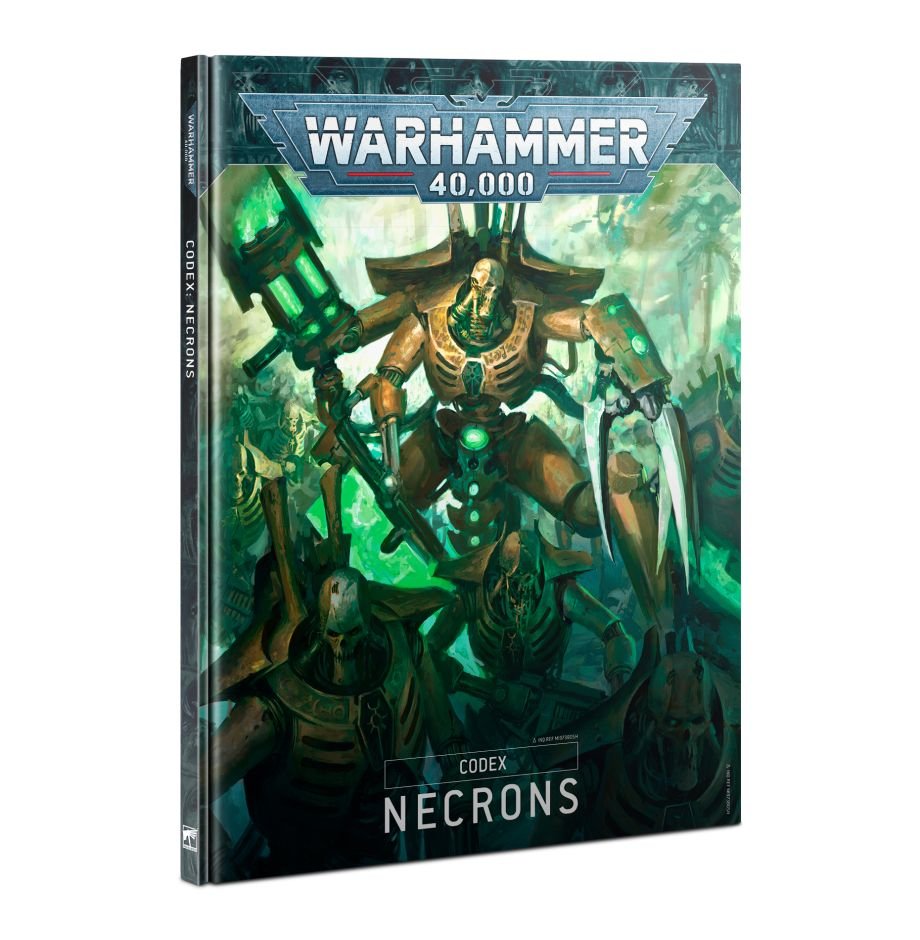 The Necrons are a deathless race of alien androids, rulers of the galaxy in a long-forgotten era. Now, having slumbered in stasis for millennia, they are rising up to conquer it again. Clad in self-repairing bodies of living metal and wielding weapons that harness the most devastating energies of the cosmos, the Necrons are a terrifying enemy. Fearless, relentless, and utterly without mercy, they advance in serried ranks and lay down withering storms of fire fit to annihilate even the mightiest of foes. The hyper-resilient Necron soldiery are supported by murderous specialist units, techno-sorcerous war machines, mindless Canoptek constructs, and shards of shattered star gods. They are led to war by undying nobles wielding weapons of devastating power, driven by the absolute conviction that they are the rightful rulers of the stars. And if the long sleep has reduced many Necrons to mindless monsters, or ravaged their sanity and transformed them into murderous demigods? Such madness only makes them an even greater and more terrible threat.
Codex: Necrons is your essential guide to one of the 41st Millennium's greatest threats – a millennia-old alliance of ancient androids who long ago sacrificed their very essence for greater power. In this book, you'll discover the history of the Necrons, from the very earliest days of the universe, to the War in Heaven, and their awakening, all illustrated with stunning art. Once you've read the lore, you can build your army using a vast suite of rules that bring the Necrons to life, with rules for the dynasties (including ones of your own creation!), datasheets, Stratagems, and much, much more.
This 120-page hardback book contains:
– The history of the Necrons – from their ancient origins to the Era Indomitus
– Stunning art that brings the lore to life
– A showcase of incredibly painted miniatures to inspire your own collection and colour schemes
– Crusade rules that let you develop your Necron army in thrilling narrative campaigns
– Special abilities and bonuses like Command Protocols for your Necron forces
– Datasheets for Necrons units for your reference
– Stratagems, Powers of the C'tan, and more!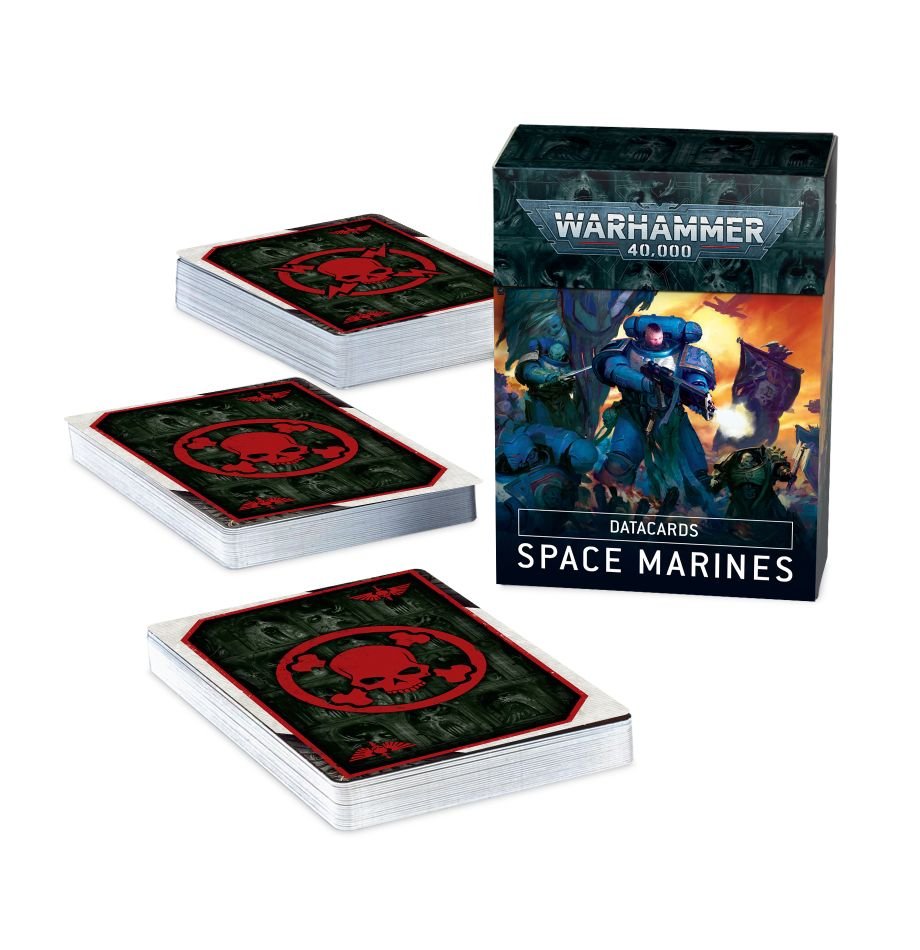 Unleash the fury of the Space Marines with these handy reference cards! Each set is great for quickly referring to your rules, making sure you'll pick the right Stratagem, Litanies of Battle or psychic powers for your battles with ease.
This pack contains the following datacards:
– 7x core Stratagems
– 34x Space Marine Stratagems
– 1x Smite psychic power
– 12x psychic power cards (6 each for the Librarius and Obscuration disciplines)
– 7x Litanies of Battle
You will need a copy of Codex: Space Marines and the Warhammer 40,000 Core Book to make full use of these cards.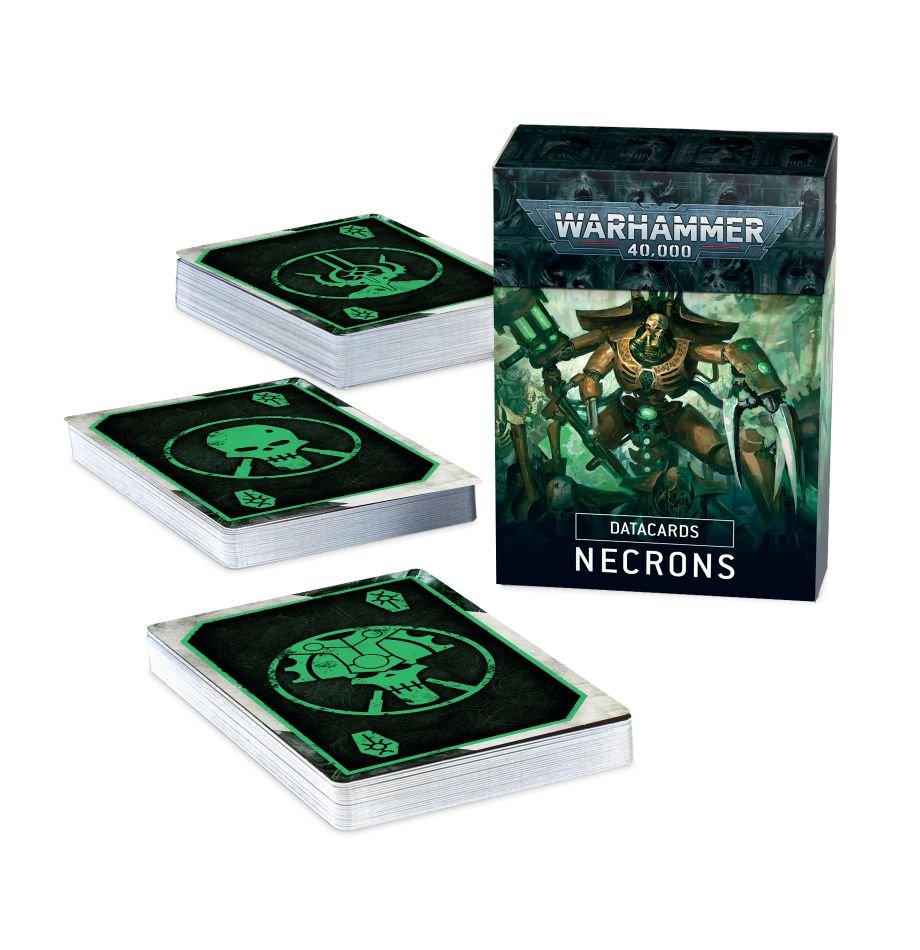 Datacards make referencing your rules in battle easy. Containing quick-reference Stratagems, C'tan Powers, and Necron Command Protocols, they'll allow you to dictate the battle with the skill and acuity of the most practiced Phaeron – or, at the very least, ensure you don't forget to use that Transdimensional Thunderbolt when you need it most!
This pack contains 62 datacards, divided as followed:
– 7x core Stratagem cards
– 40x Necron Stratagem cards
– 9x C'tan Power cards
– 6x Command Protocol cards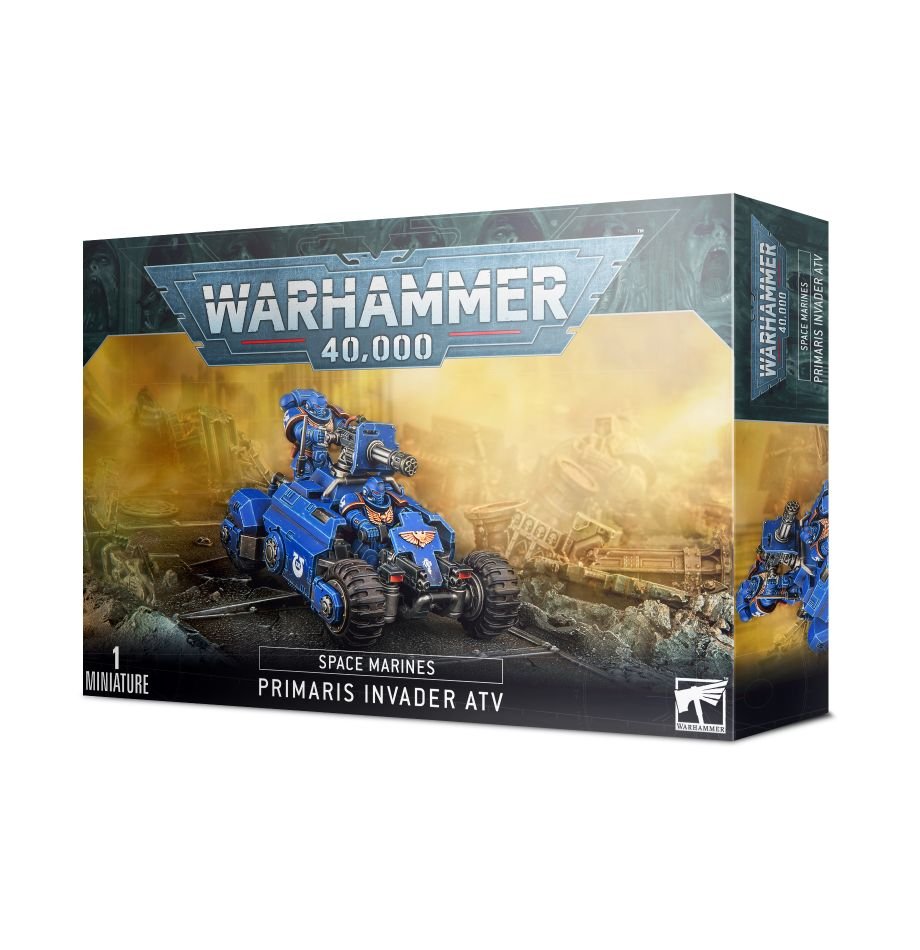 The Invader is a highly flexible all-terrain vehicle, perfectly adapted to an aggressive reconnaissance role. Outfitted with either a multi-melta or an onslaught gatling cannon, it can rapidly deliver punishing fire against vulnerable parts of the enemy line, or swiftly engage and destroy scouting elements of opposing forces.
Firepower delivered fast – the Invader ATV gives you the guns you want, where you want. Armed with your choice of tank-scrapping multi melta or horde-munching onslaught gatling cannon, this rapid vehicle is ideal for accompanying your Outriders and other fast moving elements of your army or smashing into a squishy flank while the main body of your force holds the line.
This kit builds one Invader ATV. It is supplied with a choice of weapons and comes in 45 plastic components.
Primarily a defensive weapon, the Firestrike Servo-turret lays down withering volleys of fire to secure flanks or the Space Marines' base of
operations. Mounted on gravitic ventral plates, they can hover across the battlefield to ideal firing positions from which to slaughter attacking enemies.
Compact, flexible, and easy to fit into any list, the Firestrike Servo-turret is ideal for patching holes in your roster. Short on anti-tank weaponry with only a few points (or power) to spare? Need some dedicated heavy-infantry killers? Armed with your choice of twin las-talon or twin accelerator autocannon, chances are, the Firestrike Servo-turret is for you.
This kit builds one Firestrike Servo-turret. It is supplied with a choice of weapons and comes in 28 plastic components. It comes with an 80mm round base.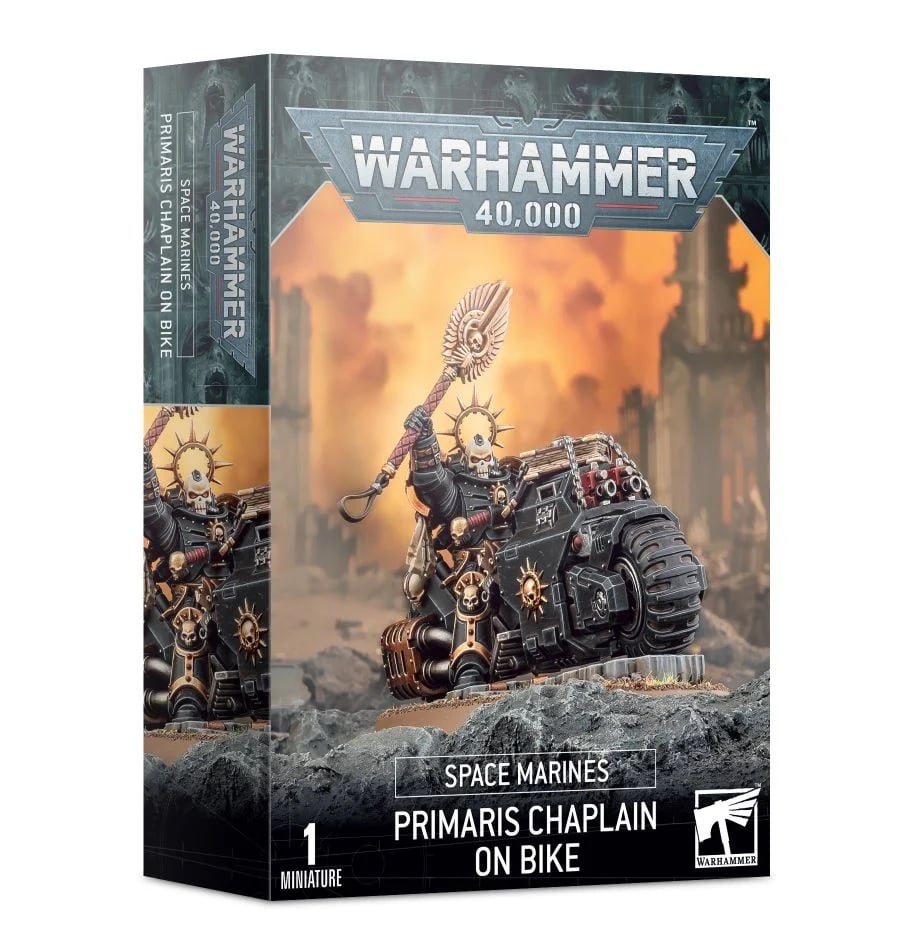 When a Chaplain takes to the field on a Raider-pattern bike, he is able to keep pace with even the swiftest armoured advance or spearhead breakthrough. Fighting in such an action, he will urge his brothers to victory as he bellows his catechisms and charges headlong into the foe, crozius arcanum swinging.
Zealotry just got faster. Every Space Marines player knows the value of a Chaplain, enhancing nearby troops with a suite of powerful abilities – but how do you keep pace with the fastest elements of your army? Simple – you grab one of these guys. The Primaris Chaplain on Bike is part tactical lynchpin, part ceramite-clad comet of righteous fury, and the ideal accompaniment to your Outriders or forward units like Incursors.
This kit builds one Primaris Chaplain on bike. It is supplied with helmeted and unhelmeted heads. It comes in 33 plastic components and includes a 90mm oval base and a Primaris Character Transfer Sheet.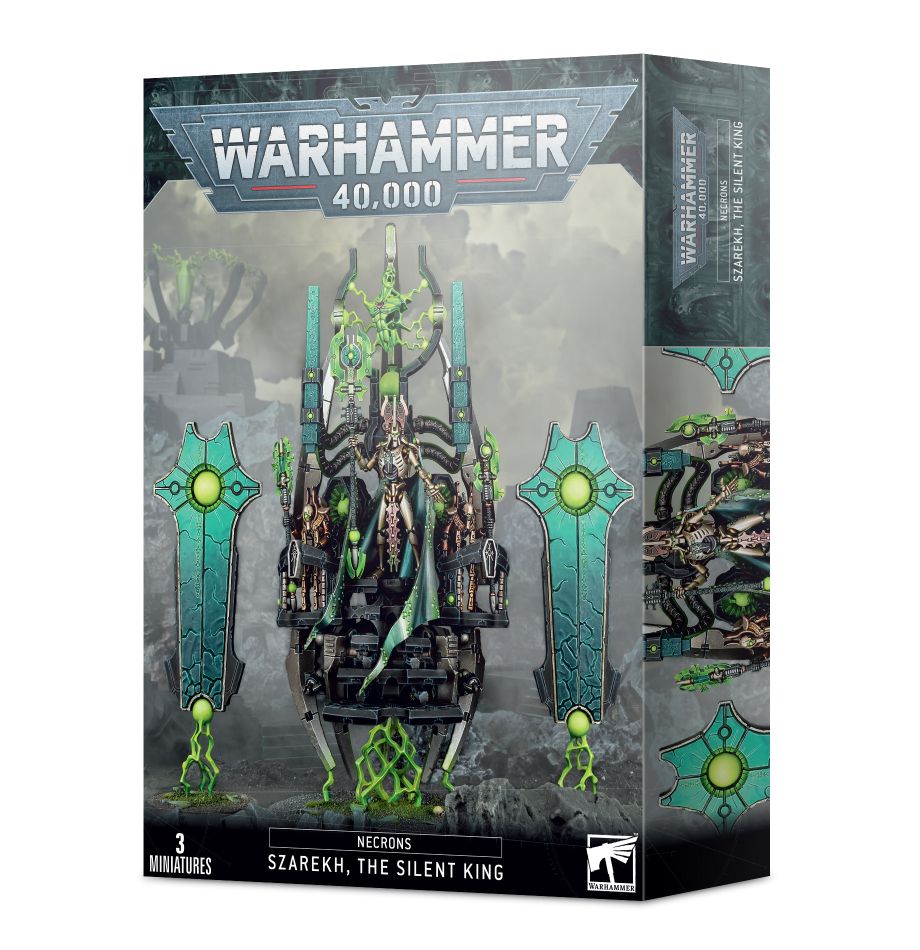 The Silent King rides to war aboard his Dais of Dominion, flanked by the phaerons of his Triarch and orbited by crackling noctilith Menhirs. He unleashes god-like powers of annihilation upon his dismayed foes, even as his absolute authority radiates out to empower the Necron legions and drive them to inevitable victory.
Behold, the Silent King has returned to the galaxy! The ultimate Necron character, Szarekh has a place in any Necron collection. Use his terrifying skills as a commander to enhance the units in your army, shatter even the toughest enemies with a blistering range of attacks, or just give yourself a gorgeous model to build and paint.
This kit builds Szarekh, the Silent King and two Triarchal Menhirs. It is supplied in 155 plastic components and comes with 1x 100mm round base and 2x 50mm round bases.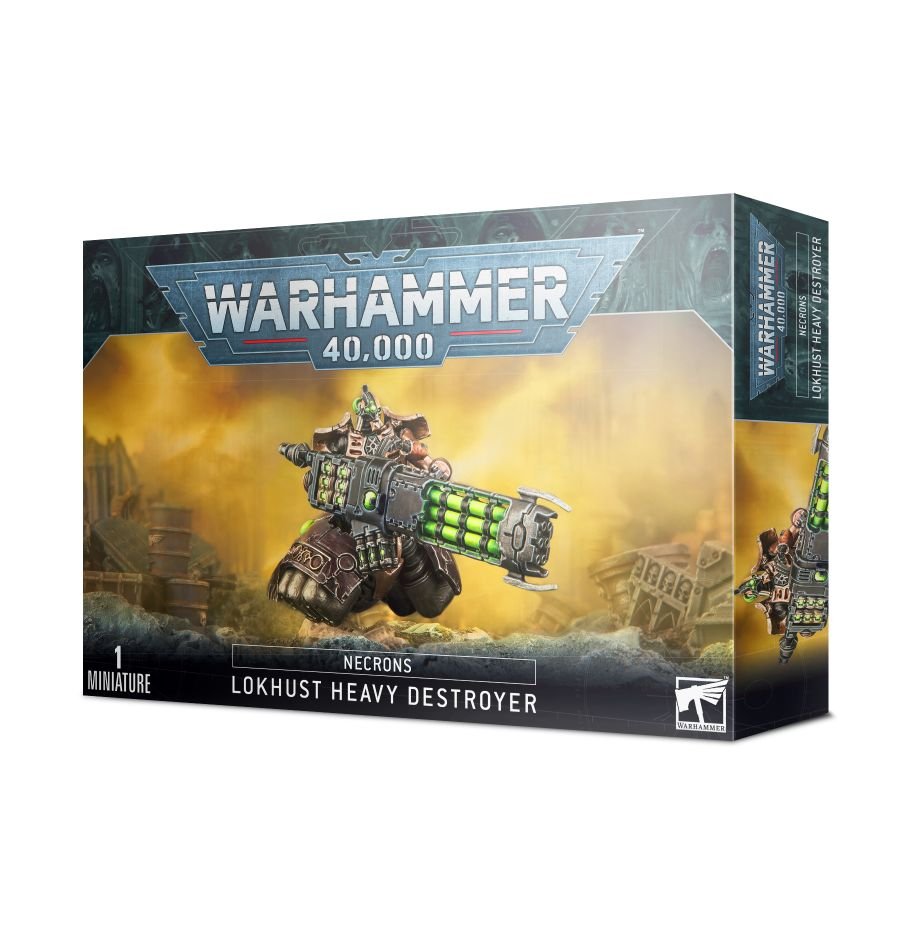 The Destroyer Cults think nothing of sacrificing their physical forms to optimise themselves for slaughter. Lokhust Heavy Destroyers skim to battle upon repulsor-sled bodies, their upper limbs bound into gauss destructors or enmitic exterminators with which they decimate their foes with devastating blasts from afar.
Whether you're looking to scythe through infantry or crack your enemy's biggest tanks with ease, you'll want a Lokhust Heavy Destroyer. This fast-moving gun platform pairs superbly with other Destroyer units or as a standalone for an army which just needs a little extra firepower.
This kit builds one Lokhust Heavy Destroyer. Push-fit construction means you won't need any glue to build it, and the set comes with your choice of heads and deadly weapons. It is supplied in 33 plastic components and comes with a 60mm round base.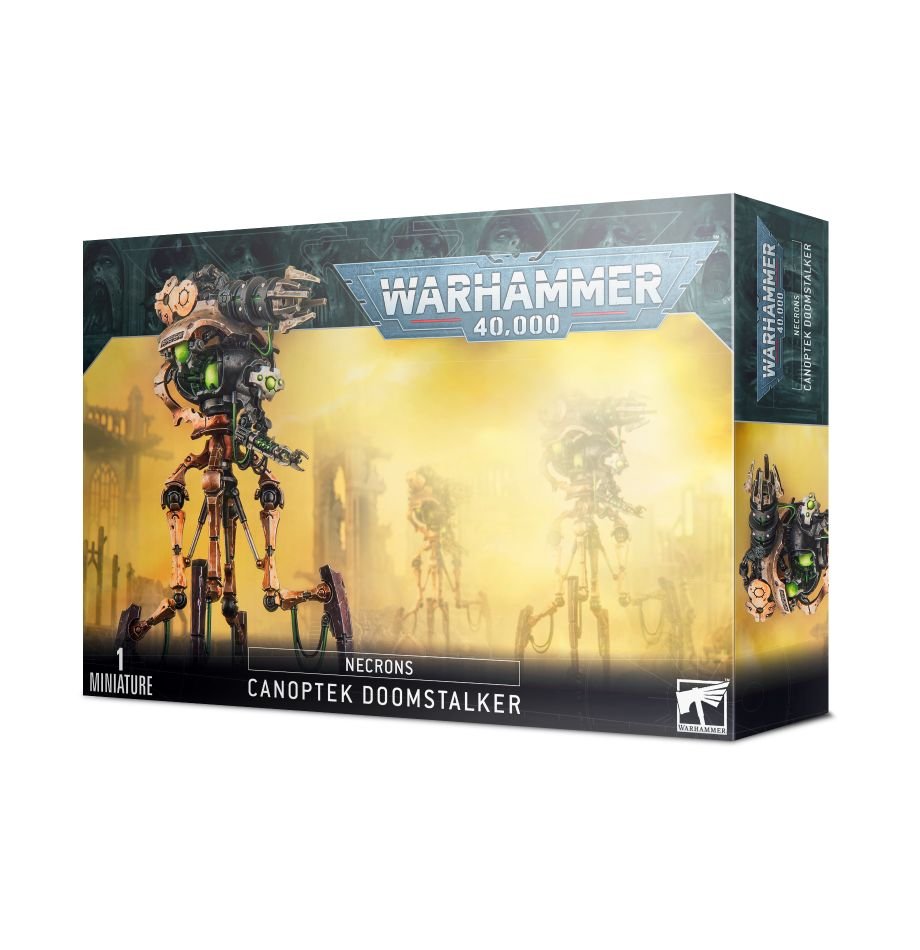 Canoptek Doomstalkers stride with eerie grace. Whether prowling their masters' armouries as tireless sentinels or providing mobile fire support to the Necron legions, the Doomstalkers annihilate all those who dare stand against them with searing shots from their doomsday blasters.
Need something blown up? Chances are, the Canoptek Doomstalker is the construct for the job! This towering sentry will make short work of your enemies, blasting them to bits with its terrifying doomsday blaster. It's also an incredible defensive choice, laying down covering fire when its neighbouring units are fired upon.
This kit builds one Canoptek Doomstalker, and push-fit construction means you won't need glue to build it. It is supplied in 14 plastic components and comes with a 90mm round base.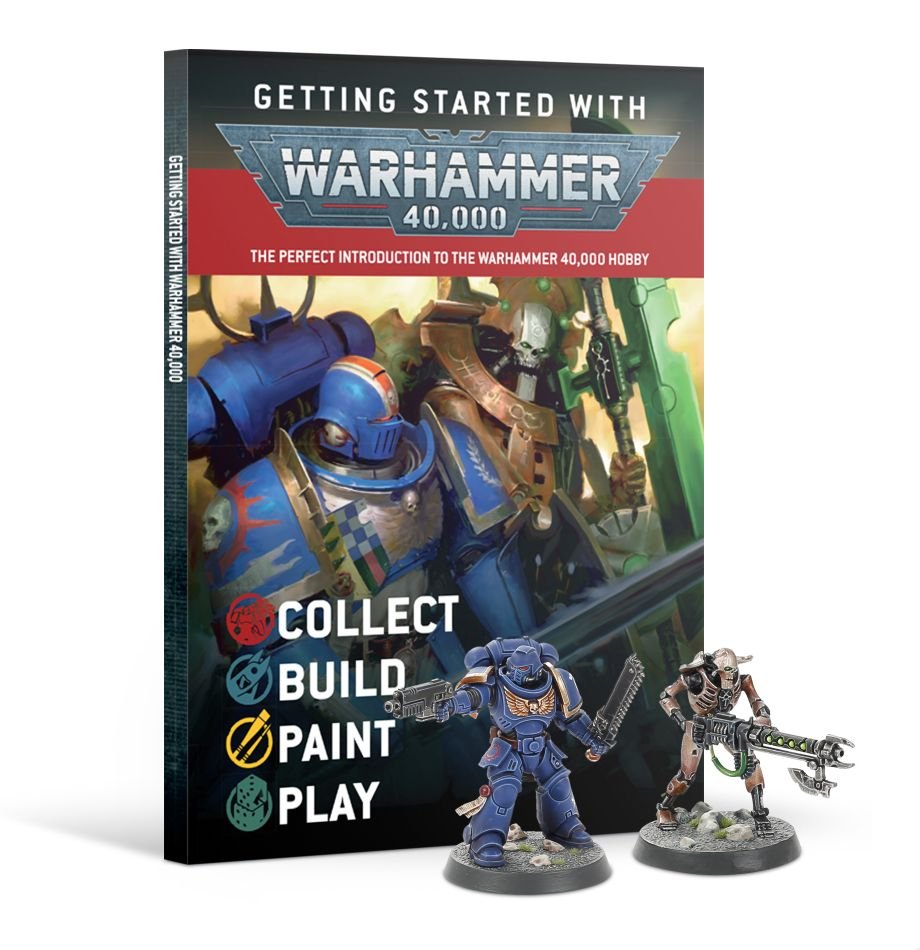 Warhammer 40,000 is a fast-paced and explosive tabletop wargame. Will you choose to play as the mighty Space Marines, the sinister alien Necrons, or one of the many other unique factions of warriors, aliens, and monsters? Amidst the raging fires of a galaxy at war, collect, build, and paint your evergrowing army, then play nail-biting games against other Warhammer 40,000 fans to see who emerges victorious! This magazine you will give you all the information you need to plunge into the vast Warhammer 40,000 galaxy. Your adventure starts here!
Inside, you'll find information on the bleak, war-torn setting of the Warhammer 40,000 – it's known as the grim darkness of the far future for a good reason! You'll then be able to read about every aspect of the Warhammer 40,000 hobby, from collecting armies of stunning Citadel miniatures, painting them in the colours of your choice, and leading them into battle in a thrilling tabletop wargame.
This magazine also includes the following multipart plastic miniatures:
– 1x Space Marines Assault Intercessor (supplied with a 32mm round scenic base)
– 1x Necron Warrior with gauss flayer (supplied with a 32mm round scenic base)
Both models are designed to be pushed off their frames, and also fit together without the need for glue, so can be assembled within minutes.
Get your Codexes!!!