Historicals: Awesome Afghan Warriors from Wargames Atlantic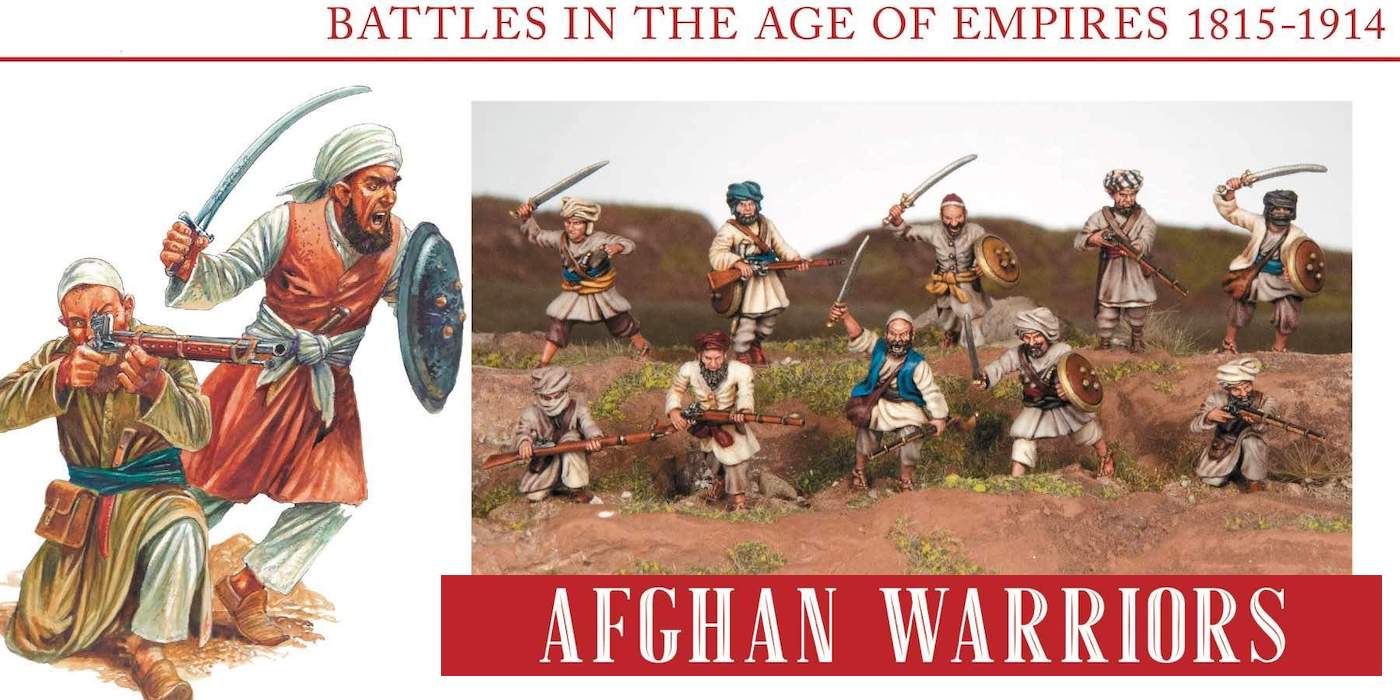 These miniatures are great for historical games, open up a lot of conversion possibilities for other games – and they're at a great price point.
Do you have any need for 28mm Middle Eastern Warriors from the 18th or 19th century?  Perhaps you would rather some 17th-century Afghan Warriors or a cool kit to kitbash into modern, sci-fi or fantasy miniatures. If so, this box set of 40 miniatures by Wargames Atlantic could be right for you. By the way, these miniatures price in at just $34.95 for a box of 40. What a great value!
In this post, I will guide you through a video review and a written review also follows. You will see pictures of the sprues, some built miniatures, and some scale comparison photos. If you feel like going through both, you will notice subtle differences between the two. Without any further ado, let's get to the reviews.
Afghan Warrior Review on YouTube
Below is a quick review Wargames Atlantic: Afghan Warriors on YouTube. If you prefer written reviews, that is below.
The Written Review
If you still prefer written content or just want to quickly see the pictures, we have you covered here on Bell of Lost Souls too. Let's start by looking at the back of the box to see what is in there.
I will mention that there are no bases in this box. You have to provide your own. That said, Wargames Atlantic packed a ton of options on some really nice 28mm frames.
The details on these figures are amazing. Especially at their price point.
The models look great and you can tell with all of the texture on the model that they will paint up really well with simple painting techniques like shades and dry brushing. Let's take a closer look at some of the miniatures.
Conversion Opportunities
The bodies on these miniatures are absolutely flowing with detail. I could envision people kitbashing these models across all genres. From Sci-Fi to Fantasy and other historical and current timelines, these models can fit in. Codex d'Araden does some fantastic work with some of these conversions. Check these photos out…
Subscribe to our newsletter!
Get Tabletop, RPG & Pop Culture news delivered directly to your inbox.
I also did a couple of my own just out of curiosity.
With some imagination, you can do a lot with this very affordable box set.
Scale Comparison
Below are a few scale comparison shots to give you a sense of size on these 28mm miniatures.
Wrapping it up…
Thanks for checking out these reviews of Wargames Atlantic's 28mm Afghan Warriors. With 40 figures in a $34.95 box set, these miniatures are extremely affordable. On top of that, there is a ton of kitbashing opportunities for them. Overall, this is a very good product.
If you liked the YouTube Video, please check out and subscribe to my YouTube channel to encourage me to make more videos. This channel is brand new, and I just started it this month. You can also find my original review of the Afghan Warriors on my personal site.
Disclaimer: Wargames Atlantic sent me this box of 28mm plastic Persian Infantry miniatures for review. While I accept review products, I am in no other way compensated for my posts and reserve the right to give positive and negative reviews.

Read more about great Indie and Historical games on my site!
Must Contain Minis is my personal reviews, showcases, and battle reports website where I look at mostly Indie and Historical Games. Mainstream games and products also enter the mix. You can also follow me on Social Media. I am very active on Facebook and share posts of a wide variety. I upload my best pictures to Instagram and am also on Twitter. Oh, I am on YouTube now too!
My aim is to promote gaming with companies outside of those that already dominate the gaming market.
Thanks goes out to Codex d'Araden in this post too for letting me to use some of their pictures in this review.