Warhammer Total War fans should gear up for the new Wood Elf DLC, prepping for launch in December.
Creative Assembly has announced their newest DLC will be releasing in December, according to a recent announcement on their forums.  The announcement, which included an apology for the delay, outlined the expected timeline for the forthcoming DLC:
Hi everyone. We understand you've wanted more information on the upcoming WARHAMMER II DLC release, the working from home situation has made it more difficult for us to keep you as updated as we would have liked. However, we can now confirm that the DLC will be released in December and we will look to confirm an actual date with you a little closer to the time.

We understand the lack of information has been difficult but we didn't want to confirm a month until we were sure. Hopefully this will at least give you a month to look forward to.
Now there has been a lack of information, as they say, but we know that Wood Elves are next in line. And that Creative Assembly have recently been changing the backend for the game. So hopefully, the new DLC and accompanying free content gets here on the earlier parts of December. We'll be keeping an eye on the story, though, and will keep you up to date. In the meantime, here's what we know so far: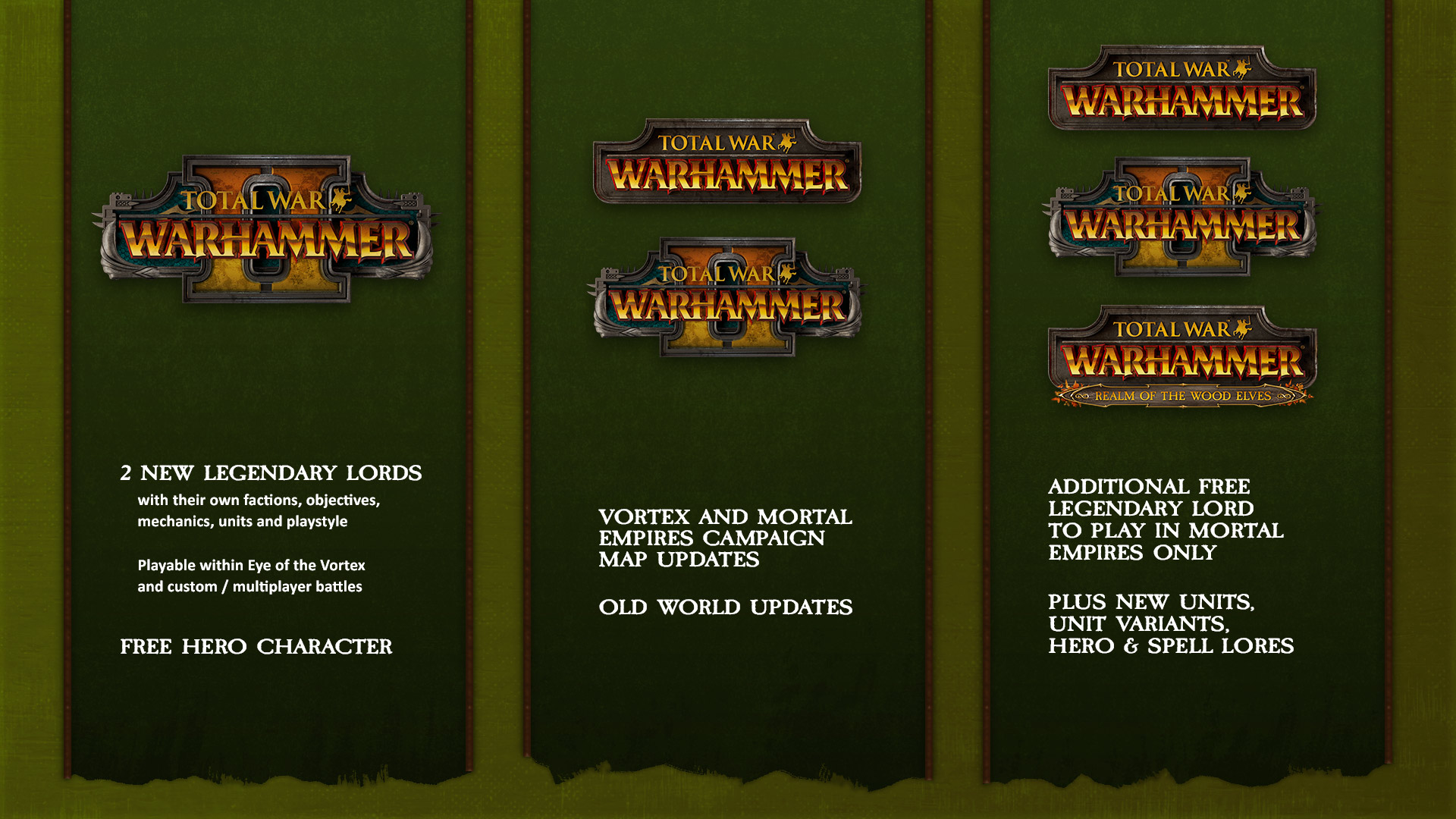 So breaking it down, if you just have Warhammer II, you get a Free Hero character, and 2 new Legendary Lords. If you don't pick up the DLC, you'll get a free hero. If you pick up the new DLC, you get the hero, 2 legendary lords, new units, character mounts, and the ability to play as Wood Elves in the Vortex Campaign using the new lord.
If you have both Total War Warhammers, then you get the new Wood Elves update for Mortal Empires. And if you own both of those, the existing Realm of the Wood Elves DLC and the NEW Wood Elf DLC, you get an additional Wood Elf Legendary Lord (for Mortal Empires only), as well as new units and characters for your Mortal Empires campaign. So if you want the most out of your Wood Elves, that's the way to go!
Get your spears and bows ready!