It's a new era ahead for Warhammer 40,000 – Say hello to the Combat Patrol Boxes.
On Sunday, Games Workshop announced the introduction of Combat Patrol Boxes. These new boxed sets are a collection on miniatures designed to get you started playing 40k at the aptly named Combat Patrol size. But there were already a series of boxed sets designed to get you playing a new army called Start Collecting! Boxes…and it turns out those are going to be phased out eventually.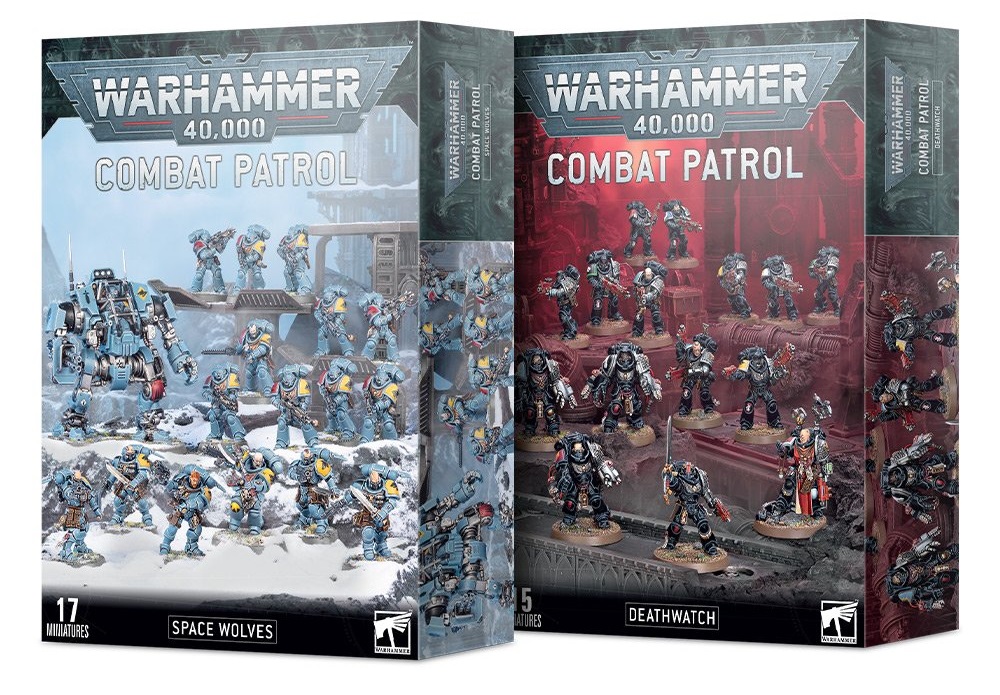 "For a long time, the Start Collecting! boxes have been a great way to begin a Warhammer 40,000 army or to add to an existing one. Now, as new codexes and codex supplements come out, they will start to be replaced with Combat Patrol boxes instead."
In terms of what's going to be included in these new Combat Patrol boxes, each one will contain a Combat Patrol-sized force which works out to around 25 Power or 500 points. So if you wanted to dabble with some allies or if you just wanted to start an entirely new army, then these boxes are for you. Additionally, GW also made some handy "next steps" graphics to go along with the upcoming Space Wolves and Deathwatch boxes: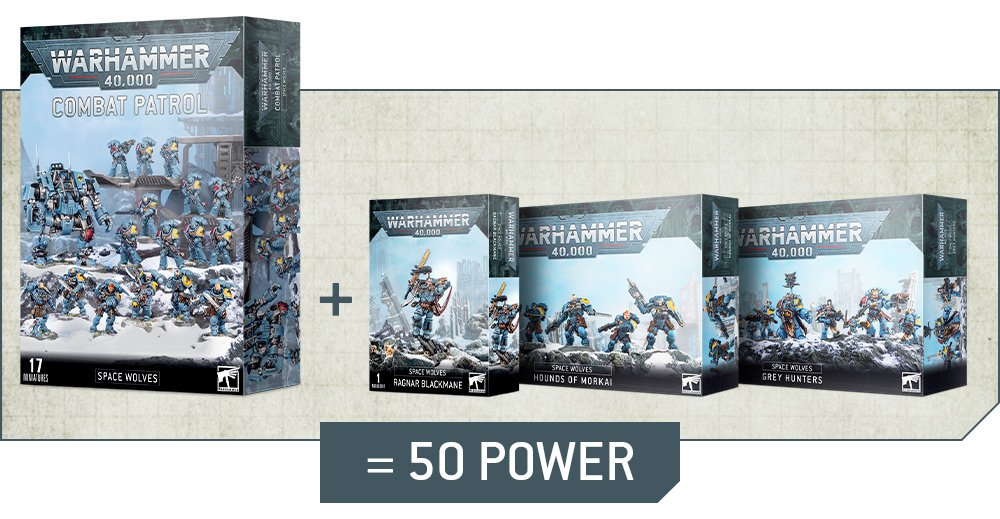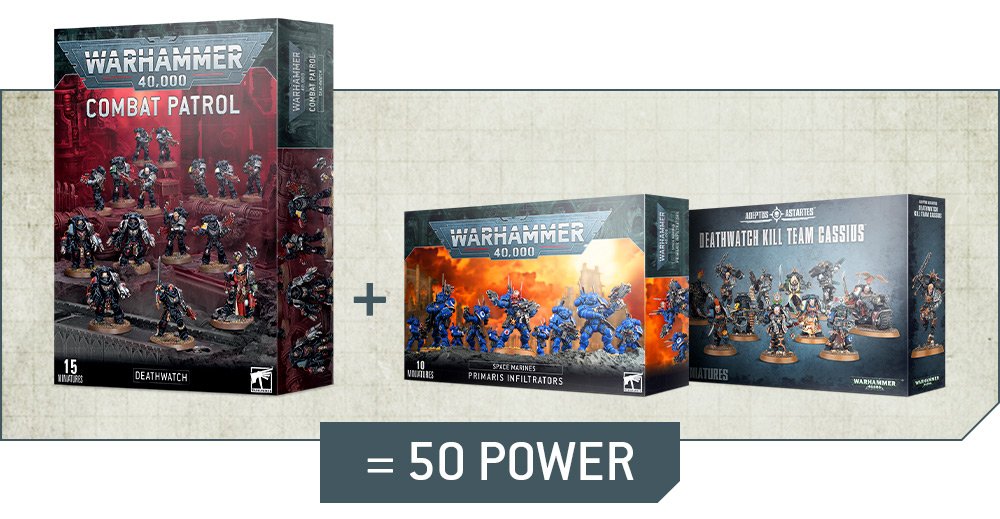 Looking at these two Combat Patrol Boxes, they don't look like bad builds at that point level. The Space Wolves version in particular looks pretty solid – I'm not a huge fan of Reivers but the inclusion of the Invictus Warsuit makes up for it in my mind. Just go with the Flamer option…
The "recommended" upgrades to 50 Power aren't terrible either. Then again, it's Space Marines…Also, note that the Space Wolves are also getting a new unit of Reivers called the Hounds of Morkai. Not only does their paint scheme deviate from the typical Space Wolves, they are apparently a new "Psyker-hunting" unit.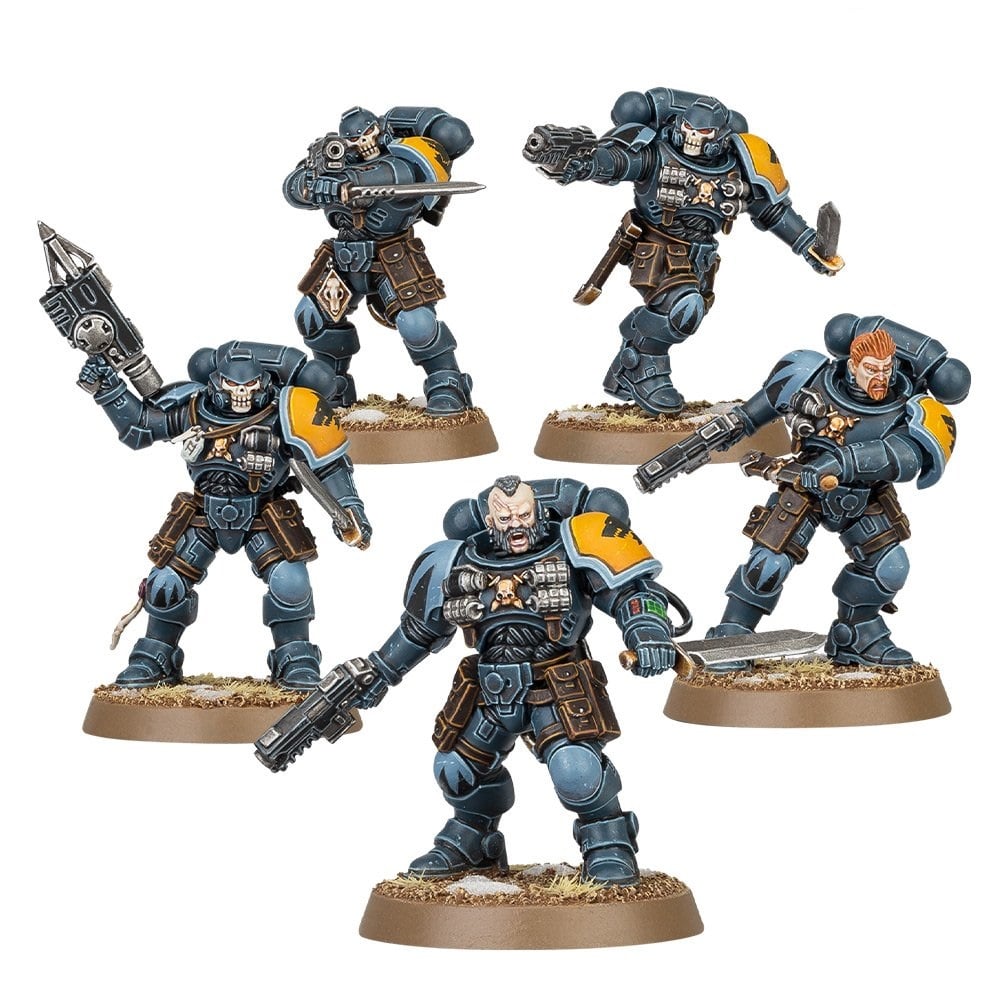 While it is a little sad to hear that the Start Collecting! Boxes are going away, they aren't completely gone just yet. If you are looking to start an army or expand an existing one, you *might* want to consider snagging one while you can. Those boxed sets are pretty amazing deals and we don't have work on the prices for these Combat Patrol Boxes just yet.

What do you think of the new Combat Patrol Boxes? What Army do you want next?