Alt WWII Wargame 'Empires Fall' Brings the 761st Tank Battalion to Kickstarter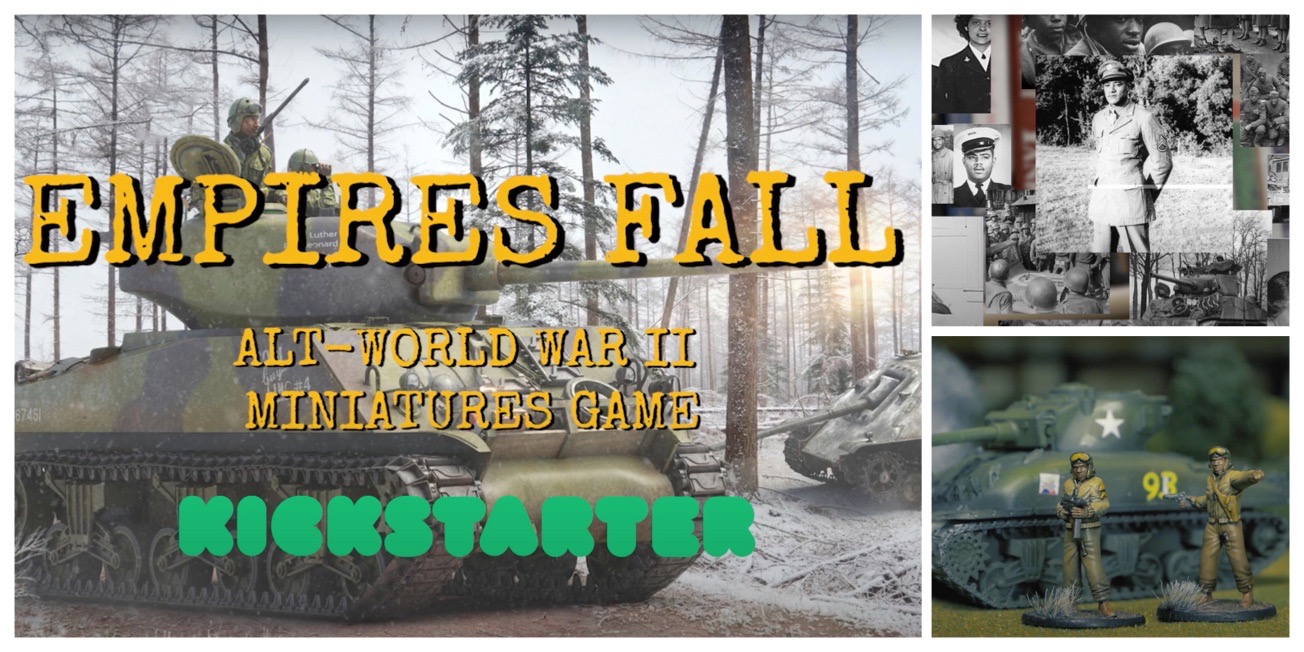 This historical miniature wargame shines a spotlight on the heroes of WWII that tend to be ignored.
Gaddis Gaming recently took to Kickstarter to bring their new game Empires Fall to life. This two-player WW2 starter set comes with a 1/56 Sherman Tank, a 5 man tank crew, a 10 man infantry force plus rules, tokens and cards. Let's take a closer look at the contents.
Empires Fall
So what is special about Empires Fall? It brings to the table the 761st all African-American "Black Panthers" Tank battalion to tell untold stories in 28mm. That's pretty cool. Gaddis Gaming dedicates itself to bringing the women and people of color from WW2 to the tabletop. Check out this video about the campaign. It is very well done.
That's pretty cool.
If successful, Gaddis Gaming plans to take Empires Fall into a Weird War direction too with different vehicles you can buy, like this tank
Empires Fall is a 28mm miniatures game based on Gaddis Gaming's G.U.A.R.D. system. I don't know too much about the system myself, but these minis certainly look neat. I am looking forward to seeing how the campaign goes and what stretch goals they bring to the mix.
Wrapping it up…
I hope that you enjoyed this quick look at a unique Kickstarter. I think that it is great that Lee (the owner of Gaddis Gaming) is working on bringing the 761st Tank Battalion to life in 28mm. If this interests you, be sure to check out his Kickstarter page.
Until next time, Happy Gaming Everyone!!!

Read more about great Indie and Historical games on my site!
Subscribe to our newsletter!
Get Tabletop, RPG & Pop Culture news delivered directly to your inbox.
Must Contain Minis is my personal reviews, showcases, and battle reports website where I look at mostly Indie and Historical Games. Mainstream games and products also enter the mix. You can also follow me on Social Media. I am very active on Facebook and share posts of a wide variety. I upload my best pictures to Instagram and am also on Twitter. Oh, I am on YouTube now too!
My aim is to promote gaming with companies outside of those that already dominate the gaming market.