Blood & Plunder Showcase: Beautiful Pirate Battles on the High Seas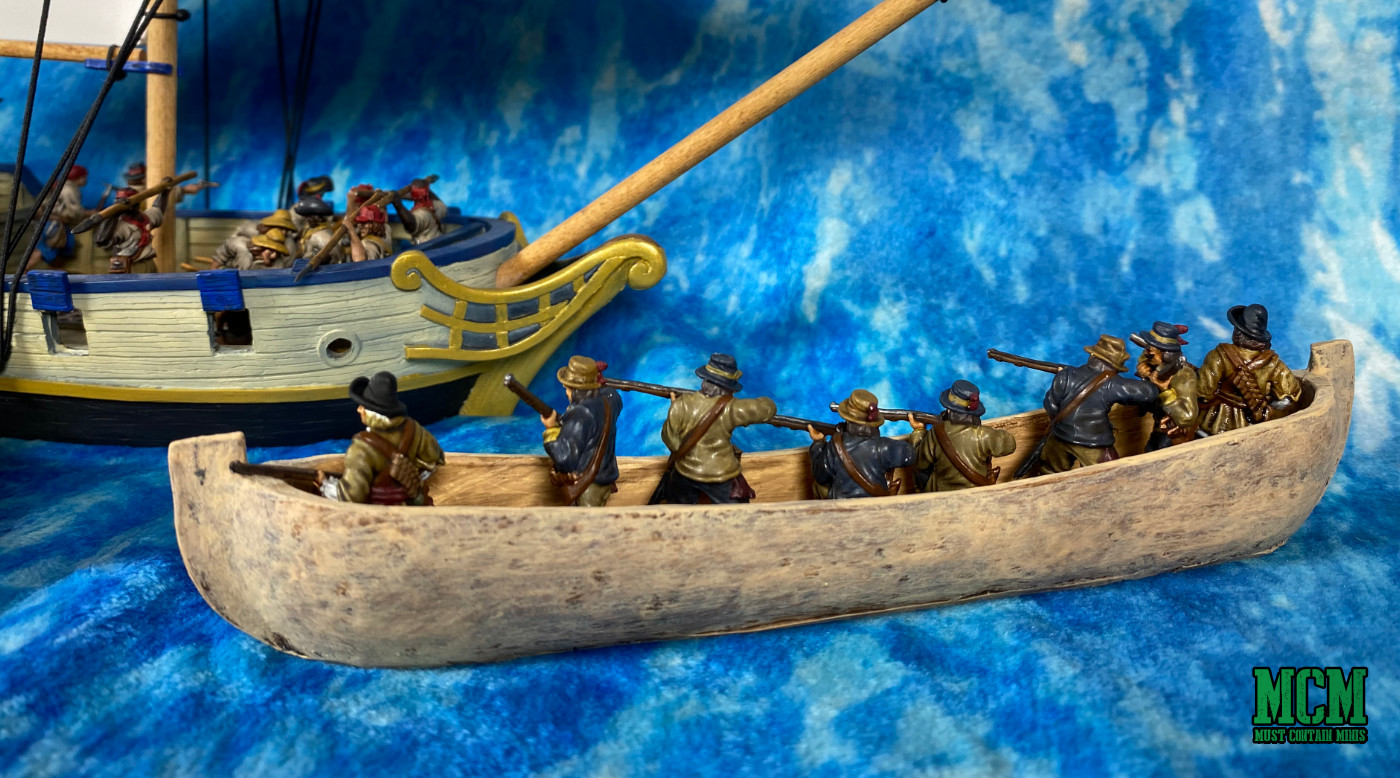 The guys at Firelock Games made what I consider the most beautiful tabletop game out there: Blood & Plunder. It has tall ships, attractive miniatures, and oh yes – pirates!
In this post, I share some alluring pictures along with a YouTube video showcasing the beauty of the game. While the rules are good, the images you can get with the minis from this game are stunning. Those images are what I am focusing on today. Eye Candy!
If you like what you see in today's images, please check out the YouTube video at the end of this article. It is a bit of a Love Letter to Blood & Plunder and it shows so many more images from this photo session.
Now let's get into it!
Setting the Scene
In this photoshoot, I set up a Dutch force in two Dug Out Canoes (called Canoas) and a larger Dug Out Ship (called a Piragua) against a Spanish force in a Sloop.
These ships are just the start. They look extradentary when you take a close look at the miniatures on board!
Blood & Plunder allows you to play out scenes like this. Despite most people being won over at the word "pirates," this is what draws me into the game. Just how pretty it looks on the tabletop.
How amazing are these images? Again, this is what draws me to the game. It simply looks amazing! Plus you get to play as pirates.
Subscribe to our newsletter!
Get Tabletop, RPG & Pop Culture news delivered directly to your inbox.
The YouTube Video
If you like the images above, you are going to love this video. It features tons of photos and more about the game. Please check it out and play the video!
Shout-Outs
In the video, I gave shout outs to the painters of the game as well as the two people that ran the first game of Blood & Plunder that I played. I am going to echo those shout outs here. Special shout outs go to Jeremy Cada of Forbes Hobbies, Dave Lamers and Bill Kocher of Phoenix Games and Hobbies for painting the miniatures and sloop in this post. All three of them take on commission work if you like what you see here. Shout-outs also go to Tom Pace and Sean Martin for hosting the first game that I ever played of Blood & Plunder.
Wrapping it up…
Thank you for joining me in this post celebrating the beauty of Blood & Plunder. While this game will capture most people's imaginations with the word "pirates," it also looks incredible on the tabletop. If you want more on Blood and Plunder, or Firelock Games, I have sections on my personal website dedicated to them.
I also have a short, but growing selection, of Blood & Plunder YouTube videos on my reviews and showcases channel.
Until next time, Happy Gaming Everyone!!!

Read more about great Indie and Historical games on my site!
Must Contain Minis is my personal reviews, showcases, and battle reports website where I look at mostly Indie and Historical Games. Mainstream games and products also enter the mix. You can also follow me on Social Media. I am very active on Facebook and share posts of a wide variety. I upload my best pictures to Instagram and am also on Twitter. Oh, I am on YouTube now too!
My aim is to promote gaming with companies outside of those that already dominate the gaming market.