Space Wolves have a batch of Warlord Traits and they all correlate to Sagas – so let's take a look a them!
One of the unique things that the Space Wolves have is how their Warlord Traits interact with their Sagas. They are tied together in a way that really helps create a narrative and also boosts your characters (and the affected units) on the tabletop. First up, here's how the rules work: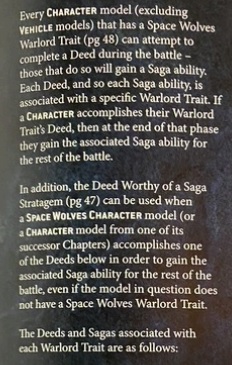 Pretty straight forward, right? If you have a Warlord trait and you complete a Deed, you unlock the Saga. Alternatively, there is a Stratagem that unlocks the Sagas, but we're focusing on the interaction between the Traits and Sagas here. So, let's look at their Warlord Traits and the associated Sagas!
Beast Slayer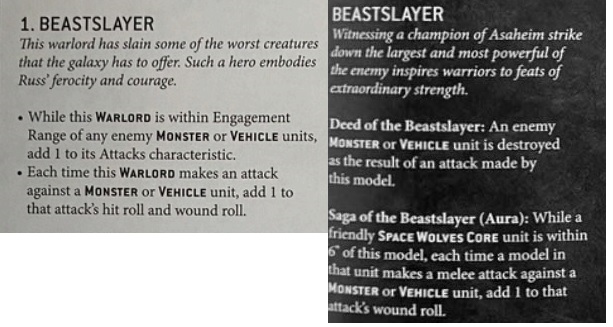 Beastslayer, as the name implies, is for a Warlord that is going to go after Monsters or Vehicles. It gives them +1 attack when in Engagement range of a Monster or Vehicle and also grants them a +1 to both the to hit and wound rolls. And if you do happen to destroy one of those targets with this model, they will confer those benefits over to your Space Wolves Core units while within 6″.
Warrior Born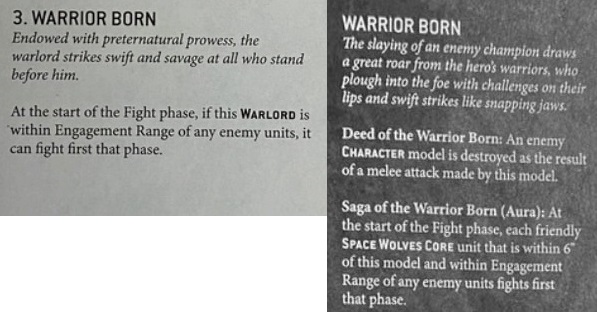 Warrior Born allows for your Warlord to fight first in the Fight Phase. When you kill a character it grants the same fight first mechanic to friend Space Wolves Core units with 6″ of this model. That's a nice way to keep the pain train rolling!
Hunter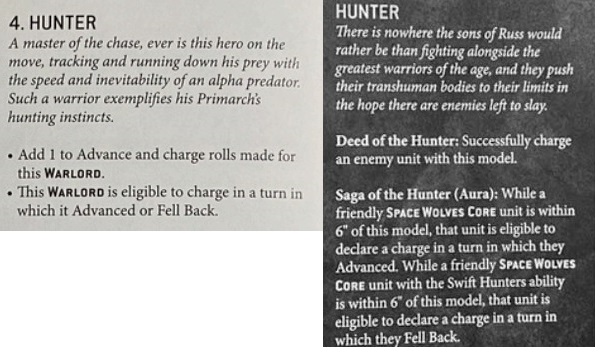 Hunter allows your Warlord some extra speed when they Advance and Charge. It also allows them to charge in a turn in which they Advanced or Fell Back. It's activation is also SUPER easy as all you have to do is successfully complete a charge. When you do, your friend Core Space Wolves that are within 6″ of the Warlord can also charge in a turn when they Fell Back. This one seems really easy to pull off and falling back only to charge again for the charge bonuses seems pretty good!
Aura of Majesty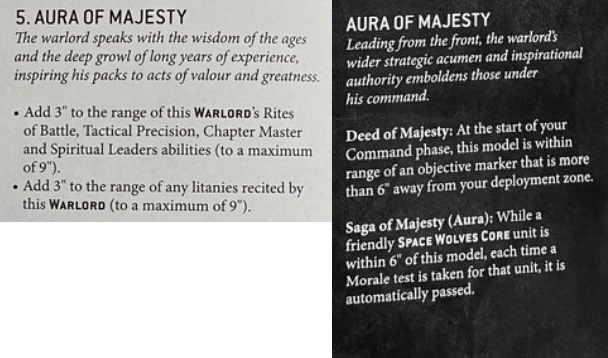 This Warlord Trait is really for anyone who's running a Warlord with some existing Aura abilities. The extra 3″ will expand your sphere of influence quite a bit. It's also not super difficult to activate the associated deed either. However, the benefit isn't as impressive as some of the other abilities on this list. Auto passing morale is fine and all – but you're Space Marines…Then again, the extra range on your existing Auras alone might be worth it.
Resolve of the Bear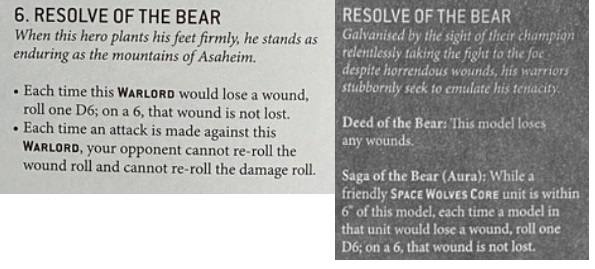 Resolve of the Bear has two interesting effects. First a 6+"Feel No Pain" save is always a nice addition. Never count on it to save you, just appreciate when it does. Secondly, it also stop your opponent from getting to use any re-rolls for wound rolls or damage rolls vs your Warlord. That also seems useful! If the Warlord does happen to lose any wounds, then the 6+ FNP save is then granted to Space Wolves Core units while they are within 6″ of the warlord. Not bad.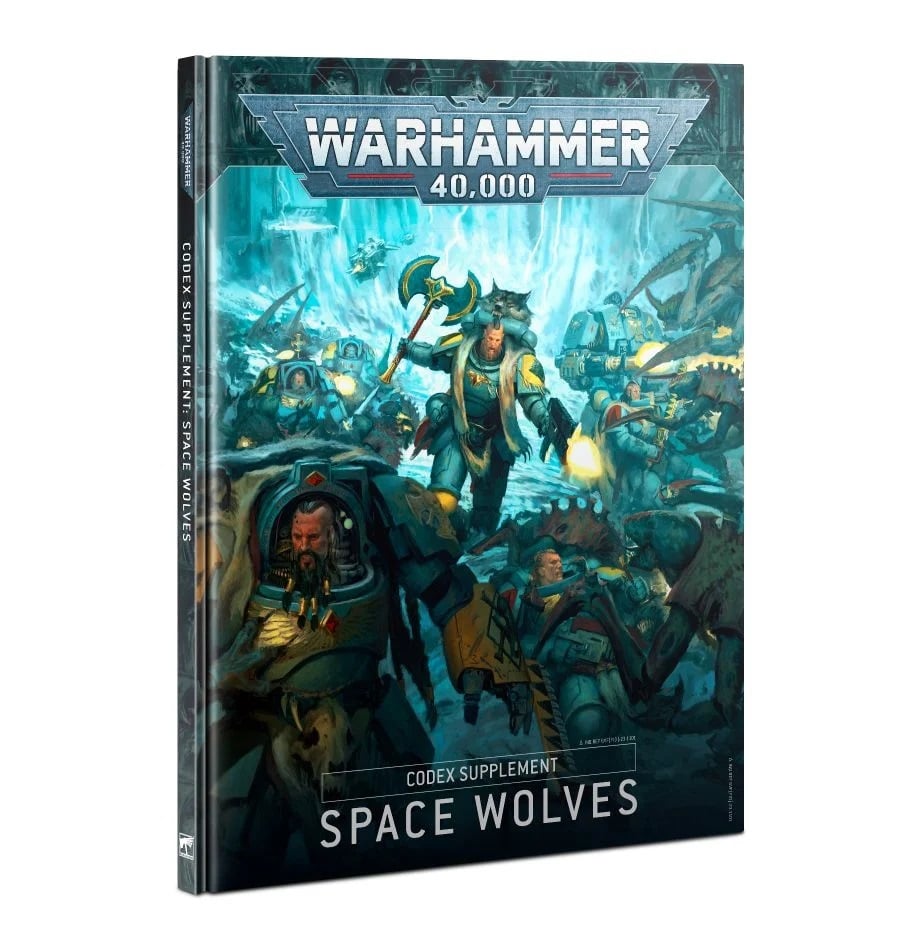 The Sons of Russ are back with a new Supplement this weekend! Get your Traits and activate your own Sagas.